Keto Food Delivery Vancouver
Everything you need to know about Keto Diet
Keto diet is a type of diet that relies on the incorporation of meals and ingredients that have low levels of carbohydrates, high levels of fat, and moderate levels of proteins. This results in the body being forced to use fats as the primary energy source rather than glucose, which it would have otherwise gained from carbohydrates. This leads to the burning of stored fats in the body to be used as an energy source for the body's daily functioning. When the keto diet is followed religiously, it takes around three to four days to reach the ketosis stage, where the body starts burning fat. This diet has been proven beneficial for many weight-loss regimes, a healthy and improved body fitness, and even for individuals with diseases like diabetes, epilepsy, Alzheimer's, amongst others. 
Following a keto diet may lead to many advantages, but it also requires strict commitment and very strong willpower not to stray away from the diet plan. A foot out of the line in the form of a high carb level snack or meal can result in the entire diet plan turning ineffective. Hence, diets like these require not only dietary restraints but also are time-consuming to follow and need an organized mechanism by which one can prepare and eat keto diet-appropriate meals, all days a week. Managing only keto-friendly meal plans can often get very hectic and hard to follow, due to which a lot of people are unable to follow this healthy diet lifestyle and end up quitting in the middle. As not only do you have to prepare the meal but also plan and get the required ingredients from the limited options that you have due to keto restrictions. One solution is getting fresh meals according to your keto diet delivered every week from various keto delivery services.
Meal delivery services that deliver ready to eat keto meal plans have become a trendy alternative to preparing keto meals at home, and a lot of individuals, especially those with a hectic work schedule, prefer ordering from a meal delivery service to save time effort and have delicious and healthy keto meals delivered at the doorstep. However, with the increase in such services, it is quite challenging to find the best service. To make this task easy for you, we tried some of the most popular keto meal delivery services in town, and here are our top 3 picks for Keto food delivery in Vancouver.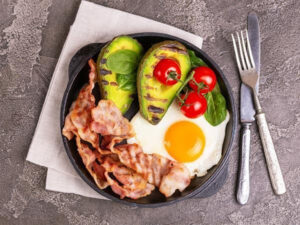 Top 3 Keto Meals Delivery services in Vancouver
We tried different keto meal plan companies that currently deliver prepared keto meals and ingredients across Vancouver for convenient everyday meal delivery and are listing down our top 3 so that you can choose the one that best fits your preferences.


Caffetteria Gourmet: 
Topping our list of prepared meal plan delivery companies is the Caffetteria Gourmet. A Vancouver-based company provides delicious and nutritious meal plans every week for its customers. They provide keto meal preparation ingredients as well as fully prepared ready-to-eat meals, depending on the customer's choice. They also cater to specific dietary requirements, such as providing keto sugar-free and gluten-free snacks.
The service has four amazing weekly menus to choose from that provide a delicious range of dishes for its customers along with an option for add ons. What is unique about this service is that all meal plans are carefully curated and contain zero carb levels and high fats levels—making the meals best fit for a healthy keto lifestyle. The menus regularly change so that customers can enjoy a huge range of delicious meals and the quantity of the meals is very nice and fulfilling. 
Pros:
Healthy keto meals are delivered right to your doorstep.

Good portion and fulfilling prepared keto meals.

The price per meal is very affordable compared to other services and provides reasonable weekly plans. (only $ 11.25 per plate)
Cons:
Lacks customization as customers can only choose from the provided 4 weekly meal menus. 

It provides minimum breakfast options as the menus mostly contain keto dishes that are lunch and dinner-appropriate. 
Fresh in Your Fridge:
Fresh in Your Fridge is a popular keto meal plans delivery company that provides fresh and healthy meals for people on a keto diet. This service is a bit different than others in the market and provides its customers a unique option to choose and completely customize a keto meal plan from the top chefs and nutritionists and get it prepared at their own homes. This way, the customer can be entirely sure of the ingredients used and the process of cooking to help ensure 100% satisfaction about the freshness and hygiene of the keto meals they consume. A nutritionist is designated to a customer after an in-person consultation. That nutritionist then recommends a weekly meal plan for the customer based on the dietary requirements and flavor palette of the individual. This meal plan is then cooked right in front of the customer in their kitchens! Individuals, couples, or huge families, can all benefit from the Fresh in Your Fridge meal delivery platform. 
Pros: 
Provides a transparent and personalized meal plan facility, as everything happens with the customer present and helps the customer estimate and be indirectly in charge of everything from the budget to the meal preparation.

Caters to all dietary requirements, and the designated nutritionist helps guide with the best customized weekly meal plan. 

Almost all the ingredients used are organic ingredients to provide fresh and healthy meals. 
Cons:
The process requires the meals to be cooked at the customer's place, and some individuals find it burdensome. 

Compared to other prepared keto meal services, the Fresh in your Fridge service is a bit dependent on the availability of the customer, and people with hectic schedules cannot enjoy this service.

The prices are a bit high compared to the other services due to the personal in-home chef experience. 
Fresh N Lean:
Fresh N Lean is one of the top leading keto meals delivery platforms in Vancouver. It provides ready-to-eat, fresh FSMA compliant, and USDA-certified healthy and delicious keto meal plans 7 days a week with free delivery nationwide. The dishes are prepared by expert nutritionists and chefs using fresh organic ingredients from the best farm across Vancouver. 
Fresh n Lean provides an extensive menu for its customers to choose from that they can customize according to their taste and dietary requirements. The meal delivery offers a huge range of keto breakfast, lunch, dinner, and snack meal plans that the customers can choose from, and also offers cancellation service any time. 
The meals come in frozen form and require no cutting or cooking, all you have to do is take the meal out of its insulated box and store it in the refrigerator, heat it for 3 minutes in a microwave when you want to eat. Voila, your delicious keto meal is ready to be devoured in just 3 minutes. 
Delivery:
Fresh N Lean delivers prepared keto meals across all states.
Pros:
Sustainable food that is fresh, healthy, and made from organic ingredients.

Provides a customizable meal plan at excellent prices.

Top nutritionists and expert chefs prepare the meal.

Offers free delivery and cancellation at any time. 
Cons:
Some customers find the meals to be a bit bland.
FAQS by people looking for the best Vancouver food delivery options
Do ready-to-eat keto meal plans by Vancouver food delivery contain preservatives? Are they safe to consume?
All three services listed in this article, namely, Caffetteria Gourmet, Fresh in your Fridge, and Fresh n Lean, provide meals free of preservatives and made from fresh organic ingredients that are completely safe and healthy to consume. 
Is it very costly to hire a Vancouver meal delivery company for keto diet plans delivery every day?
Different meal services provide different meal plans to cater to all sorts of budgets. Yes, ordering from a meal service every day may feel a bit heavier on the pocket than cooking meals at home, but it is also very time and effort-saving. You do not have to worry about the grocery shopping or cooking of the meal and can just heat the ready-to-eat meal delivered at your doorstep.
Final verdict
According to us, these three services are the best across Vancouver for meal delivery. The final choice varies from individual to individual. If you are someone looking for healthy and fulfilling keto meals on a budget, the best option is Caffetteria gourmet, while for someone who is looking for customized and delicious meal plans, the best option is Fresh n Lean. People who want a holistic and transparent experience and are conscious of what they are consuming can choose Fresh in your Fridge. It provides an at-home preparation of the meals where the customer can witness the entire process.