---
Yumm Canada Review 2023
Interested in trying out meal kits, but can't find one that will fit your budget? Look no further! In this Yumm review, we will discuss the pros and cons of the company, what meal plans it offers, how much they cost, and all of the other important information.
Let Yumm shop for you and they will bring you fun recipes and high-quality fresh ingredients, perfectly portioned for the number of servings you ordered. Yumm will help you save time on meal prep and reduce unnecessary waste.
Yumm Ratings by Our Readers
Cast your vote by selecting either button
Official website:
www.yumm.ca
Plans for
Price ranges
$46.93 - $88.87 / week
$6.99 - $6.99 / serving
No exclusive promotions available via MKC
Yumm: Editorial Notes
In addition to affordable pricing (starting at just $6.99 per serving), Yumm offers 6-7 original recipes every week to choose from. All recipes are developed by a team of nutritionists. The meals balance protein, fats, and carbs in healthy proportions. Yumm only uses the freshest ingredients that beat not only the quality of the supermarket meat and produce, but also the price!
Yumm Credibility and Reputation
| | |
| --- | --- |
| Established in | 2018 |
| Registered in | Quebec |
| CEO | Unknown |
| Independent rating | (Google) |
Yumm was established in 2018 in Quebec. Even though it's a relatively young company, it has grown rapidly. Currently, Yumm successfully serves thousands of Canadian households all over the country.
Unfortunately, Yumm is not yet rated by the Better Business Bureau, and the company's Google rating so far is only two stars out of 5. We hope it will be improved soon as many customers find Yumm services and prices attractive and order weekly Yumm meal kits.
Yumm Plans and Meals
The company offers a weekly Yumm Basket for two or four people. The price per meal does not depend on the size of the basket. In each basket, there are three recipes per week. You can select them from the menu which includes 6 or more meals. 
Each week, there are recipes that contain meat, fish, or poultry. For example, you can choose from Seared Steaks with Chimichurri and Roasted Potatoes and String Beans, Zesty Maple Chicken, Korean-Style Fish Tacos, and more. 
There are one or two vegetarian dishes each week that can be adjusted to become vegan if you skip some ingredients. Many Yumm recipes, such as Roasted Chicken Drumsticks, are kid-friendly, and you can pack the leftovers in a yumbox for kids' lunch the next day.
Yumm Terms and Fine Print
Delivery
| | |
| --- | --- |
| Delivery area | AB, BC, MB, NB, NS, ON, PE, QC, SK |
| Home delivery | Yes |
| Work delivery | No |
| Must be present for delivery | No |
| Delivery window | Unknown |
| Box stays cold for | 48 hours |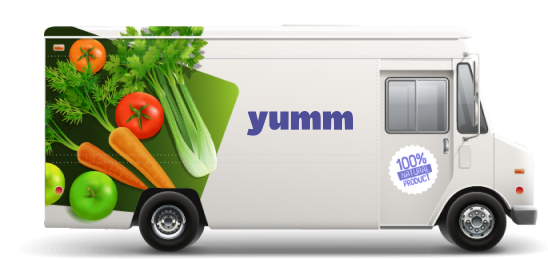 Luckily for many Canadians, Yumm meal kits are delivered almost everywhere in the country. The residents of Alberta, British Columbia, Manitoba, New Brunswick, Ontario, Prince Edward Island, Quebec, and Saskatchewan can now order Yumm delivery right to their doorstep. You don't even have to be present for delivery. 
The well-insulated Yumm box will be left at your door. It is highly recommended to refrigerate the ingredients as soon as you get your order, but don't worry if the box needs to sit on your porch for a few hours. It can keep your food fresh for quite some time.
Unfortunately, Yumm does not deliver to an alternative address, such as your workplace or any other secondary pick-up site.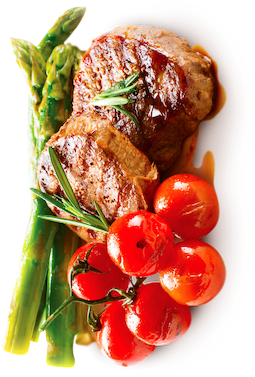 Flexibility
| | |
| --- | --- |
| Switch between plans | Yes |
| Minimum subscription length | 1 week |
| How to cancel subscription | Online or by email |
| Extra charge for skipping week | No |
| Weekly deadline to cancel/skip | Wednesdays or Saturdays before 11:59pm (EST) |
| Auto-renewal | Yes |
| Personalization options | Number of people, Recipes per week |
Yumm is fairly flexible in terms of modifying or canceling your order. You can easily switch between plans and change the number of recipes in your order. In case you need to skip a week or two, you need to notify customer support before the deadline on Wednesdays or Saturdays before midnight. There is no charge for skipping a week. 
Your subscription will be automatically renewed until canceled. You can either manually pick your recipes every week or let Yumm send you the most popular ones. To cancel your subscription, you need to contact customer support.
Support and Usability
Yumm website is pretty, simple, and very user-friendly. There is no online chat, but you can reach customer support by email or via social networks. Yumm has accounts on Facebook and Instagram.
At the moment, the company does not have a downloadable app, but its website is mobile-optimized.
Address
Goodfood Market Corp. 4600 rue Hickmore Montréal, Québec H4T 1K2
Customer Reviews
As part of this review, we wanted to give our readers a better understanding of what people who have purchased Yumm meal kits in the past thought about the company's service. To do this, we analyzed hundreds of online reviews of different meal kit companies, including Yumm. We rated each review as positive, negative, or mixed depending on the content of the feedback and the tone of the reviewer, and singled out specific pros and cons people mentioned in their reviews. In addition to this, we recorded all the recipes which reviewers said they enjoyed, and created a list of Yumm's top 3 best dishes.
When reading and analyzing online reviews, you may notice that the feedback often seems very polarized: some people absolutely love the service or product while others hate it. This occurs because most people who write online reviews choose to leave feedback because they had either an excellent or a terrible experience. People who were happy enough with the company—but not ecstatic—usually don't feel the need to go online and write a review. This phenomenon can be observed with all products and services, but it's especially common when it comes to purchases that are carried out online. Because of this, it's crucial to conduct a deep analysis of online reviews instead of simply looking at the company's rating on Google, Yelp, or another consumer feedback platform.
Distribution of Yumm reviews compared to industry-wide averages
To find out where Yumm stands in comparison to its competitors, we categorized online reviews of the company as positive, negative, or mixed. Reviews written by customers who were clearly happy or unhappy with their purchase were marked as positive or negative respectively, while feedback left by people who seemed conflicted was marked as mixed. As a result of this analysis, we determined that the proportion of customers who left negative reviews about Yumm was significantly higher than the industry average, while the percentage of people who were happy with their meal kit was much lower than the industry average. The proportion of mixed feedback Yumm received was about equal to other companies in the industry. This suggests that overall, Yumm customers were much less likely to enjoy their meal kits than customers who ordered boxes from other companies.
Data was compiled from 2150 reviews about 13 different companies across 9 review sites. Yumm had 19 reviews
Most frequently given reasons for liking or disliking the company
During the next stage of our analysis, we wanted to understand why so many people were unhappy with Yumm meal kits and what people who left positive reviews liked about their experience. We compiled all pros and cons of Yumm service reviewers mentioned and discovered that unhappy customers often complained about unresponsive customer support, slow delivery, and inconvenient website. The proportion of people who mentioned these facts was significantly higher than the industry average. For their part, happy customers mentioned tasty food, clear recipes, and responsive customer support. However, the percentage of reviews that included these pros was lower than the industry average. This once again supports our hypothesis that the quality of Yumm meal kits and service is worse than what the company's competitors offer.

Data was compiled from 7123 apparent reasons from 2150 reviews. Yumm data had 50 reasons in 19 reviews
Three most popular recipes mentioned in reviews
Finally, we wanted to figure out which dishes are the most popular choices for Yumm meal kit customers. To do this, we counted up all the recipes that were mentioned in their reviews in a positive light and determined which dishes came up most frequently. According to this analysis, sweet chili chicken bowls, baked potato chips, and Korean-style fish tacos turned out to be the favorites of Yumm customers.
Frequently Asked Questions:
I have food allergies. Is Yumm safe for me?
All Yumm boxes are assembled in the same processing facility. So, if you have a strong food allergy to one of the ingredients, we do not recommend you to order this box.
Should I be at home when my Yumm box arrives?
Are vegetables and herbs pre-washed?
How do I cancel my subscription?
Yumm Review: The Bottom Line
Among the many companies in Canada that deliver food subscription boxes, Yumm stands out as one of the most budget-friendly ones. Similar to such industry leaders as Chefs Plate, it offers meal kits to Canadian households at about $7 per serving. Additional shipping charges apply.
Yumm meal kits will help you save time on meal planning and grocery shopping. Their recipes contain different types of protein, veggies, and carbs, and you can cook a restaurant-quality dinner in your own kitchen. The recipe card will guide you step-by-step, so you don't need to worry if you don't have much cooking experience. You will learn as you go.
We hope this Yumm review helped you make a decision whether this meal kit company is the best for you and your loved ones. Alternatively, you can use our meal kit delivery locator tool that will show you which companies are available in your area and read their reviews here on MealKitsCanada.
No exclusive promotions available via MKC
---