Will Blue Apron Come to Canada in 2023?
If you're looking for Blue Apron reviews for Canada, you've likely hit a dead end. That's because the company doesn't yet service anywhere in Canada. Truthfully, no one is sure if Blue Apron will ever come to Canada. While they are likely the largest meal kit company in the United States — sending out eight million meals per month across the country — they haven't yet made any noise about coming to Canada.

And with the company having some trouble retaining its US market share, we would assume that the USA will continue to be their primary focus for the time being. As a potential customer, you could keep asking their support team if they are coming to Canada any time soon, and then – who knows? Your demand may create their supply. But luckily, we already have many great meal kit companies in Canada to choose from. 

We were still curious to see what Blue Apron is all about and how the service compares to Canadian meal kit providers. If you want to find out more, we'll let you know the best Blue Apron alternatives, a bit of background about the company, customer reviews from the US, and info about their meal kits like pricing and what's on the menu!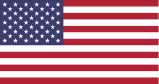 Pros & Cons
Let's look at the pros and cons of each brand to see what their biggest advantages and disadvantages are:
Pros
Cons

✔️

Four plans to choose from (including vegetarian)

✖️

Not much variety in the weekly menu

✔️ A well-designed

 website and supporting app

✖️ No free shipping

✔️

Gets decent customer reviews online

✖️ Not available in Canada

✔️

Ready-to-cook meal options require barely any prep

✔️

Tasty meals and easy-to-follow recipes

✔️ Budget-friendly plans available
Blue Apron: Credibility and Reputation
Blue Apron was started in 2012 by co-founders Matt Wadiak, Ilia Papas, and Matt Salzberg. They quickly expanded the company after proving that they could attract tons of both consumer attention and lucrative rounds of financing! Along the way, it launched Blue Apron Wine, which delivers wines to customers. The wines skip the middleman as they directly from the vineyard to Blue Apron, then to customers. This way they can offer higher-quality wines at affordable prices. As a bonus, the wines come with pairing notes so that customers know which Blue Apron meals go with which wine. 

Blue Apron is also conscious of the environment and animals. They partner with farmers so they can offer the highest-quality ingredients and they abide by a set of Five Freedoms, which is at the cored of their Animal Welfare Policy. The seafood in their meal kits is recommended by Seafood Watch, animals aren't fed antibiotics or hormones, and they don't use GMO products. Blue Apron is also a meal kit company that creates fewer emissions, and is working toward the goal of Net Zero. They are already carbon neutral, a great step toward helping the environment.
US customers can also order Blue Apron meals from Amazon and Costco. This is likely an attempt to fend off competitors such as Home Chef working with Kroger (who now owns Home Chef), as well as numerous other meal kit entries into the market. Perhaps the Costco and Amazon connection might be what the company needs to bring Blue Apron into Canada? In the meantime, Canadian consumers have so many options to choose from anyway. 
Who Would be the Top Blue Apron Competitors in Canada?
The main Blue Apron competitors in Canada would be HelloFresh, Chefs Plate, and Goodfood. Because the American meal kit king has not had to compete on Canadian soil yet, it is difficult to compare to these companies in terms of how they operate in Canada. The more relevant comparisons would be in the USA, where HelloFresh also has a presence and has been gobbling up market share since entering the market years after Blue Apron had been operating. Here's our full HelloFresh vs Blue Apron comparison review and versus Chefs Plate. While Blue Apron is universally referred to as being tasty and a real trendsetter within the North American meal kit world, it appears that they have really struggled to keep new customers fully engaged.
When looking at Blue Apron in a Canadian context versus Goodfood, GMP Securities analyst, Martin Landry, stated in the Globe and Mail, "The Goodfood story is attractive and different than Blue Apron for several reasons." The interview went on to state that Goodfood had "a lower cost structure, less intense competition, higher average revenue per user, better customer retention and lower customer acquisition costs." Given that Goodfood is the third-largest meal kit company in Canada, we'd say that means our national offerings are in pretty good shape!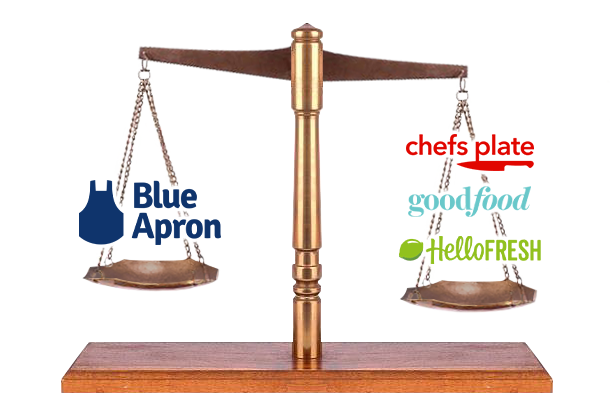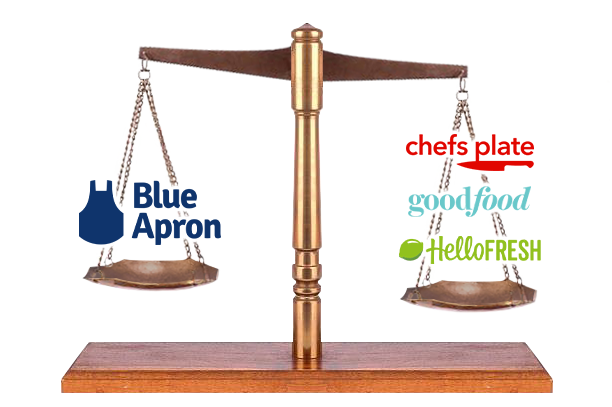 Blue Apron Reviews and Meal Kit Information
Compared to other meal kit delivery companies, Blue Apron has a relatively low number of meals to choose from each week, from 4-16 (depending on the plan), while Plated, for example, offers up to 30 meals each week. You can order two to four recipes per week for two to four people. There are four subscription plans to choose from: their 'signature' plan, a vegetarian meal plan, a 'wellness' plan, and their 'signature for four' plan.
Blue Apron meals take from 20 to 55 minutes to cook, which means that you need some experience in cooking for the more difficult meals. They do have meals in their plans that are "ready to cook" so you can just assemble the ingredients in a minute or two, then put your dinner in the oven and wait for it to cook. Blue Apron costs range from $7.99 to $11.99 per meal, which is comparable to other meal kits.
Let's look at the Blue Apron reviews that US customers leave to see what we're missing out — or not. There are 5,647 reviews on Trustpilot and the company gets 4.1 out of 5 stars, which is decent. However, it only gets 3.5 stars on Google. Overall, the customers said that Blue Apron meals are healthy, but they don't compare to the restaurant-quality meals, like HelloFresh meals, for example. Most seem to agree that ingredients are fresh, with the odd rotten veg here and there. Customers who are environmentally conscientious worry about the packaging because the meal kits come in a lot of plastic; even though it's meant to be recyclable some customers aren't able to recycle it because it's not labelled with what type of plastic it is.


| | |
| --- | --- |
| Price per serving | $7.99 – $11.99 |
| Weekly Total | $57.95 – $137.83 |
| Shipping | $9.99 |
| Number of plans | 4 |
| Veggie options? | |
| | |
| --- | --- |
| Number of meals to choose from each week | 4-16 |
| Recipes per week | 2-4 |
| Number of people | 2-4 |
| Сooking time (min) | 20 – 55 min |
| | |
| --- | --- |
| Established | 2012 |
| Google Rating | 3.5 |
| Downloadable App | Yes |
Blue Apron Meals and Subscription Plans
We're going to pick a random sample of recipes from each of the four subscription plans, so you can see what they're like. Then you can compare these to any of the Canadian meal kit companies we've reviewed. 

Signature Plan

Overall, we found there to be an interesting selection on offer from different cuisines, even though there aren't as many weekly recipes to choose from as we get in Canada. Here are some example meals:
•

Oven-baked chorizo cheeseburgers with guacamole, jalapeno, and broccoli

•

Miso butter and panko-crusted cod with ponzu mayo, asparagus, and potatoes

•

Oven-baked creamy truffle gnocchi with broccoli, spinach, and parmesan
Vegetarian Plan

Overall, there are not many vegetarian meals offered each week — just four! That means if you wanted four meals each week you'd have to like everything on the menu, or at least tolerate each recipe. Here are some example meals:
•

Oven-baked white bean shakshuka with garlic pitas

•

Black bean and smoked gouda flautas with tomatillo sour cream

•

Five cheese and truffle honey flatbread with mushrooms and kale
Wellness Plan

As with the vegetarian plan, the wellness plan only has four meals available each week. All of these are designed for customers' holistic health. Here are some example meals:
•

Chicken and creamy sesame dressing with sweet potatoes, kale, and pickled peppers

•

Yuzu-orange glazed salmon with roasted vegetables

•

Sweet chili roasted vegetables with brown rice and cilantro-yogurt sauce
Signature for Four

This plan is great for families, get-togethers, or if you want leftovers. There are 13 different meals to choose from each week. Here are some example meals:
• Fontina and panko-crusted chicken with roasted potatoes and balsamic tomato salad

•

Hoisin-glazed meatloaf with sesame mashed potatoes and roasted cabbage

• Oregano pork chops and fresh tomato pan sauce with farro and zucchini
Diet Friendliness and Allergens
Blue Apron doesn't have specially tailored meals for diets. The closest they have to weight loss meal kits are carb-conscious options under the Wellness plan, although these are limited. It's not a suitable company for people with food allergies because they say they sometimes might have to swap ingredients and you need to check the allergen information on the packaging when it arrives.
The Bottom Line
Blue Apron tried very hard to become the leader of the meal kit delivery industry, but did they succeed? Even in the USA, their home country, they are not as popular anymore with heavy competition, both local and worldwide, despite millions of dollars spent on commercials. Thus, it looks very unlikely for a Blue Apron Canada branch to open anytime soon since the meal kit delivery industry in Canada is pretty saturated already, and their main competitor, HelloFresh, has already taken a great chunk of the market and there are even cheaper Canadian meal kits on offer. 

While it may be sad that Blue Apron is not coming to Canada (or at least not now), Canadians are lucky to have many other options to choose from, and we have covered all the Blue Apron alternatives in Canada! View which ones are available for you on our meal prep delivery service page.
Frequently Asked Questions:
Does Blue Apron operate in Canada?
No, Blue Apron doesn't operate in Canada. It delivers meal kits exclusively to customers in the US. Canada has many equivalent brands delivering to its population, including global and local companies.
What are Blue Apron alternatives?