Blue Apron Review 2020 (Is It In Canada Yet?)
If you're looking for a Blue Apron review for Canada, the sad news is that the review would read: Coming Soon!
While they are likely the largest meal kit company in the States – sending out 8 Million meals per month across the country – they haven't yet made any noise about coming to Canada.  And with their company having some troubles retaining their US market share, I would hazard a guess that the USA will continue to be their primary focus for the time being.
That being said, as a podcast addict, three years ago I felt like Blue Apron was basically going to become "the Kleenex of meal kits" where the brand name of Blue Apron would come to replace the word "meal kits" when it came to discussing the overall industry.  At one point, Blue Apron was spending roughly $150 million per year on online advertising – a larger ad budget than Pepsi! Oh – and if you're wondering where the unique name "Blue Apron" comes from – it's in reference to the French culinary world where kitchen apprentices wore blue aprons in the kitchen (signifying you don't have to be an elite chef to cook delicious meals). We really wanted to try Blue Apron in Canada, and it's sad that their meal kits are not available. 
If you are looking for a readily available Canadian meal kit company then read our comprehensive meal kit reviews :
---
Most similar company to Blue Apron which AVAILABLE in Canada:

– Large and respected, operating globally
– Very diverse meal
– Similar price point to Blue Apron
– As satisfied customers
– Apt for non-cooking experts like myself
In recent news, Blue Apron just signed a pretty big distribution deal with Costco, where the retailing giant will test drive the meal kits on their shelves.  This is likely an attempt to fend off competitors like Home Chef working with Walmart, as well as numerous other meal kit entries into the market. Perhaps the Costco connection might be beachhead that the company needs to bring Blue Apron into Canada? Will its lack of financial success prevent it from further expanding?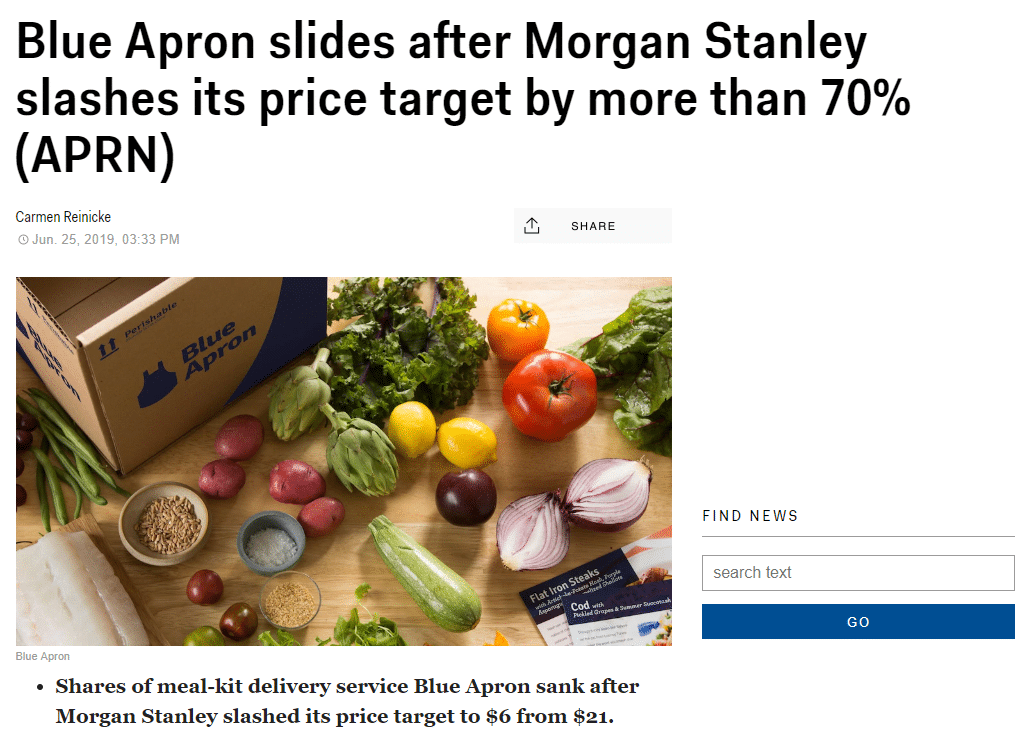 Taken from Business Insider June 2019
If you listen to a lot of podcasts, or saw their Youtube clips, you might already know that Blue Apron was started in 2012 by co-founders Matt Wadiak, Illia Papas, and Matt Salzberg.  They quickly expanded the company after proving that they could attract tons of both consumer attention and lucrative rounds of financing!
Blue Apron in Canada vs Hello Fresh, Chefs Plate, and Goodfood
Because the American meal kit king has not had to compete on Canadian soil yet, it is difficult to compare Blue Apron vs Hello Fresh or Blue Apron vs Chefs Plate.  The only somewhat relevant comparison would be in the USA where Hello Fresh also has a presence and has been gobbling up market share since entering the market years after Blue Apron had been advertising.  It appears that in that situation, most reviewers that I read give Hello Fresh an edge based solely on customer service advantages. While Blue Apron is universally referred to as being tasty, and a real trendsetter within the North American meal kit world, it appears that they have really struggled to keep new customers fully engaged.
When looking at Blue Apron in a Canadian context, GMP Securities analyst Martin Landry stated in the Globe and Mail that, "The Goodfood story is attractive and different than Blue Apron for several reasons."  The interview went on to state that Goodfood had, "a lower cost structure, less intense competition, higher average revenue per user, better customer retention and lower customer acquisition costs."  Given that Goodfood is the third largest meal kit company in Canada, I'd say that means our National offerings are in pretty good shape!
Excellent Canadian Meal Kit Options to Try Instead of Blue Apron
If you heard about Blue Apron on a podcast like I did, and wondered when those type of services were going to come to Canada – look no further.
See our in depth Chefs Plate Review, Goodfood Review, and Hello Fresh Review, for more information on Canada's best meal kit companies.  We include our exclusive promo offer codes that make cheaper than groceries to give each Canada's meal kit leaders a trial period in your kitchen!