Diets For Meat Lovers & The Best Meal Kits
While the vegetarian diet gains popularity among fellow Canadians, the majority of meal kit customers still love meat and fish and consume it regularly. We have already reviewed vegetarian and vegan diets as well as specialty foods such as kosher and halal, and now it is time to review diets for meat lovers. We have selected the most popular diets that allow meat, poultry, fish, and seafood consumption and reviewed the meal kit companies that serve the followers of these diets.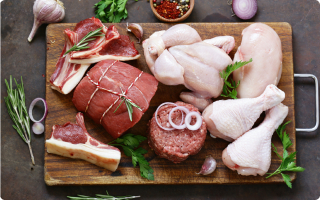 Best meal kits for meat lovers
These companies offer the best kits for meal lovers. Some of them offer meal kits that include meat, vegetables, grains, and spices, while others, like Papa Earth, deliver meat and fish only.
Small Box
Fill the box with ethical meat, poultry, and seafood and receive it every two weeks
| | |
| --- | --- |
| Recipes per week | |
| Number of people | |
| Dishes in menu | 96 |
| | |
| --- | --- |
| Price / serving | $67.50 |
| Shipping | $0.00 |
| Price / weekly | $135.00 |
Meat & Vegetables
Select up to four meat and vegetables recipes out of 15 meals each week
| | |
| --- | --- |
| Recipes per week | |
| Number of people | |
| Dishes in menu | 11 |
| | |
| --- | --- |
| Price / serving | $8.99 |
| Shipping | $0.00 |
| Price / weekly | $143.84 |
Meat & Veggies
Select up to four quick and easy recipes out of 22 meals each week
| | |
| --- | --- |
| Recipes per week | |
| Number of people | |
| Dishes in menu | 28 |
| | |
| --- | --- |
| Price / serving | $10.31 |
| Shipping | $9.99 |
| Price / weekly | $174.95 |
No exclusive promotions available via MKC
Regular meal-kits menu
Simple and tasty recipes ready in less than 30 minutes
| | |
| --- | --- |
| Recipes per week | |
| Number of people | |
| Dishes in menu | 17 |
| | |
| --- | --- |
| Price / serving | $10.32 |
| Shipping | $0.00 |
| Price / weekly | $165.12 |
No exclusive promotions available via MKC
Carnivore Plan
Carnivore – All three meals have meat or poultry in them
| | |
| --- | --- |
| Recipes per week | |
| Number of people | |
| Dishes in menu | 3 |
| | |
| --- | --- |
| Price / serving | $12.94 |
| Shipping | $0.00 |
| Price / weekly | $232.92 |
Meat-lover diets
Similar to the variety of vegetarian diets, there is a huge variety of diets for meat lovers. Each of them includes animal-based protein. Below we look closely at the most popular diets that allow and encourage having meat on the menu every day.
Carnivore Diet
The carnivore diet consists of animal-based foods only. It includes beef, pork, lamb, chicken, turkey, duck, goose, organ meats, all types of fish, and seafood. It also allows for consuming butter, lards, bone marrow, and heavy cream. For all carnivore diet followers, it is important to get the best quality ethical meat that was raised on the free-run or free-range without any antibiotics, pesticides, and herbicides.
One of the best companies on the Canadian market that delivers ethical meat boxes is Papa Earth. The boxes come in three sizes, a small one for a single person or couple, a medium one for 2-3 people, and a large one for larger families. Each box can be customized or curated. The customized box will contain all the items that you select, and curated boxes contain items selected for you by the Papa Earth team. The company offers different types of high-quality, ethical meat, fish, seafood, and butter.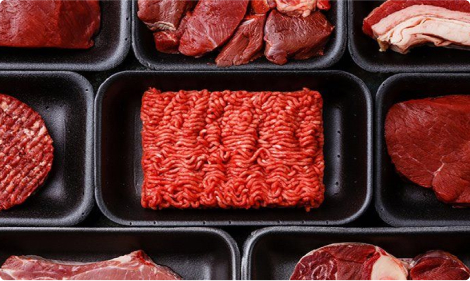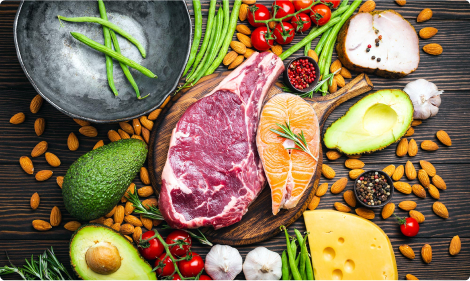 Keto Diet
The ketogenic diet, or keto, for short, is another diet that consists mostly of animal-based foods. It includes all foods from the carnivore diet plus nuts, seeds, some vegetables, greens, and healthy oils. The goal of the ketogenic diet is to reach ketosis, a metabolic state in which the body uses fat instead of carbs to generate energy.
So far, there's just one meal kit company that offers only keto meals. It's called ketolibriyum but only delivers to Ontario and Quebec at this stage. HelloFresh, which delivers to 95% of the Canadian population, has five low-carb options each week which are suitable for people on the keto diet. Many other companies like Chefs Plate mostly offer meals with meat, although many come with carbs. Carbs such as pasta, rice, or potatoes can be easily avoided in any case because they are packed separately. 
For residents of eastern Canada, Cook It is a meal kit company that allows customers to sort by vegetarian and low-gluten dishes, which is useful for anyone maintaining a keto diet.
Low Carb High Fat Diet
The Low Carb High Fat (LCHF) diet is low in carbohydrates, moderate in proteins, and high in fats. It is not as restrictive as the carnivore or keto diet and allows up to 100 grams of daily carbs. The main principle of the LCHF diet is to consume fewer carbs and replace them with healthy fats. The recommended foods for the LCHF diet are eggs, oils, fatty fish, fatty meat, non-starchy vegetables, berries, nuts, seeds, and spices.
For the LCHF diet followers, it is much easier to find a suitable meal kit because many types of food are allowed. To help you make a selection, some companies, e.g., HelloFresh, mark their meals as Carb Smart if they contain 50 grams of carbohydrates or less. These include Sesame Roasted Chicken Salad or Italian Meatballs and Chickpeas, to name a few.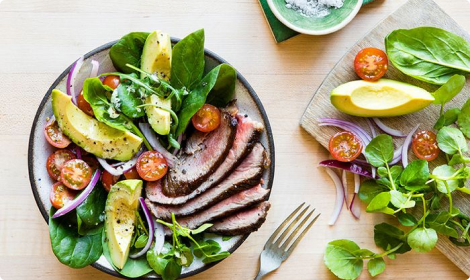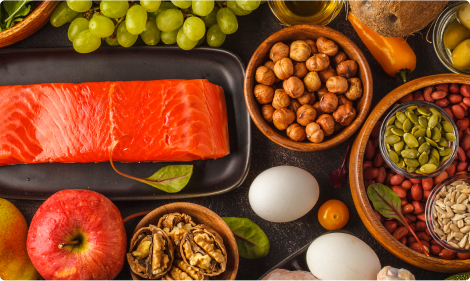 Paleo Diet
The paleo diet includes foods and vegetables that could be obtained by hunting and gathering in the past and limits foods that became available with the development of farming and food processing. It allows lean meats, fish, seafood, fruits, vegetables, nuts, and seeds and recommends avoiding dairy products, legumes, grains, and all highly processed food.
It would be tricky to find a meal kit company that is tailored solely to paleo diet followers. However, it is not impossible to find companies that have some paleo meals, and many have meals that are suitable but they just don't label them as paleo, which can make it a chore to sort through. Goodfood is one meal kit delivery company that does label meals paleo — the only problem could be there are only around two recipes on the menu each week. With this company, you can only order two meals per week for a minimum of four people, so this may not suit you if you're looking for meal kits for one or a couple. 
Atkins Diet
The Atkins diet is named after the physician Dr. Robert C. Atkins, who wrote a book about it in 1972. Similar to keto and LCHF diets, the Atkins diet is high in protein and fats and low in carbs. The diet is split into four different stages: induction, balancing, fine-tuning, and lifetime maintenance meat. These stages are based on how many grams of carbs you are allowed to eat, from 20 grams per day at induction to as many as your body can tolerate without regaining weight at the maintenance stage.
To start this diet, you can order a box from Papa Earth with high-quality protein and supplement it with green salads. As you gradually progress through stages, you either add more products from other food groups to the Papa Earth boxes or try such meal kit companies as GoodFood or HelloFresh that include items from all food groups in their kits. If you live in Quebec or Ontario, WeCook is a good option if you don't mind ordering ready-to-eat meals. You can choose your portion of protein in each meal (100g or 200g), plus you can choose between five choices of sides: 1) Rice and vegetables, 2) Potatoes and vegetables, 3) Quinoa and vegetables, 4) Sweet potatoes and vegetables, 5) Vegetables only. This means you could choose just vegetables to start with and then start including carbs gradually.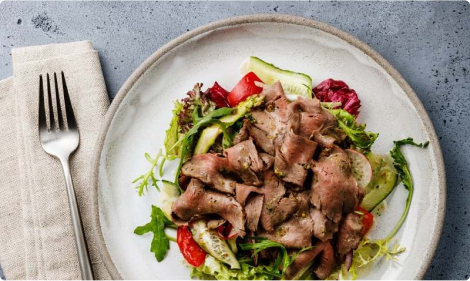 Meat-Lover Diets Comparison
Here is a comparison of all the different types of diets for meat lovers mentioned above. Naturally, they all allow meat and fish, some of them allow certain types of vegetables, legumes, and nuts, but all of them do not recommend consuming any grains if your goal is to lose weight. For weight maintenance, grains are only ever allowed in extremely limited quantities.
| Type of Food/Diet | Carnivore | Keto | LCHF | Paleo | Atkins |
| --- | --- | --- | --- | --- | --- |
| Meat & Poultry | | | | | |
| Fish & Seafood | | | | | |
| Eggs & Dairy | | Some | | Some | |
| Vegetables | | Some | Some | Some | Some |
| Fruits & Berries | | Some | Some | | Some |
| Nuts | | Some | Some | | |
| Legumes | | | Some | | Some |
| Grains | | | | | |
The Bottom Line
While the vegetarian movement gains popularity, the majority of Canadians still love to eat meat. There is a huge variety of meat-lover diets, but for all of them, it is highly preferable to buy high-quality, ethical meat from local companies. It is not always easy to find this type of meat in supermarkets. This is when companies like Papa Earth come in handy. They deliver the best quality products from local ethical meat farms to your doorstep, saving you time, and supporting your diet goals. 
To keep your diet balanced, it is important to include different food types in your meals. The majority of meal kit companies develop well-balanced menus that would fit both vegetarian and meat-lover diets. You can check out our meal kit company reviews to find out more about meal kits and decide which company is right for you, or why not try a few before choosing?
Frequently Asked Questions:
Are there meal kits for the keto diet?
What can I eat on the Atkins diet?
Do meal kits with meat cost more?