Best Food Subscription Boxes 2020
Nearly a million food subscription boxes are delivered across Canada every day.
If you're like me and hate grocery shopping, the sheer convenience of food subscription boxes (also known as meal kits) is more than worth the price of admission!
Companies like Netflix and Amazon have popularized the subscription service model in a way that was never previously thought possible.  It only make sense that many Canadians are now realizing that having a delicious box of food show up on their doorstep each week is a pretty great deal.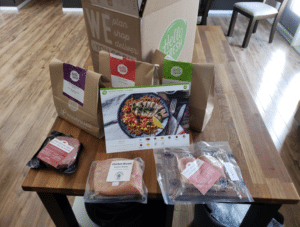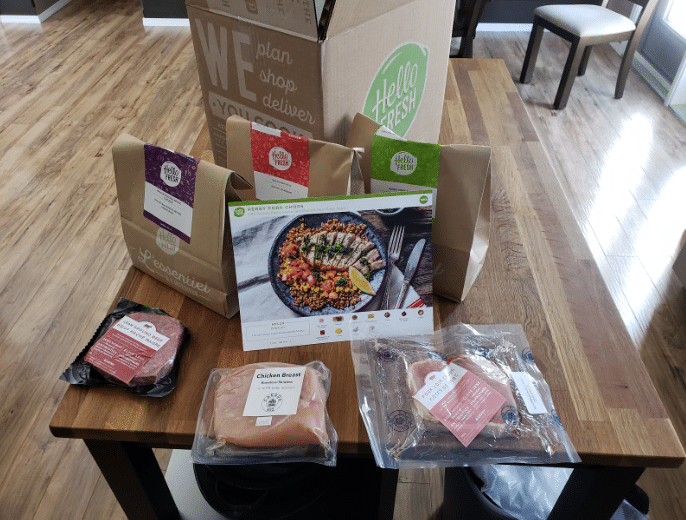 Top Three Canadian Food Subscription Boxes
Chefs Plate
$9.99-$12.99
Cheapest price per serving
Great promotional offers
Well packaged
16 recipes every week
Hello Fresh
$12.33-$13.33
Largest and most recognized
Nationwide delivery
Tastiest meals
Most environmentally friendly
Get $65 Off across your first 3 Orders
Goodfood
$10.83-$12.50
Wide reach
Up to 5 weekly meals
Easiest to sign up with
Great support
There are over a dozen food subscription box companies in Canada – but there are three large providers that dominate the industry right now in 2019.  They are Hellofresh, Chef's Plate, and Goodfood. Here's our current comparison of how "The Big 3" stack up against some of their regional competition.
Check out our Hello Fresh Review, Chef's Plate Review, and Goodfood Review for a more in-depth look at each of these services.
How Much Do Food Subscription Boxes Cost In Canada?
As you can see from the chart above, food subscription boxes are not the absolute cheapest way to get purchase basic groceries.  It makes sense when you think about the cost of shipping a box to your house.
The real question that you should probably ask yourself is not how much food subscription boxes cost, but rather, are you getting a good value deal for you money.
In my wife and I's case, we feel that we can an excellent deal in exchange for our $75 per week.
Consider the following benefits that we were willing to pay a bit more:
We are never missing an ingredient for the supper that we're about to make.  No more disappointed sighs as the clock ticks down to the supper hour and no more last minute runs to the grocery store that eat valuable relaxation time in the evening!

My wife and I have found that we average 3-4 less restaurant/delivery nights per month since we started ordering our food subscription box.  This has been great for both our bank accounts and our waistlines!

There is no more rotting produce in our fridge to feel guilty about because our food waste is non-existent now that our food subscription box comes with pre-portioned ingredients.

Our dinner planning routine has went from looking up meals -> making a grocery list -> going through the grocery store life suck -> unpacking and freezing groceries -> thawing meat several hours before dinner -> cooking a recipe that may be a bit mediocre.
– "Take 5 minutes to skim our app and select next week's meals -> unpack food subscription box that was delivered to our door -> cook excellent meal (with exact instructions) that was created and tested by several chefs before it ever got to our house."
That's it.  That's the difference that you're paying for.
Depending on what you're looking for, the cost of your subscription food box will range from $9-$13 per serving.  The variables being how many meals you ordered, if you prefer vegetarian, and what company you choose to go with.
While there is an obvious convenience factor at play for all Canadians, I've found that friends that live in suburban/exurban and rural communities get the most bang for their buck when it comes to food boxes because the costs of produce are already much higher in those areas, plus you often can't find many of the ingredients that an inventive meal kit recipe might include!
Getting Started with a Food Subscription Box
Signing up for a food subscription box service is quick and simple.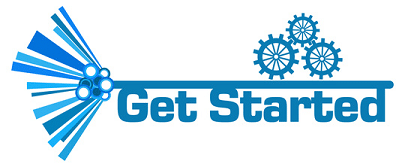 As one might expect from app-based companies, their sign up process is simple.  You hook a credit card up (like any other subscription box service) and you're good to go.
Depending on the meal kit company, you're likely to have the option of a two-person meal option and a four-person "family size".  There will usually be a pool of 5-8 options each week that you can choose 2-4 meals from. Your food subscription box will show up each week and have the ingredients for each meal pre-portioned in each bag for you.  Some meal kit providers assume that you have access to common ingredients such as sugar, oil, and salt. The rest of what you need to cook the meal, including all spices, will come in individuals packages as seen below.  We have yet to receive produce that was not fresh after nine months of opening our food boxes. The most negative thing that we've had occur is that our basil slightly froze when in was -45 outside this winter – but I'm willing to live with that since it was on our doorstep for 5+ hours that day!
Each week you'll receive some version of a recipe card that is virtually dummy-proof (I should know, being a self-identified "kitchen dummy") in your food subscription box, along with a fully insulated and cooled parcel full of delicious.
Why My Family Loves Our Food Subscription Box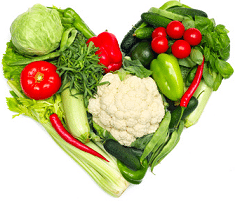 1) It's FREE to try!  The only thing better than sliced bread?  FREE sliced bread!
2) The mental grind of worrying about supper every night is GONE.  I literally don't think about supper until 30 minutes before it has to be on the table.
3) Healthy eating isn't a chore anymore.  The recipes are great (as you'd expect when they're created and tested by dozens of pro chefs) and are designed with health in mind.
4) We're paying for "Intro to Cooking 101" and then follow up advanced cooking classes.  If you want some new ideas on how to combine ingredients, or never really understood why you sear something before baking it, then use your food subscription box recipes as your textbook to a better you.
5) Guaranteed fresh produce.  While all of our meals have been fresh, we've been especially impressed by the quality cuts of meat.
6) So many less trips to the grocery store – a chore that just seems infinitely harder at the end of a work day!
7) Less wasted food, less ordering in, and less restaurant visits means MORE money in our pocket and less guilt!
8) Easily say "yes" to new foods that you likely would've tried before if you had to go through the process of looking up recipes, etc.
9) Plan next week's meals in five minutes or less with a super easy-to-use app.
10) It has helped our marital-chore balance sheet because I'm much more inclined to do my fair share when it doesn't involved being super organized and prepared ahead of time… My wife would put this as the #1 reason!
Frequently Asked Questions about Food Subscription Boxes in 2020
1) Will food boxes be ok in the heat?  Or do I have to worry if my box is outside or not refrigerated?
Every food box that we've received has been very cool when we've opened it.  In fact, just to test it out, we left a box in +30 degrees Celsius for a whole afternoon.  Upon opening it at 7PM, over half of the ice packs were still frozen solid. The bottom line here is that these boxes are over-engineered.
2) Can I skip or week cancel once I'm signed up?
Yes! Skipping a week is very easy with most services.  All three of the large food box subscription companies allow you to easily skip a week when you sign up.  Cancelling is as simple as opening your account and a few clicks later, you're no longer committed – although, there will be some follow up emails that try to entice you back.
3) Is there a delivery charge?
NO!  Delivery is included in the prices you see in our comparison chart.
4) Do I have to be home to get delivery?  If I'm not – then what?
Every food subscription delivery service does thing a bit differently, but long story short is that most companies will figure out how to get you their box – as long as you live in a city.  If you live rurally or in an exurb/bedroom community you might have to get a bit creative.

Now, if you want to make life easy on yourself and don't want your package sitting on your doorstep or parcel pickup (if you live in an apartment or condo) you can make an arrangement with a kind neighbour, ask a local business that you frequent if they mind holding it for you, or simply get the box mailed to your workplace.  These boxes will be fine beside your desk or wherever else there is room. Just take supper home with you as you leave!
5) Are food subscription boxes bad for the environment?
While there is no doubt that individualized packaging isn't ideal from an overall environmental footprint point of view, 95% of the packaging in our boxes has been recyclable.  The other thing that must be taken into consideration is the crazy reduction in food waste that meal kits allow you to benefit from. Hellofresh even has a pick-up option for their cooler packs.
6) Are ingredients organic or local sourced?
This is unique to each company.  Fresh City (Toronto-only) prides itself on these areas.  All food subscription delivery companies pride themselves on being able to deliver fresher food than what is available in supermarkets because they can cut out a lot of "middle man" logistics and go straight from producer-to-delivery.  That said, at this point in the game, I think for any meal kit to go 100% organic in the Canadian market, would be pretty expensive relative to their competitors.
7) Are there vegetarian, keto, or gluten-free food subscription boxes?
Several of Canada's food subscription box companies have vegetarian options (see the chart above).  Not only are they a very healthy way to eat, but they are also some of the cheaper options available.  While the bigger meal kit companies are able to offer the occasional keto-friendly or non-gluten meal, I have yet to come across a company that market those meal types specifically.  The vegetarian meals might be your best bet if you're looking for something along those lines.
8) How big are the portions?
For all my fellow big dudes – or just big eaters – out there, I hear you.  Often a "portion" isn't always what we need for dinner. For reference, I'm 6'2, 250 and I live a pretty active lifestyle.  The bottom line is that I love to eat I have not noticed that one food box company consistently provides more than the others.  What I have noted in the nine months that I've been using meal kits, is that at our house, we have leftovers roughly 25% of the time, and I am quite full another 70% of the time, with roughly 1 in 20 meals leaving me looking to supplement.  What I've noticed is that the meals that include a high-calorie type of meat or sauce are the most likely to leave me wanting more. This is likely due to the fact that the food box delivery folks want to make sure they keep each meal within a certain calorie range.  The pleasant surprise to me has been how much I enjoy eating vegetarian meals – and how big the portions I get to enjoy are when I go that route!
9) Are the meals easy to cook?
Yes!  Almost all of the time the meals are pretty straightforward to cook.  I've had some problems with "fancy" types of flaky pastries, but that's really it.  And I can't emphasize this enough: I am a complete neophyte in the kitchen. Before our food box subscription, I could do basic things like make eggs, or brown hamburger, but I wasn't a "cook" in the sense of actually creating a good tasting meal.

I have been really surprised at how quick a person can learn how to use different spices and foods to complement one another (hello garlic – where have you been all my life?!) just be following the step-by-step guides that accompany each meal.  I've tried spices that I would have never put on the grocery list previously.

I will say that I rarely ever prepare a meal in under the time the recipes alot for.  I would say I probably average 10-20% longer than what is predicted. This probably isn't much of a surprise given my lack of kitchen expertise.  My wife on the other hand, is much more consistently able to make our food box meals in 20-30 minutes.
Exclusive Promo Offer Codes – Try a Food Subscription Box for FREE!
Exclusive promo offer codes are on their way!  Hold tight, we're just working things out
Hello Fresh Promotion - $50 in Free Groceries
Get an instant $50 off in your first two weeks: Use code HFAFF25X2! (or click below)
Claim Instant Promo
Chefs Plate Promotion - 50% OFF Today!
Chefs Plate Promotion - 60% OFF Today!
Get 60% off your first order of the Veggie Box with Chefs Plate today. Use code
VEGGIECHEF60
.
Claim Instant Promo