Meal Kits Vancouver Review (Everything You Need to Know)
It's no surprise that the Vancouver meal kit scene (sometimes referred to as a food subscription box) offers a bevy of delicious options given the hunger for convenient, easy-to-cook, healthy eating dinner solutions found on Canada's West Coast. Visual instruction cards provided with every meal make it simple for anyone to whip up delicious new tastes, even with no prior cooking experience.
If you want an in-depth look at the most popular meal kit companies in Canada, check out our HelloFresh review, Chef's Plate review, and GoodFood review, or simply refer to the best meal kits in Canada page detailing what we look for in a meal kit service.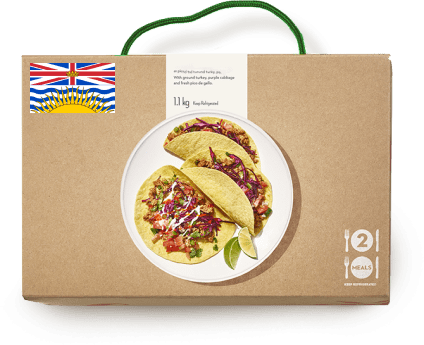 Background on Meal Prep and Vancouverites & British Columbians
| | Value |
| --- | --- |
| Population | 5,301,000 |
| Food stores per 100,000 people | 70 |
| Farms per 100,000 people | 347 |
| Average family size | 2.7 |
| Average household size | 2.43 |
| Experience difficulties with food budget | 31% |
| Eating fruits/veggies 5+ times a day | 29% |
| Time spent eating per day | 90 mins |
| Vegans and vegetarians | 12.7% |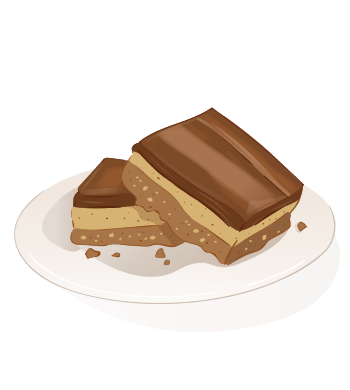 Nanaimo Bars – British Columbia traditional dish.
The Vancouver area is the third most densely populated area in the country, with more than five million people living there. Per every 100,000 people, there are 347 farms that supply food and seventy food stores that sell it. Almost 30% of Vancouverites eat fruits and vegetables five or more times a day, and almost 13% are vegetarians or vegans, more than anywhere else in Canada! For them, almost all Vancouver meal kit companies offer vegetarian meals, and some companies have vegetarian plans that include dedicated vegetable-based recipes.
The average family size in Vancouver is 2.8 people, with around 30% having difficulties with their food budget. For families, some meal kit delivery Vancouver companies offer family plans with healthy and kid-friendly meals under $10.
Fun fact: Vancouverites spend 90 minutes a day consuming food, which ranks them second in the nation.
What Is Meal Kit Delivery Vancouver Like?
Most companies serving meal prep Vancouver-side will deliver their subscription box to your door (or wherever you choose to have the meal kit delivered to). Within the box, the meat products will be chilled/frozen in a separate package, and the rest of the ingredients for each meal will be neatly packaged in an easy-to-store bag.
It literally takes less than five minutes of total time commitment to open your app/website, select your meal options, carry the box from your door to your table, open the box, and place the contents in the fridge. No lists, no grocery shopping, no lines, no parking lots, no recipe searches, no getting sick of your "go-to standby meals." No worries!
The meals take between 15 and 45 minutes to cook up (depending on which meal kit company you choose, your cooking skills, and which recipes you select for that week). Almost all of the meal kits Vancouver companies deliver, arrive in an insulated box with easy-to-use recipe cards with full nutritional information on them. 
While there is obviously a wide variety of meals available, the vast majority of the recipes that we've tried have been very healthy. It will depend largely on what you choose (e.g. homemade pizza versus a salad). The fresh ingredients make the meals nutritious, and while there is sometimes a too-heavy reliance on adding oil to meals, you have complete control over this. The overall calorie total comes in on average between 500-900 per serving, or you can choose low-calorie options with many meal kits Vancouver.
How Does Meal Delivery Differ?
Meal delivery Vancouver covers all types of deliveries, including meal kits, restaurant and fast food delivery, and read-to-eat meal delivery. Meal kits Vancouver are nearly always the healthiest option. That's because you cook the meals yourself so can monitor how much salt, sugar, oil, and butter goes into each dinner. The ingredients are usually very fresh too so you get plenty of nutrients. Find out which companies service your area using our one-of-a-kind tool to search for meal kit companies that deliver to your postal code.
Global Companies Offering Meal Prep in the Area
HelloFresh
, is available nearly anywhere in British Columbia.
As the largest meal kit company in the world, HelloFresh works with local farmers and suppliers on several continents, to help consumers bypass the grocery store and get food "from field to table" as quickly as possible. This commitment to delicious freshness and high-quality ingredients recently nabbed them the top spot in a recent survey of American meal kit companies done by USA Today. This is noteworthy given the extremely competitive nature of the American meal kit scene.
After having HelloFresh meals in Vancouver for almost a year now, we can honestly say that the absolute worst meal delivered to our house would be ranked a six out of ten. By letting you choose from a variety of meals, you can "play to your strengths" as far as choosing meat or vegetarian options that you're familiar with, or try something new each time. The ingredients are consistently excellent and perfectly ripe.
Best Meal Prep Vancouver and British Columbia Based
| Company | | Rating | Covered Provinces | Dishes in menu | Price / serving | MKC Promo |
| --- | --- | --- | --- | --- | --- | --- |
| | Eat Your Cake | n/a | 1 | unknown | unknown | n/a |
| | Fresh Prep | 98.1 | 1 | 10 | $10.99 – $13.99 | |
| | Crave Healthiness | n/a | 1 | 15 | $17.99-$19.99 | n/a |
| | FUUD | n/a | 1 | 9 | $11.95-12.95 | n/a |
| | 2 Guys with Knives | n/a | 1 | 39 | $13.49 – $19.49 | n/a |
| | The Good Stuff | n/a | 1 | 29 | $6.50 – $7.50 | n/a |
Thanks to its status as Canada's healthiest city (and one that attracts folks with a high amount of disposable income), it's no accident that several smaller Vancouver meal kit companies have sprung up over the past couple of years.
Eat Your Cake
Contrary to what you might think upon reading the name, this food subscription box bills itself as Vancouver's healthiest meal kit delivery option. Eat Your Cake will actually customize your food box order not just to a basic preference such as vegetarian, but even to fit specific goals such as weight loss or premium athletic performance. Their brick-and-mortar physical location on Broadway allows you to directly engage with staff to answer any questions that you may have. If you are looking for an ultra-specific meal kit such as "paleo" or "keto," Eat Your Cake is probably your best bet in the meal kits Vancouver scene. (They deliver to Surrey, Burnaby, Maple Ridge, Langley, Coquitlam, Port Moody, and Maple Ridge as well.) All cards on the table, though, you will certainly pay extra for this premium service.
Fresh Prep
Launched in 2015 as a Vancouver meal kits company intent on driving a sustainable, locally-driven model for a Canadian food box. Founded by three young Vancouverites, Husein Rahemtulla, Dhruv Sood, and Becky Brauer, Fresh Prep started relatively small as they sought to establish the proper logistics support for their offerings. Rather than ship through established delivery companies, Fresh Prep has gradually built up its own network of drivers and hopes that this will be an advantage over the long haul. In addition to expanding throughout British Columbia, Fresh Prep recently started delivering across Alberta and has plans to grow eastward. Read this detailed Fresh Prep review to find out more. 
FUUD
A Vancouver meal kits company that has recently pivoted to partnering with grocery stores and now label themselves,"A meal kit solution designed for the grocery aisle." Touting their close relationship with OceanWise seafood and Fraser Valley Farms, FUUD is aiming to offer Vancouver residents a premium, sustainable meal kit option. FUUD employee Ryland Haggis stated in a recent interview: "A critical element of our business is our desire to expose customers to new types of ingredients while remaining as sustainable as possible." FUUD has experienced a bump in popularity since appearing on hit TV show Dragons' Den.
2 Guys with Knives
Partners Sergio Pereira and Patrick Carr are the "2 guys" who presumably have knives. In 2013, they founded a meal delivery company serving the Vancouver area. Today they offer a customizable platform and support a wide range of dietary needs and allergy conditions as they believe healthy nutrition should be available to everyone in a convenient and affordable manner. 2 Guys with Knives delivers meals for the week, fully cooked and ready to eat, only requiring reheating. Every week, a new menu is available.
Crave Healthiness
For those of you who prefer to order ready-to-eat meals and save time on cooking, Crave Healthiness offers a new menu every week. You can customize your meals to your tastes and preferences, and the company will cook them and deliver them to your door. All you need to do is to heat them up when you are ready for dinner. Both single orders and weekly subscription plans are available. For your weekly plan, you can customize portion size, the number of days per week, and the number of meals per day.
The Good Stuff
Finally, the last "Vancouver meal kit company" isn't really a meal kit company at all—unless you consider a smoothie a meal that is! Producing ready-to-go boxes of smoothies ready for your grab-and-go lifestyle, The Good Stuff offers delicious, nutritious smoothies for $6.50 – $7.50 per serving.



Overall Review of the Meal Kits Vancouver Scene
One of the main benefits of living in such a big city like Vancouver is the wide variety of meal kit delivery companies. You can choose from well-established global companies, such as HelloFresh or Chefs Plate, or prefer to support small local companies that have just placed their foot in the door of the meal delivery market. However, if you live in a smaller city in British Columbia, such as Victoria or Kelowna, these meal kits are most likely available to you too, as many companies keep expanding their delivery area. In any case, you can expect high-quality food delivered to your door that you only need to unpack and store in your refrigerator until you are ready to cook.
On average, it takes about 30 minutes to cook a meal from meal kits delivered in Vancouver. It might take you a little longer if you are new to a kitchen or a little bit less if you already have enough experience with pots and pans. All the instructions are clearly described step-by-step, so you don't need to be an expert to cook a restaurant-quality meal for yourself and your loved ones. The majority of meal kit companies in Vancouver will let you order up to five recipes a week for up to four people, with a minimum order of two recipes per week for two people.
We hope our reviews of Vancouver meal kits will help you find the company that will satisfy your appetite, please your taste buds, fit your dietary needs, and your budget. If you still can't decide, use one of our discount codes to get heavily discounted meals and compare a few options. Then, you'll likely know who you want to stick with after the promotion period ends. 
Frequently Asked Questions:
Is goodfood in Vancouver?
Yes, GoodFood is in Vancouver and is one of the most popular meal kits services in the area. Its main competitors in Vancouver are HelloFresh and Chefs Plate.
Is Fresh Prep Vancouver worth it?