---
ZestyKits Canada Review 2023
For those of you looking for meal kits in Regina, Saskatoon, White City, Pilot Butte, Moose Jaw, Warman, or Emerald Park in Saskatchewan and would like to support local businesses, ZestyKits is the best option. A small but rapidly growing meal kit company created partnerships with local farms to deliver the freshest produce possible for maximum health benefit and taste. The Zesty Kits team prepares the food according to the plan that you select, packages it, and delivers it to your doorstep. All you need to do is to cook it when dinner time comes!
Those who have tried ZestyKits say it has been a life-changing experience. They love the freshness of their food and the convenience of having everything at hand, ready to cook. Today you can try Zesty Kits with a discount using the discount code MKC.
Visit website
ZestyKits Ratings by Our Readers
Cast your vote by selecting either button
Plans for
Price ranges
$67.98 - $232.92 / week
$10.33 - $14.67 / serving
No exclusive promotions available via MKC
ZestyKits: Editorial Notes
It does not matter if you're a couple or have a big family, if you are a meat lover, vegetarian, or vegan, Zesty Kits has something for everyone. There are four meal plans to choose from, and each plan offers a variety of recipes that change every week. Even if you are looking for a meal kit for singles you could choose the two-portion plan and have each meal for dinner, then lunch the next day.

Since the recipes are based around seasonal produce and ingredients, it could be Pepperoni and Mushroom Pizza with Italian Salad, Mexican bowl with mixed grains, roasted corn, lettuce, tomato, cilantro, and salsa, or Adobo Beef Baseball Steak, and next week you can expect Spaghetti and Meatballs, Orange Stir Fry, or the Mediterranean Quinoa bowl. Everything is made with fresh ingredients from local farms.
In addition, you can order protein snacks, jams, a cheese and deli meat board, baking kits for your sweet tooth, and more. Everything will be freshly delivered from the local farms to your door and will satisfy the taste buds of even the pickiest of eaters. Once you've subscribed to a plan, you can always skip a week or cancel at any time.
Don't forget to use the ZestyKits coupon MKC when you make your first order. With the promo code, you will get a complimentary baking kit AND Saskatchewan-made snacks. You'll also get 20$ OFF, which will be deducted from the first week of service and the baking kit and the snacks will be delivered the second week of service.
ZestyKits: Credibility and Reputation
| | |
| --- | --- |
| Established in | 2018 |
| Registered in | Regina, SK |
| CEO | Catherine Beaudoin |
| Clients in Canada | 200 |
| Independent rating | (Google) |
ZestyKits was established in 2018 in Regina, SK, by two sisters, Catherine and Annie Beaudoin, with the goal to positively impact people's lives by bringing them fresh meals that are healthy and easy to cook. The company became a successful local competitor to other global and Canadian meal kit delivery companies such as HelloFresh, GoodFood, and Chef's Plate. The customers highly rate ZestyKits with five stars on Google Reviews.
Currently, Zesty Kits delivers to a limited area in Saskatchewan. Only residents of Regina, Saskatoon, White City, Pilot Butte, Moose Jaw, Warman, or Emerald Park can enjoy this special, local, almost personal experience with Zesty Kits. In the near future, the company has plans to expand into Edmonton, Winnipeg, Calgary, and Red Deer. If you don't see your city on the list, you can leave a request on the ZestyKits website, and they will do their best to bring their service to you!
ZestyKits Meal Plans and Menus
Similar to larger food subscription box companies, ZestyKits offers several subscription plans. The difference about ZestyKits is that they're aimed toward any kind of eater—a carnivore plan for meat lovers, a clean food plan (2 x meat dishes and 1 plant-based), a vegetarian plan, or a vegan plan for those who prefer to avoid meat, dairy, honey, and eggs. Each week you can order two, four, or six portions of three unique recipes that will be delivered directly to your door free of charge.

You can also customize your plan with gluten-friendly meals or by doubling your animal proteins. This is a very rare service offering, so could be the clincher for you or a loved one. To make your meals gluten-friendly, it costs $14.00 extra for the two-portion plan, $28.00 for the four-portion plan, or $39.00 for the six-portion plan. If you love eating meat, you can double the amount of meat in each meal, which costs $18.00 for the two-portion plan, $36.00 for the four-portion plan, or $50.00 for the six-portion plan. Here are the costs of the regular plans, without the add-ons:
ZestyKits Carnivore Plan
In this plan, all meals are high protein, family-friendly, easy to prepare, and offer you opportunities to discover new flavours. They include meat or fish from Saskatchewan farmers and producers. The prices range from $97 a week for two servings to $233 a week for six servings.
ZestyKits Clean Food Plan
Clean food meals by ZestyKits are easy to prepare, family-friendly, and full of new flavours. Each week you will get three unique recipes that include two meals with meat or fish and one meal with local plant-based produce. You can order two, four, or six portions per week. The price range will be from $92 to $223 per week.
ZestyKits Plant-Based Plan
For vegetarians, ZestyKits developed a Plant-Based Plan that offers vegetarian meal kits with an abundance of local and seasonal produce, hearty grains, and vegetarian-friendly proteins. All three meals offered each week will be 100% vegetarian, with over 90% being made up of vegan ingredients. You can order two, four, or six portions a week. The price range will be from $82 to $195 per week.
ZestyKits Vegan Plan
What makes the Vegan Plan different from the Vegetarian Plan is that the vegan meal kits don't include any eggs, dairy, or honey. All three meals each week will be 100% vegan and will include a variety of local and seasonal produce, grains, and ethically-sourced vegan-friendly proteins. You can order two, four, or six portions a week. The price range will be from $87 to $211 per week.
| | |
| --- | --- |
| Cooking skills needed | Basic |
| Ingredients sourced from | Local farmers and producers |
| Vegetarian restrictions | Select with plan |
| Avoid an ingredient | Choose by meal |
| Calorie range | Choose by meal |
| Low carb options | Choose by meal |
| Allergy restrictions | Choose by meal |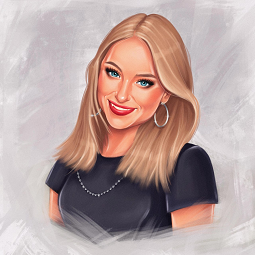 Sarah Balfour
Customer's Personal Experience
We are always curious to know what current clients think about the company's service. For this purpose, we interviewed one of ZestyKits customers:
What is your name and where are you from?
Sarah Balfour from Regina, Saskatchewan.
How did you find ZestyKits and why you decided to join?
I found ZestyKits through the wonderful business community in Regina – my boyfriend rushed home to tell me about a locally made meal kit made by two sisters he had just met at a local networking event. We had already been considering the larger chain meal kit options as we tend to keep our calendar pretty jam-packed and we were never really cooking besides one huge night a week of meal prep and take out TBH. Now that we knew of Regina's handmade, locally sourced dietician-planned menu there were no excuses. We had to order.
How long have you been a ZestyKits customer?
2 years and 1 month
What plan do you prefer and why?
We started off with the Vegetarian plan, my thought process was we understood how to cook meals with meat but did not really understand eating vegetarian or vegan. With the global need of lessening carbon footprints, I should learn how to enjoy vegetarian and vegan food. After about 6 months I moved to the Clean Food plan and enjoy the local meat supplied and have allowed it to influence my meat shopping habits as I learned so many ways to be inspired for Vegetarian meals and also not feel the need to automatically put meat on everything.
How many portions a week do you order?
We get 2 portions for 3 meals a week.
Could you please tell us about the delivery and packaging?
The meal kits are hand delivered each week to my door at the time I selected, mine arrive at 10:00 am on Sundays. If I happen to be out I stash a cooler on my doorstep for them to put it in until I get home. The packaging is really simple and easy to recycle each week. Each meal is packaged in a separate box with ingredients and health facts noted. Inside you will find a collection of fresh, seasonal, and pre-sized packaged ingredients.
How long does it take you to cook a meal, on average? What problems did you encounter?
The average time to prepare and cook the average ZestyKit is about 30-35 minutes. My issue is I don't listen to instructions and read the whole recipe and steps first – I just charge in and quite often get it wrong. With ZestyKits every about 5th meal has a brand new flavour profile or method introduced and I often don't pay attention to the tips and tricks.
What are your favourite meals and why? Top 3:
1.

 

Pea Pistou Linguine – I love it because it has the freshest flavours with the snow peas and other simple delicious ingredients.
2.

 

Roasted Beet, Arugula & Balsamic Pizza – I love it because it showed me how simple eating vegetarian could be without looking for meat substitutes.
3.

 

Mustard Ramen bowl – This is a meal I would never have had the guts to attempt to make or buy ingredients for but it is so delicious and easy to make now that I know.
Did you communicate with ZestyKits customer service since you signed up? How did it go?
Yes, when I first signed up I had a lot of questions about trying out the Vegetarian meal kits and how best to incorporate that change into my household, I was also contacted for a consultation to make sure that change was working and when it wasn't helped me adapt my order. Since then I have had customer service contact me by phone, email, and a handwritten note through a variety of check-ins, holiday celebrations, and thanks from the business.
Can you please share any pictures of the meal kits you received?
Yes, here you go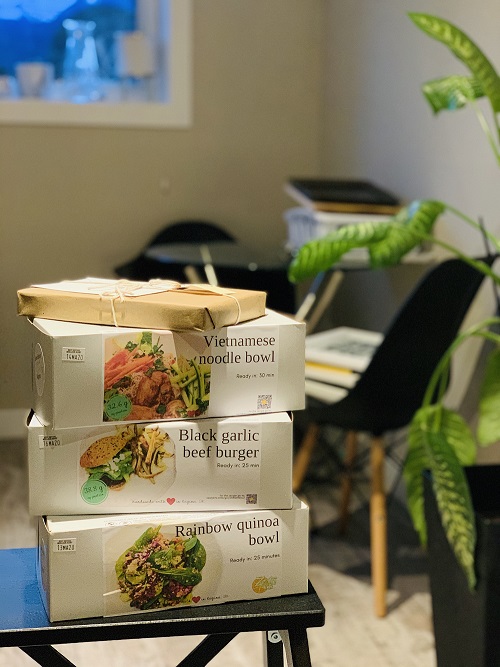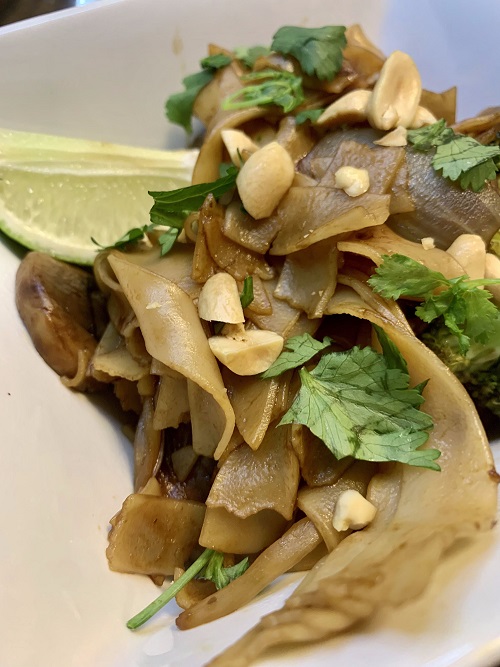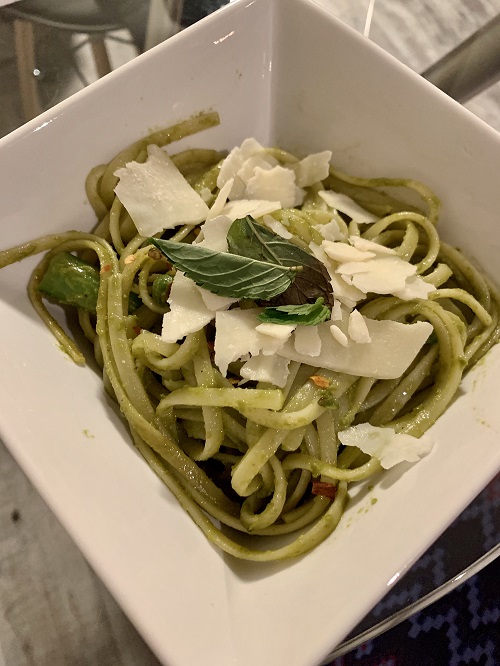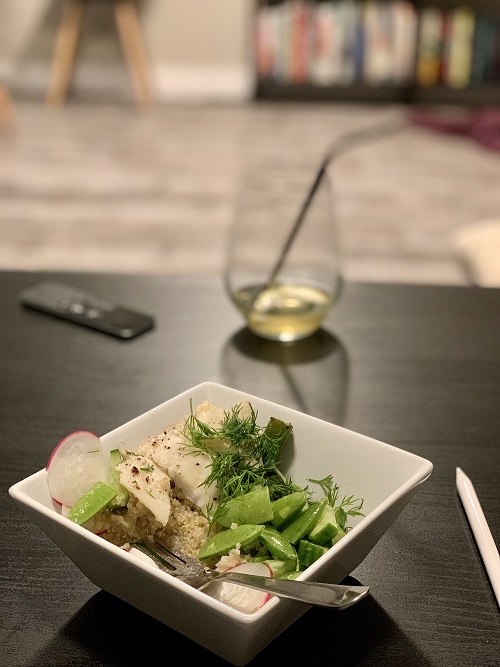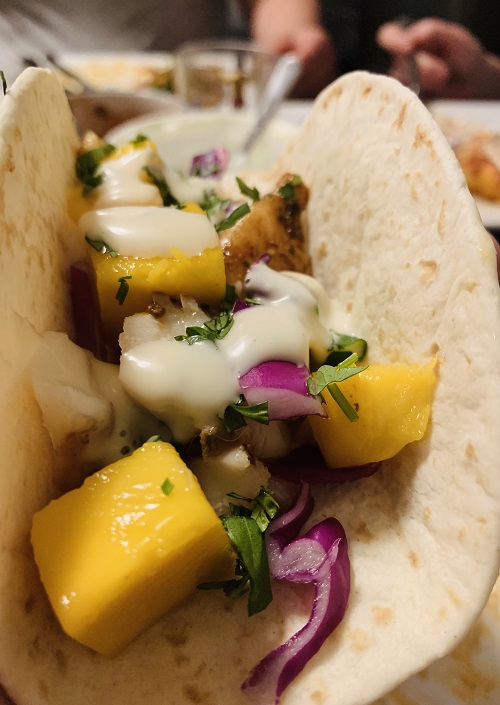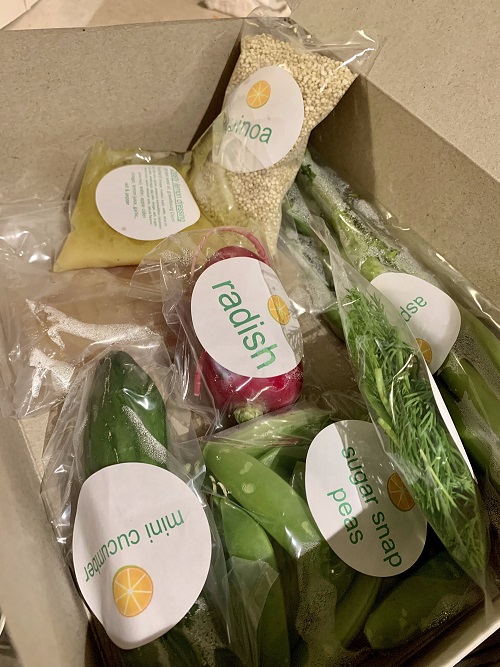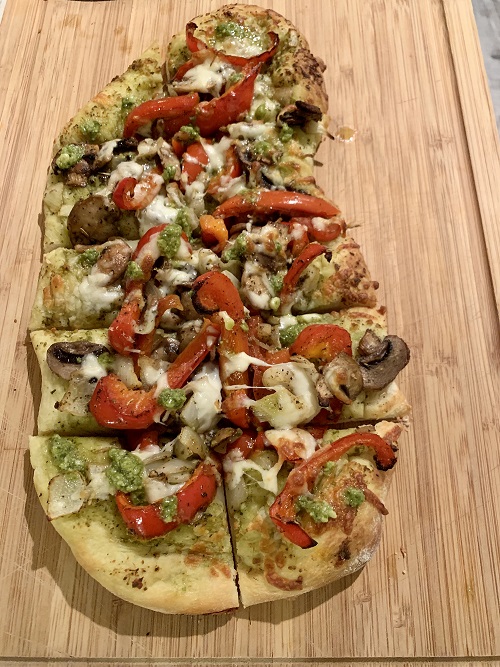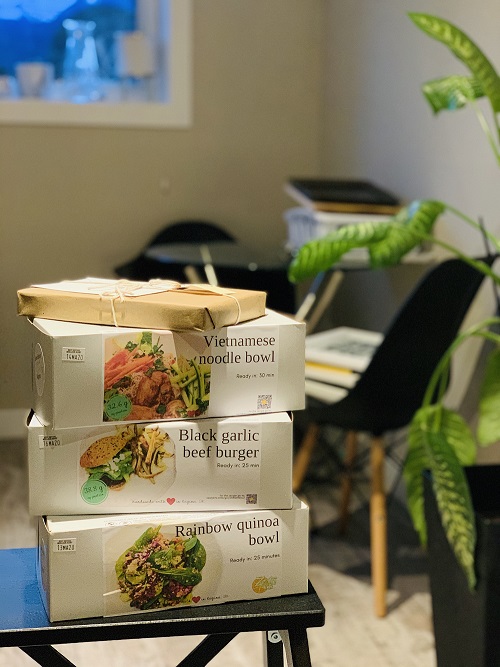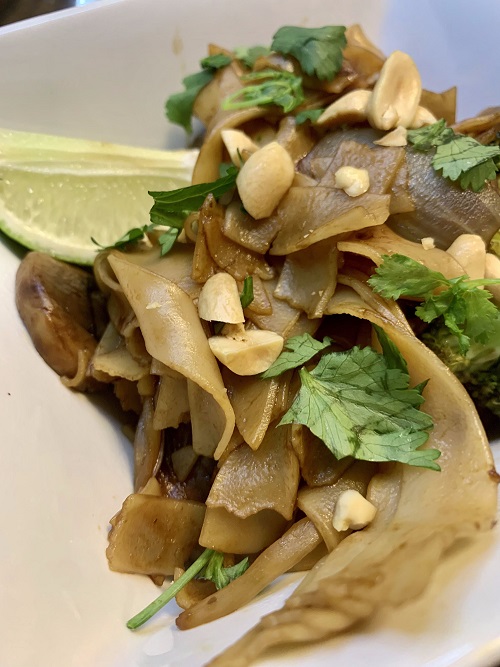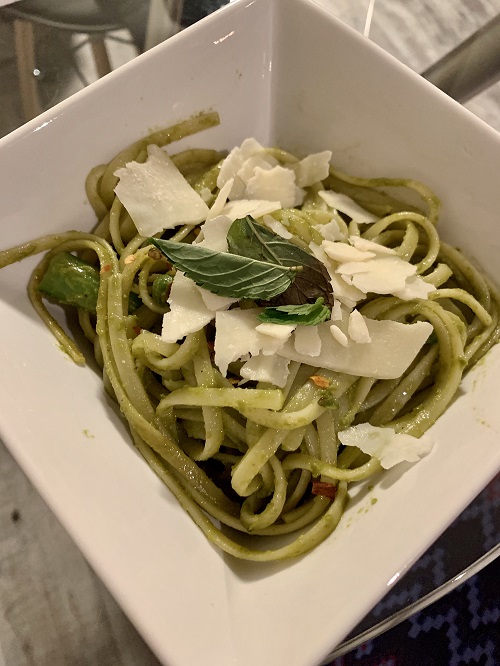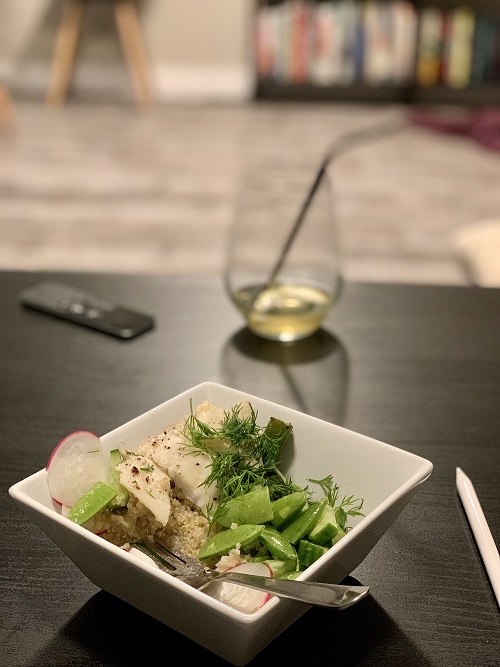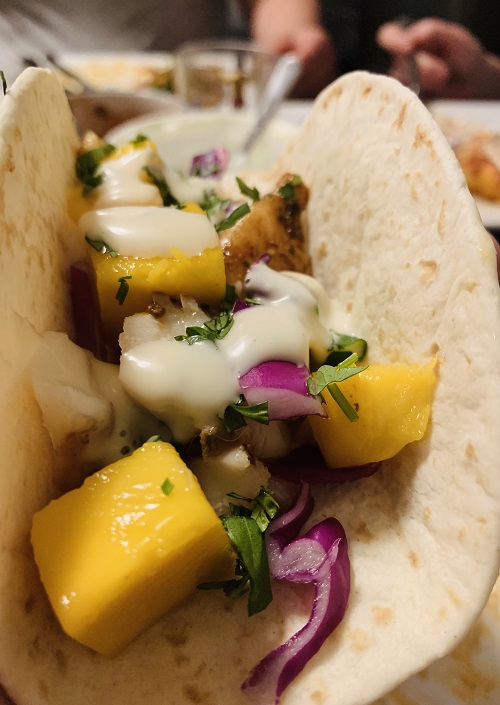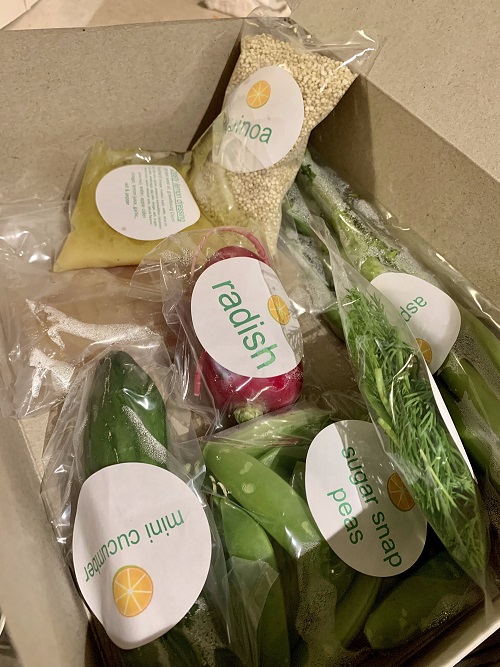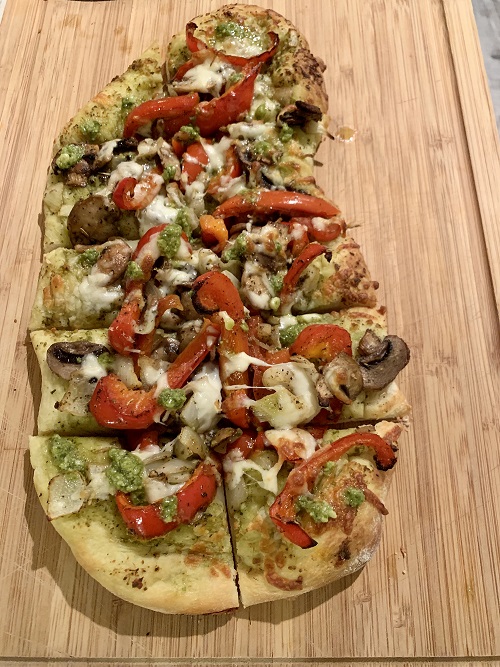 Terms and Fine Print
Delivery
| | |
| --- | --- |
| Delivery area | SK |
| Home delivery | Yes |
| Work delivery | Yes |
| Must be present for delivery | No |
| Delivery window | 9am-9pm Su, Mo |
| Box stays cold for | 2 hours |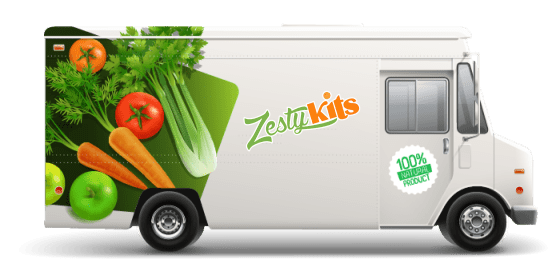 ZestyKits offers meal prep delivery to your home or office. They usually deliver on Sunday or Monday during the two-hour window that you choose between 9 am and 9 pm. Unlike other food delivery services, ZestyKits does not freeze their meals and does not ship them. This allows ZestyKits to minimize packaging and reduce the carbon footprint of meal kits to a minimum.  You will
receive a text reminder of delivery 1 hour prior to the delivery window so that you can receive the delivery personally and refrigerate it as soon as possible.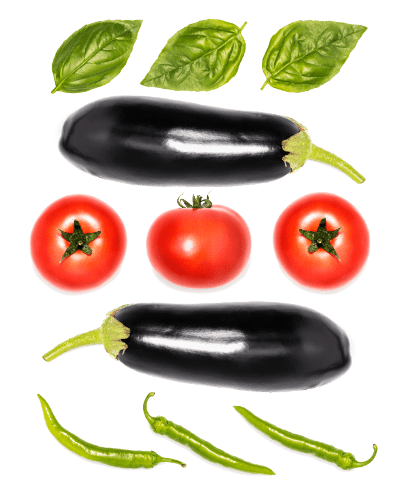 Flexibility
| | |
| --- | --- |
| Switch between plans | Yes |
| Minimum subscription length | 1 week |
| How to cancel subscription | Online account, e-mail |
| Extra charge for skipping week | No |
| Weekly deadline to cancel/skip | Wednesday, 11:59 pm |
| Auto-renewal | Yes |
| Personalization options | Number of people |
Before you subscribe to a meal plan with Zesty Kits, you have the option to purchase a one-time meal kit from any of the four plans listed above. You can buy a small kit with only two portions or a big kit with six portions (which equals 18 servings). If you enjoy it, you can sign up for weekly delivery. If you need to skip a week or more for any reason, you can log in to your account and choose the number of weeks you want to skip or send them an email. If you want to cancel your plan, you can also do so online or notify the team by phone at 1(306)988-0427 or by email: [email protected]. 
In case you or someone in your family have any food allergies, you may ask for a substitute. ZestyKits can skip ingredients upon request but they cannot guarantee that there will be no cross-contamination. In case of a severe allergy, they recommend not to use the service.
Support and Usability
When we used the ZestyKits website, we found it very user-friendly. However, there is no mobile app available at the moment. The company is widely present on social media, and there are Facebook, Instagram, and Twitter accounts that you can follow. ZestyKits customer service is available by phone, online chat, email, Facebook Messenger, Instagram Direct, and, of course, by regular mail at 2 Research Drive, Regina, SK S4S 7H9.
Address
2 Research Drive, Regina, SK S4S 7H9
Customer Reviews
To gain an understanding of how ZestyKits customers feel about their experience, we evaluated the company's reviews on different consumer rating platforms. For this analysis, we took into account what the customer thought of the company overall and marked each review as positive, negative, or neutral. We also noted the reasons why people left their reviews and considered the specific things they did and didn't like about the service.


However, there's one important thing you should always keep in mind when analyzing reviews or viewing customer feedback statistics. Generally, most online reviews are left by people who had either an extremely good or extremely bad experience with a certain product, company, or service. People who thought that the product was good enough don't usually want to take the time to write a review. So, in reality, the portion of satisfied customers is much larger than what online reviews might lead you to believe. To mitigate this bias, we don't just compile an average rating—we look deeper into the reasons why people choose to leave reviews online.

For example, look at how much detail you can get from the following review left on Google: "I've been getting the ZestyKit meals for months now. I absolutely LOVE this business. The meals are fantastic. Everything is portioned out and ready for you to cook. The meals are all typically less than 30 minutes to cook and prepare, are healthy, full of vegetables, unique and TASTY! These meal kits have honestly made cooking fun for me again. It's introduced me to a ton of new recipes. I've been able to drop a bit of weight since having these meals as it's really reduced my desire to eat out and makes me excited to eat at home. The owners, Annie and Catherine are super friendly, kind, talented and motivated ladies! I will for sure continue with these meals. So thankful to have this company in Regina!! Highly recommended as it's made a significant improvement in my day-to-day life :)"
Distribution of ZestyKits reviews compared to industry-wide averages
To determine how ZestyKits service compares to its competitors, we went through the reviews that the company's customers left online and categorized them as positive, negative, or neutral. Reviews that came from customers who had clearly positive or negative experiences were categorized accordingly, while reviews left by customers who didn't have any strong feelings about the service were marked as neutral. When we compared this data to the industry average, we found that ZestyKits got significantly better reviews than their competitors. The percentage of their positive reviews was overwhelmingly higher than the industry-wide average, and they received much fewer negative reviews than other meal kit delivery companies. The percentage of neutral reviews was also lower compared to their competitors. Based on this information, we can conclude that ZestyKits customers generally have a better experience than people who order meal kits from other companies.
Data was compiled from 2150 reviews about 13 different companies across 9 review sites. ZestyKits had 24 reviews
Most frequently given reasons for liking or disliking the company
Since we wanted to understand why people who ordered ZestyKits boxes were happy or unhappy with their experience, we analyzed the reasons why online reviewers decided to leave their feedback. Happy customers of ZestyKits praised the tasty food, clear recipes, and responsive customer support. In all of these categories, ZestyKits performed better than its competition, which is another sign that the company provides a better customer experience than other meal kit delivery services. At the same time, relatively few customers wrote complaints about high prices, unclear recipes, or unappetizing food, and the percentage of reviews that mentioned these negative aspects was on par with the average in the industry. This means that ZestyKits meets industry standards in some areas, and exceeds industry standards in others.

Data was compiled from 7123 apparent reasons from 2150 reviews. ZestyKits data had 66 reasons in 24 reviews
Frequently Asked Questions:
Is delivery free?
Yes, there is no delivery fee. All fees are included in the final price.
How do I cancel my subscription?
Are all the necessary ingredients included in the kit?
How long does it take to cook a ZestyKits meal?
How many calories are in the meals?
Are there low-carb meal options?
Are the ingredients organic?
What kitchen tools do I need?
How long will the ingredients stay fresh?
Zesty Kits: The Bottom Line
ZestyKits is a young but ambitious meal delivery company that is rapidly gaining popularity in Saskatchewan. With over 200 clients at the moment, the company offers a nice neighbor-friendly local service with an almost personal touch. They can even substitute some ingredients in your meal in case you have allergies, which is impossible with big global companies that offer standard pre-set meal kits to all their clients.
Following their goal to promote healthier living through easy and locally sourced ready-to-cook dishes, ZestyKits does a great job connecting local farmers with Saskatchewan families. All their meal kits contain local meat, fish, and produce.
We hope this ZestyKits review will help you make the right decision. Don't forget to use the generous ZestyKit promo code MKC! It will save you $20 on your first order, and with your second order, you will receive a baking kit and locally-made snacks. 
No exclusive promotions available via MKC
---
Carnivore – All three meals have meat or poultry in them
Clean Food – A mix of three vegetable, meat, and poultry meals
Plant-based – Three vegetarian-only meals
Vegan – Three vegan-only meals