Ottawa, Montreal and Quebec Meal Kits Review 2020
Ottawa and Montreal meal kits and other food subscription boxes in Quebec have blossomed from locally run businesses by ma-and-pa entrepreneurs, to nationwide mega-companies. With so many meal kit delivery options to choose from, Montreal residents are fortunate to benefit from competition in the market, and the ability to select from a wide variety of meal kit companies.
When we say "Montreal meal kits," what we're referring to specifically is a food subscription box where you log in, choose your meals/recipes for the week, and then everything that you need to make that meal is mailed to your door. Obviously, as the second-largest city in Canada, there is no shortage of suppertime meal options. We're not going to look at the various types of pre-made meals that are available for pick up or grocery delivery options. Instead, we're going to focus on which national meal kit companies (see our Hello Fresh Review, Goodfood Review, and Chef's Plate Review for more information) deliver to Montreal and the rest of Quebec, and compare them to some of the smaller, local-only options.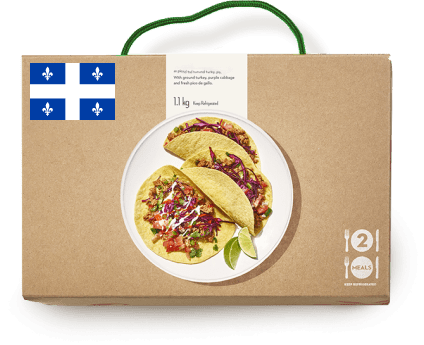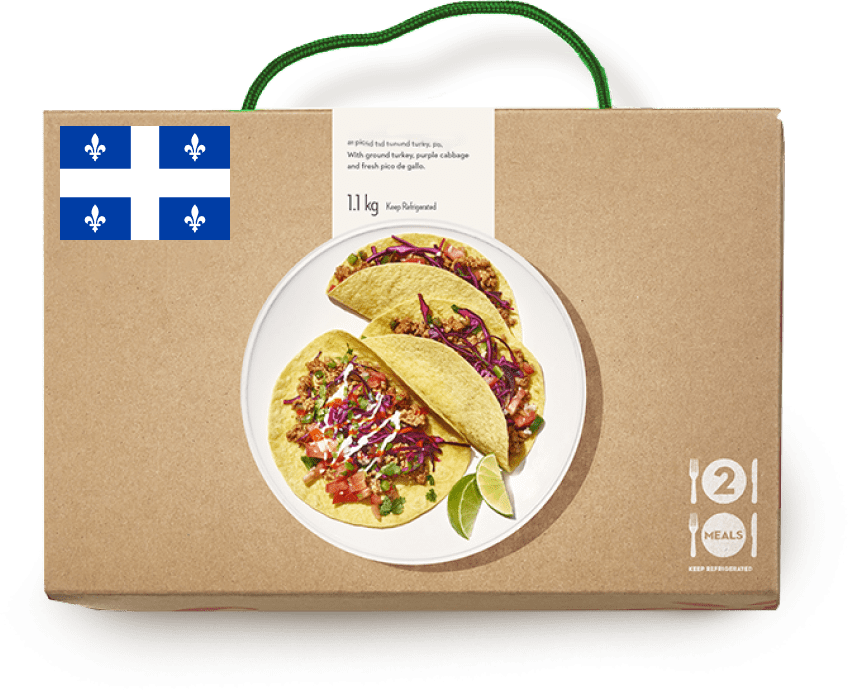 Background on Montreal and Quebec Area and Meal Kits Industry
| | Value | Rank (of 10) |
| --- | --- | --- |
| Population | 8,433,301 | 2 |
| Food stores per 100,000 ppl | 81 | 4 |
| Farms per 100,000 ppl | 343 | 8 |
| Average family size | 2.8 | 5 |
| Experience difficulties with food budget | 30% | 10 |
| Eating fruits/vegies 5+ times a day | 35% | 1 |
| Time spent eating per day | 105 | 1 |
| Vegans and vegetarians | 9.1% | 3 |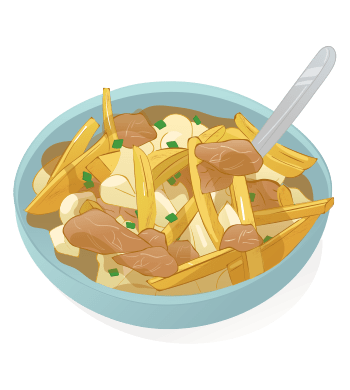 Duck Poutine – Quebec traditional dish
Montreal is the most populous city in Quebec and the second-most populous city in Canada after Toronto. However, there are only 343 farms per 100,000 citizens, which is one of the lowest numbers in the country, and 81 food stores. This explains why meal kit companies in Montreal are so popular among various demographics–they offer food delivery directly to your door!The average family size in Montreal is 2.8, the same as in Vancouver, and they both are in fifth place in the country. Thirty-five percent of Montrealites eat fruit and vegetables five or more times a day, which is more than residents of any other city or province in Canada. Over nine percent of them are vegetarians or vegans. Those Montreal meal kit companies that offer vegetarian plans have many current and future customers here.
Fun fact: Montrealites spend more time eating than anyone else in the country, 105 minutes a day.
What Does a Meal Kit Look Like?
With several different national and local meal kit companies available in Montreal, Ottawa, and across much of Quebec, it's tough to say precisely what your specific food box will look like. That said, the "Big 3" companies tend to deliver a very consistent product across Canada. Your meals for the week will arrive in an insulated box that keeps your meats cool with frozen ice packs, and the rest of your meal comes in self-contained bags. Simply store in your fridge, and when suppertime arrives, pluck out the bag, and get cooking!
The boxes are engineered to keep everything cool, no matter how hot it is outside. When we first started ordering Hello Fresh, we tested the claims by leaving the box outside in 32-degree heat for 8+ hours. The ice packs were still more than 50% frozen when we opened the box, and consequently, the meat was still quite chilled, and the produce was cool and crisp.  Chef's Plate, and Miss Fresh, and Good Food in Ottawa and Montreal employ similar engineering for their boxes.
The boxes come complete with colorful, can't-screw-it-up-even-if-you're-a-rookie recipe cards. For a kitchen newbie, these step-by-step instructions are a lifesaver. It's actually functioned kind of as a cooking 101 class for some of us to be honest. Now we are much more confident in adding spices or homemade sauces/marinades to other meals that we cook.
The bags come complete with all of the ingredients you need, save for a few kitchen essentials such as salt, sugar, oil, or parchment paper. Chef's Plate is known for their 15-minute meal options, but most meal kit meals take 20-45 minutes from "fridge to table." Many people choose to get their meal kits delivered to their place of business or a neighbor's house if they aren't home during the day or they don't have a reliable parcel management system in their building. It's basically the same deal as getting a package from Amazon.
Global Canadian Meal Kit Companies Servicing Ottawa, Montreal, and Quebec
Local Meal Kit Companies in Ottawa, Montreal, and Quebec
| Company | | Rating | Covered Provinces | Dishes in menu | Price / serving | MKC Promo |
| --- | --- | --- | --- | --- | --- | --- |
| | COOK It | n/a | 3 | 14 | $8.61 – $11.50 | n/a |
COOK It
The little meal kit company that could, COOK It was created on a date night when Judith Fetzer mentioned the idea to Patrick Chamberland. In a romantic twist of fate, Patrick was hooked—on both Judith and the meal kit idea.
In an interview with the Montreal Gazette, Chamberland revealed:
"I got it immediately. I was exactly the type of person who needed something like that, a young professional who wants to eat right and learn new recipes but didn't have much time or a full range of ingredients at home."
COOK It hit the big time when it appeared on the Quebec entrepreneurship show Dans l'oeil du dragon (think Quebec's version of CBC's Dragons' Den), and made a deal that included selling 35% of their company for $125,000.
The local meal kit company believes there is a place in the market for them as a premium product. They are quick to point out that their produce comes from Chez Louis in the Jean-Talon Market, their fish from Poissonerie Falero, and most of their meat from La Maison du Rôti—banking on Quebecers' passion for elite quality ingredients, as opposed to the "Big 3"
Overview of the Ottawa and Montreal Meal Kit Scene
With so many options and price points to choose from, it's tough to make a blanket recommendation when it comes to meal kits in Quebec. The majority of our team are loyal to Hello Fresh after enjoying their product for over a year and having only great things to say. That said, if you already grocery shop at Metro grocery stores or prefer to support a local Montreal meal kit company, we can see the appeal of Miss Fresh and Goodfood. With our exclusive promo discount offers, it's relatively affordable to order several of these options and give them each a trial period since the first week for each one is such a good sale! (Just remember to cancel your credit card once you've decided what the right meal kit option is for you.)