Montreal and Quebec Meal Kits Review 2020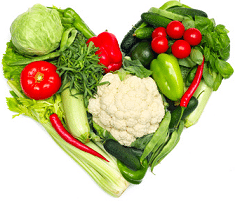 Montreal meal kits and other food subscription boxes in Quebec have blossomed from locally run businesses by ma-and-pa entrepreneurs, to nationwide mega-companies.  With so many meal kit delivery options to choose from, Montreal residents are fortunate to benefit from competition in the market, and the ability to select from a wide variety of meal kit companies.
When we say "Montreal meal kits" what we're referring to specifically is a food subscription box where you login, choose your meals/recipes for the week, and then everything that you need to make that meal is mailed to your door.  Obviously as the second largest city in Canada, there are not shortage of supper-time meal options. We're not going to look at the various types of pre-made meals that are available for pick up, or grocery delivery options. Instead, we're going to focus on which national meal kit companies (see our Hello Fresh Review, Goodfood Review, and Chef's Plate Review for more information) deliver to Montreal and the rest of Quebec, and compare them to some of the smaller, local-only options.  Scroll down to get straight to the direct comparison of Montreal meal kits and Quebec meal kit delivery options, read on if the world of meal kits is a bit new to you.
Why I Love Meal Kits
If you're the type that takes great pride in creating new recipes, painstakingly curating hundreds of recipes on Pinterest, and then hand-picking the best produce on grocery store shelves each week, before leisurely creating a masterpiece of a meal each evening – then you might not get a ton value from a meal kit.
I personally don't know too many people like that.
On the other hand, I know a ton of people that work long hours, and families who see dinner time as a mountain to be conquered each evening.  They pray daily that the mountain is a nutritious one that doesn't steal their whole evening!
Here's what my Hello Fresh meal kit subscription has done for my family:
GONE is the crushing feeling of driving home from work wondering what you're going to make for supper and realizing that you forgot to stop at the grocery store or thaw that cut of meat!

SAVINGS from less nights ordering delivery or eating out.

ZERO wasted food to stink up my fridge.

DELICIOUS new recipes that I lacked the confidence to try on my own.
What Does a Meal Kit Look Like?
With several different national and local meal kit companies available in Montreal and across much of Quebec, it's tough to say precisely what your specific food box will look like.
That said, the "Big 3" companies tend to deliver a very consistent product across Canada.  As you can see below from my personal meal kit order, your meals for the week will arrive in an insulated box that keeps your meats cool with frozen ice packs, and the rest of your meal comes in self-contained bags.  Simply store in your fridge, and when supper time arrives, pluck out the bag and get cooking!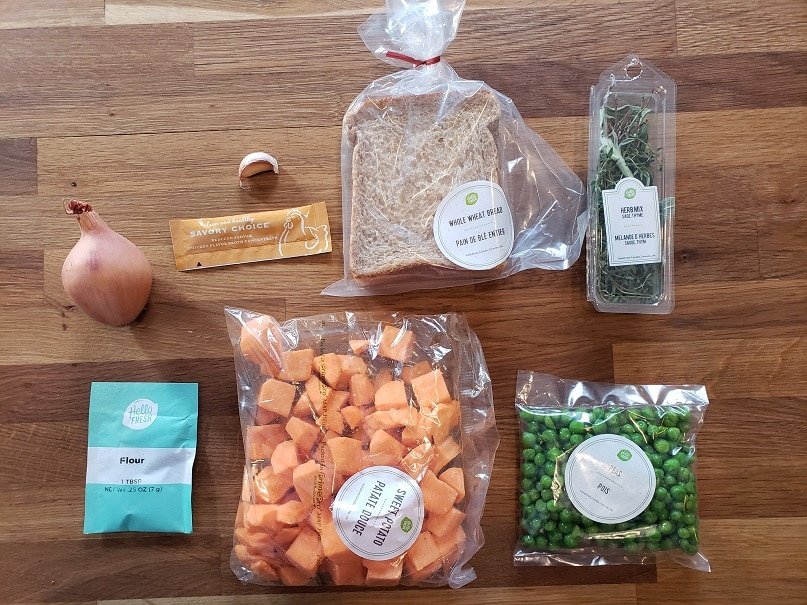 The boxes are engineered to keep everything cool no matter how hot it is outside.  When I first started ordering Hello Fresh I tested the claims by leaving it the box outside in 32 degree heat for 8+ hours.  The ice packs were still more than 50% frozen when I opened the box and consequently the meat was still quite chilled, and the produce was cool and crisp.  Goodfood, Chef's Plate and Miss Fresh employ similar engineering for their boxes.
The boxes come complete with colourful, can't-screw-it-up-even-if-you're-a-rookie recipe cards.  For a kitchen newbie like yours truly, these step-by-step instructions are a lifesaver. It's actually functioned kind of as a cooking 101 class for me to be honest.  I'm now much more confident in adding spice or homemade sauces/marinade to other meals that I cook.
The bags come complete with all of the ingredients you need, save for a few kitchen essentials such as salt, sugar, oil, or parchment paper.  Chef's Plate is known for their 15-minute meal options, but most meal kit meals take 20-45 minutes from "fridge to table". Many people choose to get their meal kits delivered to their place of business or a neighbor's house if they aren't home during the day or they don't have a reliable parcel management system in their building.  It's basically the same deal as getting a package from Amazon.
Hello Fresh and Chef's Plate in Montreal
The most popular meal kit provider in Montreal and around the world is Hello Fresh.  It arrived on the Canadian scene several years ago and has used its meal kit delivery experience from several continents to dominate the Canadian food subscription box market.  They are not the absolute lowest-priced meal kit in Montreal, but they are competitive on price, and they seek to really deliver outstanding delicious meals (with large portions) each week.
I have been a Hello Fresh customer for over a year now and can honestly say I've never received a "bad meal".  I should mention in the interest of fairness that I'm not a picky eater, but everything from the cuts of meat, to the fresh produce that Hello Fresh sends to our doorstep, has been excellent quality.  If I wanted to nitpick, the worst I could say is that one meal didn't totally agree with my taste buds (I ranked it a 6/10, my wife gave it a 7.5/10) and the herbs froze a few times when our box was left out for hours on the coldest winter days.  Those are the worst-case scenario, and I would say the average meal we get, my wife and I would consider a 9.5/10. Given that Hello Fresh locally sources a lot of their ingredients, and cuts down the field-to-table time frame, to a substantially shorter period than grocery stores do, it's no mystery why everything tastes so good!
Chefs Plate is the lower-cost, smaller portion little sibling of Hello Fresh.  Started by Patrick Meyer and Jaime Shea in 2014, Chef's Plate grew extremely quickly and sold more than 2 million meal kits across Canada.  The most unique aspects of the company are that they are the only meal kit delivery company in Canada to be federally registered as safe for food processing by the Canadian Food Inspection Agency AND that they have a large selection of 15-minute meal options for the super time-crunched household.
Chef's Plate was recently acquired by Hello Fresh, but Canada's most popular meal kit company has stated that they plan to run the brands as separate entities, with Hello Fresh being the more premium model and Chef's Plate targeting folks looking for a time-saving solution at the lowest possible price point.
Montreal's Own Meal Kit Company: Goodfood
Quebec meal kit companies were ground zero for the food subscription box revolution in Canada.  Both Goodfood (sometimes referred to as "Make Good Food" due to their commercials) and Miss Fresh are made-in-Montreal success stories.
Goodfood bills itself as "Canada's #1 Meal Kit" (likely based on their Canada-owned status).  While Goodfood is smaller than Chef's Plate and Hello Fresh, it is larger than any of Canada's other meal kit companies.  Goodfood is clearly aiming to be corner the market on the most popular meal kit in Montreal and throughout Quebec, as evidenced by their partnership with award-winning TV Host and French Media personality Anne-Marie Withenshaw.
Goodfood offers a huge weekly menu each week, including many super-fast 20-minute options.  My brother particularly liked how many low-carb recipe options that Goodfood included. We did notice that Goodfood portion sizes were consistently smaller than Hello Fresh's; however, given that their price point is closer to that of Chef's Plate, that would make sense.
Quebec's Meal Kit Company Plus: Miss Fresh
Miss Fresh is the first Canadian meal kit company to partner up with a major grocer in order to get their meal kits to Canadians.  Metro Grocery stores (Canada's third biggest grocery store chain, with hundreds of brick-and-mortar locations in Quebec) purchased Miss Fresh back in 2017 and has been experimenting with various types of grocery and meal kit delivery methods ever since.  This corporate backing gives Miss Fresh some unique capabilities and areas to grow.
I personally love the fact that I can cut my grocery store visits in half by having my meal kit delivered to my doorstep.  Consequently, it surprises me how many Canadians (especially Quebecers) prefer to pick up their meal kits at the grocery store!  There is no denying the success that Miss Fresh has had with this model. I suppose you don't have to worry about being home or at work when your food box arrives in that scenario. and it stands to reason that Miss Fresh could cut down on overall costs due to minimal delivery expenses as well.
Miss Fresh was founded in 2015 by Bernard Prevost, Marie-Eve Prevost, and Ritter Huang.  These three native Quebecers have retained ownership stakes in the company, and are still involved (even though Metro owns a controlling share).  While Miss Fresh is available across Canada, it has struggled so far to grab market share from Hello Fresh, Chef's Plate, and Goodfood.


COOK It: A Montreal Meal Kit Love Story
The Little Meal Kit Company that could, Cook It was created on a date night when Judith Fetzer mentioned the idea to Patrick Chamberland.  In a romantic twist of fate, Patrick was hooked – on both Judith and the meal kit idea.
In an interview with the Montreal Gazette, Chamberland revealed: "I got it immediately. I was exactly the type of person who needed something like that, a young professional who wants to eat right and learn new recipes but didn't have much time or a full range of ingredients at home."
Cook It hit the big time when it appeared on Quebec entrepreneurship show Dans l'oeil du dragon (think Quebec's version of CBC's Dragons' Den), and made a deal that included selling 35% of their company for $125,000.
The small meal kit company believes there is a place in the market for them as a premium product, and are quick to point out that their produce comes from Chez Louis in the Jean Talon Market, their fish from Poissonerie Falero, and most of their meat from La Maison du Rôti.  Banking on Quebecers' passion for elite quality ingredients, as opposed to the "Big 3" meal kit company's advantages on number of recipes and sheer scale.
Overview of the Montreal Meal Kit Scene
With so many options and price points to choose from, it's tough to make a blanket recommendation when it comes to meal kits in Quebec.  I personally am loyal to Hello Fresh after enjoying their product for over a year, and having only great things to say.
That said, if you already grocery shop at Metro grocery stores or prefer to support a local Montreal meal kit company I can see the appeal of Miss Fresh and Goodfood.
With our exclusive promo discount offers below, it's relatively affordable to order several of these options and give them each a trial period, since the first week for each one is such a good sale!  (Just remember to cancel your credit card once you've decided what the right meal kit option is for you.)