Chefs Plate vs HelloFresh (Canada Review for 2023)
Chefs Plate and HelloFresh are two of the biggest meal kit delivery companies in Canada. Both HelloFresh and Chefs Plate provide a great service to Canadians, but there are differences between them. HelloFresh started delivering food subscription boxes in Germany in 2012, quickly expanding to Europe, the USA, and Australia. When HelloFresh came to Canada in 2016, they acquired Chefs Plate.

Whether you choose Chefs Plate or Hello Fresh, they both have a great reputation and you won't be disappointed. Some Canadians consider Chefs Plate a budget version of HelloFresh. Is that so? Let's compare Chefs Plate vs Hello Fresh to see how similar and different they are.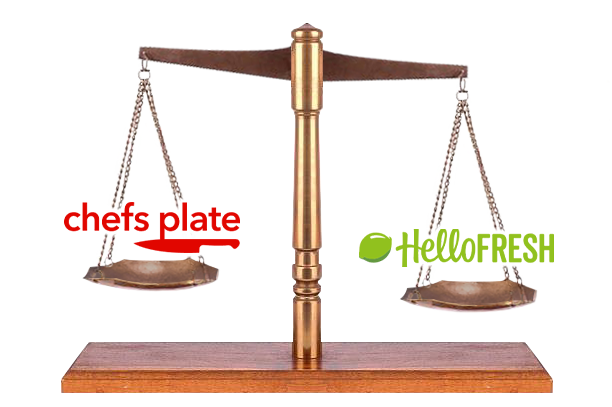 What is a Meal Delivery Service?
A meal delivery service lets you order food to your door. The best food subscription boxes come with fresh ingredients and instructions to follow to cook each meal. HelloFresh and Chefs Plate are considered two of the leading meal kit delivery services in Canada.
Chefs Plate vs HelloFresh Comparison
| | | |
| --- | --- | --- |
| Detailed review | Chefs Plate Review | Hello Fresh Review |
| Established | 2013 | 2016 |
| Delivery area | AB, BC, MB, NB, NS, ON, PE, SK | AB, BC, MB, NB, NL, NS, ON, PE, QC, SK |
| Number of meals to choose from each week | 22 | 35+ |
| Meal Plans | 4-20 servings per week | 6-20 servings per week |
| Сooking time (min) | 15-30 min | 20-30 min |
| Google Rating | | |
| Downloadable App | | |
| Price per serving | From $8.99 | From $9.25 |
| Weekly Total (3 Recipes, 2 people) | $59.94 | $83.01 |
| Packaging | Recyclable or compostable | Recyclable or compostable |
| Discounts | Students, Seniors, and Military | Students, Refer a Friend Program |
| Dietary Needs | No recipes for allergies, limited dietary options | No recipes for allergies, reduced KCal and carb options |
| | | |
Key Takeaways for Chefs Plate vs HelloFresh
HelloFresh is the first global carbon-neutral meal kit company so the most environmentally friendly option. However, when it comes to packaging, both brands deliver your food in packaging that can be recycled or composted.

In terms of meal variety, HelloFresh offers more recipes to choose from, 35+ versus the 22 with Chefs Plate, and serves more areas in Canada. If we compare cooking time with HelloFresh vs Chefs Plate, we can see that most HelloFresh meals more time than Chefs Plate meals to cook. While Chefs Plate meals are simpler and easier to cook than HelloFresh, they taste equally good and use equally fresh ingredients.
If you are on a tight schedule or budget, Chefs Plate will be your best option, as it offers a good variety of healthy and nutritious meals that do not take a lot of time to cook. HelloFresh, on the other hand, offers more variety, which may be important to you. Both companies provide clear cooking instructions with pictures that even novice home cooks will be able to follow.
Both receive an excellent rating on Google from happy customers, so you could always test each brand first, then decide which one to continue with.

Other customers also find the following meal kit delivery comparisons useful: Hello Fresh vs. Good Food, Fresh Prep vs. Hello Fresh, and Chefs Plate vs. Good Food.  You might want to look at these too, to help you pick the perfect meal kits for you and your loved ones. 
Pros & Cons
Let's look at the pros and cons of each brand to see what their biggest advantages and disadvantages are:
Chefs Plate Pros
HelloFresh Pros

✔️

Lowest meal price available

✔️

Fresh, high-quality ingredients

✔️

Free shipping on most orders

✔️

Sustainability: carbon-neutral company

✔️

Offers a smaller plan

✔️

Website and phone app easy to use

✔️

Fresh, high-quality ingredients

✔️

Some recipes are customizable

✔️

Recyclable packaging

✔️

More weekly variety in recipes

✔️

Discounts for students, military, and seniors

✔️

Discount for students
| | |
| --- | --- |
| Chefs Plate Cons | HelloFresh Cons |
| ✖️ Limited dietary options | ✖️ No free delivery |
| ✖️ Less variety in the weekly menu | ✖️ More expensive than Chefs Plate |

Pricing and Shipping Charges: HelloFresh vs Chefs Plate
The cheapest meal kit serving with Chefs Plate starts at $8.99 and with HelloFresh it starts at $9.25. Both brands offer premium meals, which come with unique or exotic ingredients so cost extra on top of your weekly subscription. 
Chefs Plate doesn't charge for shipping, except on the smallest plan. HelloFresh charges for delivery on all orders, regardless of the subscription box you choose. The shipping charge is $9.99 throughout Canada, except for Newfoundland where it is $19.98.
Meal Plans and Customization
HelloFresh lets you swap ingredients for some meals, so this could be an important factor if you have a fussy eater at home. Just look for recipes labelled 'Custom Recipe' and it will give you options for ingredients you can swap.
HelloFresh also offers a wider range of categories and more specialized dishes like family-friendly, low-carb, low-calorie, vegetarian, high protein, and more.
Chefs Plate doesn't have as wide a range but they do offer recipes that are vegetarian and family-friendly. They also have a limited number of customizable meal options where you can swap ingredients.

HelloFresh vs Chefs Plate Meal Choices
Overall, both Chefs Plate and Hello Fresh offer similar food categories, but HelloFresh offers more variety with pork, chicken, and vegetable meals. Chefs Plate offers mushroom-based meals, and both companies have an equal amount of seafood, turkey, and cheese meals on their menus as well. (Neither Chefs Plate or Hello Fresh offers mutton or lamb meals. For these, you may try GoodFood, as they offer at least one lamb meal per week.)
A vegetarian meal kit plan is available with HelloFresh, and Chefs plate offers some vegetarian meals from different world cuisines.
Here are some sample Chefs Plate recipes:
Curry-spiced beef flatbreads
Sweet potato sushi bowls
Greek-style chicken and potatoes
Here are some sample HelloFresh recipes:
Roasted double salmon
Fajita-style turkey bowls
Roasted veggie medley

Dietary Friendliness
Neither brand offers specific recipes for allergies or strict diets. However, HelloFresh does have Calorie Smart recipes (650KCal or less) and Carb Smart (less than 50g of carbs) recipes. You can also swap certain ingredients in some of their meals, so this is useful if there's something you or your loved ones can't or don't like to eat.
Discounts / Promo Codes
HelloFresh offers an excellent discount on your first box (more than 50% off most of their subscription boxes). You can also benefit from the Refer a Friend Program; HelloFresh will credit your account with $25 if you get a friend to subscribe using your referral code. Students can enjoy up to 22 free meals in their first month with HelloFresh.
Chefs Plate offers more than 50% off your first box and significant discounts on your second and third-week boxes too. Chefs Plate also offers a Senior Discount for over 60s; 50% off the first box, then 10% off all subsequent boxes. There's also a Military Discount (CF1 Members), who will also get 50% off their first box and 10% off all subsequent boxes. With Chefs Plate, students get 50% off their first box, 25% off their second box, and 20% off their third and fourth boxes.
Packaging / Delivery
When it comes to packaging, both brands place an emphasis on using environmentally friendly materials, and use boxes that are recyclable and kit bags that are compostable.
HelloFresh delivers to 95% of Canada's population. The company covers Ontario, Manitoba, Saskatchewan, Alberta, British Columbia, Québec, Newfoundland, and the Maritimes. The first delivery is free, then it costs $9.99, except for deliveries to Newfoundland which cost $19.98.
Chefs Plate delivers to Ontario, British Columbia, Alberta, Saskatchewan, Prince Edward Island, New Brunswick, Nova Scotia, and Manitoba. Chefs Plate offers free delivery on all plans except the two-person box with two meals per week, with a $6 delivery charge.
Verdict: HelloFresh vs Chefs Plate
Since Chefs Plate is a subsidiary of HelloFresh, the two meal kits have a lot in common. They both deliver fresh and high-quality ingredients for your dinners, along with detailed instructions on how to cook them. They both utilize well-engineered packaging that can keep your order fresh on your porch until you place it in the fridge. Both meal kits will help you save food waste, save time on grocery shopping and meal planning, as well as allow you to learn new cooking skills and experience new cuisines.
While Chefs Plate and HelloFresh clearly have many similarities, they also differ in several key ways. Chefs Plate prioritizes flexibility and affordability. They offer many different meal plans to best suit your household's needs, and they work at keeping their costs as low as possible. Additionally, Chefs Plate meals typically take less time to cook because they are designed to be less complex. Meanwhile, HelloFresh emphasizes premium food quality and a larger variety of meals. While these features are extremely valuable to many consumers, they obviously come at a price. Finally, HelloFresh also boasts a wider delivery area compared to Chefs Plate, but HelloFresh doesn't offer free delivery, whereas this is possible with most of Chefs Plate's plans. 
The bottom line of our HelloFresh vs Chefs Plate comparison is that both companies are definitely worth a try. While Chefs Plate is the more budget-friendly version over HelloFresh, this doesn't mean that Chefs Plate offers lower-quality food. In fact, the two meal kits are very similar when it comes to factors like the freshness of their ingredients and the quality of their meals. Chefs Plate is simply more affordable than HelloFresh because they are not as focused on meal variety and delivery areas. Ultimately, when you're deciding between Chefs Plate vs Hello Fresh, keep in mind your top reasons for trying meal kits and what's important to you (e.g. price). If you can't decide, both companies offer excellent promotions for first-time customers so you could try each one for yourself and then make your choice. 
Read our other meal kits comparison articles
Budget-friendliness

Flexible ordering system
Extensive meal variety

Highest quality food

Get a total of $200 off for
Frequently Asked Questions:
Is Chefs Plate and HelloFresh the same?
HelloFresh bought Chefs Plate in 2016. They are part of the same company but the brands operate separately and offer slightly different services and features. Both are leading food box companies in Canada and each has an excellent reputation and a loyal customer following.
Is Chefs Plate or HelloFresh better?
Is Hello Fresh or Chefs Plate cheaper?
How much is Chefs Plate a month?
How much is Hello Fresh a month?
Does Chefs Plate let you choose your meals?
Does HelloFresh let you choose your meals?
Is Chefs Plate the same as HelloFresh?