Chefs Plate vs. Hello Fresh
The Big 3 meal kit delivery companies in Canada are Hello Fresh, Good Food, and Chefs Plate. All three similarly provide great service to Canadians, but they all have their differences and peculiarities. HelloFresh started delivering food subscription boxes in Germany in 2012, quickly expanding in Europe, the USA, and Australia. Good Food was established in Canada in 2013. When HelloFresh came to Canada in 2016, they acquired Chefs Plate. They did not dissolve the brand but decided to keep it as a division instead. Some Canadians consider Chefs Plate a budget version of HelloFresh. Is that so? Let's compare these two companies and see how similar and different they are.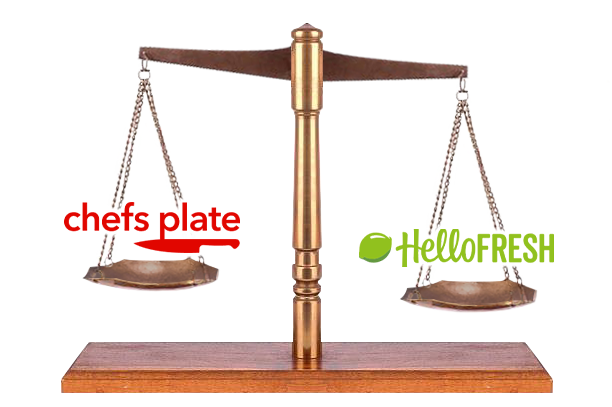 Easy Chefs Plate vs. Hello Fresh Comparison
| | | |
| --- | --- | --- |
| Detailed review | Chefs Plate Review | Hello Fresh Review |
| Established | 2013 | 2016 |
| Delivery area | AB, BC, MB, NB, NS, ON, PE, SK | AB, BC, MB, NB, NL, NS, ON, PE, QC, SK |
| Number of meals to choose from each week | 15 | 22 |
| Сooking time (min) | 15 min | 30 min |
| BBB Rating | B+ | A- |
| Google Rating | | |
| Downloadable App | | |
| Price per serving | $8.33 | $11.49 |
| Weekly Total (3 Recipes, 2 people) | $59.97 | $78.93 |
| | | |
Upon our customers' requests, we have already compared Hello Fresh vs. Good Food, Fresh Prep vs. Hello Fresh, and Chefs Plate vs. Good Food.  We hope it helped them pick those meal kits that were best for them and their loved ones. Now it's time to compare Chefs Plate vs. Hello Fresh.

Soon after Chefs Plate was acquired by HelloFresh, it became the "best value" brand. If we compare prices for two people at three recipes per week—the most common order in Canada—we can see that the price per serving with Chefs Plate is more than twice as low as with HelloFresh.

In the table above, you can see how Chefs Plate and HelloFresh compare in terms of meal variability, cooking time, ratings, and prices. Indeed, Chefs Plate prices per serving  and weekly totals are significantly cheaper than HelloFresh prices, but HelloFresh has more variabulity.
HelloFresh offers more recipes to choose from, 22 versus the 15 with Chefs Plate, and serves a wider area. If we compare cooking time with HelloFresh vs. Chefs Plate, we can see that most HelloFresh meals take twice as much time as Chefs Plate meals to cook. While Chefs Plate meals are simpler and easier to cook than Hello Fresh, they taste equally good and use equally fresh ingredients.
Quick Conclusions
If you are on a tight schedule or budget, Chefs Plate will be your best option, as it offers a good variety of healthy and nutritious meals that do not take a lot of time to cook. HelloFresh, on the other hand, offers more variety but requires more cooking time. Both companies provide clear cooking instructions with pictures that even novice home cooks will be able to follow.
HelloFresh also delivers to more Canadian provinces, making it more likely to deliver to your area, as well as having a better rating with the BBB, Google, and Groupon, with better promotional offers.
Chefs Plate vs. HelloFresh Meal Choices
Overall, we can say that both Chefs Plate and Hello Fresh offer similar food categories, but HelloFresh offers more variety with pork, beef, chicken, and vegetable meals. Chefs Plate offers mushroom meals, and both companies have an equal amount of seafood, turkey, and cheese meals on their menus as well. (None of the companies offers mutton or lamb meals. For these, you may try GoodFood, as they offer at least one lamb meal per week.)
Neither Chefs Plate nor HelloFresh offers a low carb plan, which you can find with GoodFood. This may change in the future as low carb and keto diets gain in popularity among Canadians. Vegetarian plan is available with HelloFresh, and Chefs plate offers some vegetarian meals from different world cuisines.
In case you have any food allergies, you can check a list of allergens with both companies before you place an order. You will not be able to request a substitute, but you will be able to replace the meal with a different one. Calorie-wise, HelloFresh meals are a little bit richer than Chefs Plate meals—420 calories per meal versus 400. With both companies, you can order up to four recipes per week for up to four people. The minimum order is two recipes per week for two people with Chefs Plate and three recipes per week for two people with HelloFresh.
What You Get With Either Chefs Plate or Hello Fresh
Since Chefs Plate and Hello Fresh are basically the same company, they have a lot in common. They both deliver fresh and high-quality ingredients for your dinners with recipes and detailed instructions on how to cook them. They both utilize well-engineered boxes that can keep your order fresh on your porch until you place it in the fridge—we highly recommend doing it as soon as you receive it, but it's okay to keep it on your porch for you few hours until you come home from work. You don't need to worry that the food will be spoiled.

If you don't care about food variety and prefer to stay on budget, Chefs Plate will be your best option. For more different meals at higher prices, HelloFresh is your choice.
Benefits that you will get with either Chefs Plate or HelloFresh
Both companies have great customer service. Once you have selected a plan and started your subscription, it is always easy to skip a week or two or cancel it entirely. It will only take an email or a phone call to customer service.
To finalize our HelloFresh vs. Chefs Plate comparison, we can say that both companies are worth a try. They are totally comparable in terms of the freshness of their ingredients and the quality of their meals. While HelloFresh is more expensive, it has a wider delivery area and more variety of recipes. However, Chefs Plate will be easier on your budget and will save you more time on cooking.