Chefs Plate vs. Hello Fresh
The Big 3 meal kit delivery companies in Canada are Hello Fresh, Good Food, and Chefs Plate. All three similarly provide great service to Canadians, but they all have their differences and peculiarities. HelloFresh started delivering food subscription boxes in Germany in 2012, quickly expanding in Europe, the USA, and Australia. Good Food was established in Canada in 2013. When HelloFresh came to Canada in 2016, they acquired Chefs Plate. They did not dissolve the brand but decided to keep it as a division instead. Some Canadians consider Chefs Plate a budget version of HelloFresh. Is that so? Let's compare these two companies and see how similar and different they are.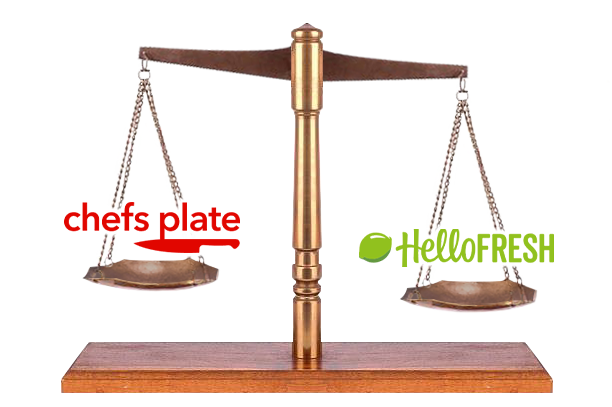 Easy Chefs Plate vs. Hello Fresh Comparison
Detailed review
Chefs Plate Review
Hello Fresh Review
Established
2013
2016
Delivery area
AB, BC, MB, NB, NS, ON, PE, SK
AB, BC, MB, NB, NL, NS, ON, PE, QC, SK
Number of meals to choose from each week
15
22
Сooking time (min)
15 min
30 min
Google Rating
Downloadable App
Price per serving
$8.33
$11.49
Weekly Total (3 Recipes, 2 people)
$59.97
$78.93

Get a total of 20 free meals off for
your first recipe boxes

Claim Promo Now
Upon our customers' requests, we have already compared Hello Fresh vs. Good Food, Fresh Prep vs. Hello Fresh, and Chefs Plate vs. Good Food.  We hope it helped them pick those meal kits that were best for them and their loved ones. Now it's time to compare Chefs Plate vs. Hello Fresh.

Soon after Chefs Plate was acquired by HelloFresh, it became the "best value" brand. If we compare prices for two people at three recipes per week—the most common order in Canada—we can see that the price per serving with Chefs Plate is more than twice as low as with HelloFresh.

In the table above, you can see how Chefs Plate and HelloFresh compare in terms of meal variability, cooking time, ratings, and prices. Indeed, Chefs Plate prices per serving  and weekly totals are significantly cheaper than HelloFresh prices, but HelloFresh has more variabulity.
HelloFresh offers more recipes to choose from, 22 versus the 15 with Chefs Plate, and serves a wider area. If we compare cooking time with HelloFresh vs. Chefs Plate, we can see that most HelloFresh meals take twice as much time as Chefs Plate meals to cook. While Chefs Plate meals are simpler and easier to cook than Hello Fresh, they taste equally good and use equally fresh ingredients.
Quick Conclusions
If you are on a tight schedule or budget, Chefs Plate will be your best option, as it offers a good variety of healthy and nutritious meals that do not take a lot of time to cook. HelloFresh, on the other hand, offers more variety but requires more cooking time. Both companies provide clear cooking instructions with pictures that even novice home cooks will be able to follow.
HelloFresh also delivers to more Canadian provinces, making it more likely to deliver to your area, as well as having a better rating with the BBB, Google, and Groupon, with better promotional offers.
Chefs Plate vs. HelloFresh Meal Choices
Overall, we can say that both Chefs Plate and Hello Fresh offer similar food categories, but HelloFresh offers more variety with pork, beef, chicken, and vegetable meals. Chefs Plate offers mushroom meals, and both companies have an equal amount of seafood, turkey, and cheese meals on their menus as well. (None of the companies offers mutton or lamb meals. For these, you may try GoodFood, as they offer at least one lamb meal per week.)
Neither Chefs Plate nor HelloFresh offers a low carb plan, which you can find with GoodFood. This may change in the future as low carb and keto diets gain in popularity among Canadians. Vegetarian plan is available with HelloFresh, and Chefs plate offers some vegetarian meals from different world cuisines.
In case you have any food allergies, you can check a list of allergens with both companies before you place an order. You will not be able to request a substitute, but you will be able to replace the meal with a different one. Calorie-wise, HelloFresh meals are a little bit richer than Chefs Plate meals—420 calories per meal versus 400. With both companies, you can order up to four recipes per week for up to four people. The minimum order is two recipes per week for two people with Chefs Plate and three recipes per week for two people with HelloFresh.
Understanding the Differences Between Chefs Plate and HelloFresh
Since Chefs Plate is a subsidiary of HelloFresh, the two meal kits have a lot in common. They both deliver fresh and high-quality ingredients for your dinners, along with detailed instructions on how to cook them. They both utilize well-engineered packaging that can keep your order fresh on your porch until you place it in the fridge. Both meal kits will help you save time on grocery shopping and meal planning, as well as allow you to learn new cooking skills and experience new cuisines.
While Chefs Plate and HelloFresh clearly have many similarities, they also differ in several key ways. Chefs Plate prioritizes flexibility and affordability. They offer many different meal plans to best suit your household's needs, and they work at keeping their costs as low as possible. Additionally, Chefs Plate meals typically take less time to cook because they are designed to be less complex. Meanwhile, HelloFresh emphasizes premium food quality and a larger variety of meals. While both of these are extremely valuable to many consumers, they obviously come at a price. Finally, HelloFresh also boasts a wider delivery area compared to Chefs Plate, and this results in greater delivery expenses and somewhat higher costs.
The bottom line of our HelloFresh vs. Chefs Plate comparison is that both companies are definitely worth a try. While Chefs Plate is known as the budget-friendly version of HelloFresh, this should not be taken to mean that Chefs Plate offers lower-quality food. In fact, the two meal kits are very similar when it comes to factors like the freshness of their ingredients and the quality of their meals. Chefs Plate is simply more affordable than HelloFresh because they are not as focused on meal variety and delivery area.
Read about other meal kits comparison articles
Budget-friendliness

Flexible ordering system
Extensive meal variety

Highest quality food

Get a total of 20 free meals off for