HelloFresh vs. Blue Apron
HelloFresh and Blue Apron are the two well-renowned names among the meal kit subscription services. They are even among the pioneers of subscription services that have become the favourite meal kit delivery services in town. Their delicious recipes, wide variety, and concern for delivering pure freshness and quality to fulfill the dietary needs and eradicate the hustle of grocery shopping help them rise above their competitors.
Their classic meals and vegetarian options are just another cherry on top. But today, we are here to see what sets them apart. Whereas Blue Apron teaches you simple yet flavorful recipes, HelloFresh is about rejuvenating your meal plans with a fresher aspect.
We have tested Blue Apron vs. Hello Fresh meal kit delivery service to help deliver to you a first-hand experience with the industry's major giants. Keep reading to learn more.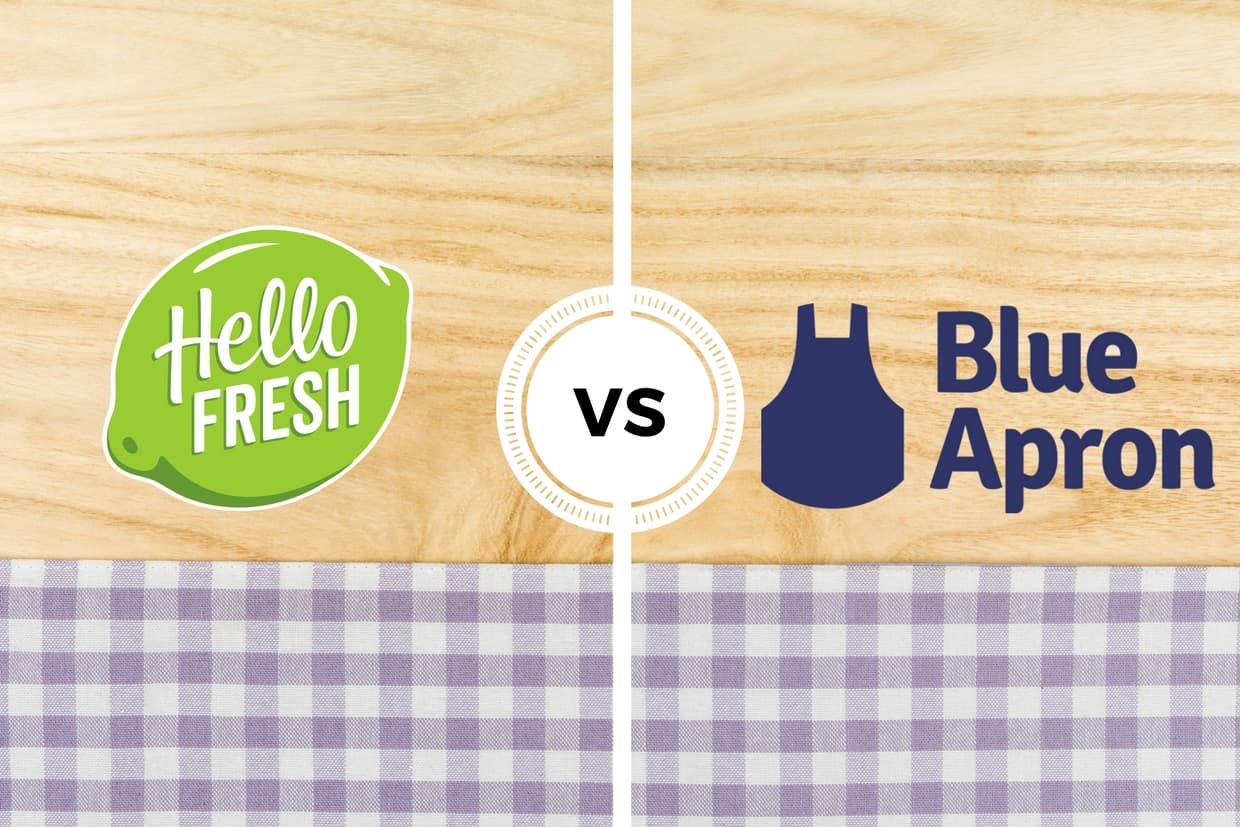 HelloFresh vs. Blue Apron: comparison at a glance
Detailed review
Hello FreshReview
Blue Apron Review
Established
2011
2012
Delivery area

11 countries including Canada,UK, Australia, etc.

USA


(Not Delivering in Canada)

Number of meals to choose from each week
25-30
30
Сooking time (min)
30 – 45 min
20 – 25 min
Groupon Rating
Downloadable App
Price per serving
$9.10 – $11.83
$7.49 – $9.99
Weekly Total (3 Recipes, 2 people)
$80.97 – $191.99
$48 – $120
Hello Fresh vs. Blue Apron: Pricing
Meal kits give you the privilege of enjoying a meal at relatively lower rates than restaurants and fast food chains as you are the one cooking those meals. Similarly, with Hello Fresh and Blue Apron, you have to save and devour a healthy scrumptious meal at home.
Blue Apron
The average cost of Blue Apron is relatively lower than that of its counterpart HelloFresh. Both its minimum and maximum orders cost less. Although this doesn't include its premium meals, we found that they are cheaper than HelloFresh meals. Prices do vary when you pick different subscription plans. Blue Apron charged $7.99 for two meals a week and is free for the rest of its deals including the Signature Plans. They even have a wine subscription option that comprises 500ml of six wine bottles monthly at just $66.
HelloFresh
HelloFresh has recently acquired Green Chef, which lets you have a wider range of menus, including pescatarian, vegetarian, and paleo diet options. This lets you access a well-curated meal that would address your special dietary needs. The recipes of HelloFresh are less complicated and come with special deals and add-ons. The shipping charges with HelloFresh are $7.99 on all orders.
Quick Conclusions
If you are a large family of picky eaters and young kids, HelloFresh is the most family-friendly meal kit service to plan your weekly recipes. But when you have a date night with your partner, we recommend Blue Apron as it caters to the finest restaurant-style meals that chefs of any skill level can prepare. With Hello Fresh, you get more diet plans such as low calorie and keto-friendly diet options, and Blue Apron has Weight Watchers integration, letting you have more control over your calorie intake.
Blue Apron has been primarily operated in the United States; only Hello Fresh has expanded its market ever since it started working. Blue Apron had a hard time keeping its customers engaged; Hello Fresh has been dominating the larger market share quite impressively. To choose which one is best for you, check out our detailed reviews for both. Their first-time customer discounts are impressive, allowing you to taste test each service for a week to check the convenience and quality it adds to your life. You can even click on this promotional code to save a handsome amount on your next meal with HelloFresh.
HelloFresh vs. Blue Apron meal choices
The meal options of Blue Apron and HelloFresh are some of the most comprehensive ones to find in the meal kit industry. The calories per serving are quite identical with 500 to 700 calories intake. These vary according to the meal plans you opt for. Both have been quite considerate in accompanying the audience with major food allergies. The complete ingredient and allergen list are provided with the recipe cards.
What do you get with Blue Apron or HelloFresh meal delivery services?
The overall quality of the meal kit is subjective; HelloFresh and Blue Apron offer high-quality ingredients, tasty meals, and quality service at your doorstep. They have hormone-free meats, sustainable seafood, and some organic ingredients added to their meals. However, GMO-free meals are only available with Blue Apron. Comparing the meal plans, you get 6 major categories to choose from at HelloFresh. With Blue Apron, this variety squeezes down to four recipe plans. The step-by-step instructions and detailed instructions let you be the chef in your kitchen without fail.
Along with choosing from these categories, you can customize specific options. HelloFresh only caters to vegetarian, Pescatarian, and reduced-calorie diets; therefore, people following vegan, paleo, or keto might face limitations. With Blue Apron, you have maximum variety with Signature plans, whereas Wellness and Vegetarian plan only have 3 to 4 selections. You even get the heat and eat option of Blue Apron's Signature plans which are fully cooked and ready to eat.
To ensure that our review for meal kit services is as extensive as possible, we have collected opinions of the masses through review sites and social media feedback. Our team also got the chance to devour the delicious meals by Blue Apron and Hello Fresh. We concluded our review based on meal options, ingredient quality, ease of usage, packaging material, etc.
Read about other meal kits comparison articles