Home Chef vs. Blue Apron
Meal kit services is the latest great way to enjoy healthy, scrumptious meals at home. The two major giants of this emerging industry are Blue Apron and Home Chef. You might have seen the name Blue Apron shining on the list of top meal kit services, but Home Chef is also rising in this category quickly.
While both are excellent services, whereas Blue Apron has chef-curated recipes that are sure to give your taste buds a rollercoaster ride, Home Chef is all about simple yet satisfying meals to help you enjoy homemade meals on hectic weekdays.
If you are hesitant about the available meal kits, it's best to analyze which service ideally suits your needs, budget, and preferences. In this article, we compare Blue Apron and Home Chef to help you decide which is the right fit for you. 
Keep reading to know about our findings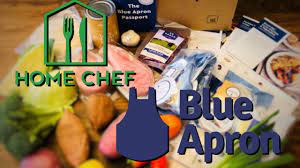 Blue Apron vs. Home Chef Comparison
Detailed review
Blue Apron Review
Home Chef Review
Established
2012
2013
Delivery area

USA

(Not Delivering in Canada)

USA

(Not Delivering in Canada)

Number of meals to choose from each week
30
22
Сooking time (min)
20-25 min
10-60 min
Groupon Rating
Downloadable App
Price per serving
$7.49 – $9.99
$7 – $9
Weekly Total (3 Recipes, 2 people)
$48 – $120
$35.96 – $323.64
Home Chef vs. Blue Apron: Pricing
Home Chef and Blue Apron are two of the most established meal delivery services in the industry, allowing them to bring you delicious meals at lower prices. While each service has different offers, Both offer numerous add-ons to double the fun. 
Home Chef
Home Chef offers one meal per week with a premium option included and three lunch options. They have a Customize It option at additional charges. They also offer protein packs, bread, dessert, etc to make your meals more interesting. The key here is that the more servings you order, the more appealing discounts you will get. 
The shipping with Home Chef is $9.95 per serving for major meals irrespective of the number of servings you will order.
Blue Apron
Blue Apron offers four different meal plans to its subscribers: 
signature 

freestyle 

vegetarian 

signature meals suitable for 4. 
Blue Apron charges $7.99 for two meals a week and is free for three and more meals. The Signature of 4 plan also comes with free shipping. Blue Apron also has a wine subscription option that offers 500ml of six wine bottles monthly at $66. 
Quick Conclusions
After our thorough analysis, we realize that Home Chef is the meal kit service best suited for couples and small families. They bring high-quality ingredients, step-by-step recipes, and heavenly flavors to your table that is ideal to serve you on your busy days and tough schedules. 
Whereas despite the tough competition we found Blue Apron serving pretty well against its counterparts. They are affordable options that can be prepared at exactly the time mentioned on the recipe cards. Their wine and gift options are our other favorite things about Blue Apron. Plus, they also serve well to crowds and big families as the more you order from Blue Apron the lesser the rates you will get. 
For sustainable packaging both the brands have maintained high standards that endure quality products at your doorstep. Both have quite a similar setup and subscription plans, the difference arises in their menu options. Blue Apron has great meal options even for people with diabetes. If you still want to explore these services intensively then check out our reviews of Home Chef and Blue Apron. 
Home Chef vs Blue Apron Meals Choices
In terms of quality and variety of meals, both have comparable options to offer. For calories per serving Home Chef meals have 400-600 calories, whereas Blue Apron has 500 – 700 calories. Home Chef focuses on lesser calories than Blue Apron, as their aim is to bring healthy home-cooked food to its customers.
However, we could not find the list of allergens with the recipes of the Home Chef which Blue Apron has been greatly concerned about. Blue Apron has even partnered with ADA to create recipes with low starchy vegetables, fewer calories, saturated fat, and sodium. 
What do You get With Blue Apron or Home Chef Meal Delivery Services?
Meal kits have captured the limelight from restaurants and fast-food chains due to the affordable meal plans and the opportunity to enjoy healthy, gourmet meals at home. If we look at Blue Apron and Home Chef, they have many similarities, but also have differences you can't ignore. Our articles are specifically curated to help you analyze those differences and make your decision based on those findings. 
Our experts summarize their findings by studying the customer's experiences and their reviews posted on social media platforms, including YouTube unboxing and the first-hand experience of our team. 
While picking a final option, consider the prices, menu, and meal plans thoroughly. To get more one-on-one comparisons of major meal kit services visit our website. 


Read about other meal kits comparison articles