Home Chef Canada Review 2023
Is Home Chef Coming to Canada?
With
Canadian meal kit companies
such as Hello Fresh expanding rapidly in the Great White North, many of our readers have asked us,
"When is Home Chef coming to Canada?"
The truth is that as far as we are aware, the big American meal kit companies such as Home Chef, Blue Apron, and
Plated
don't have any current plans to expand northward.

We will continue to follow our Google Alerts on the big names and update this article immediately when Home Chef starts delivering meal kits in Canada. However, we have not heard about any plans in this direction. Obviously, as consumers of meal kits, we'd be extremely happy to see more competition in the market, as that gives us more options and keeps companies working hard to offer the possible product and the lowest possible price.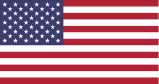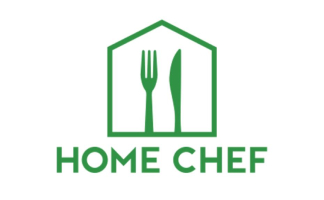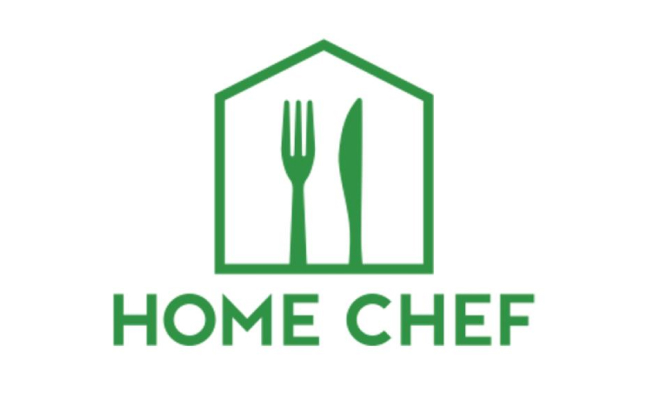 Pros & Cons
Let's look at the pros and cons of each brand to see what their biggest advantages and disadvantages are:
Pros
Cons

✔️

Offers a good variety of meals (30 per week)

✖️

Not suitable for people with severe allergies

✔️

Efficient website and supporting app

✖️ No free shipping

✔️

Low-carb and low-calorie options

✖️ Not available in Canada

✔️

Add-ons possible (breakfast, snacks, desserts, beverages, sides)

✔️

Reusable packaging

✔️ Customizable meals (can swap proteins)
Home Chef vs Top Meal Kits in Canada
Until Home Chef Canada becomes a reality, feel free to check out our in-depth look at Canada's largest meal kit companies. Our Hello Fresh Review, Chefs Plate Review, and Goodfood Review cover the "Big 3" of national chains. We also compare regional entities such as Saskatchewan's Zesty Kits and Toronto's Fresh City Farms.
It's tough to directly compare meal kit delivery companies like Chefs Plate or Goodfood to Home Chef because they don't compete head-to-head in any markets. The one Canadian option that does directly compete with Home Chef is Hello Fresh. After reading several firsthand reviews about comparing their offerings in the USA, the following points might be worth mentioning (keeping in mind that Home Chef might offer a very different product to Canadians if they ever came north of the border).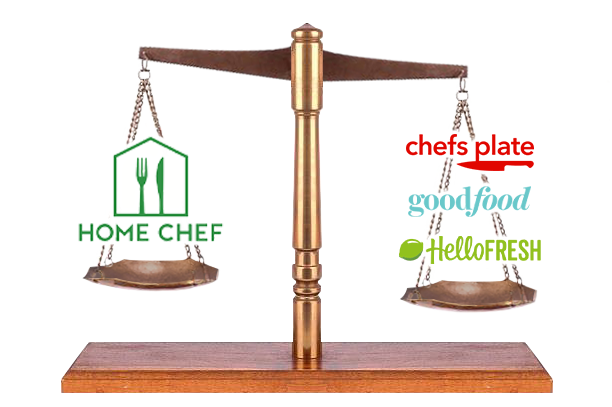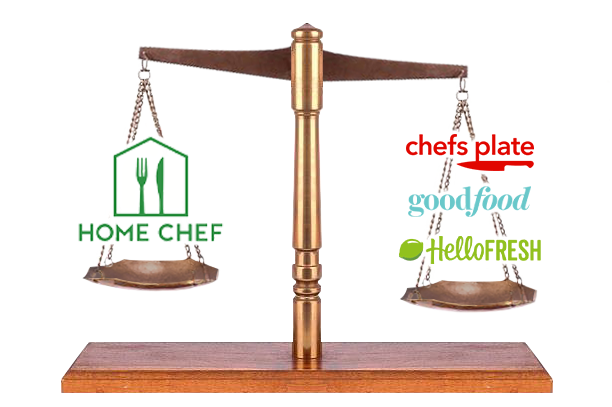 There's only so much that one can glean from this comparison of how meal kits stack up in another country, as the logistics of delivering fresh food in a densely-populated country like the USA are radically different from our wide-open Canadian landscape. All the same, it's good to know that Hello Fresh (by far the largest Canadian meal-kit provider) can go toe-to-toe with any of the big shots from down south.
It is interesting that the American meal kit options aren't even cheaper than the plans we see in Canada. If you think about the purchasing power difference between the Canadian dollar and the American dollar, as well as the sheer economy of scale, one would think the US companies would be able to cut prices even more. In our Blue Apron vs Home Chef review, we did find that Blue Apron is the cheaper of the two. 
Stay tuned to Meal Kits Canada, as we'll be the first ones with the news if Home Chef comes to Canada (or if any other American-based competitors decide to enter the Canadian meal kit delivery market)!


Home Chef Meals
Since 2013, Home Chef has been delivering meal kits in the USA, and we hope to see them in Canada soon. The current customers can choose up to six meals from 30 recipes per week for up to six people either online or via a convenient mobile app. Single meals for one person are not available at Home Chef due to economic inexpediency. Since Home Chef is trying to keep the prices per meal low, the packaging and delivery of meals for one will cost more than the meals themselves.
There is a good variety of recipes each week. You can choose from two to six meals with different types of meat, poultry, or vegetarian meal kits. In case you have any dietary preferences, you can select a calorie-conscious or carb-conscious set of meals. For those customers who have allergies or simply prefer to avoid such foods as nuts, shellfish, pork, milk, mushroom, or red meat, Home Chef gives an opportunity to do so while selecting a plan. The recipes can be easy or more sophisticated, ranging from 10 to 60 minutes to cook.

Home Chef is also very flexible when it comes to customizing your meals. On meals that support the 'Customize It' feature, you can swap the protein. So, for example, you could swap ground pork for ground turkey. Vegetables and sides can't be changed, however.
Unlike many other meal delivery companies in both the USA and Canada, HomeChef does not have different subscription plans. You can choose any meal from the recipes of the week. Technically, it's one big plan. But you can choose from different categories to help make your selection quicker: calorie-conscious, under 30 minutes, carb-conscious, culinary collection, family meal, express plus, fast and fresh, meal kit, and oven-ready plus. Home Chef conveniently displays allergens on the front of the recipes too. 

Here are some sample Home Chef meals in 2023:
•

Filets mignon steak frites with truffle aioli and parmesan bacon green beans

•

Macadamia-crusted Mahi-Mahi and sweet chili sauce with red pepper and coconut rice

•

Cranberry goat cheese-stuffed chicken with roasted brussels sprouts

•

Sliced beef chile cheese quesadillas with crema

•

Beef tenderloin stroganoff and creamy mushroom sauce

•

Italian-style pork meatballs with panko-Asiago zucchini and peppers
Home Chef also lets you add on extras like breakfast, snacks, desserts, soups, beverages, bread, salad, or a protein (e.g. shrimp or salmon fillets).
Diet Friendliness and Allergens
If you or a loved one has serious allergies,  Home Chef warns that their central facility is not allergen-free. Although, all of the ingredients are packaged individually. You can consult packaging for allergens and nutrition facts.

So, will they cater to your diet? There are no categories where you can buy specific diet-tailored meals. But, if you are looking for meal kits to help with weight loss, you may appreciate the calorie-conscious or carb-conscious options. 
Home Chef Reviews
Overall, customers seem to be happy with Home Chef meal kits. They enjoy the ability to make orders online as well as via a convenient mobile app. The 3,307 Home Chef Reviews on Trustpilot give it an average rating of 3.2. The Home Chef app on Google Play gets 4.5 stars and has had more than 100,000 downloads. On the App Store, it gets even better reviews and a 4.7 star rating, which is incredible. Impressed customers love how simple the meals are to make, how delicious they turn out, how efficient the delivery service is, and that you can easily skip weeks or pause your account.

 When it comes to the more negative reviews, some customers complained that some of the vegetables arrived spoiled, others had their delivery arrive late (in contrast to the mostly positive reviews about this service point), and that the precut vegetables aren't as good as the whole options you get. That said, many of the problems that people experience others don't. And, while some customers have a flawless run with perfectly fresh ingredients, on-time delivery, and think the recipes are a cinch to make, others don't. When choosing a meal kit delivery service, we recommend focusing on the points that are most important to you e.g. delivery, fresh ingredients, etc. and then searching reviews of a company to make sure you won't be disappointed. 
| | |
| --- | --- |
| Price per serving | From $8.99 |
| Weekly Total | From $49.95 |
| Shipping | $7 – $14 |
| Number of plans | No different plans |
| Veggie options? | |
| | |
| --- | --- |
| Number of meals to choose from each week | 30 |
| Recipes per week | 2-6 |
| Number of people | 2, 4, 6 |
| Сooking time (min) | 10 – 60 min |
| | |
| --- | --- |
| Established | 2013 |
| Trustpilot Rating | 3.2 |
| Downloadable App | Yes |
To Conclude: Is Home Chef Canada an Option?
While Home Chef Canada is yet to become a reality, we can already say that this company will be welcomed to the Canadian market. Canadians will love it for its low-price meal kits, good recipe selection, vegetarian or low-carb options, and an option to order for families of up to six people. Besides, HomeChef allows excluding certain types of food, which is not a common feature among meal kit companies.
In the meanwhile, please feel free to browse through other food subscription companies in Canada. We are sure you will be able to find a meal kit that delivers to your area and suits you and your family.
Frequently Asked Questions:
Is there a Home Chef Canada?

Can Home Chef meals be frozen?

Is Home Chef cheaper than eating out?