Meal Kits in Calgary and Edmonton for 2020
The number of meal kit options in Calgary and Edmonton took a major leap last year as the "Big 3" national meal kit companies (HelloFresh, Goodfood, and Chef's Plate) are now available all throughout Alberta's two major hubs, similarly to the situation in Toronto. They join a couple of local, more niche options.

If you're new to the idea of meal kits, here's the reasons why my family are such massive fans:
No stress and effort in making dinner. No need to shop for them, think or meticulously plan.

Cheaper alternative to eating out.

No food is wasted – portions are tailored for a 2 or 4 persons meal.

Fun and interesting to cook! often you cook things you would not have cooked otherwise with unique and tasty ingredients. 

Eating healthy without compensating over flavor. 

Easy-to-follow recipes and instructions that even a rookie (like yours truly) can master.
If you want to do a deep dive into the individual companies, check out our Hello Fresh Review, Chef's Plate Review, and Goodfood review.
What the Heck Is a Meal Kit?
A meal kit is a little piece of delicious heaven that arrives on your doorstep each week.
You subscribe to a food box delivery company, and then each week you choose your meals through the very simple app (in our case, we choose 3 out of 7 possible options) and voila – instant yummy on your doorstep!  Of course, you can also choose to cancel a week if you're on vacation etc.
Here's a quick look at what I get inside of my HelloFresh box that is delivered to my house in an insulated box: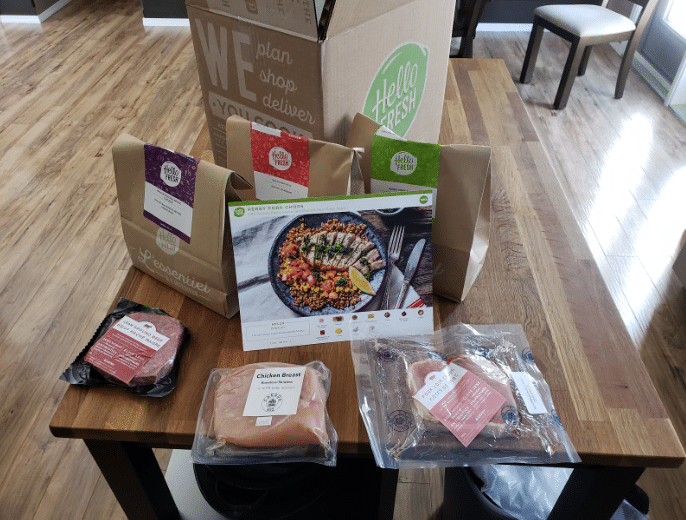 You'll notice that each bag contains everything that I will need to cook one meal that week, and the recipe card is big enough to include not only large pictures, but illustrated cooking steps on the back that even a kitchen novice like me can follow!
When I say everything that you need to cook a meal.  I mean EVERY. THING.
You can start thinking about supper 30 minutes before it needs to be on the table.  That freed up mental space is incredibly valuable in my life! To know that a high-quality, healthy meal is simply waiting for me to show up, chow up, bake up – is a major stress/anxiety reducer for me and my family.
It's tough to beat what the big three in Canada have to offer, and if you live in Alberta, but not close to Calgary or Edmonton, then HelloFresh is likely your only option when looking at meal kits delivery in 2019.  Personally, I subscribe to HelloFresh due to the fact that I love their consistency and smooth processes. I know that as the world's biggest meal kit company, that the experiences that they've gained delivering on several continents will come in handy as they expand in Canada.
Hello Fresh in Calgary and Edmonton
In a recent interview, Conal Gould HelloFresh's Canadian head of procurement stated that while they are a truly international company, HelloFresh works with local producers to supply the ingredients for their high quality meals.
For example, he pointed out that they recently sourced peppers from the Red Hat Co-op in Medicine Hat and Airdrie's Highline Mushrooms.  Some of Edmonton's veggies likely come from Sustainitech – which is an experimental local vertical farming innovator.
Two Calgary-based companies that supply HelloFresh's Calgary and Edmonton subscription food boxes are Byblos Bakery and Spolumbo's Fine Foods & Deli.  Remo Trotta, the sales and marketing manager for Spolumbo's said that he believed the meal kit company was going to open up new growth for his company stating, "The fact you don't necessarily need to have a brand name and a relationship with a large, head-office conglomerate in order to provide a product that a delivery company is willing to deal with? That absolutely creates some opportunity for smaller producers,"
George Daklala, the owner of Byblos Bakery echos that sentiment, and after a year of working with HelloFresh said that, "It's a good opportunity… There's a lot of people (suppliers) who have seen the opportunity and are trying to connect with them (HelloFresh) or someone else."
Gould went on to emphasize that HelloFresh's goal was to shorten the time between producer and consumer – by cutting out the middleman logistics.  "Our goal is to shorten the supply chain from producer to customer as much as possible… that would mean for Calgarians and people in southern Alberta, the majority of their ingredients are coming from suppliers based in Alberta."
Try Hello Fresh Alberta
Small Meal Kit Companies in Calgary and Edmonton: Rooted and Spud
However, HelloFresh and fellow national food box subscription giants Chef's Plate and Goodfood are not the only meal kit delivery companies in Calgary and Edmonton.
Two local meal kit options are Rooted and SPUD.  These two companies appear to be focused on the market niche that wants to support close to 100% local produce, while being willing to sacrifice choice, slick apps, and lower prices.
Rooted was founded by Sheena Rosak – a chef who wanted to encourage more local eating patterns.  The company claims that they are, "Calgary's only farm fresh, plant-based meal kits delivered weekly to your door!"
Their website goes on to describe the company's mission statement:
Rooted was created so that Calgarians can have access to delicious, plant-based, nutrient dense, chef-curated recipes. Inspired by health and made to satisfy, our dream is to change people's understanding and consciousness around food.
SPUD is not really a meal kit company first and foremost.  They are more of a fresh & local food delivery company that also offers limited meal kit options.  Since starting in 1997, SPUD has consistently emphasized organic, sustainable growing methods that avoid the use of pesticides.  They are GMO-free (not my cup of tea, but to each their own) and generally appear to target the Whole-Foods-type of consumer that is willing to pay big for their unique produce and delivery to their home.  
Personally, given that Rooted and Spud are significantly more expensive than the Big 3, have little ability to select from a menu of meals, and have limited website capabilities I'd be more inclined to go with one of the larger, Canada-wide companies if I were shopping for meal kits in Edmonton or Calgary.