Food Delivery in Edmonton and Calgary for 2023
The number of meal kit options in Calgary and Edmonton has greatly increased in the past year. This is because all of the "Big 3" national meal kit companies (HelloFresh, Goodfood, and Chef's Plate) are now available in both of Alberta's major cities, the same way that all three are available in Toronto. Those major companies are competing with several local, more niche options. Other regional meal kit companies have also started offering their services to Alberta residents.
As meal kits in Calgary and Edmonton rapidly gain popularity, more and more people have become interested in what these kits are and how they work. Here, we discuss major points about what you get for your money when you order a meal kit, as well as which companies are currently available in Calgary and Edmonton.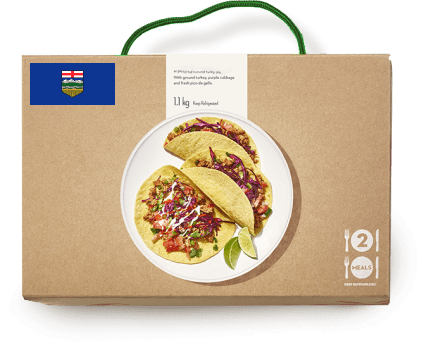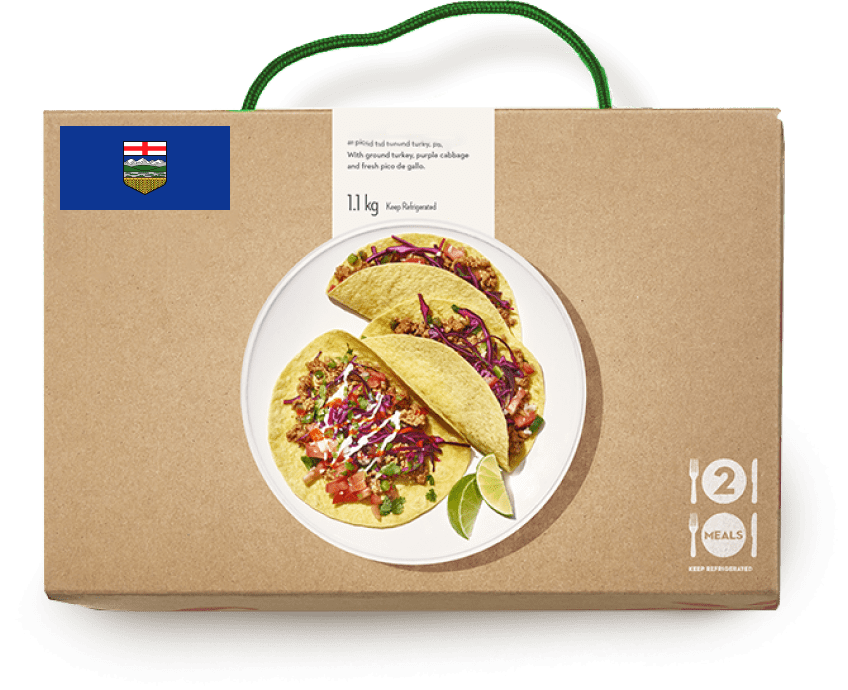 Background on Alberta and Meal Kits Industry
| | Value | Rank (of 9) |
| --- | --- | --- |
| Population | 4,442,879 | 4 |
| Food stores per 100,000 ppl | 83 | 3 |
| Farms per 100,000 ppl | 935 | 3 |
| Average family size | 2.84 | 1 |
| Experience difficulties with food budget | 45% | 5 |
| Eating fruits/vegies 5+ times a day | 27% | 3 |
| Time spent eating per day | 84 | 7 |
| Vegans and vegetarians | 6.7% | 4 |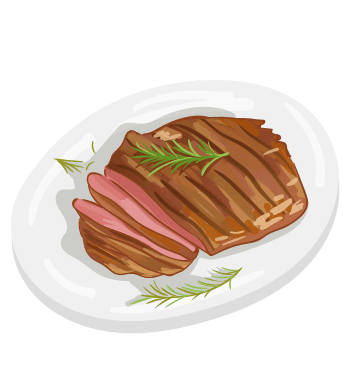 Rosemary Grilled Steak – Alberta traditional food
Alberta is the fourth biggest province in Canada, with almost four and a half million people living there. Per every 100,000 people, there are 935 farms and 83 food stores (third place in the country). Meal kit companies fill in the gap by delivering food directly to Calgary and Edmonton homes.
Alberta residents have the biggest families in the country, with an average family size of three people. Unfortunately, almost 45% of them experience difficulties with the food budget. For them, meal kit companies such as Chef's Plate create meals that cost only $5 per serving. Their family plan offers a variety of recipes that both adults and kids enjoy.
About 27% of Albertans eat fruit and vegetables five or more times a day, and almost 7% are vegetarians or vegans. For them, meal kit delivery companies offer vegetarian meals or even vegetarian plans that include a variety of plant-based recipes with an option to add proteins, such as poultry, fish, or seafood.
What Do Meal Kits Look Like in Calgary and Edmonton?
A meal kit is a little piece of delicious heaven that arrives on your doorstep each week.
You subscribe to a meal prep delivery company, and then each week, you choose your meals through the very simple app (in our case, we choose three out of seven possible options) and voila—instant yummy on your doorstep! Of course, you can also choose to cancel a week if you're on vacation, etc.
Once you open the box, you'll notice that each bag contains everything that you will need to cook that week, and the recipe card is big enough to include not only large pictures but also illustrated cooking steps on the back that even a kitchen novice can follow!
You can start thinking about dinner 30 minutes before it needs to be on the table. That frees up mental space that is incredibly valuable! To know that a high-quality, healthy meal is simply waiting for you to show up, cook up, then chow down, is a major stress/anxiety reducer. You'll always get fresh vs canned food so you'll taste and feel the difference. 
It's tough to beat what the Big 3 food subscription box companies in Canada have to offer, and if you live in Alberta, but not close to Calgary or Edmonton, then HelloFresh is likely your only option when looking at meal kits delivery in 2023. The majority of people on our team subscribe to HelloFresh due to the fact that we love their consistency and smooth process. We know that as the world's biggest meal kit company the experiences that they've gained delivering on several continents will come in handy as they continue to expand in Canada and offer a good food box Calgary or Edmonton-side.
Country-wide Meal Kit Delivery: Calgary and Edmonton
In a recent interview, Conal Gould, HelloFresh's Canadian head of procurement, stated that while they are a truly international company, HelloFresh works with local producers to supply the ingredients for their high-quality meals.
For example, he pointed out that they recently sourced peppers from the Red Hat Co-op in Medicine Hat and Airdrie's Highline Mushrooms. Some of Edmonton's veggies likely come from Sustainitech—which is an experimental local vertical farming innovator.
Two Calgary-based companies that supply HelloFresh's Calgary and Edmonton subscription food boxes are Byblos Bakery and Spolumbo's Fine Foods & Deli. Remo Trotta, the sales and marketing manager for Spolumbo's, said that he believed the meal kit company was going to open up new growth for his company stating, "The fact you don't necessarily need to have a brand name and a relationship with a large, head-office conglomerate in order to provide a product that a delivery company is willing to deal with? That absolutely creates some opportunity for smaller producers."
Gould went on to emphasize that HelloFresh's goal was to shorten the time between producer and consumer—by cutting out the middleman logistics. "Our goal is to shorten the supply chain from producer to customer as much as possible …  that would mean for Calgarians and people in southern Alberta, the majority of their ingredients are coming from suppliers based in Alberta."
Chefs Plate is available in Calgary and Edmonton, but they do not deliver to smaller places at the moment due to issues with logistics. We hope that these issues will be resolved soon, and food delivery will be available not only in Alberta and other big cities but all over the province.  
Chefs Plate offers lower-cost meals compared to Hello Fresh. The company was established in 2014 by Patrick Meyer and Jaime Shea. Chef's Plate grew extremely quickly and sold more than two million meal kits across Canada by 2019. One of their major benefits is that they offer meals that can be cooked in 15 minutes or less, with is great not only for busy people but also for those who hate spending time in the kitchen. Another unique aspect of the company is that they are the only meal kit delivery company in Canada to be federally registered as safe for food processing by the Canadian Food Inspection Agency.
Chef's Plate has been acquired by Hello Fresh but keeps running as separate entities, with Hello Fresh being the more premium model, and Chef's Plate targeting customers looking for a time-saving solution at the lowest possible price on the market.
Goodfood is the third-largest meal kit delivery company in Canada after Chef's Plate and Hello Fresh. While it has already established delivery routes throughout Calgary and Edmonton, it has yet to figure out how to deliver food boxes to the rest of Alberta.  
Goodfood offers a huge menu each week, including many super-fast 20-minute options. Those team members who subscribed to Goodfood in Calgary liked the availability and variety of low-carb recipe options. They noticed that Goodfood portion sizes were consistently smaller than Hello Fresh portions. Given that their price is closer to that of Chef's Plate, that would make sense.


Local Meal Kits: Calgary and Edmonton
| Company | | Rating | Covered Provinces | Dishes in menu | Price / serving | MKC Promo |
| --- | --- | --- | --- | --- | --- | --- |
| | Fresh Prep | 98.1 | 2 | 10 | $10.00 – $12.25 | |
| | Rooted | n/a | 1 | 3 | $12.08 – $14.16 | n/a |
| | SPUD | n/a | 2 | 10 | $7.99 – $75 | n/a |
| | Simply Supper | n/a | 1 | 12 | $5.97 – $8.33 | n/a |
HelloFresh and fellow national food box subscription giants Chef's Plate and Goodfood are not the only meal kit delivery companies in Calgary and Edmonton. Two other local meal kit options Rooted and SPUD and joined by a Vancouver meal kit company FreshPrep. These three companies appear to be focused on the market niche that wants to support close to 100% local produce while being willing to sacrifice choice, slick apps, and lower prices.
Rooted
Rooted was founded by Sheena Rozak—a chef who wanted to encourage more local eating patterns. The company claims that they are, "Calgary's only farm fresh, plant-based meal kits delivered weekly to your door!"
Their website goes on to describe the company's mission statement:
Rooted was created so that Calgarians can have access to delicious, plant-based, nutrient-dense, chef-curated recipes. Inspired by health and made to satisfy, our dream is to change people's understanding and consciousness around food.
SPUD
SPUD is not really a meal kit company, first and foremost. They are more of a fresh and local food delivery company that also offers limited meal kit options. Since starting in 1997, SPUD has consistently emphasized organic, sustainable growing methods that avoid the use of pesticides. They are GMO-free and generally appear to target the Whole-Foods-type of consumer that is willing to pay big for their unique produce and delivery to their home. You can get home delivery from Spud to Calgary and Edmonton. 
FreshPrep
FreshPrep is a Vancouver-based meal kit company that recently expanded its delivery area to Alberta. The company is growing after having gained over 17,000 customers in British Columbia since they began operating in 2014. FreshPrep meal kits are popular thanks to their tasty food, easy recipes, fresh produce, and affordable prices. The company is also making a dedicated effort to create more sustainable, eco-friendly, and zero-waste meal kits by eliminating single-use plastic packaging from its boxes.
Simply Supper
Simply Supper is a local family-owned meal kit company based in Edmonton. The company allows customers to order meal kits once every one, two, or four weeks. They offer a limited amount of fresh meal kits that are sold on a first come first serve basis every day, and they also deliver frozen meal kits that can be stored for a longer time before you thaw and cook the ingredients. Simply Supper delivers meal kits within Edmonton and Greater Edmonton Area.
Final Words About Meal Kits: Calgary and Edmonton
Overall, the meal kit delivery industry has a lot of room for growth in Alberta. While Calgary and Edmonton residents can already enjoy services of both global and local meal kit companies, people in smaller towns and villages have yet to experience them—unless they work in a big city where they can order meal kits to their offices and bring them home for dinner. All food delivery companies package their ingredients in insulated boxes that keep the food fresh for at least several hours, up to half a day.
With all the options already available, it is not easy to make a choice. It's important to note that some local companies, like Rooted and SPUD, are significantly more expensive than the Big 3, offer fewer meal options each week, and have limited website capabilities. As a result, if we were shopping around for a good food box Calgary or Edmonton-way, we'd be more inclined to go with either one of the nationwide companies, Vancouver-based FreshPrep, or local Edmonton meal kit delivery Simply Supper. On the other hand, it is always good to support local businesses, so it can sometimes be worth it to give smaller meal kits a try. Many of them only use local produce in order to support farmers in their community. Hopefully, these companies will be able to bring down their prices as they get more customers.
Frequently Asked Questions:
What is Good Food box Calgary?
Good Food box Calgary is a meal kit delivery company that services Calgary and Edmonton in Alberta. It's the third-largest meal kit company in Canada, after HelloFresh and Chefs Plate.
Is there a HelloFresh Edmonton service?
Does Goodfood deliver to Calgary?
is Fresh Prep Calgary worth it?