Fresh Prep vs. Hello Fresh
What is the best way to select a meal kit company? Compare it to other meal kit companies! In this Fresh Prep vs. Hello Fresh comparison, we will discuss the similarities and differences between these two companies, compare their plans, prices, meal selections, and other relevant information. Please take a moment to go through our comparison tables. They will help you decide which company has more meal options, better prices, better ratings, and overall more suitable to your needs.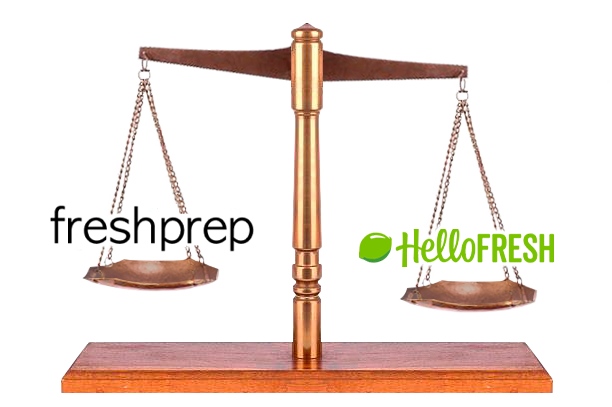 Easy Fresh Prep vs. Hello Fresh Comparison
Detailed review
Hello Fresh Review
Fresh Prep Review
Established
2016
2014
Delivery area
AB, BC, MB, NB, NL, NS, ON, PE, QC, SK
BC, AB
Number of meals to choose from each week
22
10
Сooking time (min)
30 min
25 min
Google Rating
Downloadable App
Price per serving
$11.49
$11.50
Weekly Total (3 Recipes, 2 people)
$78.93
$69

Get a total of 20 free meals off for
your first recipe boxes

Claim Promo Now
To make the process of selecting the right meal kit company for you, we have already compared Hello Fresh vs. Good Food, Chefs Plate vs. Good Food, and Chefs Plate vs. Hello Fresh. These are The Big 3 meal delivery companies in Canada. Now it's time to make a Vancouver-based Fresh Prep vs. Hello Fresh comparison!

Fresh Prep (not to be mistaken with Fresh City Farms or Miss Fresh) was established in Vancouver two years before Hello Fresh came to the Canadian market. At first, the company stayed local and served only Vancouver customers, but they recently expanded their operations to Alberta, while Hello Fresh is an international company originally founded in Germany, and quickly spread over Europe, Canada, the USA, Australia, and New Zealand. In Canada, Hello Fresh delivers coast-to-coast.
When we compared the price per serving with Fresh Prep vs. Hello Fresh, we found that while they are very similar in some recipes and two-people plans, the weekly totals for other plans are almost twice as high with Hello Fresh than with Fresh Prep. For new customers, both companies offer a discount, and the Fresh Prep deal is a little better.
Being a big company, Hello Fresh can afford a better variety of meals each week—22 recipes versus ten meals to choose from with Fresh Prep. However, the quality of recipes is comparable, and it takes about 30 minutes to cook a meal with both Hello Fresh and Fresh Prep.
While comparing the Google rating for Fresh Prep and Hello Fresh, we noticed that they are very similar. The customers love both companies, but Fresh Prep rating is a little higher with the Google reviews, even though Hello Fresh has a downloadable mobile app, and Fresh Prep does not.
Quick Conclusions
If you live in Vancouver or Alberta, you have a great choice between a global and a local company. On the one hand, you can pick Hello Fresh and enjoy a greater variety of meals. On the other hand, you can support a local business and order meal kits that are locally prepared in Vancouver and delivered to you in a reusable cooler bag. Both companies offer additional items for breakfast and lunch as well as snacks and desserts.
For all other places in Canada, your only choice between Fresh Prep and Hello Fresh will be the latter since it delivers all over Canada, while the Fresh Prep delivery area is limited to Vancouver and the nearby towns and Alberta.
Fresh Prep vs. Hello Fresh Meal Choices
Even though Hello Fresh has a greater meal variety, Fresh Prep offers comparable quality meals. None of the companies have mutton meals, but both have pork, beef, chicken, seafood, cheese, and vegetables on their menu. Hello Fresh also includes turkey, which Fresh Prep does not, but Fresh Prep has mushroom recipes and 100% vegan meals that are not included in the Hello Fresh menu.
When we compared recipes in both companies for a given week, it turned out that Fresh Prep had more meat variety, while Hello Fresh offered more vegetarian recipes. Hello Fresh did not offer low-carb meals, and their meals were 420 calories per serving, while Fresh Prep meals were 350 calories per serving.
Low-carb meals are not very popular in Canada, so none of the two companies offer them. Hello Fresh meals are around 400 calories, while Fresh Prep meals are more than twice as satiating, with over 1000 calories per meal, on average.
In case you have any food allergies, it is very important to check the list of allergens, which is provided by both companies. Unfortunately, no substitutes are available, but you can easily avoid unwanted ingredients because they are packed separately.
What You Get With Either Fresh Prep or Hello Fresh
As we have already mentioned above, the Fresh Prep vs. Hello Fresh comparison is mainly relevant for those who live in and around Vancouver and Alberta, because those are the only areas where both meal kits are available. For Vancouverites and Albertans, we can say that both companies deliver fresh and high-quality meal kits with recipes and ingredients for your breakfast, lunch, or dinner. The main difference between the two is that Fresh Prep is a local company while HelloFresh is a global corporation. Each of these brings its own advantages.
Because HelloFresh is a significantly larger company, they have the capability to offer a wider variety of meal plans and a greater volume of meal options each week. Fresh Prep does not have the same capability, but they excel at capitalizing on local partnerships to deliver fresh food sourced primarily from British Columbia.
Another difference between the two meal kits is with their delivery. Fresh Prep delivery is free and they also have slightly lower prices than HelloFresh. In regards to the physical meal kit container, HelloFresh utilizes insulated boxes that can be recycled, while Fresh Prep uses delivery bags that are meant to be left in a cooler on your porch. Fresh Prep sends a text message when the meal kit is delivered so that you can unpack the bag as soon as possible and put all the ingredients in the fridge. The HelloFresh box can stay on your porch for a significantly longer time, since the container is insulated.
To conclude our Fresh Prep vs. Hello Fresh comparison, we can say that if you live in Vancouver or Alberta, you have multiple highly-rated meal kits available to you. You can try a global company that offers many options to choose from, or support a local business with fewer options but with comparable meal kit quality and freshness. Both companies offer great customer service, so if you need to skip a week or two or cancel your subscription entirely, just let them know, and they will be happy to assist. In the end, it may be easiest to simply order meal kits from both Fresh Prep and HelloFresh and feel the difference for yourself.
Read about other meal kits comparison articles
More specialty plans available

Extensive meal variety
Get a total of 20 free meals off for
your first recipe boxes
Claim Promo Now
Lower prices and free delivery

Local to BC and AB