Fresh Prep Review 2022
The Vancouver meal kit scene is a very competitive market. See our Fresh Prep Review Summary for a quick comparison, or read through for an in-depth look at one of Vancouver's, Victoria's, and Alberta's favorite meal kit delivery companies, both local and national.
Fresh Prep (not to be mistaken with Fresh City Farms, Hello Fresh, and other fresh-induced names) has only been around for a few years now, but they've carved out a dedicated following within their Vancouver home. With recent expansion to Victoria and Alberta and designs on next-stage expansion into Western Canada, Fresh Prep has plenty of room to grow. If you don't live in British Columbia or Alberta, you can inquire on the Fresh Prep website when they are coming to your area.
Fresh Prep Ratings by Our Readers
Cast your vote by selecting either button
Plans for
Price ranges
$54.00 - $168.00 / week
$10.50 - $13.50 / serving
Fresh Prep: Editorial Notes
What we liked about Fresh Prep is that they established their own independent delivery system, whereas many of their meal kit competitors in Canada have to rely on delivery companies such as Purolator.
Many customers like the fact that Fresh Prep pre-cuts all of their vegetables.  This may significantly reduce cooking time, especially with novice cooks  - just open the box and drop the ingredients in the pot. 
Several Fresh Prep reviews commented on how impressed the customers were with the protein quality and selection quantity. Others were impressed with the cooler bag construction that allows food to stay fresh for up to 8 hours without a fridge. In addition, Fresh Prep offers very competitive pricing that fits many budgets. First-time customers receive 3 meals free, which is up to 75% off the first order.
Fresh Prep makes a real effort to source as much as possible from the Vancouver area, so if you live there and supporting local business is a primary factor for you, consider the box checked.
Fresh Prep: Credibility and Reputation
| | |
| --- | --- |
| Established in | 2014 |
| Registered in | Vancouver, BC |
| CEO | Husein Rahemtulla, Director |
| Clients in Canada | 17,000 |
| Independent rating | (Google) |
Dhruv Sood, Becky Brauer, and Husein Rahemtulla are the three local brains behind the Vancouver food subscription box startup. Rahemtulla recently spoke to the Globe and Mail, saying, "If we went too fast, too quickly, that would require losing focus on our operations. Things wouldn't be as tight."
Budgets are often stretched at startups, and Sood reported that things were no different for the first several years of Fresh Prep's existence. Things might be looking up for the company, though, with it's first round of equity funding for $3 Million.
When asked, the three co-founders (all in their late-twenties) said that they felt they could eventually become the best meal kit in Canada. "We like to think of ourselves," Mr. Rahemtulla cleverly stated, "as the tortoise in the race."
Fresh Prep: Meal Plans and Menus
Fresh Prep offers a two-person package and a four-person package. Each Fresh Prep meal can be ordered in quantities of two, three, or four each week.
Their website states that they typically offer customers ten Fresh Prep meals options per week. The cost is a very competitive $10-$13 per serving, and the featured prices are inclusive of delivery and taxes (of which there are very few applied anyway). This cost makes them quite similar to their major competitors. Those customers who place their first order via MealKitsCanada get 3 meals free.
Price per serving
$13.50
$12.75
$12.25
n/a
n/a
n/a
n/a
$12.25
$10.95
$10.50
n/a
n/a
Shipping
$0.00
$0.00
$0.00
n/a
n/a
n/a
n/a
$0.00
$0.00
$0.00
n/a
n/a
Weekly Total
$54.00
$76.50
$98.00
n/a
n/a
n/a
n/a
$98.00
$131.40
$168.00
n/a
n/a
Promotion
$120 discount available
Click here to GET 75% OFF + FREE delivery!
Claim Now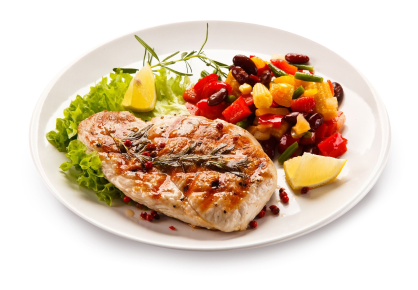 Unlike Goodfood, Chefs Plate, and Hello Fresh, there is no vegetarian plan available at this time. That doesn't mean, however, that vegetarians cannot eat Fresh Prep meals. They offer plenty of veggie options to choose from—it just depends on the week.
In case you were going to try and go the vegan or vegetarian route while using Fresh Prep, your best bet would be to log in weekly and see what was offered at that time. They do make it easy to skip weeks (as long as you're using a computer screen and not a cell phone screen).

The majority of Fresh Prep ingredients are sourced from local farms, so when you order Fresh Prep meal boxes you also support local farmers.
| | |
| --- | --- |
| Cooking skills needed | n/a |
| Ingredients sourced from | local purveyors and farms in BC |
| Vegetarian restrictions | Adjust in settings |
| Avoid an ingredient | Adjust in settings |
| Calorie range | Choose by meal |
| Low carb options | Choose by meal |
| Allergy restrictions | Adjust in settings |
Personal Experiences with Fresh Prep
Because one person's experience and thoughts do not make for a well-rounded Fresh Prep review, we scavenged the web to bring you a smattering of first-person accounts from Fresh Prep customers. These were mostly first seen on Yelp, but also from Reddit and Facebook users.
We have been a customer for 5 months. To date we have been very pleased with all of our meals, super excellent quality, diversity of menu choices, excellent ingredients: local, organic, satisfying portions, fun to prepare. Service has always been timely and I like the online flexibility of changing delivery day or quantities. The delivery staff is courteous. We have always received what we ordered, and there have been no missing ingredients. Really like the occasional partnerships with local products and occasionally added samples: e.g., Cricket's Chocolate/Cricket Meal bar and Salt Spring Onion and Thyme jam. Their meals have renewed my interest in cooking. It also saves us money eating out and there is no waste.
I like this company but have decided to pause my subscription for a while.
The good: they deliver usually on time. The packaging is good and we've had no issues with the freshness or quality of the ingredients. The recipes are ok most of the time.
The main reason we paused the subscription is that the value is not really there. While the concept is good, I feel that other online stores offer as much or better value (spud.ca). We also found that a lot of their recipes were repetitive. Either they recycle the same recipes or have slightly different variations or use the same kind of ingredients.
Fresh Prep: Terms and the Fine Print
Delivery
| | |
| --- | --- |
| Delivery area | AB, BC |
| Home delivery | Yes |
| Work delivery | Yes |
| Must be present for delivery | No |
| Delivery window | Between Sunday – Wednesday |
| Box stays cold for | 4 hours |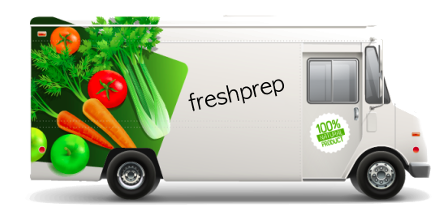 Fresh Prep delivers mostly in the Greater Vancouver area, Victoria, and Alberta. You can either order delivery to your home, your work, or pick up your Fresh Prep meals at a designated location. In case you order home delivery, you don't need to be present to receive your package. It can stay on your porch for a few hours since the bags are insulated. Usually, Fresh Prep delivers their meal kits weekly, between Sunday and Wednesday. In case you are interested in meal kit delivery in the Eastern part of the country, check out our Cook It review.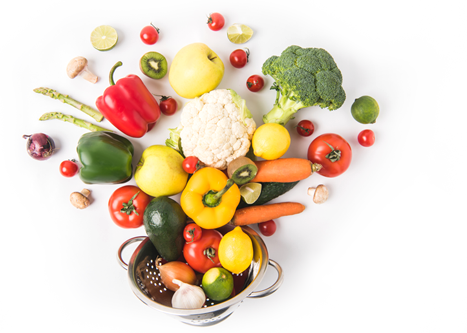 Flexibility
| | |
| --- | --- |
| Switch between plans | Yes |
| Minimum subscription length | 1 week |
| How to cancel subscription | Email |
| Extra charge for skipping week | No |
| Weekly deadline to cancel/skip | Wednesday at 11:59PM before your next delivery |
| Auto-renewal | Yes |
| Personalization options | Number of people, Recipes per week |
Fresh Prep terms are pretty flexible when you need to change the number of meals you need to order if your need to skip a week or cancel your subscription entirely. The cut-off day for any changes is Wednesday before midnight.
Fresh Prep: Support and Usability
In case you need to get in touch with Fresh Prep customer support, the best way to contact them is via phone or email. They also have updated Facebook and Instagram pages, so you can contact them on social media as well. However, there is no online chat on their website, and no mobile app is available.
Address
188 Victoria Dr, Vancouver, BC V5L 4C3
Customer Reviews
To give you an accurate understanding of what past and present Fresh Prep customers are saying about their experience with the company, we've thoroughly analyzed reviews on different online consumer rating platforms. We've looked at the overall impression the customer had about the company (i.e. positive, negative, or mixed), and singled out the main reasons why the customer decided to leave their review. We also counted all the recipes that Fresh Prep's customers recommended in their reviews to find out which of their dishes are definitely worth trying.
However, one thing you should keep in mind when reading this article is that most online reviews are left by people who had either strongly positive or strongly negative experiences. Therefore, while many online reviews tend to be pretty drastic one way or the other, there's generally a much larger number of customers who were happy or content with their purchase and didn't feel the need to leave a review or rating. This phenomenon is not limited to meal kits: it occurs in virtually every industry, especially if the product is sold online. To mitigate this bias, we've decided to take an in-depth look at all the online feedback and study the factors which customers did or did not like about Fresh Prep's meal kit service.
Distribution of Fresh Prep reviews compared to industry-wide averages
To get an accurate understanding of where FreshPrep stands compared to other meal prep companies, we've analyzed and compiled information from reviews available online. When the reviewer had a mixed opinion about the company or didn't have a clearly positive or negative experience, we marked the review as mixed, while reviews left by customers who had an obviously negative or positive experience were counted accordingly. We discovered that the proportion of positive reviews Fresh Prep received online was higher than the industry average, while the proportion of negative reviews was lower. The proportion of mixed reviews was generally in line with the industry average. This shows that Fresh Prep customers are generally happier with their service than customers of other meal prep companies.
Data was compiled from 2150 reviews about 13 different companies across 9 review sites. Fresh Prep had 265 reviews
Most frequently given reasons for liking or disliking the company
To gain a better understanding of what Fresh Prep customers liked or disliked most about the company, we investigated the reasons why customers left reviews about the company online. People who left negative reviews were unhappy about slow delivery and unresponsive support, although the proportion of reviews that cited these reasons was lower than the industry average. Some reviewers were also unhappy about missing ingredients in their deliveries, but the number of reviews that mentioned this issue was about the same as the industry average. Meanwhile, happy customers noted Fresh Prep's tasty food and responsive customer support more frequently than customers that reviewed other brands. Many people also praised Fresh Prep's clear recipes, which is on par with other brands.
Data was compiled from 7123 apparent reasons from 2150 reviews. Fresh Prep data had 964 reasons in 265 reviews
Three most popular recipes mentioned in reviews
To determine which Fresh Prep recipes customers loved the most, we tallied up how many times different recipes were mentioned in positive reviews. According to our results, FreshPrep customers loved their chicken tikka masala, Greek salad, and steak the most. So if you are thinking about trying out Fresh Prep, consider starting with one of these dishes.
Frequently Asked Questions:
Is there a delivery fee?
No — at least no additional delivery fee. It is all included in whatever price you see online.
Can I skip a delivery week?
Is Fresh Prep environmentally friendly?
What if I'm not home to accept delivery?
The Final Words About Fresh Prep
With over 17,000 customers, Fresh Prep has developed a solid following within British Columbia and Alberta. If you live in Vancouver, Victoria, or Alverta and want to eat Fresh Prep meals and compare them to national companies like Hello Fresh, then definitely check them out to see how they stack up.

For first-time customers, we have a sweet Fresh Prep coupon MKC3FREE. You will get three free meals with a minimum order of 2 recipes (two meals for two people). The exact dollar value is $36.75, which translates to up to 75% for 2 recipes per week plan and around 42% for 2 recipes with the family meal plan.

In case you are interested to know how Fresh prep compares to the industry leaders, we have created a Fresh Prep vs. Hello Fresh comparison to help you make your choice. If you have anything to add to our Fresh Prep review, please contact us and send us any firsthand cooking pics!
---
Select up to four 2-person recipes out of 10 meals each week
Select up to four family-friendly recipes out of 10 meals each week