Meal Kits in Halifax and the Maritimes
Meal Kits in Nova Scotia, New Brunswick, Prince Edward Island (PEI), and Newfoundland, are bringing big-city convenience to all corners of Atlantic Canada.
While cities like Halifax, St. John's, Moncton, Fredericton, Charlottetown, Saint John, and Cape Breton were not the starting point for any of Canada's major meal kit companies, they are now fully served and have several different options when it comes to food subscription boxes.
There are basically three main meal kit companies across Canada.  For in-depth looks at each of them check out our Hello Fresh Review, Chefs Plate Review, and Goodfood Review.  There are a number of small or more local meal kit companies in some of the more densely populated parts of the country, but in Atlantic Canada, the national companies are the vast majority of the market.
The great news is that depending on the season, these large companies do source a lot of their meat and produce locally since their goal is to cut down the field-to-table time as much as possible (and consequently deliver a better, fresher meal than you'd get by going to the grocery store).
What's In a Meal Kit?
In a phrase: Delicious Peace of Mind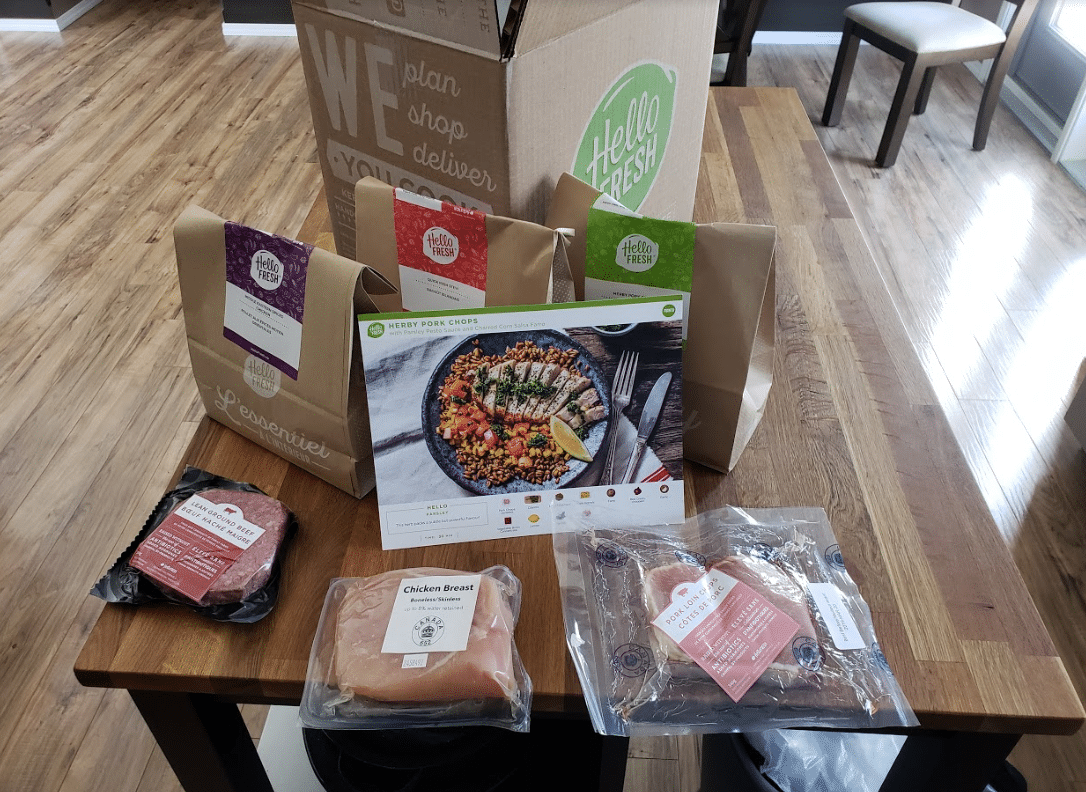 My meal kit taste experiences have ranged from pretty good to excellent, with perhaps 1 in 50 coming in at "mediocre".  In over a year of subscribing to Hello Fresh, I can honestly say I have not had a "bad" meal. In other words, a meal that I didn't finish or chose not to eat.  I have had perhaps 5-7 meals (out of 170+) that I wouldn't order again, but were fine. The rest of our meals would have to be rated an 8,9, or 10 out of ten. And that's saying something, considering the guy cooking many of those meals (yours truly) is a complete kitchen novice.
All of that said, the most valuable thing that arrives in a box on my doorstep each week is the immediate answer to the never-ending quest of "What's for Supper?"
Meal kits have given my family instant healthy meal planning that can be done in under one minute each week via a super simply app.  I don't waste even one millimeter of brain space thinking about how supper will get on the table until 30 minutes before it's time to eat.  That freed up mental energy is worth a ton to my family and I.
So many fewer reminders for groceries, no last second runs for an ingredients, and no head-smacking moments at work when I realize I forgot to take something out to thaw so that it was ready for that evening!
When you subscribe to a meal kit delivery service in Canada, the following arrives at your door (or workplace, wherever you want it delivered):
An well-insulated box (100% recyclable)  that will keep your meat and produce chilled even in the humid summer heat.

All of the food you will need to cook your meals that week packaged in convenient colour-coded bags. (Minus a few kitchen essentials like salt, cooking oil, butter, etc.)

A handy recipe card that illustrates step-by-step instructions and features colour pictures to motivate your saliva glands.   
The precise boxes will vary based on the meal kit company that you decide to go with, as well as the plan you select.
Why Meal Kits Are Perfect for Small Cities in the Maritimes
I've always found that when I go to national teacher conferences the folks from Atlantic Canada and the prairies tend to end up gravitating towards one another.  So I feel like I'm talking to some kindred spirits when I say that as a rural person, meal kits offer us a better deal than anyone else in Canada.
The main reasoning behind that statement is that there is just such a gap between what urban Canadians are able to enjoy when it comes to grocery shopping and what rural people are able to purchase locally.  It's really one of the major tradeoffs involved in moving to a less-densely populated area. The cost of food is 20-100% higher and the selection isn't even close.
On the other hand, when it comes to Canadian meal kits the price is exactly the same whether you live in Vancouver, Toronto, or Antigonish!  With shipping included for my Hello Fresh delivery, I think it's a fantastic deal for us rural folks.
Hello Fresh Delivers to Halifax, St. John's, Fredericton, and the Rest of the Maritimes
The most popular meal provider in New Brunswick, Nova Scotia, Newfoundland, and PEI is Hello Fresh.
That's no surprise considering that the company is the most popular throughout Canada, and delivers to the most places, and after their purchase of Chefs Plate, it's fair to say that they dominate the Canadian food subscription box scene.
Hello Fresh is not the cheapest meal kit on the market (roughly 10% higher than competitors), but instead pride themselves on top quality meals that include large portions.  After being a customer for the last 14 months, I can say with confidence that you will be impressed by the quality of their produce and meat, as well as the simplicity of their app.  
I've already talked about the quality of their food.  (I should point out that I'm not exactly a picky eater, and at 6'2, 250 pounds I have never skipped too many meals – on the other hand my wife is quite a petite person, and while not necessarily a picky eater, she is more discerning than I am.  She too really looks forward to when it's a "Hello Fresh Night"!) In terms of how much food you get, portion size is obviously a bit subjective. Like I said, I pack a pretty big appetite. For my personal preference, I'd say a Hello Fresh portion is 100% of what I need roughly 75% of the time.  For another 15% of the time it's not only everything I'm hungry for at dinner, but I have leftovers for the next day. The remaining 1 in 10 times, I usually supplement the meal by throwing some salad or raw veggies on the plate as well. These 1 in 10 meals tend to be the meals that include higher-fat meats, and my guess is that Hello Fresh tries to keep their meals within a calorie range of 500-800 per portion.  So when you toss a juicy cut of beef on the plate, there isn't too much wiggle room left! When I compare how much Hello Fresh packs into each meal, I'd say there is a decisive difference in the quality of meats and the overall amount of food you get relative to the other Canadian meal kits.
Chefs Plate in Maritimes
The other two large Canadian meal kits are Goodfood and Chefs Plate.
Chefs Plate is the cheapest way to try out the whole meal kit experiment and see if it is a good fit for you family.  The company was started by Patrick Meyer and Jaime Shea in 2014, and was purchased in 2018 by Hello Fresh. The larger company has committed to running Chefs Plate separately, and has kept the unique feature of the 15-minute meal options that Hello Fresh doesn't include.  While meal plans are cheaper, the portion size and lower-cost recipes prove the adage that you get what you pay for. If you're looking for a cost-efficient way to meal plan, try meal kits, and take some stress out of supper prep, this is your ticket.
If you live in Newfoundland, you should note that Chefs Plate does not currently list Newfoundland as amongst the provinces that they deliver to.  New Brunswick, Nova Scotia and Prince Edward Island, are all fair game for Chefs Plate though.
Chef's Plate is the lower-cost, smaller portion little sibling of Hello Fresh.  Started by Patrick Meyer and Jaime Shea in 2014, Chef's Plate grew extremely quickly and sold more than 2 million meal kits per month across Canada.  The most unique aspects of the company are that they are the only meal kit delivery company in Canada to be federally registered as safe for food processing by the Canadian Food Inspection Agency AND that they have a large selection of 15-minute meal options for the super time-crunched household.
Chef's Plate was recently acquired by Hello Fresh, but Canada's most popular meal kit company has stated that they plan to run the brands as separate entities, with Hello Fresh being the more premium model and Chef's Plate targeting folks looking for a time-saving solution at the lowest possible price point.
In an interview with The Huddle, Shea stated (in regards to their recent Atlantic Canada expansion)
"Candidly, it's gone a lot better than we've seen as we compare to launches in other markets. I think the reality is there's not a lot of options for people living in New Brunswick to get fresh products delivered to their home.  We've seen a really nice response and we're seeing a lot of those customers continue to order week over week. For us, that's a really strong indication and metric we look at early on to see how we're resonating in the market."
Goodfood In the Maritimes
Goodfood is the largest Canadian-owned meal kit company and is based out of Montreal, Quebec.  They claim to deliver to all major cities in the Maritimes, including St. John's.
Billing themselves as, "Canada's #1 Meal Kit" they are in fact the 3rd most popular meal kit and would be more of a direct competitor to Chefs Plate than Hello Fresh in terms of price point and offerings.
Like Chefs Plate, Goodfood has several "super quick" recipes available on their menu.  I've had several customers tell me that they really enjoyed the low-carb options available with Goodfood, as well as the large number of recipes you can choose from each week.
Neither Chefs Plate nor Goodfood currently deliver to many smaller towns or rural areas in Atlantic Canada, but if you're trying to choose a low-cost meal kit provider, I'd give them both a shot to earn your business using our exclusive promo offer codes.  (It makes them cheaper than buying groceries for your first week.)
Overview of the Meal Kit Scene in Halifax, St. John's and the Maritimes
If you live in large metropolitan cities like Toronto or Vancouver, there are a bevy of local meal kit companies to choose from.  Most of Atlantic Canada however lacks the population density to make a go of these small, localized meal kits.
If you're looking for an in-direct meal competitor though, there is apre-made meal service available in Saint John, Charlottetown, Moncton, Fredericton, and Halifax.  
It's called Saute, and it was founded by Will Nelson and Andy Hay.  Basically, Saute fully prepares meals, and delivers them to your door.
Personally, I'm not a huge fan of the pre-made meals market.  They're usually more expensive because of the labour involved, and it's tough to call ingredients "fresh" when they're already pre-combined in a container.  It's tough to beat cutting or mixing up the ingredients yourself, 20 minutes before dinner is served. I notice a definite difference in overall quality, and the wider variety of recipes that can be produced with a meal kit services vs a pre-made meal delivery business.
IF you're looking for the cheapest way to try out meal kits, take a look at Chefs Plate or Goodfood.  If you want the highest quality taste, with the widest delivery map, my pick for meal kits in Nova Scotia, New Brunswick, Newfoundland, and PEI is Hello Fresh.