Meal Delivery: Halifax and the Maritimes 2023 (Meal Kits & Pre-made Meals)
Meal kits in Nova Scotia, New Brunswick, Prince Edward Island (PEI), and Newfoundland are bringing big-city convenience to all corners of Atlantic Canada. Now you can cook restaurant-quality meals at home in about 30 minutes and save time on grocery shopping!
While cities like Halifax, St. John's, Moncton, Fredericton, Charlottetown, Saint John, and Cape Breton were not the starting point for any of Canada's major meal kit companies, they are now fully served and have several different options when it comes to food subscription boxes. You can do a postal code search and find out which meal kit services deliver to you, here.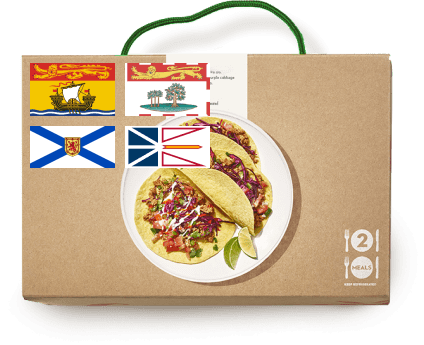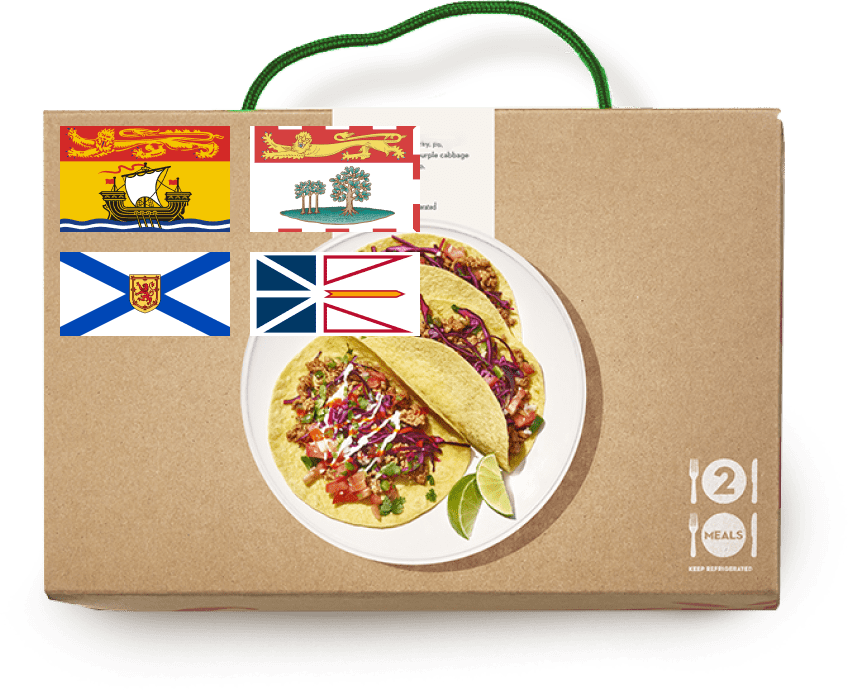 Background on Meal Delivery in Halifax and the Maritimes Area and the Population
| | Value |
| --- | --- |
| Population | 2,419,027 |
| Food stores per 100,000 ppl | 83 |
| Farms per 100,000 ppl | 312 |
| Average family size | 2.7 |
| Experience difficulties with food budget | 50% |
| Eating fruits/veggies 5+ times a day | 24% |
| Time spent eating per day | 91 |
| Vegans and vegetarians | 6.6% |
Seawater Lobster. Traditional Nova Scotia dish
There are almost two and a half million residents living in Nova Scotia, New Brunswick, PEI, and Newfoundland. For every 100,000 people, there are 312 farms and 83 food stores. In addition, there are meal kit companies that deliver food to the residents' homes and offices. 
The average family size in Halifax and Maritimes is 2.7 people, which is less than in other provinces. However, 50% of the families experience difficulties with the food budget, more than anywhere in the country. With that in mind, some meal kit companies, such as Chef's Plate, for example, develop meals with an affordable price tag of $8.99 per serving.
Almost a quarter of Nova Scotia, New Brunswick, PEI, and Newfoundland area residents eat five or more servings of fruit and vegetables per day, which is less than in other parts of the country. Almost 7% are vegetarians or vegans. For them, meal kit delivery companies offer plant-based recipes or 100% vegetarian plans or vegetarian meals. As other types of diets become popular, meal kit companies in Halifax continue to add keto-friendly, low carb, and paleo meals to their menus. In addition, there are special meals for holidays, such as Christmas or Valentine's Day.
What Do Meal Kits and Meal Plans Offer Halifax?

When you subscribe to a meal kit delivery service in Canada, the following arrives at your door (or workplace, or wherever you want it delivered):

The precise food boxes will vary based on the meal delivery company in Halifax that you decide to go with, as well as which of the meal plans you choose. Our meal kit taste experiences have ranged from pretty good to excellent, with perhaps 1-in-50 coming in at "mediocre." In over a year of subscribing to HelloFresh, we can honestly say we have not had a "bad" meal—in other words, a meal that we didn't finish or chose not to eat. We have had perhaps five to seven meals (out of 170+) that we wouldn't order again, but were fine. The rest of our meals would have to be rated an 8-, 9-, or 10-out-of-10.
All of that said, the most valuable thing that arrives in a box on my doorstep each week is the immediate answer to the never-ending quest of "What's for dinner?"
Canada-wide Companies Offering Food Delivery: Halifax and the Maritimes
The most popular meal provider in New Brunswick, Nova Scotia, Newfoundland, and PEI is Hello Fresh.
That's no surprise considering that the company is the most popular throughout Canada, and delivers to most places. After their purchase of Chefs Plate, it's fair to say that they dominate the Canadian food subscription box scene.
HelloFresh is not the cheapest meal kit on the market (their prices are around the mid-way mark compared with other competitors), but instead, they pride themselves on top-quality meals that include large portions. After being their customers for the last 14 months, we can say with confidence that you will be impressed by the quality of their produce and meat, as well as the simplicity of their app. For all first-time customers, there is a HelloFresh discount of up to $200 off your first three orders. Simply click on the link above, "Visit Hello Fresh Halifax" and the promo code will be automatically applied for you. You really have nothing to lose, given that the cost of your first meals will be drastically reduced.
Chefs Plate is the cheapest way to try out the whole meal kit experience and see if it is a good fit for your family. The company was started by Patrick Meyer and Jaime Shea in 2014 and was purchased by Hello Fresh in 2018. The parent company has committed to running Chefs Plate separately and has kept the unique feature of the 15-minute meal options that Hello Fresh doesn't include. While meal plans are cheaper, the portion size and lower-cost recipes prove the adage that you get what you pay for. Ingredients are still fresh and tasty but some of the recipes are more basic and there are less to choose from each week than with HelloFresh. If you're looking for a cost-efficient way to have your meals planned, try meal kits, and take some stress out of supper prep, this is your ticket.
If you live in Newfoundland, you should note that Chefs Plate does not currently list Newfoundland as among the provinces that they deliver to. New Brunswick, Nova Scotia, and PEI are all fair game for Chefs Plate, though. You can save around 50% on the first three boxes if you enter the Chefs Plate promo code MKC2x50 when you place your first order, or click on the link above, "Visit Chefs Plate Halifax."
Goodfood is the largest Canadian-owned meal kit company and is based out of Montreal, Quebec. They claim to deliver to all major cities in the Maritimes, including St. John's.
Billing themselves as "Canada's #1 Meal Kit," they are, in fact, the third most popular meal kit. They are more expensive than Chefs Plate and HelloFresh but they do have some features that customers love and are prepared to pay the difference for.
Like Chefs Plate, Goodfood has several "super quick" recipes available on their menu. We've had several customers tell us that they really enjoyed the low-carb options available with Goodfood, as well as the variety of recipes you can choose from each week.
If you're trying to choose a low-cost meal kit provider, we hope you give Chefs Plate a shot to earn your business using our exclusive promo offer code. (It usually makes them cheaper than buying groceries for your first week.)
Local Pre Made Meals: Halifax and the Maritimes
| Company | | Rating | Covered Provinces | Dishes in menu | Price / serving | MKC Promo |
| --- | --- | --- | --- | --- | --- | --- |
| | Saute | n/a | 1 | 15 | $14.99 – $15.50 | n/a |
Global and nationwide meal kit companies are not the only ones servicing Halifax and the Maritimes area. In case you live in Nova Scotia and are looking for an in-direct local meal delivery competitor, there is a pre-made meal service called Saute available in Halifax, Saint John, Charlottetown, Moncton, and Fredericton.
The company claims that its mission is to help Nova Scotians live healthy lifestyles with proper nutrition. Saute offers classic and vegetarian plans, as well as weight loss meals in a dedicated program that provides three meals a day, with 1200-1500 calories per day, seven days a week. In case you don't want to subscribe to a plan or a program, you can always buy a number of Saute frozen meals and snacks and have them delivered to your door. While they are a bit more expensive than the other Halifax meal delivery options we mentioned, you get fully cooked dishes. If you really don't like cooking, then this is a great way to still eat home-cooked meals that are healthier than buying takeout or frozen meals in supermarkets. 
Summary of Pre-Made and Semi-Prepared Meal Delivery (Halifax)
If you live in large metropolitan cities like Toronto or Vancouver, there are a bevvy of local meal kit companies to choose from. However, most of Atlantic Canada lacks the population density to make a go of these small, localized meal kits. In Nova Scotia, there is only one company, Saute, that can compare to global meal delivery companies, but they offer pre-made meals, not meal kits. This could be just what you're looking for though!
It all comes down to personal taste and whether you're a fan of pre-made frozen meals. They're usually more expensive because of the labour involved, and it's tough to call ingredients "fresh" when they're already pre-combined in a container. When it comes to fresh versus frozen food, there's no debate. It's tough to beat cutting or mixing up the ingredients yourself, especially if you can do this just 15 minutes before dinner is served. We also noticed a definite difference in the overall quality and wider variety of recipes that can be produced with a meal kit service vs. a pre-made meal delivery business. Meal kits allow you to cook restaurant-quality meals in the convenience of your own home, including steaks or fish cooked to your liking, which is great if you enjoy eating meat in your diet. You just can't get that with frozen meals. 
In case you're looking for the cheapest way to try out meal kits, remember to take a look at Chefs Plate. If you want the highest quality taste with the widest delivery map, our pick for meal kits in Nova Scotia, New Brunswick, Newfoundland, and PEI is Hello Fresh.
Frequently Asked Questions:
Does GoodFood deliver in Halifax?
Is HelloFresh in Nova Scotia?
Is Chefs Plate available in Nova Scotia?
What meal kit services deliver to Halifax and the Maritimes?

Chefs Plate: Get 67% OFF the 1st Box + 22% 2nd & 3rd!
Apply discount
HelloFresh: Get up to 20 Free Meals
Apply discount