Meal Prep Delivery in Canada
There are two types of meal kits in Canada: ready-to-cook and ready-to-eat. Which type do you prefer? Ready-to-cook meal kits, such as those provided by Hellofresh, Chefs Plate, and Zesty Kits, and other meal kit delivery companies, include illustrated recipes with detailed instructions and all the necessary ingredients, sometimes organic. Using this kit, you can cook a restaurant-quality meal for yourself, your partner, or your family, in about 30 minutes, and have a gourmet dinner for a fraction of the restaurant price.
Alternatively, ready-to-eat meal prep services deliver food that has already been cooked and, in some cases, frozen or air-chilled. All you need to do is to heat it up, and voila, dinner is ready!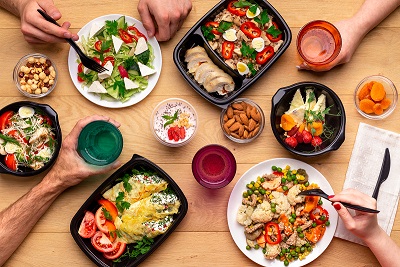 Is Meal Prep in Canada Expensive?
While the overall idea of meal prep boxes sounds appealing, some Canadians may think that it would be too expensive to order meal prep delivery. What we can see from the table above is that the cost of meal prep boxes varies from just $2 per serving at Chomp Vegan Eatery that serves British Columbia, to as high as $25 per serving at Saveurs Santé in Quebec. On average, you can order a meal prep box for about $11-$15 per serving, which is comparable to ready-to-cook meal kit prices.
The Benefits of Meal Prep Delivery in Canada
The benefits of ready-to-eat meal prep services are similar to those of ready-to-cook meal kit companies:
The only major difference between getting a ready-to-cook meal kit or a ready-to-eat meal prep service is that you won't get any new cooking skills since you don't have to cook, just heat the meal up.
Final Words About Meal Prep Delivery in Canada
Meal prep delivery services in Canada are on the rise. In big cities, people are very busy. They prefer to save time anywhere they can. Meal prep companies give them this opportunity by delivering food that has already been cooked and only needs to be heated to consume, and Canadians appreciate it. The majority of companies don't freeze their meals, making them as close to home-made meals as possible.

Some meal prep companies choose a small niche and deliver specialized menus, such as vegetarian, organic, keto, kosher, or halal meals.
While there are no nationwide meal prep companies at the moment, almost every big city in Canada has at least one available to the residents. All you need to do is search for "meal prep near me," and you are likely to find one. You will have an option to buy individual meals or subscribe to one of the meal prep plans to have a weekly delivery. In case you prefer to cook your own food and eat it fresh from the stove, check out our meal kit reviews.