Meal Prep Delivery in Canada 2023
There are two types of meal kits in Canada: ready-to-cook and ready-to-eat. Which type do you prefer? Ready-to-cook meal kits, such as those provided by Hellofresh, Chefs Plate, and Zesty Kits, and other food subscription companies, include illustrated recipes with detailed instructions and all the necessary ingredients, sometimes organic. Using this kit, you can cook a restaurant-quality meal for yourself, your partner, or your family, in about 30 minutes, and have a gourmet dinner for a fraction of the restaurant price.
Alternatively, ready-to-eat meal prep services deliver food that has already been cooked and, in some cases, frozen or air-chilled. All you need to do is to heat it up, and voila, dinner is ready!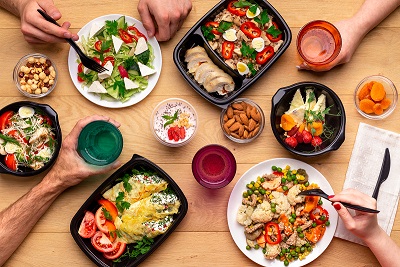 There are many meal prep companies in Canada. However, the majority of them are local, which is great on the one hand. This means that companies like Live Fit Food in Ontario and Lean On Meals in Alberta use locally-grown seasonal produce from nearby farms, and customers support local businesses. On the other hand, meal prep in Toronto may differ significantly from meal prep in Montreal or Ottawa, while the biggest ready-to-cook meal kit companies deliver the same kits all over the country.
The good news is that the ready-to-eat meal prep delivery business is growing, and some companies, like Heart to Home Meals, are already delivering in more than one province. Heart to Home Meals can be ordered in Alberta, Ontario, and Nova Scotia.
Meal variety and availability vary a lot from company to company. Some smaller companies, like La Boite Du Chef or Antoine.ca in Quebec, only offer 7-25 meals, while such companies as Les 3 Maitres Gourmands that serves Quebec, and Live Fit Food that offers prepared meal delivery in Toronto, have more than 35 and 80 meals on their menus, respectively. The biggest menu on the meal prep market, over 200 meals, is now offered by Heart to Home Meals. Some companies offer healthy meal prep plans or subscriptions, while others sell the meals individually.


Special Awards
To help customers find the very best ready-to-eat meal delivery companies for their needs, and also to commend the best-performing Canadian meal delivery companies, our team is excited to publish our 2023 MealKitsCanada awards! We gathered data on 95 Canadian companies that deliver ready-to-eat meals of all different kinds. We examined positive and negative customer reviews, menu option variety, and price ranges to find the very best meal kits for each of our award categories.
Best in Ontario
Out of 37 different ready-to-eat meal delivery companies in Ontario, the winner of the MealKitsCanada Best in Ontario Award is One Life Meals. This company is also ranked in the top 5 meal delivery companies nationwide. One Life Meals offers prepared meal delivery to Greater Toronto Area residents, with meals delivered on Sundays and Wednesdays. The company focuses on healthy eating and fitness-oriented diets.
Best in Quebec
Our MealKitsCanada Best in Quebec Award goes to FreshMTL, which beat out 13 other Quebec-based companies for this distinction. This company got its start back in 2014 by selling fruit juice, but quickly expanded to salads and then to delivering entire meals. FreshMTL has combined their juice expertise with their meal prep skills to build a popular meal delivery service that has something to satisfy everyone's tastes.
Best in British Columbia
After thoroughly examining 21 companies operating out of British Columbia, we are proud to announce Sauvers Sante as the MealKitsCanada Best in British Columbia winner. Its origins date back more than 30 years as a food processing company producing high-end ice-cream desserts. Today, it has an extensive range of ready-made meals, with a focus on quality and freshness.
Best vegetarian
Many fresh and frozen meal delivery companies offer vegetarian plans, but we only found 5 companies in Canada that bill themselves as entirely vegetarian. From these 5, we are pleased to announce Planted Meals as our MealKitsCanada Best Vegetarian winner! Despite being just a few years old, this company has already built up impressively high reviews, which come as no surprise given their diverse menu and affordable prices.
Best small company
We are excited to present our MealKitsCanada Best Small Company award to 2 Guys With Knives. This small business prides themselves on using the highest quality cuts of meat and organic local produce from natural and environmentally-friendly sources. 2 Guys With Knives say that quality matters, and their customers agree: reviews have been extremely positive with special praise for the taste and quality of the meals.
Best delivery
Our MealKitsCanada Best Delivery award goes, without a doubt, to LiveFit Foods. This meal delivery company has built a loyal base of customers across Canada thanks to their quick, efficient, and reliable delivery services. Customers reported that on the few instances when there were delivery problems, LiveFit Foods representatives were very responsive and quickly resolved the issue. New customers receive free shipping.
Best Selection
With over 200 items on their menu, our MealKitsCanada Best Selection award goes to Yogi's Kitchen. This company's focus on South Asian cuisine has won them extensive praise for their exquisite flavors and unique spice combinations. Yogi's Kitchen offers 4 different meal packages and three different meal plans based on the type and quantity of food desired. The company offers free delivery for all customers.
Best eco-friendliness
When it comes to environmentally-conscious eating, few companies match the standard set by On The Run Meals, which is why they're the winners of the MealKitCanada Best Eco-Friendliness award. This company avoids processed food in favour of local, ethically sourced, organic, and non-GMO ingredients. On The Run Meals also stands out with their thoughtfully designed packaging, all of which is either biodegradable or recyclable.
Best value for the money
Meal delivery services can get pretty expensive, so it's important to get your money's worth. Our MealKitsCanada Best Value award goes to Lean On Meals, a company that offers tasty meals at an affordable price and strives to make sure that their customers are satisfied with the service. Lean On Meals is unique for their no-questions-asked refund guarantee, though the company warns that this program should not be abused.
Best for fitness
Meal kit dishes can often be so good that you find yourself putting on a few extra pounds. Our MealKitsCanada Best Fitness award goes to Power Kitchen, a company that aims to please with their healthy and delicious fitness-driven menu items. This company offers customized meal plans that combine various meal boxes to meet each client's own fitness goals, whether they're looking to bulk up, build muscle tone, or slim down.
Is Meal Prep in Canada Expensive?
While the overall idea of meal prep boxes sounds appealing, some Canadians may think that it would be too expensive to order meal prep delivery. While the average cost of a ready-to-eat meal delivered to your home is around $12, there are some as low as $3.60. What we will say, is that the cheaper meals we scoured are usually soups and may not be filling enough for some people. At the other end of the scale, some meals cost up to $20.99 but these usually contain premium ingredients like salmon or exotic ingredients that you wouldn't normally find in the supermarket. 
The Benefits of Meal Prep Delivery in Canada
The benefits of ready-to-eat meal prep services are similar to those of ready-to-cook meal kit companies:
The only major difference between getting a ready-to-cook meal kit or ready-to-eat meals in Canada is that you won't gain any new cooking skills since you don't have to cook, just heat the meal up. Of course, this may be just what you're after. 
Final Words About Meal Prep Delivery in Canada
Meal prep delivery services in Canada are on the rise. In big cities and beyond, people are very busy. Many prefer to save time any way they can. Meal prep companies give them this opportunity by delivering food that has already been cooked and only needs to be heated to consume, and Canadians appreciate it. The majority of companies don't freeze their meals, making them as close to homemade meals as possible. Those that do, often use a special type of deep freezing that can preserve the nutrients better. 
Some meal prep companies choose a small niche and deliver specialized menus, such as vegetarian, organic, keto, kosher, or halal meals so make sure you look around.
While there are no nationwide meal prep companies at the moment, almost every big city in Canada has at least a few available to the residents. All you need to do is search for "meal prep near me," and you are likely to find one. You will often have the option to buy meals as you need or subscribe to one of the meal prep plans to have a weekly delivery. In case you prefer to cook your own food and eat it fresh from the stove, check out our meal kit reviews. By doing so, you'll usually find the cheapest meal kits available, too.

Chefs Plate: Get 67% OFF the 1st Box + 22% 2nd & 3rd!
Apply discount
HelloFresh: Get up to 20 Free Meals
Apply discount
Frequently Asked Questions:
What is the best premade meal delivery service in Canada?
What's the difference between ready-to-eat and ready-to-cook meal delivery?
How much do premade meals cost in Canada?
Are ready-to-eat meals healthy?