---
Papa Earth Canada Review 2023
In order to prosper, meal kit companies have to keep in mind all the different types of food preferences and diets, from vegetarian and vegan to carnivore, and from kosher to halal. It is hard to combine all these preferences in one company, and the big companies try their best. However, smaller companies prefer to choose their specialty. For those of you interested in a mostly carnivore diet, or simply like to enjoy high-quality meat or seafood every now and then, Papa Earth will be the best choice in Canada.
Visit website
Papa Earth Ratings by Our Readers
Cast your vote by selecting either button
Plans for
Price ranges
$135.00 - $498.00 / week
$67.50 - $99.60 / serving
What Is a Carnivore Diet?
The carnivore diet is perfect for meat lovers. It is a restrictive diet that only includes meat, fish, seafood, and other animal-based foods, including internal organs, eggs, and certain dairy products. It completely excludes fruit, vegetables, nuts, seeds, legumes, and other types of plant-based foods, aiming for a zero carb intake.
The proponents of the carnivore diet claim that it can help with treating depression, anxiety, obesity, diabetes, and more, but no scientific research has been done to support this statement.
You don't need to follow a carnivore diet to order Papa Earth products. They are available to all meat, fish, and seafood lovers in Canada. Papa Earth products are free of food dyes, preservatives, or pumping. The company sources only the highest quality and uses artisan butchers.
Papa Earth: Credibility and Reputation
| | |
| --- | --- |
| Established in | 2016 |
| Registered in | ON |
| CEO | Julian Harthoorn |
| Clients in Canada | 2,000 |
| Independent rating | (Google) |
Papa Earth was established in 2016 in Ontario as an organic meat delivery company. It started off as just a complementary service to a bulk order program but due to increased popularity, they decided to launch the online store in October 2018 and make it available Canada wide. Today, the company serves over 2000 households all across Canada, and the number of happy customers is rapidly growing.
What makes Papa Earth so popular? First of all, it's the quality of their products. All the meats, poultry, and fish they sell are clean, free from preservatives and dye, with no water chilling or pumping. The Papa Earth team personally tests the quality of their products. They know their local suppliers and make sure that all ethical and humane practices, such as free-range or free-run, are implemented.
Another factor that contributes to the company's popularity is convenience. Vacuum-sealed products are frozen and delivered to your door in an insulated box. Keep them in your freezer until you are ready to cook.

Use a promo code MKCanada to receive 10 free chicken boneless skinless breasts with your first order, a $40 value!
Papa Earth Boxes
The Papa Earth boxes come in three sizes: small, medium, and large. The small box is recommended for one person, the medium box contains enough products for 2-3 people, and the large box will work best for a bigger family. You can decide how frequently you want your meat to arrive at your place. The orders are delivered every two, three, four, or six weeks. If you accidentally ordered too much, no worries! As long as the meat is kept at a steady freezing temperature and the vacuum seal is intact, it can last up to 12 months in the freezer.
Promotion
4 free meals
Receive 4 free Striploin steaks (for orders $249 and up) with any subscription box. Use promo code: striploin22
Claim Now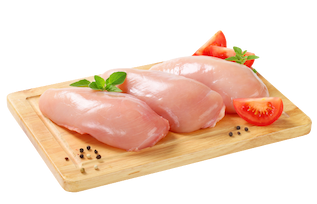 Once you've selected your size and delivery frequency, it is time to fill in your box with high-quality, delicious proteins. You can choose between organ meat, chicken and turkey, beef, pork, seafood, lamb, bison, and butter.
Organ meat includes chicken hearts, beef liver, heart, tongue, and more. The chicken comes from whole to breaded chicken tenders to chicken feet. All the meats come in any variety you can imagine: different types of steaks, roasts, stews, patties, and more. The seafood section includes several types of fish, wild-caught scallops, and Argentina wild-caught shrimp.
In addition, you can order a three-pack of grass-fed butter inspired by pasture-raised farming in Northern Ontario. The butter comes in two varieties, salted and unsated. The salted type contains two ingredients, cream, and salt. In the unsalted butter, there is only cream, and nothing else.
| | |
| --- | --- |
| Cooking skills needed | Basic |
| Ingredients sourced from | Local companies |
| Vegetarian restrictions | n/a |
| Avoid an ingredient | Adjust in settings |
| Calorie range | Choose by meal |
| Low carb options | Choose by meal |
| Allergy restrictions | Choose by meal |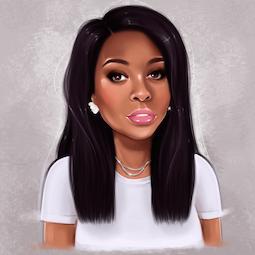 Alexandra Brown
Customer's Personal Experience
We are always curious to know what current clients think about the company's service. For this purpose, we interviewed one of the PapaEarth customers:


What is your name and where are you from?
Alexandra Brown; Whitby, Ontario 
How did you find Papa Earth and why you decided to join?
I found PapaEarth online when searching for meat delivery during the pandemic. I have a young child and wanted to cut down on visiting high-traffic stores. Personally, too, I think big stores are getting even bigger and crippling smaller businesses of all kinds. I like finding businesses that are local or in Ontario to spend my money at. 
How long have you been a Papa Earth customer? 
April 2020. 
What plan do you prefer and why?
I have a subscription for the medium box every three weeks. I have had to pause once because I still had some meat to get through. I meal plan for my partner and me and am able to order what I need to make those meals. 
How many portions a week do you order?
I have a box that comes every three weeks but sometimes I change what's in the order depending on what I'll be making. Since we eat meat almost every day, I guess 10-12ish portions. 
Could you please tell us about the delivery and packaging?
I get an e-mail from the company when my box will be delivered that is pretty accurate. They knock when they deliver and because I'm home with my son, I am typically able to get it right away. The box is cardboard and there's an insert. All the portions I picked from the website are packaged separately so I can check that what I ordered is what came. Inside the box is cold, so I think they use dry ice. The meat is frozen still. 
How long does it take you to cook a meal, on average? What problems did you encounter?
It depends on what I make. The orders don't come with recipes so it's up to me :) 
What are your favorite meals and why?
Striploin steaks. I just use a rub and pop them in the air fryer with a touch of oil. Easy to make but then I feel fancy having steak on a Monday, haha :) 
Did you communicate with Papa Earth customer service since you signed up? How did it go?
Only once. Julian answered really quickly and let me change my order with him over the phone as it wasn't packed yet. 

Here are some photos that the PapaEarth team shared with us and on their social media accounts: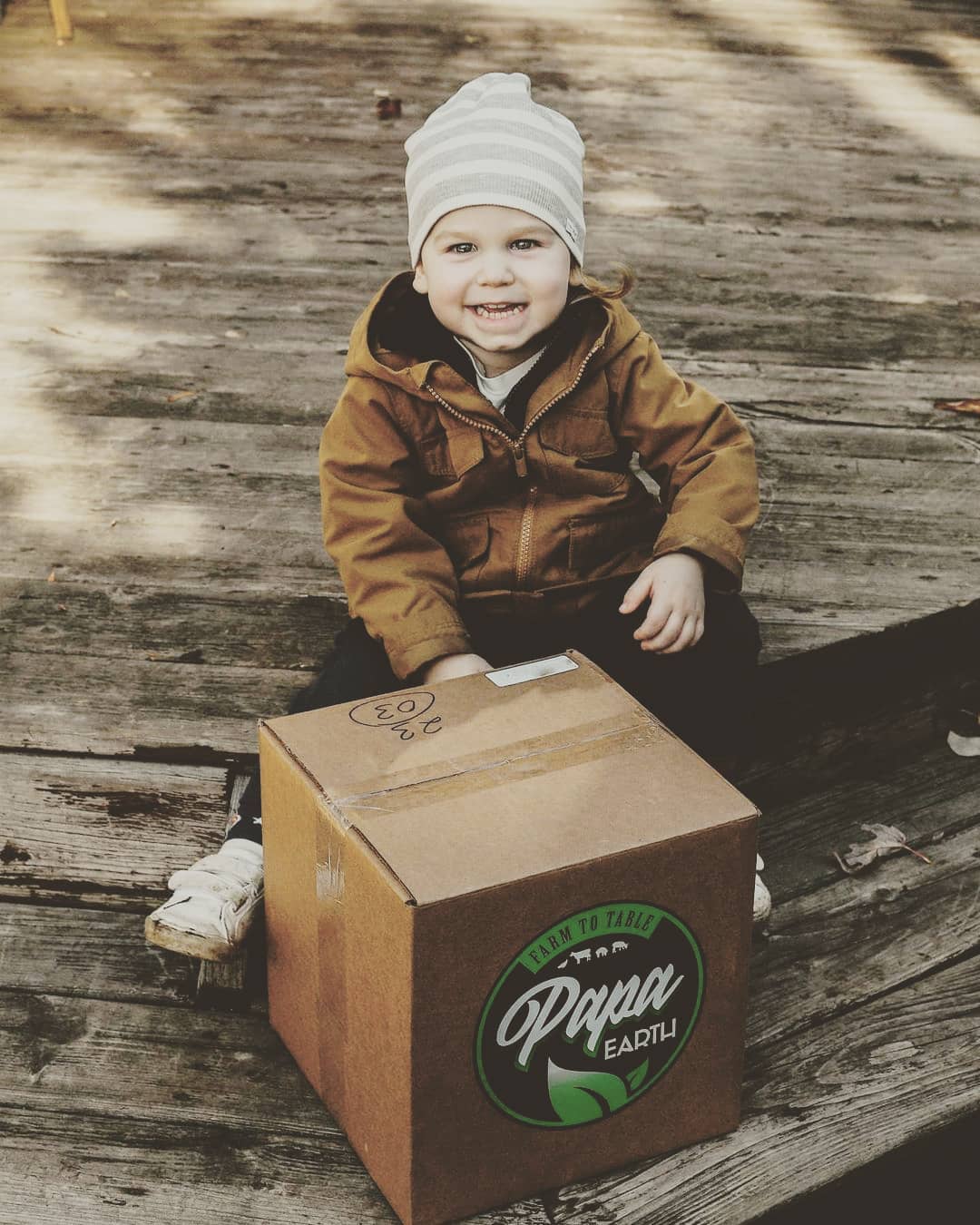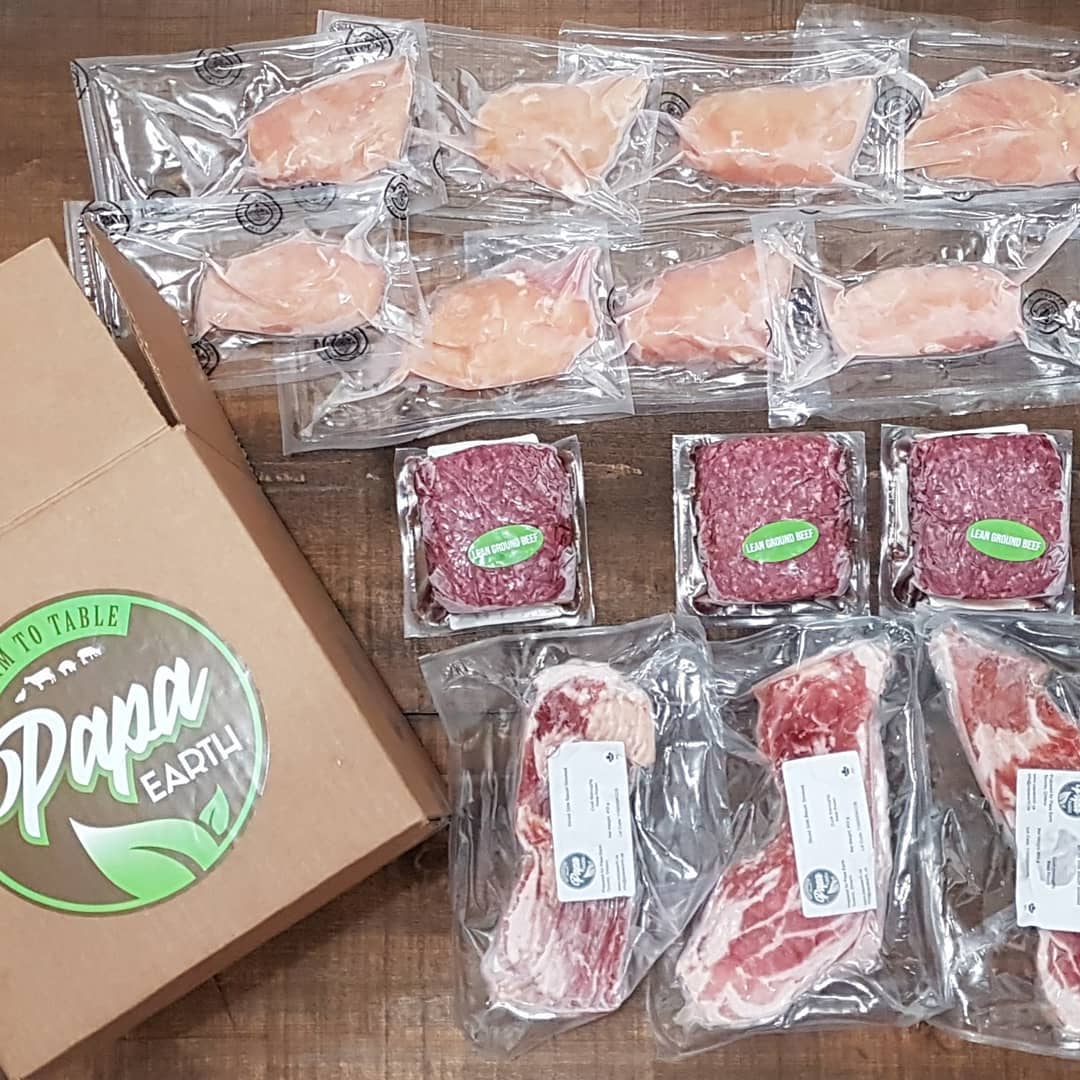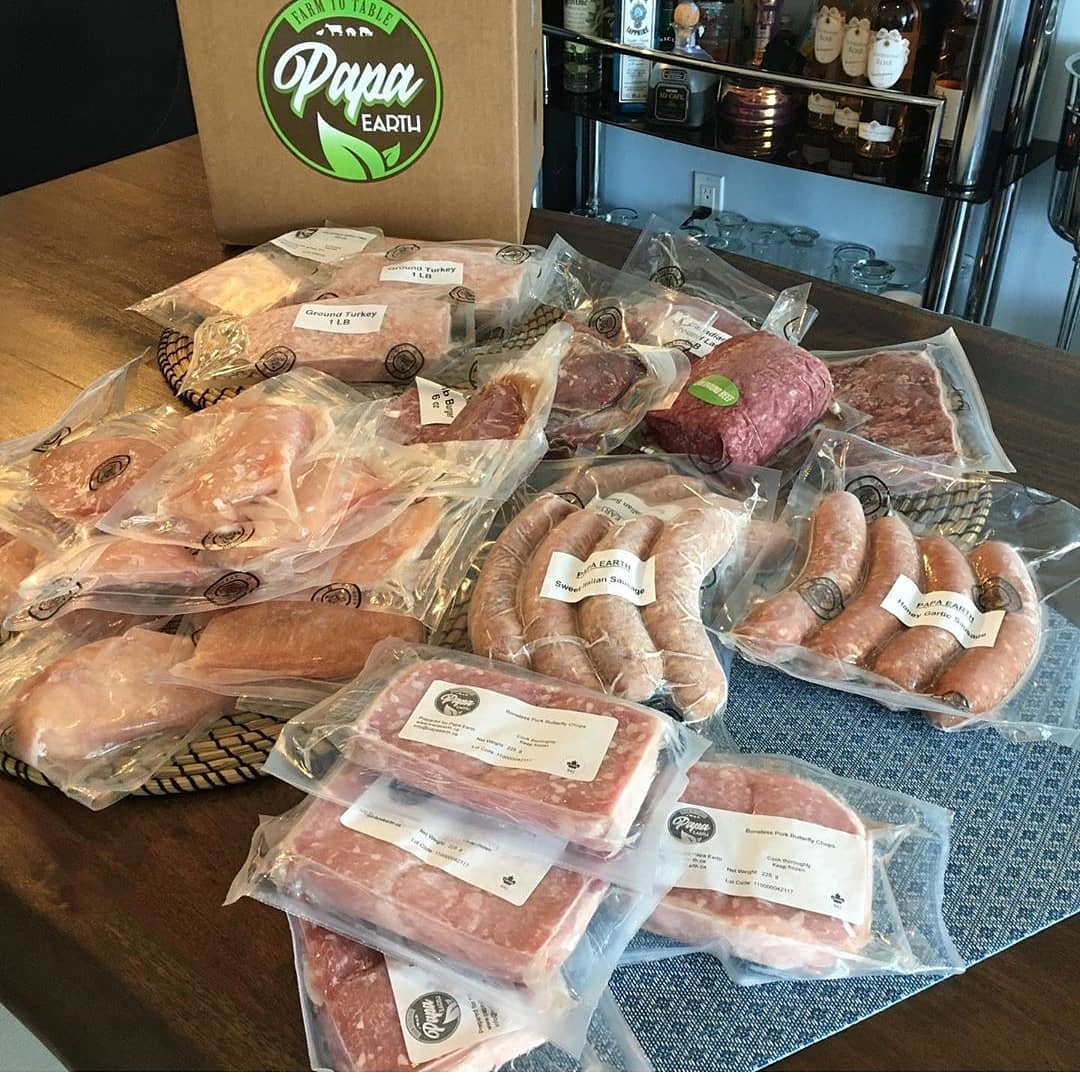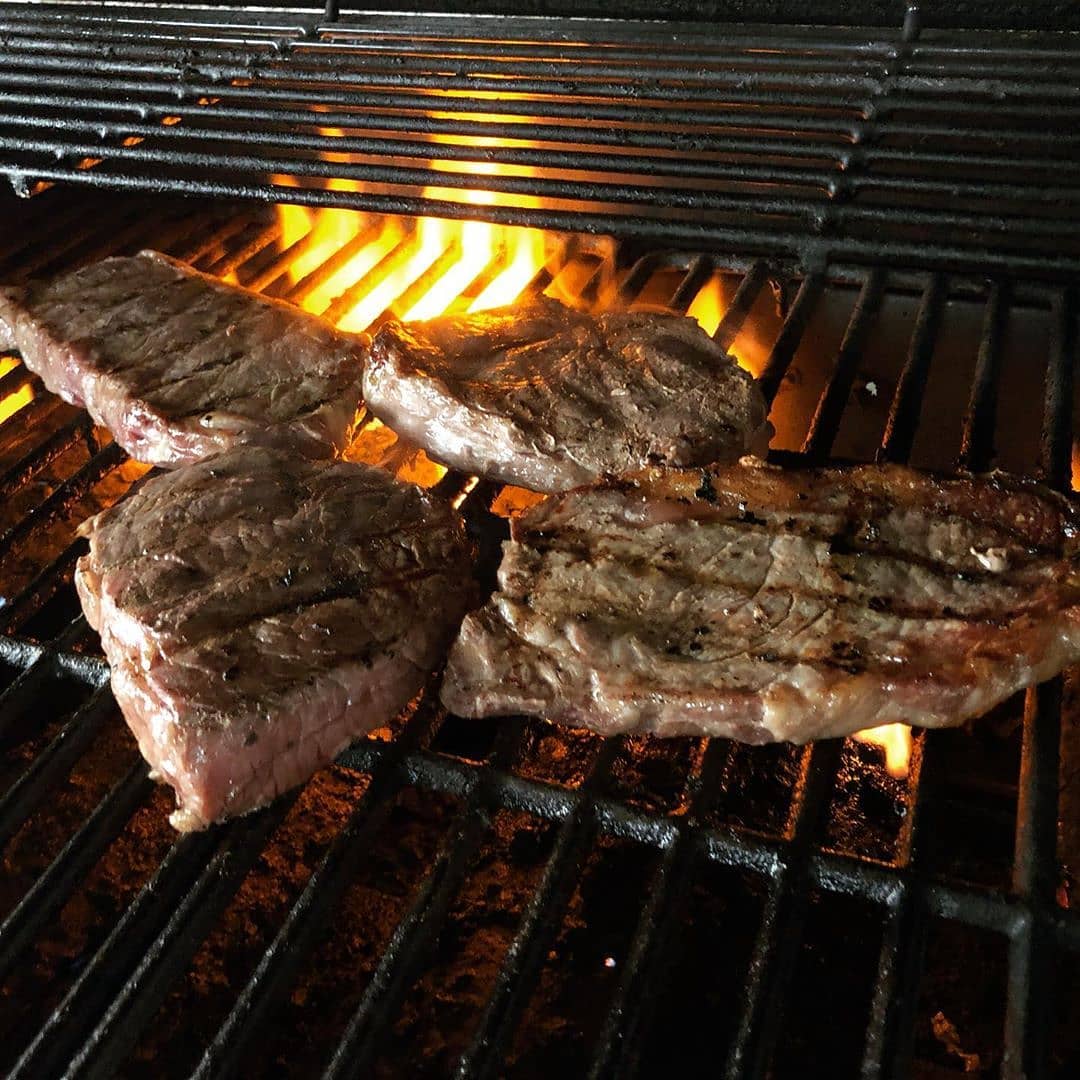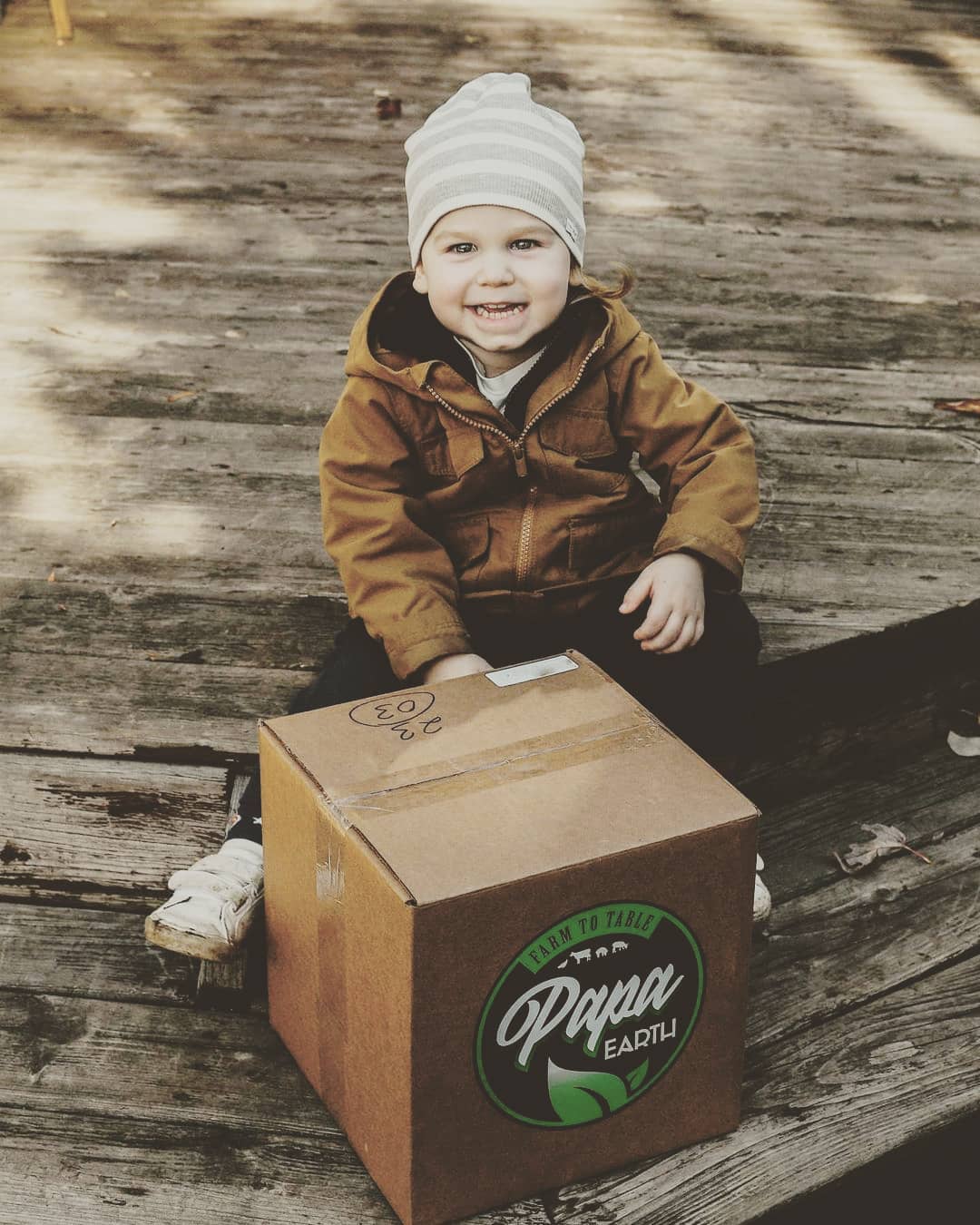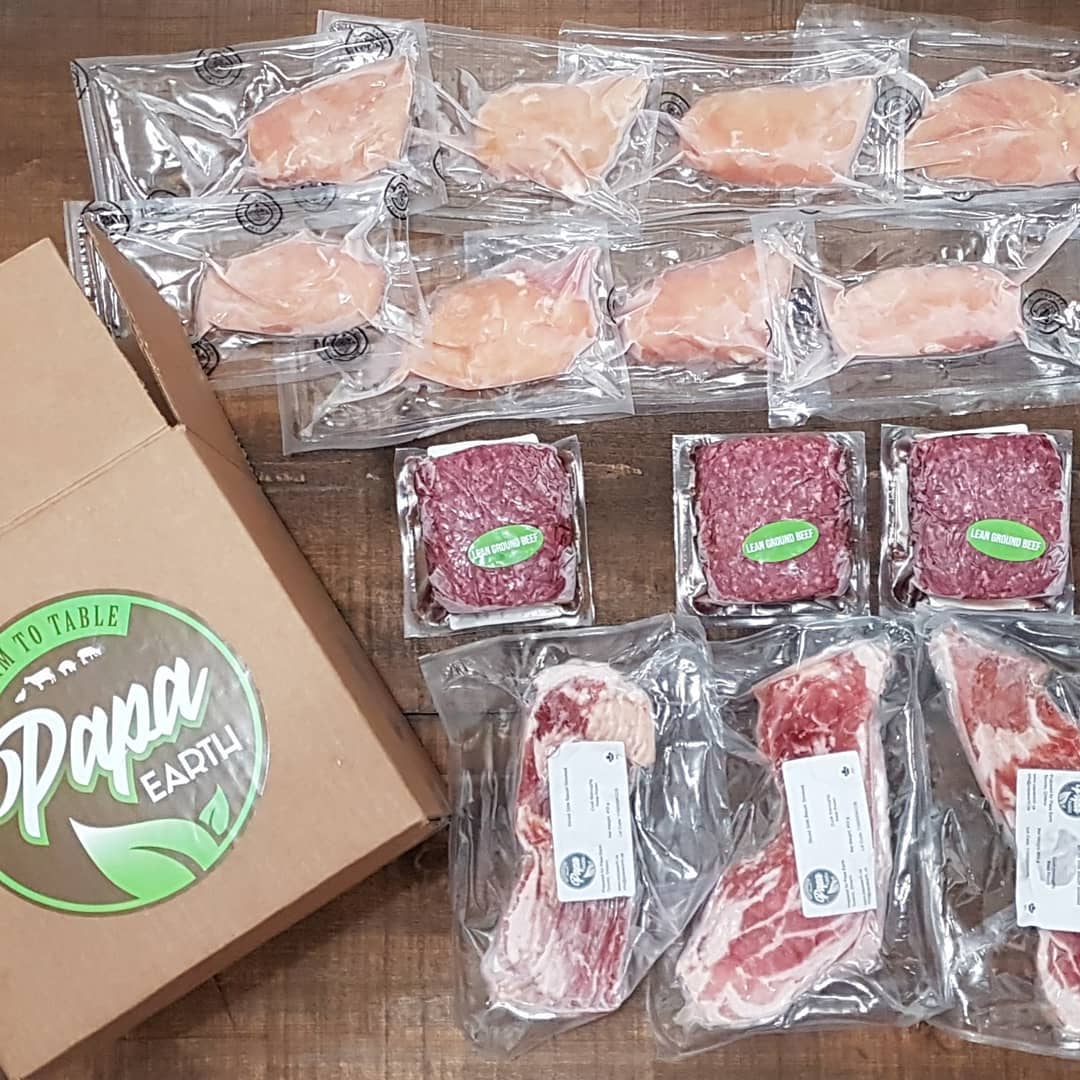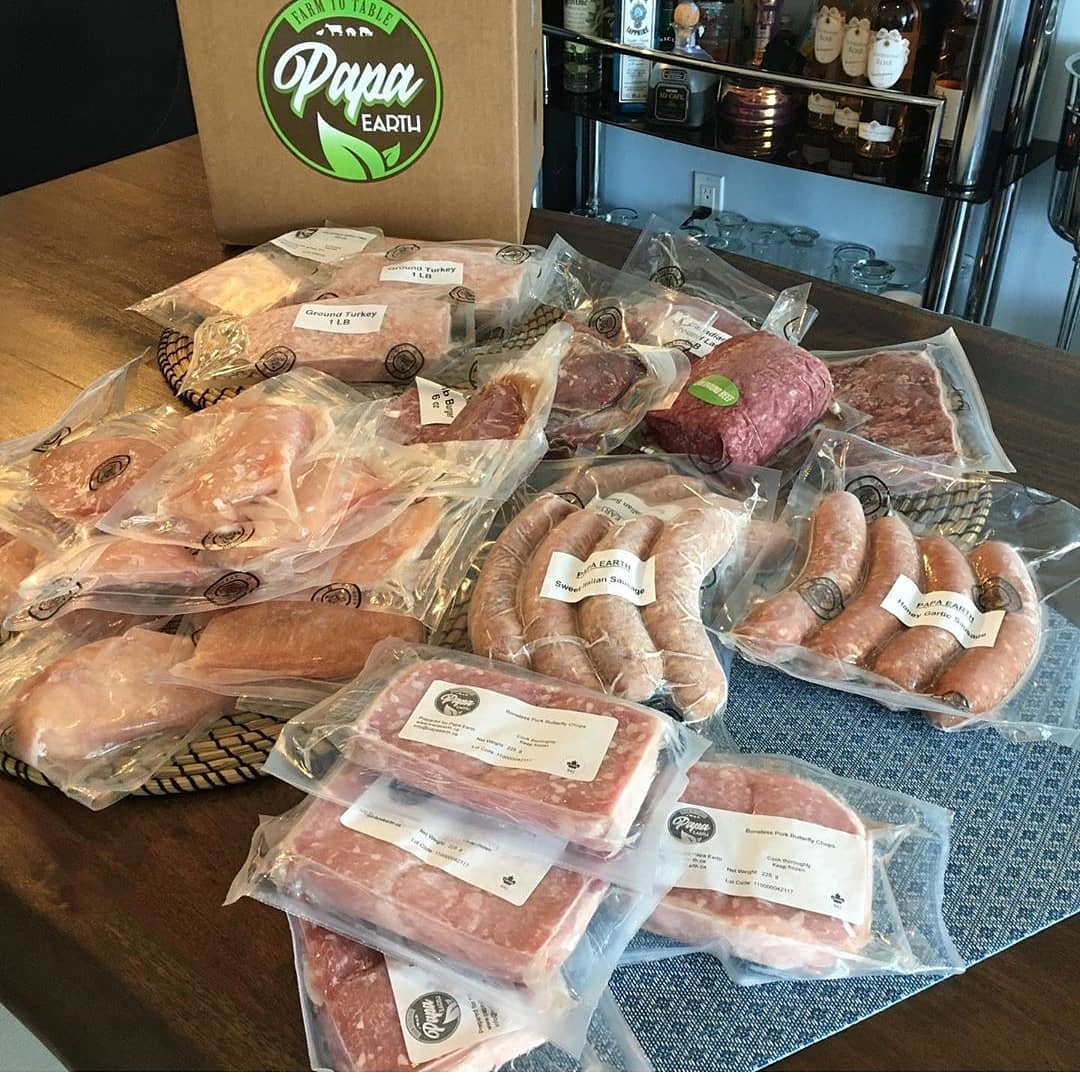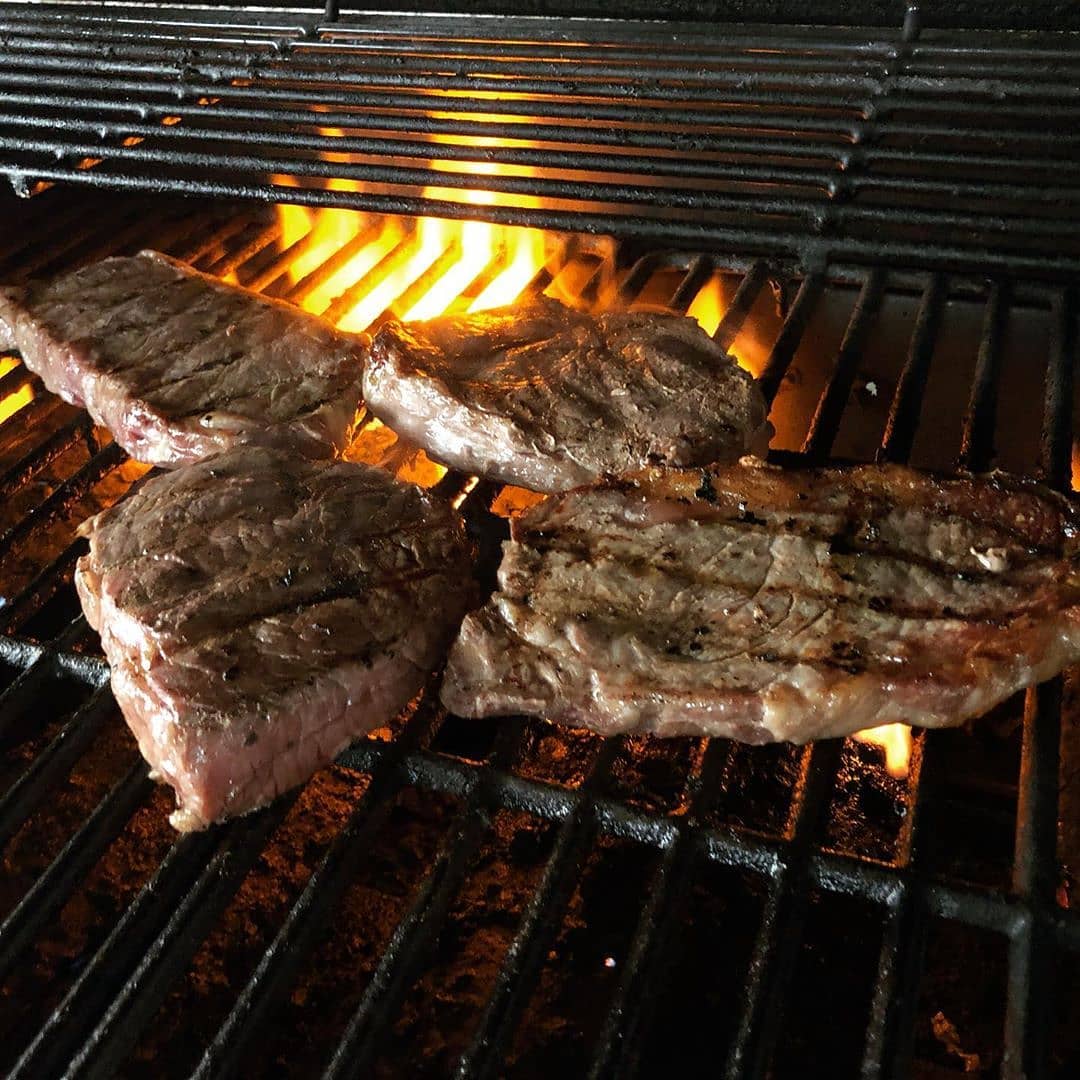 Terms and Fine Print
Delivery
| | |
| --- | --- |
| Delivery area | AB, BC, MB, NB, NL, NS, ON, PE, QC, SK |
| Home delivery | Yes |
| Work delivery | Yes |
| Must be present for delivery | No |
| Delivery window | n/a |
| Box stays cold for | 48 hours |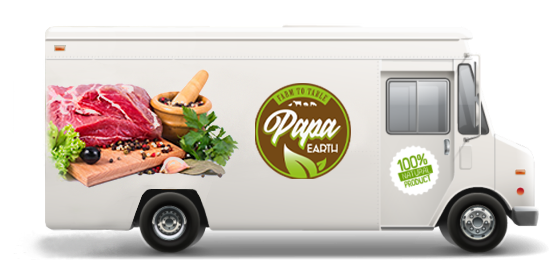 Papa Earth delivers all over Canada. They do not charge delivery fees in Ontario and Quebec. However, in the rest of the country, there is a delivery fee that varies by province, from $25 in Manitoba to $200 in Newfoundland and Labrador. The delivery is available every 2, 3, 4, or 6 weeks.
Papa Earth also offers a loyalty system. For each box of your purchase, you collect loyalty coins which can be submitted as a discount on the next box or you can save up for a free box.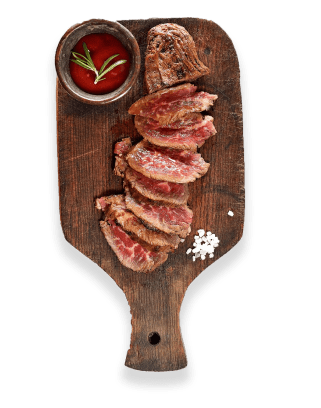 Flexibility
| | |
| --- | --- |
| Switch between plans | Yes |
| Minimum subscription length | 2 weeks |
| How to cancel subscription | Online account |
| Extra charge for skipping week | No |
| Weekly deadline to cancel/skip | n/a |
| Auto-renewal | Yes |
| Personalization options | Number of people, Number of week |
Once you've selected the box size and how frequently it will be delivered to your door, you are not stuck with your choice forever. You can always upgrade or downgrade the size and change the delivery frequency. Also, you can customize each box or seal your choices for all the coming boxes. In case you decide to skip a delivery or completely cancel your subscription, all you need to do is go into the 'my account' section on their website and manage your subscription here.
Support and Usability
One of the first things that Papa Earth customers mention in their reviews is friendly customer service. You can always reach the company representatives by phone or WhatsApp at 647-483-4055 or by email at
[email protected]
. The company is also present in social media. It has Facebook, Instagram, and YouTube accounts, so you can contact customer service via these platforms.
Address
2010 Ellesmere Rd, Scarborough, ON M1H 3B1
Customer Reviews
To get an accurate understanding of what customers thought about their experiences with this food delivery company, we looked into Papa Earth reviews that people left on different consumer rating websites. We marked each review we found as positive, negative, or mixed, and noted specific things that were mentioned in a positive or negative light in each review. In addition, we counted up all the Papa Earth products that were mentioned positively in customer feedback to get an understanding of the types of meals that consumers loved the most.
When reading and analyzing online reviews, it's important to keep in mind that most people who leave reviews online are those who had either great or terrible experiences with the company and its products. The majority of people who thought the products were good or acceptable generally don't bother to leave feedback. This phenomenon is especially common in industries that operate entirely online. As a result, it's easy to get a skewed perception of a company's services and products if you're just reading online reviews. To mitigate this bias, we always dive deeper into the reviews and analyze specific things customers love and hate about the companies we investigate.
Distribution of Papa Earth reviews compared to industry-wide averages
During our evaluation of Papa Earth reviews, we went through dozens of customer reviews of this company and marked them as positive, negative, or mixed. Reviews where customers had a clearly good or bad experience with the company were marked as positive and negative respectively, while reviews where customers didn't lean towards one side or the other were marked as mixed. According to our research, Papa Earth has significantly better reviews than its competitors in the meal kit industry. Nearly all reviews the company received online were positive, and only a small portion of them was mixed or negative. This suggests that overall, Papa Earth provides a much better service than conventional meal kit services.
Data was compiled from 2150 reviews about 13 different companies across 9 review sites. Papa Earth had 72 reviews
Most frequently given reasons for liking or disliking the company
As part of our analysis, we wanted to figure out why most customers were so happy with their Papa Earth boxes and what downsides of the company people mentioned online, so we read through all the reviews and counted different reasons why customers left feedback. Some Papa Earth customers complained about high prices, slow delivery, and an inconvenient website, although the proportion of these complaints was lower compared to industry averages. At the same time, many customers raved about Papa Earth's fresh produce, responsive support, and tasty food. Interestingly, the percentage of customers who specifically noted fresh produce and responsive support in their reviews was significantly higher than the industry average. However, the number of people who wrote about tasty food was slightly lower compared to other meal kit company reviews. Overall, these are excellent results that suggest that Papa Earth may be a better option than some other meal kit delivery companies.

Data was compiled from 7123 apparent reasons from 2150 reviews. Papa Earth data had 206 reasons in 72 reviews
Three most popular recipes mentioned in reviews
Finally, we wanted to give our readers an insight into which Papa Earth products customers love the most, so we tallied up the number of times each product type was mentioned positively in the company's reviews. We've discovered that Papa Earth customers loved the Thanksgiving turkey, salmon poke bowl, and steak. The company's delicious steaks were mentioned most frequently of all, so if you're considering ordering from Papa Earth, we recommend adding a few of those to your box.
Frequently Asked Questions:
1. How many products fit in one box?
One small mixed box includes, for example:

2 x 1 lb. Ground Beef
1 x 8 oz. Top Sirloin Steak
2 x 1 lb. Boneless Skinless Chicken Breast
1 x 1 lb. Boneless Skinless Chicken Thighs
1 x 1 lb. Bacon
1 x 17 oz. Pork Sausage Mild / Sweet (4 sausages total)

The bigger the box, the more products will fit in there.
2. Is there a delivery fee?
3. Is there a cancellation fee?
4. How are the products packaged?
The Final Words About Papa Earth
For those of you who are carnivore diet followers or simply enjoy having good-quality meat and seafood for dinner, Papa Earth Company is the one for you. Here you will find high-quality products tested by the Papa Earth team personally delivered to your door. While not all of the products are certified organic, they are all humanely raised without antibiotics or pesticides, cage-free, and free-run. All seafood is wild-caught and sourced sustainable.

The packages come in three sizes. There is a small box if you live alone, a medium box for 2-3 people, or a family-size big box. You can get them as often as every two weeks to every six weeks, and you can change both the size of the box and the frequency of deliveries as needed. All the boxes, including insulation, are 100% recyclable, so you may enjoy high-quality products and help save the planet at the same time! Try your first box today and receive 10 free boneless skinless 4-6 ounce chicken breasts with any subscription box.  A $40 value! Don't forget to use the promo code MKCanada.
---
Fill the box with ethical meat, poultry, and seafood and receive it every two weeks