Vegan Meal Kits and Meal Plans in Canada 2023
Today there are over 850,000 people in Canada who describe their lifestyle as vegan, and this number is growing. What is veganism? It's a diet that excludes any animal-based food. Unlike vegetarians, who only exclude meat, poultry, and fish, vegans also exclude eggs, dairy, and honey. Many people consider veganism a way of life as it extends beyond food. Vegans stand strongly against animal cruelty and exploitation, whether for food, clothing, cosmetics, medical research, or any other reason.
While many meal kit companies in Canada have already incorporated vegetarian meals and plans into their services, only a few have vegan options. One of them, Zesty Kits, is offering its customers in Saskatchewan, Regina, and Moose Jaw the Vegan Plan that consists of three vegan recipes per week for two or four people. Rooted is available in Alberta. Some vegans who cannot find any vegan meal kits in their area order vegetarian meal kits and adjust them according to their food preferences. All items in meal kits are packed separately, so adjustments are quite easy to do.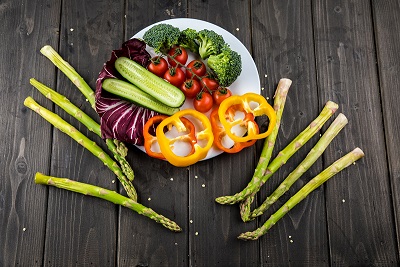 Vegan Diet Pros and Cons
There are many health benefits of vegan meal kits. Multiple research studies showed that people who follow a vegan diet have a lower average weight. There is a lower incidence of heart and cardiovascular disease, type 2 diabetes, and some types of cancer attributed to the diet, too. Vegans have a lower cholesterol level and healthier blood pressure compared to carnivores and omnivores.
On the other hand, a vegan diet may lack key nutrients that come in very limited quantities in plant-based food compared to animal-based food. These include vitamin B-12, iron, calcium, vitamin D, omega-3 fatty acids, zinc, iodine, and more. To support their health, many vegans have to take over-the-counter or prescribed supplements that reimburse the deficiency of these nutrients. 
Vegan vs. Vegetarian Meal Kits
While many meal kit companies in Canada offer vegetarian meals and meal plans, there are only a handful of local companies that offer vegan plans, which we'll look at next. For many, the only option is to go with the larger companies that do have some vegan meals on the menu each week or adapt vegetarian meals. 
For example, we looked at the HelloFresh menu for one week and there were five vegetarian meals that could be adapted: Ricotta rigatoni al forno with spinach and mozzarella, North African-inspired falafel and couscous with blistered veggies and spicy mayo, roasted veggie medley with goat cheese and candied pecans, mixed mushroom risotto with fried sage leaves, and toasted sesame-Gochujang bowls with farro and plant-based protein. The mayonnaise and cheese in the recipes come in a separate pouch and can be easily avoided. A similar situation with vegan meals is seen in Chefs Plate — there are only vegetarian options with mayo, cheese, or sour cream forming part of the recipe but are able to be left out.

Chefs Plate: Get 67% OFF the 1st Box + 22% 2nd & 3rd!
Apply discount
HelloFresh: Get up to 20 Free Meals
Apply discount
When it came to GoodFood in the same week, they had two vegan-friendly meals: creamy vegan red lentil dal with roasted cauliflower and rice; and veggie taco bowls with beans, cherry tomatoes and crunchy tortilla strips with an avocado-lime vinaigrette. Another meal kit company, Fresh Prep, delivers meal kits in Alberta and has two vegan meals on the menu each week. Two examples are tandoori cauliflower and lentil pilau with apricot chutney and coconut yogurt, and Thai TMRW burger drunken noodles with green beans and Thai basil. 
Vegan Meal Kits Currently Available
As we mentioned at the beginning, Zesty Kits and Rooted are two meal kit companies that offer vegan meal plans. If you're looking for vegan meal kits in Regina, Saskatoon, White City, Pilot Butte, Moose Jaw, Warman, or Emerald Park, Zesty Kits could be the option for you. Zesty Kits has partnered with local farms to deliver meal kits that are fresh and support local businesses. If you use the promo code MKC, you'll get $20 off your first week's order plus a complimentary baking kit and Saskatchewan-made snacks for free the week after.

Each week you can order two, four, or six portions of three unique recipes that will be delivered directly to your door free of charge. The weekly cost will range from $87 to $211 per week, depending on the number of recipes you choose. A sample menu from one week looks like this: enchiladas with pinto beans and side salad; cream of yellow split pea with tomato, parsley and ciabatta, and pea pistou linguine with snap peas, parmesan, mint and red chilli flakes. As you can see, the last recipe has parmesan in it which is neither vegan nor vegetarian but you can leave it out. The next week was a similar story with two vegan meals under the vegan plan and one meal with mozzarella. If you do go with Zesty Kits, you probably want to opt for the two-recipe plan so you can get 100% vegan meals. 

Rooted is a company in Alberta that caters solely to vegans and vegetarians. Rooted also sells their famous sources that many customers buy to create their own meals. You get three meals a week with Rooted and these are set so you can't choose. A sample menu from one week looks like this: roasted red pepper pesto pasta, stuffed peppers, and leek and lentil soup. There's a plan for two people which comes to a total of $98.99 or a family plan (suitable for four adults or two adults and two kids) which comes to a total of $158.99. 

Many people like the sauces that come with Rooted meal kits. They have become so popular that the company began selling them separately. You can order Butternut Truffle, Cauliflower Alfredo, Tomato, or Okra Cheese sauce. These are packed full of delicious but healthy vegetables, nuts, oils, and spices. You can order any of the sauces for $20 (two x 500 ml), or sample one of each with their variety pack for $40 (four x 500 ml).
Final Words About Vegan Meal Kits in Canada
Even though the vegan diet is not as common as the vegetarian diet among Canadians, there are a growing number of people who recognize the benefits of living a vegan lifestyle for their health, the animals, and the environment. As the demand for vegan food grows, so does the supply.
While the majority of meal kit delivery companies have not only included single vegetarian meals to their menus but also developed whole vegetarian plans, for vegan diet followers, it may not be as easy to find a company that provides dedicated vegan meal kits in Canada. With most of the larger meal prep companies, you still need to read the list of ingredients carefully to make sure the recipe fits your lifestyle. In most cases, it is possible to avoid or leave the non-vegan ingredients out. Obviously, this isn't ideal but if you live with a non-vegan, they'll likely be happy if you donate those ingredients to them. 
Frequently Asked Questions:
Is HelloFresh vegan friendly?
Are there vegan meal kits available in Canada?