Toronto Meal Kits Review 2020
As I started to do some research for our in-depth look at Toronto's meal kit options (aka "food subscription box" companies) I once again realized that there are some major advantages to the population density found in our Nation's major metropolitan area.  

While most of Canada, including Calgary, has access to "The Big 3" meal companies (see our Hello Fresh Review, Chef's Plate Review, and Goodfood Review) and MissFresh, Toronto not only enjoys these options, but also has some pretty neat regional competitors as well.  The number of customers within a fairly small geographic area allows Toronto-ians to enjoy cost advantages and allows special niche companies to make a profit – that simply can't exist anywhere else in the country right now.
In addition to meal kits deliveries, residents of the GTA also have access to a wide variety of food options, that offer time-for-money value at any stage of your supper time meal production.  You can obviously opt for delivery, pick up, and numerous other types of grocery-related services. To try and list all of the options that exist in addition to the traditional grocery shopping and restaurant would be too time consuming – and it's difficult to compare "apples to apples" in many cases.  So instead we're going to try to exclusively focus in on the Toronto meal kit companies that deliver a food box or food bag to your door once a week, and allow you to easily produce fresh home cooked meals.
If you're new to the idea of meal kits, here's the reasons why my family are such massive fans:
ZERO stress when it comes to the idea of dinner time.  That means to worries about grocery shopping, forgotten ingredients, thawing meat, or planning meals!

Big time money saved on eating out several times a month.

No food waste to feel guilty about or stink up our fridge.

Constant new ideas and tasty recipes to add to our regular "supper rotation".

Instant healthy eating that doesn't sacrifice taste.

Easy-to-follow recipes and instructions that even a rookie (like yours truly) can master.
What the Heck Is a Meal Kit?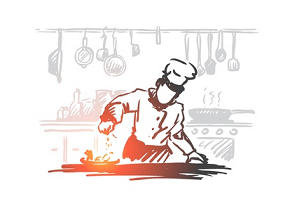 If you're already familiar with meal kits or food subscription boxes and simply want to compare your Toronto-specific options to find the best meal kit in Toronto, feel free to scroll down.
If you're new to the world of a delicious stress-reducing box being delivered right to your door, please allow me to pull back the curtains!
This is what my weekly HelloFresh order looks like.  A hardy, insulated box with cooler packs in it, arrives at my doorstep every week.  It is packed with meals that I pre-selected in roughly three-and-a-half minutes using the super easy HelloFresh app on my phone.  It has every item (aside from a few household basics like milk, sugar, cooking oil, and salt) that will be needed to cook an item.
I simply need to cut open the box, place each bag in the fridge, toss the meat products in the "meats" section of my refrigerator, and I don't have to think about my supper meals for the week until 30 minutes before they need to be on the table!
Some folks claim yoga, tai-chi, or meditation is supposed to help stress.  Maybe I'm doing those things wrong, but for my family, meal kits have done much more to make us happier and healthier than any of this "new age stuff".  HelloFresh dinners have not only allowed me to free up val
You can start thinking about supper 30 minutes before it needs to be on the table.  That freed up mental space is incredibly valuable in my life! To know that a high-quality, healthy meal is simply waiting for me to show up, chow up, bake up – is a major stress/anxiety reducer for me and my family.
It's tough to beat what the big three in Canada have to offer, and if you live in Alberta, but not close to Calgary or Edmonton, then HelloFresh is likely your only option when looking at meal kits delivery in 2019.  Personally, I subscribe to HelloFresh due to the fact that I love their consistency and smooth processes. I know that as the world's biggest meal kit company, that the experiences that they've gained delivering on several continents will come in handy as they expand in Canada.
HelloFresh in Toronto
In a recent interview, Conal Gould HelloFresh's Canadian head of procurement stated that while they are a truly international company, HelloFresh works with local producers to supply the ingredients for their high quality meals, saying:
"This is the food that we prepare and share with our families and friends, using the highest quality, locally-sourced ingredients, which lead to the most delicious meals […] There is no denying that many Canadians are skipping the trip to the grocery store."
What I really like about HelloFresh is that I'm guaranteed to be the recipient of a product/service that has been refined for years across massive markets that include the USA, UK, Australia, New Zealand, Germany, Belgium and the Netherlands.  The company delivers over 15 million meals every single month! You know what you're getting with these guys, and what you're getting is the top of the pyramid when it comes to meal kits from around the world.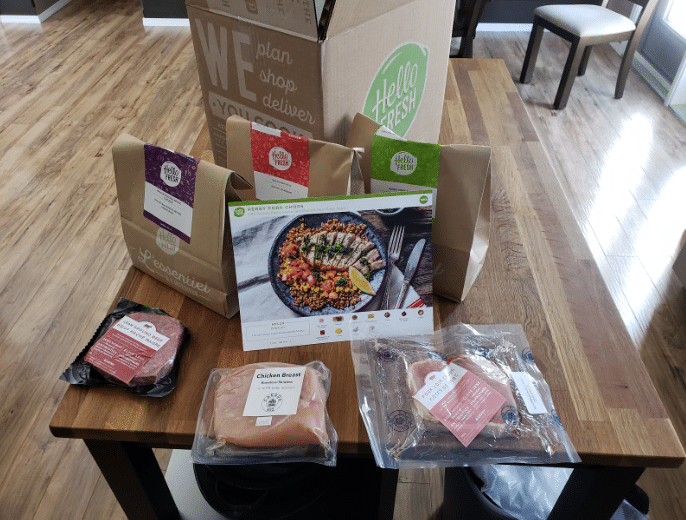 The other unique consideration for HelloFresh is that they don't just deliver to Canadians that live right inside the city limits of Toronto, or other Canadian urban centres.  In fact, it's difficult to find a place that they don't deliver to. Certainly anywhere in the GTA is fair game, and the company states that they now include delivery to 95% of Canadians.  I can personally vouch for this as I live "in the middle of nowhere" and get my HelloFresh order like clockwork each week.
HelloFresh recently made headlines when they purchased Toronto's biggest meal kit company Chefs Plate.  The CEO and founder of Chefs Plate, Jaime Shea, had this to say about the acquisition: "We are proud to join forces with the leading global meal kit company HelloFresh. Since our launch in 2014, we have pioneered the meal kit market following our clear mission to create meaningful human connections through food. Now, we have the unique opportunity to further accelerate our plans and create an offering that attracts even more customers. We are more than delighted to have found a partner in HelloFresh that shares our passion for food and quality at all levels. The partnership will allow us to leverage the strength of the most successful global player in the market and at the same time continue to build a sustainable Canadian food system and support the community around us."
Citing the fact that Chef's Plate would now have access to the logistical expertise and market reach of a corporate giant like HelloFresh, Ian Brooks (CEO of HelloFresh Canada) announced, "The integration of Chefs Plate is a big leap for our ambitious plans for the Canadian market. Together, we are not only the largest player, but we also create a superior offering. In the future, we can serve the widest range of individual consumer needs with two strong brands."  It doesn't take a genius to figure out that the ability to scale quickly should bode well for both meal kit brands.
Chef's Plate in Toronto
Any discussion of Toronto meal kits wouldn't be complete if it didn't talk about Chef's Plate.  Chef's Plate was Toronto's original meal kit and was launched in 2014. From the beginning they stated that their aim was to emphasize "farm-to-table eating" that provided consumers with fresher food, in a convenient way, that was sustainable due to partnerships with local suppliers and growers.  Over the years, celebrity chefs like Vikram Vij and Ned Bell, were hired to provide expertise on creating restaurant-worthy meals (with rookie-worthy instructions).
With the recent purchase of the company by HelloFresh, CEO Jaime Shea stated, "We're also happy to announce a significant price drop for our Chefs Plate meal-kits, which will make our kits more accessible for Canadians. Prices will start as low as $8.99/serving as of early December […] By lowering cost, we open up meal kits to Canadians who might've seen price as a barrier while continuing to increase the value of our product and long term customer satisfaction."
Goodfood and Miss Fresh in Toronto
Competing with the two giants for your Toronto meal kit dollar are two other nation-wide food box subscription companies: Goodfood and Miss Fresh.
Both companies represent solid competition to the HelloFresh brands.  Miss Fresh became the first Canadian meal kit company to team up with a major grocer when the Metro grocery chain based out of Quebec bought a controlling share of the company from its founders a couple of years ago.  As a direct result of their grocer background, Miss Fresh & partners are able to offer unique healthy breakfast and snack add-on options as part of their weekly meal kit deliveries.
Goodfood touts itself as "Canada's #1 Meal Kit" and is based out of Montreal, Quebec.  While smaller than both HelloFresh and Chef's Plate, Goodfood is the definitive third largest food subscription box company in Canada.  Thanks to their relatively new facility in Calgary, Alberta, they are making a push to compete throughout the country and not just on their home turf.  Backed by celebrities such as award-winning TV Host Anne-Marie Withenshaw, and professional snowboarder Mark McMorris, Goodfood delivers to thousands of homes throughout the GTA.
Small Meal Kit Companies in Toronto and the GTA: Prepd & Fresh City Farms  
Big nationwide providers are not the only options available for Toronto meal kit shoppers.
If you're looking for the food subscription box with that places the highest priority on sustainability and organic produce then Fresh City Farms definitely deserves a look.  Check out our in-depth Fresh City Review for more details on their unique meal options and why we feel comfortable saying that if you live in Toronto, North York, Scarborough, Etobicoke, Mississauga, Oakville, Burlington, Brampton, Dundas, Hamilton or parts of Markham and Vaughan, then you might want to give this meal kit company a try.  Personally, the 100% organic label isn't a major deal for me, and isn't worth the tradeoff when dealing with pests on my food etc. That said, there is obviously a strong market demand for this type of product. Fresh City also has "pick-up hubs" located throughout the GTA if you wish to simply pick up your food bag (no boxes here) as opposed to having it delivered.
Prepd meal kits seem to be targeting the bargain-conscious Toronto meal kit consumer.  With very minimal packaging (unlike the "high-end packaging of HelloFresh) and a relatively small delivery radius (east-west boundaries are Victoria Park to the 427, and then north-south stretches from the 407 to Lake Ontario) Prepd aims to deliver meal kits to your door for a very competitive price.  One unique aspect of Prepd that might appeal to a growing niche is their one-person subscription plan. Many single folks that I talked to enjoyed cooking a 2-person meal kit and then having delicious meal kit leftovers for the next day, but if you're looking for an affordable single-person plan, and live in Toronto, this is probably the food subscription box for you.
Overall Review of Toronto Meal Kit Scene
With personal taste playing such an important part of the food experience, it is quite difficult to say decisively that one specific Toronto meal kit company will fit you better than others.  That said, with a few excellent promo code sign up offers, why not try a couple leading contenders for yourself and go from there?
I personally have been a HelloFresh customer for almost a year now and have only good things to say about it.  (When the worst experience you've had is some frozen herbs when it was -48 outside, you really have nothing to complain about!) The meals have been excellent, with a very gentle learning curve when it comes to preparation.  It has been a fantastic value for my family.
One advantage of living in Canada's largest city is the large amount of options to you.  Consequently, a meal kit company like Fresh City Farms is able to offer a very unique product aimed at a specific niche.  While other Canadian cities have similar small-scale meal kit subscription providers, none are able to offer the selection that Fresh City is for those that place the highest priority on organic produce.