Meal Kits Toronto Review 2023 (Meals, Delivery, Costs, Promo Codes)
While most of Canada, including
Calgary
, has access to "The Big 3" meal companies (see our
Hello Fresh Review
,
Chef's Plate Review
, and
Goodfood Review
), Toronto not only enjoys these options but also has pretty neat regional competitors as well. GTA residents enjoy the most variety of
meal kit delivery by area in Canada
. Many Torontonians like to explore new tastes and switch from one meal kit company to another. We prepared this Toronto meal kits review to help you choose your very first company or to try new companies. We have some exclusive promo codes which give you incredible discounts to get you started. 
In addition to
meal kits deliveries
, residents of the GTA also have access to a wide variety of food options that offer time-for-money value at any stage of your suppertime meal production. You can opt for delivery, pick-up, and numerous other types of grocery-related services, such as
Longos meal kits
. To try and list all of the options that exist in addition to grocery shopping and restaurants would be too time-consuming—and it's difficult to compare "apples to apples" in many cases. So instead, we're going to focus exclusively on the Toronto meal kit companies that deliver a food box or food bag to your door once a week and allow you to easily produce fresh home-cooked meals.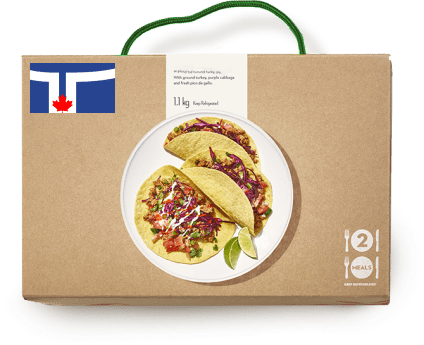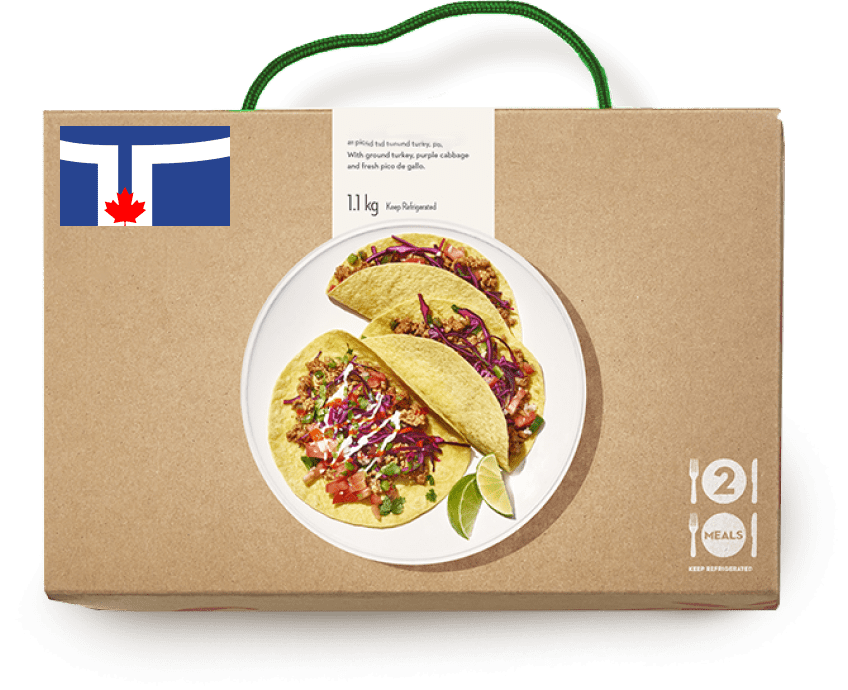 Background on Meal Kits Toronto and Ontario
| | Value |
| --- | --- |
| Population | 14,576,010 |
| Food stores per 100,000 ppl | 66 |
| Farms per 100,000 ppl | 343 |
| Average family size | 2.58 |
| Experience difficulties with food budget | 35% |
| Eating fruits/vegies 5+ times a day | 27% |
| Time spent eating per day | 83 min |
| Vegans and vegetarians | 10.9% |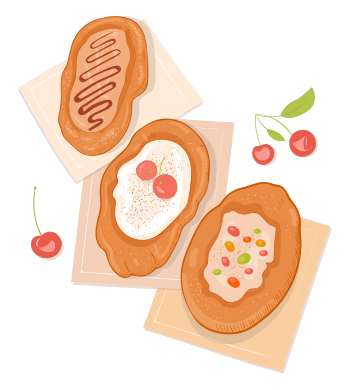 Beavertail Doughnut – Ontario traditional dish
Toronto (and Ontario) is the most densely populated area in Canada, with more than 14.5 million people living here. Per every 100,000 people, there are sixty-six food stores and 343 farms that supply food to these stores and farmers' markets. However, many Torontonians who value their time, prefer to save hours by ordering meal kits directly to their homes or offices. The average family size in the GTA is 2.58 people, with 35% of households in Toronto experiencing difficulties with the food budget, and only 27% eating five or more daily servings of fruit and vegetables. Almost 11% of GTA residents are vegetarians or vegans. Toronto Meal kit companies offer meals that are excellent value for money and provide many vegetarian options. Why are GTA residents such big fans of meal kits? There are many reasons:
How Do Meal Kits Work?
Meal kits in Toronto work in the same way as in other Canadian cities and provinces. Most Toronto meal delivery companies that specialize in the service follow this process:
1. You place an order
2. Your delivery arrives
3. Put your food away
4. Take out the corresponding bag when you're ready to cook
5. Cook, serve, and enjoy
It's that simple. Most meals take between 15 and 30 minutes to cook, so you don't need to think about getting dinner ready until 10 to 60 minutes before you want to eat!
Best Meal Delivery Toronto Residents are Enjoying in 2023
"This is the food that we prepare and share with our families and friends, using the highest quality, locally-sourced ingredients, which lead to the most delicious meals […] There is no denying that many Canadians are skipping the trip to the grocery store." What we really like about HelloFresh in Toronto is that we are guaranteed to be the recipients of a product/service that has been refined for years across massive markets that include the USA, UK, Australia, New Zealand, Germany, Belgium, and the Netherlands.

The company delivers over 15 million meals every single month! You know what you're getting with these guys, and what you're getting is the top of the pyramid when it comes to meal kits from around the world. The other unique consideration for HelloFresh is that they don't just deliver to Canadians that live right inside the city limits of Toronto or other Canadian urban centers. In fact, it's difficult to find a place that they don't deliver to. Certainly, anywhere in the GTA is fair game, and the company states that they now include delivery to 95% of Canadians. All new HelloFresh customers get currently up to 20 meals for free. 


Price is Chefs Plate biggest competitive advantage over other meal delivery Toronto services. CEO Jaime Shea stated, "We're also happy to announce a significant price drop for our Chefs Plate meal kits, which will make our kits more accessible for Canadians. Prices will start as low as $8.99/serving […] By lowering cost, we open up meal kits to Canadians who might've seen price as a barrier while continuing to increase the value of our product and long term customer satisfaction."

Chefs Plate generously offers up to $67 off to their new customers. 
Another Meal Delivery Service Toronto's Lapping Up
While not one of the "Big 3", Cook It has become increasingly popular in Toronto and shows no signs of slowing down. CookIt started its journey in 2014 in Quebec. The company was among the first few sustainable meal kit companies in Canada. By delivering portioned meals that are carefully put together according to the household's needs, the company aims to reduce food wastage in the country, as do all meal kits in Toronto. To make your dinners more special, the company uses locally sourced products that ensure quality and freshness. By expanding their business to the busiest city of Toronto, Cook It gets a part of this large market. If you live in Toronto and want a wholesome meal having well-balanced ingredients delivered to your home, Cook It is worth a try.
The Best Meal Delivery to Cover Every Day of the Week
Torontonians lead a busy life! With no time to go grocery shopping or prep up ingredients for cooking, they look for meal kits as a convenient option with flexible meal plans, and affordable pricing. Amazingly, Cook It gives you all these benefits. You get two food plans to choose from: Regular Menu and Vegetarian Menu. They give you two, three, and four-serving options. But unlike most delivery services Toronto-side, Cook It allows you to order seven meals a week. The broad menu has 14 interesting recipes each week, with vegetarian and easy-to-cook options available in the mix. Families in Toronto with kids can easily find recipes that fit their preferences.
On top of offering meal kits that you cook at home, Cook It has ready-to-eat meals, which is what many people in Toronto prefer to order. No prep, no pots, and no cleanup after dinner. The brand also has breakfast and pantry add-on options, two unique options you won't find with any other meal kit service in Toronto.
Being one of the oldest meal kit delivery companies in Toronto, Cook It works hard to protect the environment in the city. The meal boxes are short compared to other brands in Toronto, and every packaging material is recyclable (even the ice packs). They give you insulated bags containing reusable boxes. Just wash them up, and the company will pick them up on the next delivery. Read our full Cook It Review to see what else they're doing. 


Local Meal Kits
Company
Rating
Covered Provinces
Dishes in menu
Price / serving
MKC Promo

Fresh City Farms Review

90.1

1
29

$5.50 – $17.99

n/a

Prepd Review
Fresh City Farms bought Prepd and the brand no longer exists. 
Big nationwide providers are not the only options available for Toronto residents in search of the best meal kits. If you're looking for the food subscription box service that places the highest priority on sustainability and using organic produce in meals, then Fresh City Farms definitely deserves a look. Check out our in-depth Fresh City Review for more details on their unique meal options and why we feel comfortable saying that if you live in Toronto, North York, Scarborough, Etobicoke, Mississauga, Oakville, Burlington, Brampton, Dundas, Hamilton, or parts of Markham and Vaughan, then you might want to give this company a try. Fresh City also has "pick-up hubs" located throughout the GTA if you wish to simply pick up your food bag (no boxes here) as opposed to having it delivered. We would say that Fresh City Farms no longer offers meal kits, only fresh produce or ready-to-eat meals. Still, this might be just what you're looking for!

In October 2019, Prepd joined forces with Fresh City Farms, and now their meal kits are available under new management. With very minimal packaging (unlike the "high-end" packaging of HelloFresh) and a relatively small delivery radius (east-west boundaries are Victoria Park to the 427, and then north-south stretches from the 407 to Lake Ontario), Prepd aimed to deliver meal kits to your door for a very competitive price. The brand is no longer around at all, and everything is under the Fresh City Farms banner. Here are more of the best meal delivery Toronto companies.

Overall Review of the Meal Prep Delivery Toronto Scene
With personal taste playing such an essential part in the food experience, it's impossible for us to say which meal kits Toronto will fit you better than others. That said, with a few excellent promo codes and sign-up offers, why not try a couple of leading contenders for yourself, and go from there? Our team members have been HelloFresh customers for almost a year now and have only good things to say about it. (When the worst experience you've had was some frozen herbs when it was -48 outside, you really have nothing to complain about!).

All meal delivery companies in the Toronto area take packaging very seriously. Their meal kits come in a well-insulated box or bag, and each ingredient is packed separately, so there is no cross-contamination between meat and veggies, for example. Most companies use recyclable materials for packaging and encourage reusing the ice packs and recycling the boxes.

The HelloFresh meals have been excellent, with a very gentle learning curve when it comes to preparation. It has been a fantastic service for our team's families. One advantage of living in Canada's largest city is the large number of meal kits available to you. Consequently, a smaller company like Fresh City Farms is able to offer a very unique product aimed at a specific niche. While other Canadian cities have similar small-scale meal kit subscription providers, none are able to offer the selection of ready-to-eat meals that Fresh City Farms does for those that place the highest priority on organic produce.



In conclusion, we should add that the majority of companies that serve Toronto also deliver their meal kits to Hamilton, Kitchener, London, Barrie, Guelph, and other cities and towns in Ontario. We hope you enjoy your first meal prep delivery you order in Toronto, or your experience with a new service. With the discounts on this page, you can try more until you find the best meal delivery in Toronto for you. 
Frequently Asked Questions:
Is HelloFresh available in Toronto?
Yes, HelloFresh is available in Toronto and the GTA.
Does Goodfood deliver in Toronto?
What food delivery services are there in Toronto?