Chefs Plate Canada Review 2020
Looking for a meal kit that would fit your budget? Read our Chefs Plate review and see what Canada's lowest-cost meal kit can put on your kitchen table. We have an exclusive Chefs Plate promo code for you: MKC2X50 to get 50% off your first two Chefs Plate recipe boxes.
This Chefs Plate review provides you with detailed information about the company's credibility and reputation, what meal plans it has to offer, meal variety in each plan. In addition, we discuss Chefs Plate terms, conditions, and many other additional details that may help you make the right choice. We also include our personal experiences with this kit.
In case you have a question, check out our FAQs section first, and if it's not there, please feel free to contact us.
Chefs Plate Ratings by Our Readers
Cast your vote by selecting either button
Plans for
Price ranges
$45.96 – $143.84 / week
$8.99 – $9.99 / serving
Chefs Plate: Editorial Notes
The Chefs Plate menu includes a wide variety of meal options that include flavors and spices from all over the world. The meals are organized very easily: all the ingredients are packed in one bag for each meal. You don't need to think at all about what you are doing for dinner tonight or if you have to take anything out ahead of time. Everything is very well organized for you.
The Chefs Plate app is easy to use. It will let you plan your dinners for the week and choose up to 12 meals in five minutes or less! In case you need to skip a week, you can do that with just a couple of clicks. Chefs Plate prices are very competitive, ranging from $5.50 to $6 per serving.
For those of you who find themselves eating too much takeout, Chef's Plate is definitely a superior option that would benefit both your wallet and your waistline. Don't forget to add Chef's Plate promo code MKC2X50 for a 50% discount for your first two boxes at your first checkout.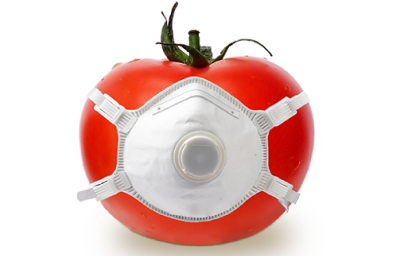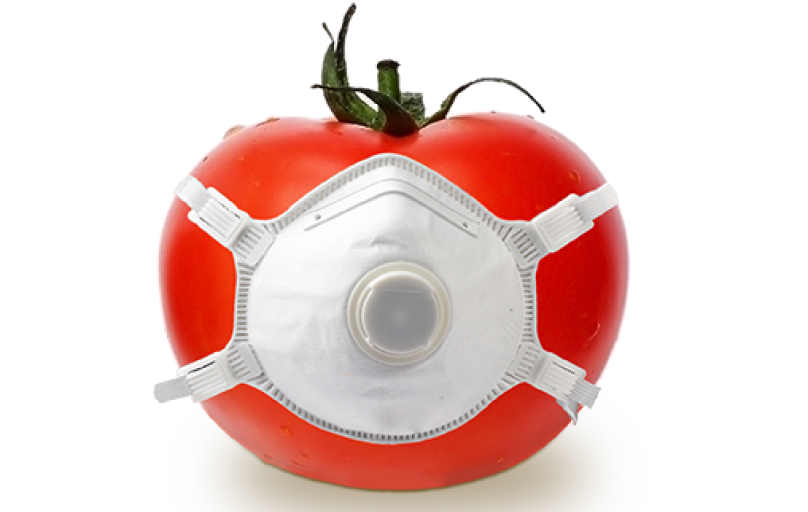 Chefs Plate: Credibility and Reputation
Patrick Meyer and Jaime Shea started Chef's Plate in 2014. After moving their headquarters to Toronto and selling more than two million meal kits across Canada, the pair saw their company acquired by industry giant HelloFresh for a handsome profit. Now Chefs Plate in Canada is a division of the Hello Fresh international meal kit service.
In a 2017 interview with Tech Vibes, Shea stated, "The food supply chain in Canada is an archaic industry—there's been little innovation […] before we came, there were no Canadian companies delivering fresh product directly to consumers' homes on a scalable level."
It is noteworthy that Chef's Place claims that it is "the first and only meal kit delivery company in Canada to be federally registered as safe for food processing by the Canadian Food Inspection Agency."
Today this Canadian meal kit company is proud to boast that they source much of their food from local Canadian farmers, fishers, and suppliers.
In addition to using their surging revenues to sponsor Canadian programming like Top Chef Canada, Chef's Plate donates over 50,000 meals per month to Second Harvest (the largest food rescue organization in Canada) and the Abbotsford Food Bank. Their charity related motto being: "No Waste. No Hunger."
If you want to see how Chefs Plate compares with others view our detailed comparison of Chefs Plate vs Goodfood and Hello Fresh vs Chefs Plate.
| | |
| --- | --- |
| Established in | 2013 |
| Registered in | Toronto, ON |
| CEO | Jamie Shea |
| Clients in Canada | Unknown |
| BBB grade | B+ |
| Independent rating | (Groupon) |
Chefs Plate Menu: Plans and Meals
Chefs Plate has three different food subscription box options to choose from. All the boxes are similarly priced, and delivery is always free when you order more than two recipes for more than two people. Overall, we noticed that Chefs Plate definitely puts more emphasis on quick meals than HelloFresh does. For many meals, it only takes 15 minutes to cook. Chefs Plate meals are simpler and easier than Hello Fresh meals, but they are equally fresh and tasty.
Price per serving
$8.99
$9.99
$8.99
$9.99
$8.99
$9.99
$8.99
$9.99
$8.99
$9.99
$8.99
$9.99
$8.99
$9.99
$8.99
$9.99
$8.99
$9.99
Shipping
$0.00
$6.00
$0.00
$0.00
$0.00
$0.00
$0.00
$6.00
$0.00
$0.00
$0.00
$0.00
$0.00
$6.00
$0.00
$0.00
$0.00
$0.00
Weekly Total
$71.92
$45.96
$107.88
$59.94
$143.84
$79.92
$71.92
$45.96
$107.88
$59.94
$143.84
$79.92
$71.92
$45.96
$107.88
$59.94
$143.84
$79.92
Chefs Plate Meat and Vegetables Box
If you and your family are omnivorous, this plan will be the best for you. It includes the widest variety of meat, seafood, and vegetarian recipes. Some recipes will need 30 minutes of your time, while others will require only 15 minutes. You can order two or four servings of two, three, or four meals per week.
Discount
50% discount available
Get 50% off your first 2 Chefs Plate recipe boxes. Use code MKC2X50
Claim Now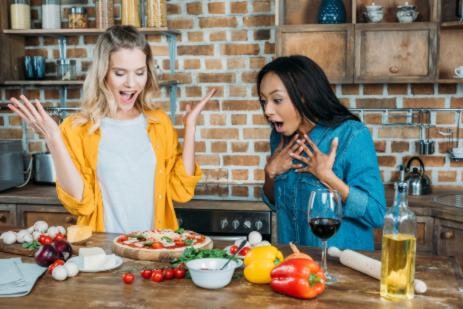 Chefs Plate Vegetarian Box
This plan includes delicious vegetarian recipes packed with fresh produce, whole grains, and plant-based protein. You can choose two or four servings of two, three, or four meals per week.
Chefs Plate Family Box
What makes this plan different from the previous two is that it contains healthy, easy, and kid-friendly recipes that will help you spend more family time together. You can invite the kids to help you with cooking or reading the recipes, adding more fun and education to your daily routine with them. Similarly to other plans, you can order two or four servings of two, three, or four meals per week.
| | |
| --- | --- |
| Cooking skills needed | Basic |
| Ingredients sourced from | Canadian farms |
| Vegetarian restrictions | Select with plan |
| Exlude an ingredient (e.g. pork) | Restrict in settings |
| Calorie range | Choose by meal |
| Low carb options | Choose by meal |
| Allergy restrictions | Choose by meal |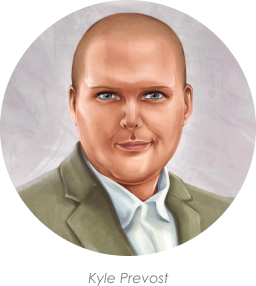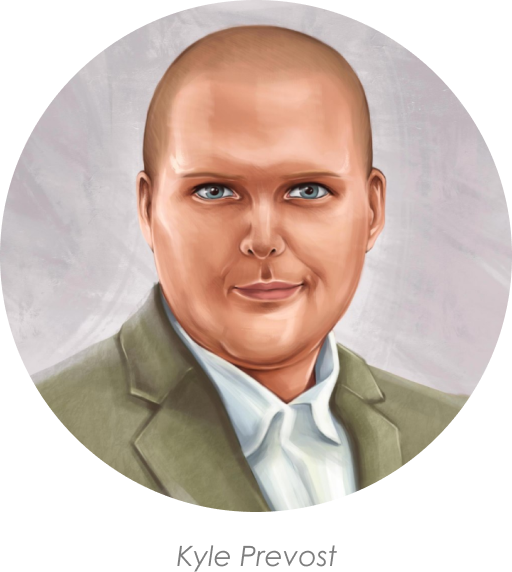 A word from the site's founder
I think it's important to say that I am not the target audience for these services. We rarely eat out. I like to find new recipes and actually enjoy cooking. When I was living alone and going to school in an intensive program, grocery shopping and cooking were my leisure activities, and I grew to love them. Don't get me wrong, I am not a super fancy chef—but I like to eat. And when I can't be doing that, at least cooking or food prep means I can be around food more often. Plus, I am not great at following recipes and like to add or replace items if I don't have them and adjust seasonings as needed. [Editor's Note: This is relative to a kitchen neophyte like me who really appreciates illustrated recipe cards and probably gets way more value out of the step-by-step instruction.]
Finally, I was concerned about how healthy the food would be—I like having control over the food that I eat. I am not affiliated with Weight Watchers (or the new, trendier 'WW' rebrand), but by following their program, I have lost 50 pounds over the last few years (48-52 if I'm being honest … today is a 49.6-pound loss). Being able to plan my meals ahead is a big part of my success because I am still fighting that persistent ten pounds. Also, being able to adapt recipes for what I eat and what my husband eats is helpful.
So, for all of these reasons, plus the fact that a number of these services don't deliver to my area, I hadn't given meal delivery services a second thought before Kyle approached us to try one out. My first thoughts when I saw which meals my husband had picked were …
Oh Boy, His Choices!
Things that we love—but rarely eat—pasta, potatoes, cream, sugary stir-fry sauces, and fattier cuts of meat! I knew exactly why he picked what he did (this is the man who suggested I go with chicken fingers at a restaurant when I said I wanted to eat healthy after all), but it was going to make staying on track for me pretty tough.
The package was delivered to his office, and we brought it home. The ice packs and cooler kept everything together and chilled (they were still frozen solid) while it sat at room temperature all day, and each meal was in its own paper bag to pop in the fridge. Very cute and appealing to my organized nature. The pricing versus other Canadian meal kit options was certainly attractive. I also appreciated how much of the packaging was recyclable!
Everything went in the fridge, and I scoured the recipe book and nutritional information on the bags to calculate my points. The bags + recipe cards made this is a super easy process (the info is also online too if you prefer to read that way). You can see the calories when you choose your meals, which seem to range from 600 to 1000, but not all calories are created equal! I was a little surprised to see some of the sugar and added oil levels that some of the recipes contained. There were, of course, more health-conscious options that my husband could have chosen, but hey, no one's perfect!
Terms and Fine Print
Delivery
| | |
| --- | --- |
| Delivery area | AB, BC, MB, NB, NS, ON, PE, SK |
| Home delivery | Yes |
| Work delivery | Unknown |
| Must be present for delivery | No |
| Delivery window | 8am-8pm |
| Box stays cold for | 12 hours |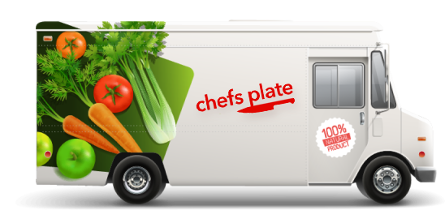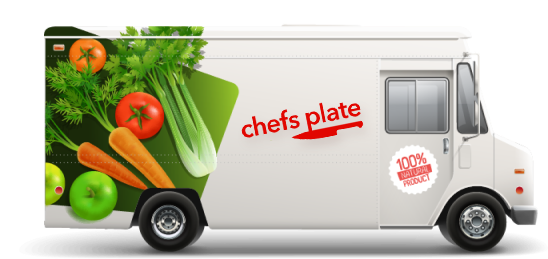 Chefs Plate started as a meal kit delivery company in Toronto and delivered only locally. As soon as it became a branch of Hello Fresh, its service area widely expanded. Today the Chefs Plate delivery area is pretty broad. The company delivers food boxes all over Ontario, British Columbia, Alberta, Saskatchewan, Prince Edward Island, New Brunswick, Nova Scotia, and Manitoba. You can either order home delivery or pick up from a convenient location. The company usually delivers from 8 am to 8 pm. You don't need to pick it up immediately as the box is very well insulated and will keep your food items fresh for up to 12 hours. For the best results, it is recommended to refrigerate the contents of your box as soon as possible.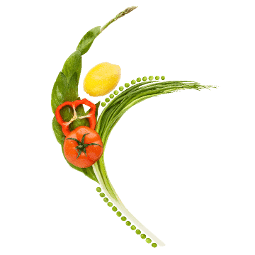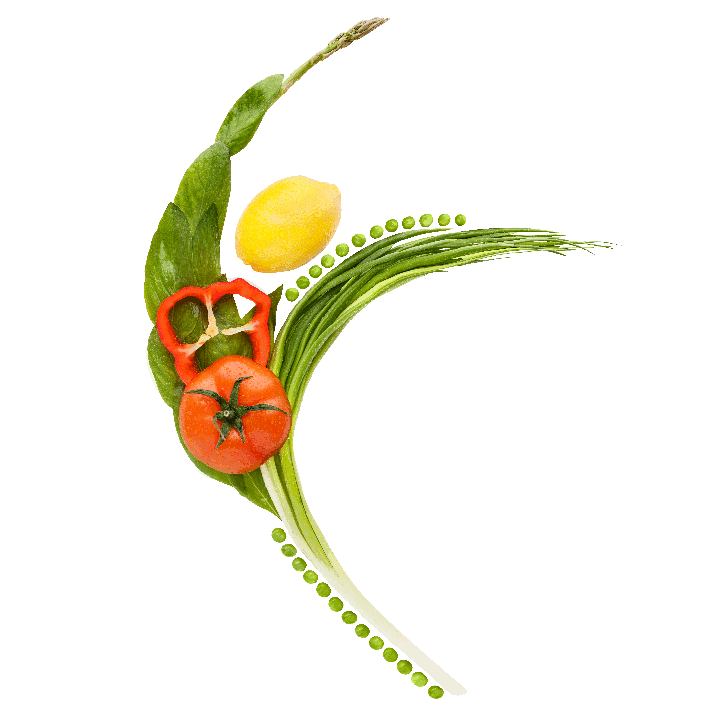 Flexibility
| | |
| --- | --- |
| Switch between plans | Yes |
| Minimum subscription length | 1 week |
| How to cancel subscription | Online account |
| Extra charge for skipping week | No |
| Weekly deadline to cancel/skip | Wednesday |
| Auto-renewal | Yes |
| Personalization options | Number of people, recipes per week |
Similar to other meal kit delivery companies, Chefs Plate offers weekly services. This means that you will get your order once a week, all meals at once. You can modify or order before the cut-off date, which is usually four days before the delivery date. In case you need to skip a week, you can always do so online or by contacting the company via phone or email. Your weekly Chefs Plate subscription will be automatically renewed until you cancel it.
Support and Usability
The Chefs Plate website is very easy to use. You can order your meals, change your plans, skip a week, or cancel your subscription with just a couple clicks. The company has active accounts on Facebook and Instagram, so you can contact them via Messenger and Direct. Certainly, you can always use the good old phone to contact their customer support at 1 (855) 420-2327 or shoot them an email at hello@chefsplate.com.
Address
103 – 500 Richmond St W, Toronto, ON M5V 3N4
Frequently Asked Questions:
What happens if I'm not home for the Chefs Plate delivery?
Like any other parcel delivery service, there are several options available. We recommend:
Leaving your box on your front step or wherever else you direct us to leave it. (The insulated box is engineered to keep your food cool no matter what.) Having Chef's Plate delivered to your place of work—the box can sit beside your workspace all day, and it won't be a problem. Kindly ask a friendly neighbor to accept your Chefs Plate delivery—and maybe invite them over to share a meal once in a while? Make friends with a local business that you frequent, and have them accept your food subscription box each week.
Can I skip a week if I'm out of town or just want to save some cash?
Yes! The online account management that Chefs Plate provides makes it two-click easy to skip a week if you so desire.
Is there a delivery charge?
Chefs Plate does not charge a delivery fee if you order more than 2 recipes for more than 2 people. All fees are included in the weekly price. For the minimum order, there is a delivery charge of $6.
Where is Chefs Plate's food sourced, and are your ingredients organic?
Chef's Plate makes every effort to source their food primarily from local farmers, fishers, and growers. Obviously, given the reality of Canadian geography and winters, there is a ceiling on how much local produce they can include in their meal kits. In a 2017 interview, Chefs Plate founders stated that if we include winter months, the company averaged roughly 65% of their meal kits fulfilled by local Canadian companies.
Chefs Plate CTO Thomas Stevens was quoted in the aforementioned Tech Vibes interview as saying, "What we're delivering isn't an app or a piece of software. It's an experience; getting Canadians back into their kitchens and connected to food again and the way we're able to do that—connecting these local farmers and growers through a national program—is through technology."
I found no claims as to the organic status of Chefs Plate—only that the food in their meal kits has reached the highest levels of certification.
Does Chefs Plate offer meals for specific dietary restrictions?
Like any other type of courier delivery, there are always options. Obviously it's easiest if someone is at home to accept the box during the day; however, HelloFresh can also drop the box off wherever you specify in your delivery instructions.
Chefs Plate does provide several gluten-free and dairy-free options to choose from in their regular menu rotation. However, at this time, there is no exclusive plan for these meals. The meal kit company does allow you to go into your online account (through either the website or app) and select "taste preferences" for your auto-delivery. At the current time, Chefs Plate cannot guarantee that all food items have been unexposed to nuts or fish (to name two primary allergens). However, food does come separately packaged, so if allergies are mild in nature, omitting ingredients is simple enough.
How long do the meals stay fresh for?
Obviously, not all foods are created equal when it comes to staying fresh in your fridge. Chefs Plate prides itself on using hand-selected fresh ingredients. That said, if you are using fish and seafood recipes, you will see that they come with a "cook first" label (which is pretty common sense—even for a kitchen novice). Their nutrition labels all include "guaranteed best before" dates for your perusal.
The Bottom Line
It's easy to understand why Chefs Plate is one of Canada's top meal kit companies—their food is delicious, quick, and easy to prepare, and the price is right! If you're looking for the lowest-cost way to try the whole meal kit experience, this is the option for you. With the best vegetarian options in the market, Chef's Plate has made their way to the top with hard work and dedication!
We hope our Chefs Plate review helped you decide whether this is the right company for you and your family.
Try it now for 50% off with Chefs Plate promo code MKC2X50.

---
You will need to sign up for a 2-person plan and use the two servings consequentially.
Select up to four meat and vegetables recipes out of 15 meals each week
This plan contains 4 vegetarian meals with no meat or seafood
Select up to four family-friendly recipes out of 15 meals each week