Read on for the full Chefs Plate review and see what Canada's lowest-cost meal kit can put on your kitchen table.  We 2  exclusive Chefs Plate promo offer codes: VEGGIECHEF60 for 60% off the Veggie Box AND 2020MKC50 for 50% off all other boxes. Simply click below to have it automatically applied at checkout – and get 50-60% off your first order!
If you're the TL;DR type – skim our pro/con list below, or checkout our unboxing video.  If you like to do your homework, we've got all the Chefs Plate details as you scroll down.
The pros and cons of Chefs Plate
Read through our entire Chefs Plate review to find out why we think that Chefs Plate is one of the best meal kits in Canada, but if you want a quick summary on why we think their weekly food box is perhaps the best overall value, then check out our quick pros/cons list.  Chefs Plate isn't perfect, but it's tough to beat great eats at an excellent price.
Short Chef's Plate Review Summary 2020
TL;DR for our readers who are in a hurry
Chef's Plate is one of the most diverse meal kit delivery companies in Canada. You get the most weekly recipe options for the lowest prices in Canada.  The large number of 15-minute meals makes Chef's Plate ideal for REALLY BUSY folks. Overall, it's obvious why so many Canadians have chosen Chef's Plate.
Use code 2020MKC50 for 50% discount; Use VEGGIECHEF60 for 60% discount on veggie plans.
Unboxing Chefs Plate Video
Because I wasn't a big fan of going on camera (and am definitely not a fan of editing a video) I bribed my two delightful friends Davey and Kiara to try one the Chefs Plate boxes that Kyle sent our way.  
Check out the Chefs Plate unboxing video below to see exactly what your Chefs Plate subscription will bring to your door each week.  Sadly, I cannot guarantee that the girls' peppy optimism is part of the weekly delivery 😉
My Personal Review of Chefs Plate
When Kyle asked us to do a Chefs Plate Review (because Chefs Plate doesn't deliver to Kyle's area) I was a bit nervous.  As a person that takes pride in their ability to cook up creative and healthy meals from scratch, I wasn't sure that Chefs Plate was the right fit for my husband and I.  
I also was a little uneasy about writing a Chefs Plate Review article in general, because when I looked online most of the people that had reviewed the meal kit service sounded more like advertisements than actual experiences of people who had tried the product.  If I see "kid friendly, husband approved" one more time, my eyes might actually roll back into my head!  I begrudgingly agreed to try Chefs Plate since my husband was so excited by the idea of a break from my health-conscious ways.
After trying Chefs Plate for a month, I have come to the conclusion that meal kit delivery services are a great idea, and that Chefs Plate in particular has some very tasty (if a bit high-calorie) offerings! 
Bringing recipes and ingredients to busy couples or families who are concerned about how much they are spending eating out, or not eating enough "real" food is a valuable service.  Obviously many Canadians agree with me given the growth of the Canadian meal kit industry.
I personally found the most value in the new spices/ingredients that I was introduced to, as well as the luxury of not having to worry about dinner until 30 minutes before it was supposed to be on the table! If you want to see how Chefs Plate compares with others view our detailed comparison of Chefs Plate vs Goodfood.
Is Chef's Plate Worth It for You?
Before we get to my personal experiences, here's a few questions to help you decide if Chefs Plate is a good fit for your family.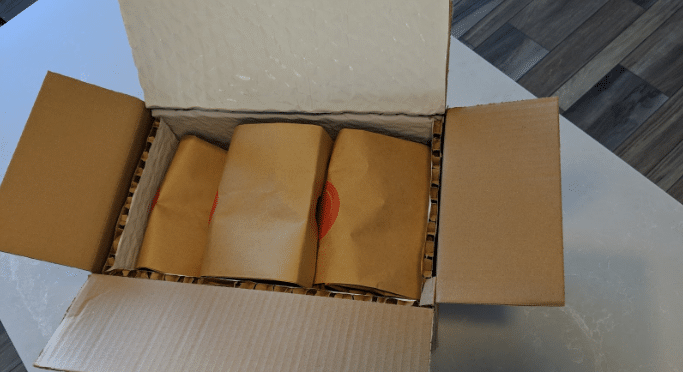 1) Do you often feel rushed during your evening routine?
2) Do you find meal planning and grocery shopping a chore – or does knowing that you have to buy groceries on the way home weigh you down that day?
3) Do you feel a bit "confined" or "tired" by your usual meal lineup?
4) Do you need help moving away from eating super large portions and into healthier options?
5) Do you often have to throw food away that has spoiled?
6) Do you find yourself eating out at restaurants too often for a healthy you – or a healthy budget?
7) Do you need some help learning your way around the kitchen and understanding "the science of cooking?"
The more of these questions that you answered yes to, the greater the value you will get from a meal kit!
My Chefs Plate Experience
I think it's important to say that I am not the target audience for these services.  
We rarely eat out. I like to find new recipes and actually enjoy cooking. When I was living alone and going to school in an intensive program, grocery shopping and cooking were my leisure activities and I grew to love them.  Don't get me wrong, I am not a super fancy chef – but I like to eat – and when I can't be doing that, at least cooking or food prep means I can be around food more often. Plus, I am not great at following recipes and like to add or replace items if I don't have them and adjust seasonings as needed.  [Editor's Note: This is relative to a kitchen neophyte like myself who really appreciates illustrated recipe cards and probably gets way more value out of the step-by-step instruction.]
Secondly, we have allergies in our house.  (Surprise – it's me!) So I worried about the range of options that would be available.
Finally, I was concerned about how healthy the food would be – I like having control over the food that I eat.  I am not affiliated with Weight Watchers (or the new, trendier 'WW' rebrand) but by following their program I have lost 50 pounds over the last few years (48-52 if I'm being honest… today is a 49.6 pound loss).  Being able to plan my meals ahead is a big part of my success because I am still fighting that persistent 10 pounds. Also, being able to adapt recipes for what I eat and what my husband eats is helpful.
So… For all of these reasons, plus the fact that a number of these services don't deliver to my area, I hadn't given meal delivery services a second thought before Kyle approached us to try one out.  My first thoughts when I saw which meals my husband had picked were…
Oh boy, his choices!
Things that we love – but rarely eat – pasta, potatoes, cream, sugary stir fry sauces, fattier cuts of meat!  I knew exactly why he picked what he did (this is the man who suggested I go with chicken fingers at a restaurant when I said I wanted to eat healthy after all), but it was going to make staying on track for me pretty tough.
The package was delivered to his office and we brought it home.  The ice packs and cooler kept everything together and chilled (they were still frozen solid) while it sat at room temperature all day, and each meal was in its own paper bag to pop in the fridge.  Very cute and appealing to my organized nature. The pricing versus other Canadian meal kit options was certainly attractive. I also appreciated how much of the packaging was recyclable!
Everything went in the fridge, and I scoured the recipe book and nutritional information on the bags to calculate my points.  The bags + recipe cards made this is a super easy process (the info is also online too if you prefer to read that way). You can see the calories when you choose your meals, which seem to range from 600-1000, but not all calories are created equal!  I was a little surprised to see some of the sugar and added oil levels that some of the recipes contained. There were of course more health-conscious options that my husband could have chose, but hey, no one's perfect!
Another concerning factor was my husband (who is a pretty big guy) picking up the 3 vacuum packed meat portions and asking "Are these all for the same meal?"  [Additional note several months in: Chefs Plate uses a lot of recipes that stretch meat content a long way.  This is actually healthy overall, but it doesn't look like a lot when you first open the box.]
I was determined to not alter the recipes and give this a fair go.  So the plan was that I would eat a ½ portion for a more reasonable 10-12 points and Justin would have 1.5 portions.  No complaints from him, some minor grumbling from me. In preparation, I made a giant green salad to fill the rest of my plate.
Our First Chef's Plate Meal: Beef & Bokchoy Stirfry
Now, what to make first?
For people who don't cook, a stirfry is a great option to get started.  Rice or noodles are nearly foolproof, add in whatever vegetables and protein you have in the fridge, and some sauce.  Boom. Endless possibilities. So, much like I am annoyed when my husband orders pasta at a non-Italian restaurant, I rolled my eyes at his choice of prepackaged stirfry.  The bok choy was getting a little yellow around the edges and the pepper had a couple of soft spots, so this became meal #1.
I did love the 'read the entire recipe card' as step 1.  Took me back to high school "Read all instructions first!"  The recipe seemed simple enough.  Boil your water and add your rice.  Cook your meat. Remove meat. Cook veggies.  Add meat and stirfry sauce. Serve. The 15 minutes estimate was a little modest, but maybe I mess around in the kitchen more than some would.
I will never understand the necessity of adding oil before cooking ground beef, and then after removing the beef, adding MORE oil before adding the vegetables when there is still beef fat in the pan. Someone please enlighten me!
The meal turned out great.  The vegetables were crisp and the meat was well seasoned.  The sauce tasted good, but there was A LOT of it which drew some complaints. I will probably make a similar sauce again, but this wasn't a huge winner in our books.  
Kudos to all of the food bloggers out there!  Taking these few pictures was NOT easy.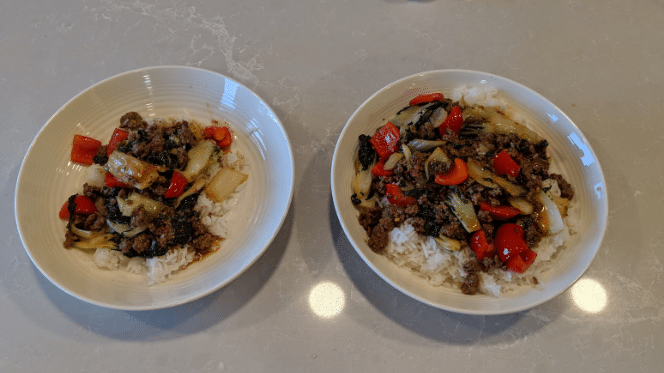 September 2019 Chefs Plate Update
After trying several weeks of Chefs Plate, I can confirm that my original findings were pretty illustrative of what the weekly meal kit brings to the table.
The Chefs Plate app and website are super easy to use, and meals have been very tasty.  I'd save they range from the odd 7/10, to several 10/10s, with most people a 9 or 9.5.
For my husband and I, we use Chefs Plate during busy weeks, and then cancel it during the weeks that we know we'll by home in plenty of time to plan and cook meals.  We really haven't found that it has added much to our overall grocery/restaurant bill. It's super convenient to have a busy week, where food preparation for four meals consists of:
Logging into the app and selecting four delicious options (2 minutes).

Unpacking sealed cooler box on Tuesday evenings (2 minutes).

Take bag out of fridge (10 seconds).
That's it – you're ready to cook.  No lists. No grocery shopping. No forgotten ingredients (although one time there was a vinegar missing from our order).  Even for someone like myself that enjoys creating meals, there are obviously busy weeks where life doesn't want to cooperate.  Chefs Plate was there for me those weeks!
Some meals continue to have a bit too much oil added for my tastes, but to each their own!  I continue to keep some salad or frozen veggies stocked up in case a given recipe doesn't quite do it for us, but this is a small price to pay relative to the stress of coming up with supper from scratch every night.
Overall, it's hard to answer if Chefs Plate is worth it for you without knowing you!  If you want to test out the meal kit concept to see if it fits your family, then Chefs Plate is certainly a good option in that it has the lowest prices for Canada-wide meal kit companies.  That said, it's still more expensive than buying your own groceries. If you prize lean cuts of meat, and slightly better quantity & quality, I'd try HelloFresh and see if you appreciate the difference.  
I think the people that will get BY FAR THE MOST VALUE from Chefs Plate, are the folks that tend to go out to eat, or order restaurant food a lot due to the fact they aren't big on planning ahead or cooking from scratch.  I can see this being a bit hit with the career-focus crowd, people who want to learn to cook, or Canadians with a long commute.
Chef's Plate Review: Weekly Plan Options
Chefs Plate has four different food subscription box options to choose from.  Delivery is free with each option. I noticed that Chefs Plate definitely puts more emphasis on 15 minute meals than HelloFresh does.
Chef's Plate Review: Company Background
Patrick Meyer and Jaime Shea started Chef's Plate in 2014.  After moving their headquarters to Toronto and selling more than 2 million meal kits across Canada, the pair saw their company acquired by industry giant HelloFresh for a handsome profit.
In a 2017 interview with Tech Vibes, Shea stated, "The food supply chain in Canada is an archaic industry–there's been little innovation […] before we came, there was no Canadian companies delivering fresh product directly to consumers' homes on a scalable level."
I thought it was noteworthy that Chef's Place claims that it is, "the first and only meal kit delivery company in Canada to be federally registered as safe for food processing by the Canadian Food Inspection Agency."
The Canadian meal kit company is proud to boast that they source much of their food from local Canadian farmers, fishers, and suppliers.
In addition to using their surging revenues to sponsor Canadian programming like Top Chef Canada, Chef's Plate donates over 50,000 meals per month to Second Harvest (the largest food rescue organization in Canada) and Abbotsford Food Bank.  Their charity related motto being: "No Waste. No Hunger."
Chef's Plate Menu & Recipe Examples
Below is a sampling of one week's meal options on the Chefs Plate menu that we could choose from.  As you can see there is something for a very wide variety of palates and caloric preferences.
Asian Beef Miki Noodles with stir-fried veggies and sriracha-soy sauce
(800 Calories )
---
Cornmeal Crusted Chicken with honey-soy glazed carrots and ranch dip
(950 Calories)
---
Rosemary Pork and Apple Chutney with mashed sweet potatoes and Brussels sprouts
(660 Calories)
---
Oven Baked Fish with lemon aioli and a warm arugula salad
(880 Calories))
---
Mediterranean Quinoa & Sweet Potato Patties with yogurt-cucumber sauce
(880 Calories)
---
Two Cheese Pesto Penne with sweet peppers and cheesy ciabatta toasts
(890 Calories)
---
African Peanut Curry with kale and roasted squash over basmati rice
(640 Calories)
---
Pork Spring Roll Noodle Bowl with wonton crisps and ginger plum sauce
(890 Calories)
---
Chicken and Sun-Dried Tomato Orzo Pasta with peas and baby spinach
(790 Calories)
---
Montreal Steak and Swiss Melts with baby green salad
(770 Calories)
---
Turkey Puttanesca Linguine with Turkey Ragu on Florentine Rice Pilaf
(760 Calories)
---
Chickpea Tikka Masala with roasted broccoli rice
(890 Calories)
Frequently Asked Questions:
1) What happens if I'm not home for the delivery of my food box full of delicious meal kits?
Like any other parcel delivery service, there are several options available.  We recommend:
Leaving your box on your front step or wherever else you direct us to leave it. (The insulated box is engineered to keep your food cool no matter what.)

Having Chef's Plate delivered to your place of work – the box can sit beside your workspace all day and it won't be a problem.

Kindly ask a friendly neighbour to accept your delivery – and maybe invite them over to share a meal once in a while?

Make friends with a local business that you frequent, and have them accept your food subscription box each week.
2) Can I skip a week if I'm out of town or just want to save some cash?
Yes!  The app and online account management that Chefs Plate provides makes it two-click easy to skip a week if you so desire.
3) Is there a delivery charge?
No!  
4) Where is Chefs Plate's food sourced and are your ingredients organic?
Chef's Plate makes every effort to source their food primarily from local farmers, fishers, and growers.  Obviously given the reality of Canadian geography and winters, there is a ceiling on how much local produce they can include in their meal kits.  In a 2017 interview, Chefs Plate founders stated that if we include winter months, the company average roughly 65% of their meal kits fulfilled by local Canadian companies.
Chefs Plate CTO Thomas Stevens was quoted in the aforementioned Tech Vibes interview as saying, "What we're delivering isn't an app or a piece of software. It's an experience; getting Canadians back into their kitchens and connected to food again and the way we're able to do that–connecting these local farmers and growers through a national program–is through technology."
I found no claims as to the organic status of Chefs Plate – only that the food in their meal kits has reached the highest levels of certification.
5) Does Chefs Plate offer meals for specific dietary restrictions?
Chefs Plate does provide several gluten-free and dairy-free options to choose from in their regular menu rotation.  However, at this time there is no exclusive plan for these meals. The meal kit company does allow you to go into your online account (through either the website or app) and select "taste preferences" for your auto delivery.  At the current time, Chefs Plate cannot guarantee that all food items have been unexposed to nuts or fish (to name two primary allergens) however food does come separately packaged, so if allergies are mild in nature, omitting ingredients is simple enough.
6) How long do the meals stay fresh for?
Obviously not all foods are created equal when it comes to staying fresh in your fridge.  Chefs Plate prides themselves on using hand-selected fresh ingredients. That said, if you are using fish and seafood recipes, you will see that they come with a "cook first" label (which is pretty common sense – even for a kitchen novice).  Their Nutrition labels all include "guaranteed best before" dates for your perusal.
Here's a cool video I found looking at how menus are created and ingredients selected at Chefs Plate.
7) Where does Chefs Plate deliver?
Chefs Plate is currently delivering in Nova Scotia, Manitoba, New Brunswick, PEI, Quebec, BC, Saskatchewan, and of course, Ontario.
It's important to note however that if you live in a bedroom community, "exurb" or suburb, HelloFresh might be the only meal kit that delivers to your area for the time being.
Chef's Plate Review Summary
Diversity of Meals

Easy to Cook

Company Reputation

Taste and Freshness

Vegetarian Options & Promos
Bottom Line
It's easy to understand why Chefs Plate is one of Canada's top meal kit company– their food is delicious, quick & easy to prepare, and the price is right! If you're looking for the lowest-cost way to try the whole meal kit experience, is the option for you. With the best vegetarian options in the market and an incredible discount on the Veggie Box, Chefs plate have made their way to the top with hard work and dedication!
Try it for 50% off with Chefs Plate discount promo code 2020MKC50.
Try it for 60% off with Chefs Plate discount promo code VEGGIECHEF60  (Veggie Box only).