Goodfood Canada Review 2020

Our Goodfood Canada review (yes, Goodfood and Makegoodfood are the same company) and free promo offer code lets our readers see if "Canada's #1 Meal Kit" suits their taste buds – for a crazy reduced first-time bonus!
We've tried Goodfood for a month now and love the variety of meals that they offer each week.  Personally, we tend default towards low-carb meals, of which, MakeGoodfood had plenty of options.
While the portions are slightly smaller on average than HelloFresh, they are also slightly cheaper, and I personally don't miss the extra (in fact it's probably good for me)!
View also have the following comparison piece available of Chefs Plate vs Goodfood if you want to see how it compares with others directly.
The pros and cons of GoodFood
This is a summary of our GoodFood review detailing the positives and negatives of the Canadian meal kit service which is currently rated among our top 3 meal kits in Canada.
Goodfood Comparison
How does Goodfood compare with its direct peers? this is the bottom line of our best meal kit in Canada comparison.
Chefs Plate
$9.99-$12.99
Cheapest price per serving
Great promotional offers
Well packaged
16 recipes every week
Hello Fresh
$12.33-$13.33
Largest and most recognized
Nationwide delivery
Tastiest meals
Most environmentally friendly
Get $65 Off across your first 3 Orders
Goodfood
$10.83-$12.50
Wide reach
Up to 5 weekly meals
Easiest to sign up with
Great support
Short Goodfood Review Summary
TL;DR for our readers who are in a hurry
If you're not interested in reading the rest of our extensive Goodfood review, just know that the company that bills itself as "Canada's #1 Meal Kit" is an excellent value and a leading contender for our top pick.  The Canadian-owned company combines very low prices, with excellent menu options, and perhaps the healthiest overall recipe selection of the major Canada-wide meal kit delivery services.  Their Easy-Prep basket is perfect for families on the go!
In an interview, the founders of Goodfood, Jonathan Ferrari and Neil Cuggy, stated:
"We try and make it so we're giving enough value in the recipe that it would cost you about the same thing to buy the same ingredients at the grocery store. But you get them delivered, you get all the recipes, everything is nicely pre-portioned, and there's no waste."
That's a lofty goal, but I think Goodfood is most of the way to clearing their highly-placed bar!
You can see from our pictures below that Goodfood's boxes are well insulated, and our meat has always stayed very chilled.  Having a bit of an engineering background myself, I'm fully satisfied that this packaging could keep meat chilled for half a day on my doorstep in the hottest weather.
Goodfood Review: Weekly Plan Options
Goodfood offers three main subscription foodbox plans to choose from. They are well packaged, easy to understand, and aren't as messy as you'd expect subscription boxes deliveries to be.
Goodfood Easy Prep Basket
As the name would suggest, these meal kits are meant to be box-to-table in 15-20 minutes.  We really appreciated this "basket" because it also included a low-carb option that we made use of.  You can choose t0 get 2-4 meals, with either 2 or 4 servings in each meal per week.
Try Goodfood's Easy Prep Basket for Free
Goodfood Classic Basket
Goodfood's most popular basket.  Some weeks we decided to go in this direction if we knew one of us would be home much of the week in plenty of time to cook dinner (with a 2-year old in the house, the dinner routine can get a bit hectic) or if we thought some meals looked particularly tasty.  This basket was slightly cheaper and included more pasta and starch options. It also allowed folks to choose a vegetarian option if they were so inclined (we were not those people). Like the Easy Prep Basket, you choose 2,3, or 4 meals to come in your food subscription box, and each of those meals is either 2 or 4 servings large.
Try Goodfood's Classic Basket for Free
Goodfood Family Basket
The Ultimate Value Pack has everything a family will need.  This option only comes with 4-servings of however many meals you choose.  Goodfood promises that this menu will include recipes that the whole family will love.
Try Goodfood's Family Basket for Free
Background on Canada's Favourite Meal Kit Company
Goodfood (sometimes referred to as "make good food" because of their commercial on TV) is headquartered in Montreal, Quebec and recently opened up an additional hub in Calgary, Alberta.  They now employ over 500 people from coast-to-coast and deliver over 1 Million Meal Kits every month!
GoodFood started in November 2014 when Jonathan Ferrari and Neil Cuggy started the business from Ferrari's Montreal home.  He said in an interview with Montreal In Technology:
"I loved to make my own meals. I loved to cook, but I never had enough time to think about how to plan my meals, how to get everything together, and how to have a grocery delivery option that made sense for me. So the inception moment was even before starting the business, it came out of my own personal needs and trying to think of a product that could be tailored to those needs."
When I've mentioned Goodfood to a few "foody" friends of mind, they said, "Isn't that the one with Anne-Marie Withenshaw?"
Now, I must admit.  Part of being a self-described newb in the kitchen means that I didn't know who Ms. Whitenshaw was.  Turns out that she is quite connected within the Canadian food world! In addition to being the face of Goodfood meal kits, Ms. Whitenshaw co-hosts a Quebec culinary competition based on the American model called "Knife Fight".   She also hosts the aptly-named show "Pressure Cooker" on the W Network, in addition to several other TV and radio credits. All this to say, that she is clearly a professional who knows her food! She feels so strongly about the product that Goodfood puts on tables across the country that she states:
"Goodfood offers simple and delicious recipes that my whole family enjoys. It is also in line with my values and views on nutrition. As a busy new mother, it's often difficult to plan healthy and appetizing meals for a whole week. Goodfood is always there to lend a hand to people like me who want to eat well, and enjoy family time around the table. The service saves me time by allowing to me to avoid the grocery store and by eliminating the need to research new recipes."
Finally, I thought that Goodfood had a very uniquely Canadian way to give back to the community.  For every box of food purchased by customers like me, Goodfood donates a meal to child in need. A lot of companies do cool charity work, but I just thought that was a neat way of tying together their mission and their product.
Makegoodfood Menu Recipe Examples: Making Food Great Again
We had one of my favourite Goodfood meals last week: Chicken thighs with Parmesan Fries and salad!  Check out the easy recipe card, as well as the results below:
I'm not really a "photographer type" nor am I anywhere close to a pro-chef – so I skipped all the "look at this beautiful flame cooking my gorgeous food" pictures.  Here's what finally had my mouth watering though: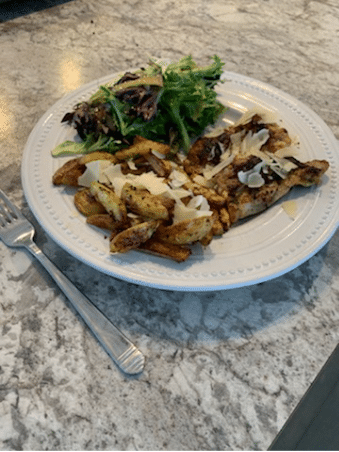 Here's a few of the other recipes that we've tried and a few that I just pulled off of their online menu to give you an idea about what Goodfood will bring to your table.
Ground Beef & Walnut Meatballs with Fingerling Potatoesm Citrus Salad & Tangy Herb Vinaigrette

Spiced Chicken Thighs with Caramelized Onion, Basmati Rice & Dilled Labneh

Fresh Tortellini with Roasted Cherry Tomatoes, Spring Salad with Peas & Balsamic Vinaigrette

Seared Haddock with Green Almonds, Cucumber Salad & Herbed Bulgur

Bucatini all'Amatriciana Artisan Salad with Endives & Carrot Ribbons

Curry-Roasted Vegetables Over Quinoa with Pepper-Turmeric Vinaigrette & Red Pepper Hummus

Butternut Squash Souvlaki Pitas with Cucumber Yogurt & Chopped Salad

Pork Chops with Mushroom & Artichoke Fricassée and Roasted Baby Potatoes

Frango Churrasco with Sweet Potato Wedges with Charred Corn & Lemon-Garlic Vinaigrette

Spice-Rubbed T-Bone Lamb Chops with Grilled Zucchini, Mint & Feta Salad

Pan-Seared Chicken Breasts with Lentils & Sweet Pepper Vinaigrette

Ground Beef Pad See Ew with Broccoli, Yu Choy & Thai Basil

Southwest Beef & Quinoa Stuffed Peppers with Monterey Jack Cheese & Spinach Salad
Top 10 Reasons Why You Should Try Goodfood Meal Kits Today!
1) Our promo offer code makes it cheaper than groceries to place your first order.
2) The insane value to your life of not thinking about supper until it's time to cook it – and know it will be awesome!
3) Automatically make healthy eating a whole lot easier.  I love massive servings of pasta with tons of stuff that isn't great for me mixed in.  Hello Fresh helps steer me away from that type of meal being my default. It's much more consistently representative of the rules of thumb nutritionists like to use, and always finds ways to mix extra servings of vegetables in without having it felt "forced".
3) Hello Fresh's recipes can essentially be looked at as a "Cooking 101" guide.  If you need to brush up on your kitchen essentials, or are just looking for some fun new ideas to add to your "supper rotation" they've got you covered.
4) Guaranteed fresh top shelf produce.  I've been especially impressed with the quality of meat we've received.
5) So many less trips to the grocery store – a chore that just seems infinitely harder at the end of a work day!
6) Less wasted food means less guilt and less money wasted.
7) Easily say "yes" to new foods that you likely would've tried before if you had to go through the process of looking up recipes, etc.
8) You'll spend way less eating out.  Tasty good options ready within 30-45 minutes means not only will you not spend money on food at restaurants, but that glass of wine with dinner is MUCH cheaper at home than at your typical dining establishment.
9) Frees up time for the finer things in life.  Want more time to work out? Learn another language?  Or maybe just spend more time with your loved ones? Cut precious minutes from your supper hour routine 3-4 days per week!
10) Picking great-looking meals on your easy-to-use app becomes an instant highlight of the week, and lets you anticipate next week's magical box of goodness.
Frequently Asked Questions:
1)
What happens if I'm not home when Goodfood delivers?
It's basically the same scenario as any other package.  Goodfood can leave it on your doorstep (they even offer a full credit towards a future order if it's stolen).  Other options include having a neighbour accept the package on your behalf, having your food subscription box mailed to your workplace (it will stay cold for over 24 hours at room temperature), or making friends with a local business that could accept your package for you and happens to be on your route home.
2)
How quickly do I have to get my food in the fridge?
Goodfood boxes are designed to keep food cool for 24-48 hours. I have yet to meet someone that has had meat spoil due to lack of cooling upon delivery. I've never even seen the cooler packs fully thawed. Food is guaranteed fresh for the week following delivery. Fish and seafood is meant to be cooked in the first three days. Food can be frozen (or deliveries skipped) if your schedule is full on a given week.
3)
Can I skip a week?
Yes!  Just go to your Goodfood app or your account via website, and use the "skip a week" option.
4)
Where does Goodfood deliver?  
Right now Goodfood delivers to Nova Scotia, New Brunswick, PEI, Newfoundland, British Columbia, Alberta, Manitoba, Quebec, and Ontario.
5)
Is Goodfood produce pre-washed?
No.  We recommend washing all vegetables before you begin cooking for the evening.
6)
Does Goodfood Support Local Produce and Farms?
Goodfood is committed to keeping their food kits as local as possible given the realities of Canadian winter.  In the summer months, Goodfood reports that 80-90% of what comes in their food subscription box is raised or farmed in Canada (with most of the produce being stem-to-box in under a week).  They go so far as to state:

"We work as much as possible with local purveyors, so we'll go directly to farms to get most of our ingredients. We try and encourage more local artisanal merchants as well. For example, we'll do fresh pasta from a local Montreal family-run pasta maker. So it's a mix of all that."
Goodfood Review - Summary and Takeaways
Taste and Freshness

Company Reputation

Variety

Easy to Cook
The bottom line
Goodfood, AKA makegoodfood.ca, is the only Canada-wide meal kit provider owned by Canadians.  It has and excellent menu of diverse options that are available at an extremely competitive price.  Perhaps the one nitpick I have with Goodfood is that portions weren't as big (especially the meat) as some of the other leading meal kits.  That reality is of coursed balanced by the fact that Goodfood is an extremely healthy addition to your kitchen routine.