---
Not Available via MKC
GoodFood Canada Review 2020
Our Goodfood Canada review (yes, Goodfood and Makegoodfood are the same company) will let our readers see if "Canada's #1 Meal Kit" suits their taste buds. We've tried Goodfood for a month now and love the variety of meals that they offer each week.
While the portions are slightly smaller on average than Hello Fresh, they are also slightly cheaper. We also have the following comparison pieces available of Chefs Plate vs Goodfood and Goodfood vs Hello Fresh if you want to see how it compares with others directly.
GoodFood Canada Ratings by Our Readers
Cast your vote by selecting either button
Official website:
www.makegoodfood.ca
Plans for
Price ranges
$55.77 – $195.85 / week
$8.70 – $13.58 / serving
No exclusive promotions available via MKC
Editorial Notes
In addition to moderate pricing, around $10 per serving on average, one of the definite benefits of Good Food is a wide variety of meals with many low-carb options. All meals are carefully planned by a nutritionist, so we don't have to worry about the waistline.
All the ingredients in Good Food boxes are carefully measured for the portion size, which is just right—not too small and not too big. This means less grocery shopping and less food waste. Good for us and for the planet!
If you're not interested in reading the rest of our extensive Goodfood review, just know that the company that bills itself as Canada's #1 Meal Kit is an excellent value and a leading contender for our top pick. The Canadian-owned company combines very low prices, with excellent menu options, and perhaps the healthiest overall recipe selection of the major Canada-wide meal kit delivery services. Their Easy Prep Basket is perfect for families on the go!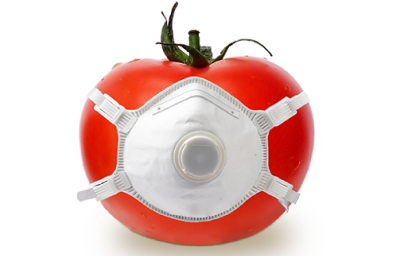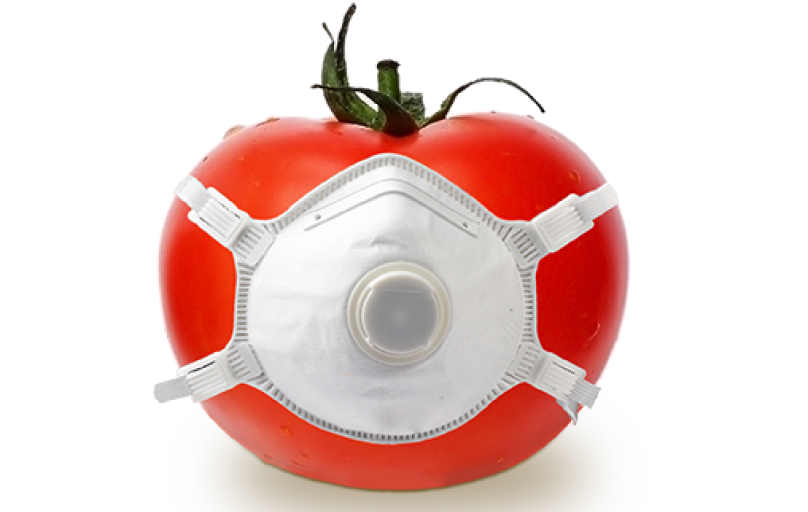 GoodFood Credibility and Reputation
Goodfood (sometimes referred to as "Make Good Food" because of their commercial on TV) is headquartered in Montreal, Quebec, and recently opened up an additional hub in Calgary, Alberta. They now employ over 500 people from coast-to-coast and deliver over one Million Meal Kits in Canada every month!
GoodFood started in November 2014 when Jonathan Ferrari and Neil Cuggy started the business from Ferrari's Montreal home. He said in an interview with Montreal In Technology: "I loved to make my own meals. I loved to cook, but I never had enough time to think about how to plan my meals, how to get everything together, and how to have a grocery delivery option that made sense for me. So the inception moment was even before starting the business, it came out of my own personal needs and trying to think of a product that could be tailored to those needs."
Goodfood has a very uniquely Canadian way to give back to the community. For every box of food purchased by customers like you, Goodfood donates a meal to a child in need. A lot of companies do cool charity work, but we just thought that was a neat way of tying together their mission and their product.
Today GoodFood delivery is available at Alberta, British Columbia, Manitoba, New Brunswick, Nova Scotia, Ontario, Prince Edward Island, Quebec, and Saskatchewan.
| | |
| --- | --- |
| Established in | 2016 |
| Registered in | Montreal, QC |
| CEO | Jonathan Ferrari |
| Clients in Canada | 272,000 |
| BBB grade | No rating |
| Independent rating | (Google) |
GoodFood Plans and Meals
Goodfood offers five main subscription dinner plans to choose from, which is more than they offer at HelloFresh or Chefs Plate . In addition to the traditional plan, GoodFood offers meals for beginners, meals for those people who prefer a low-carb diet, and meals for vegetarians. Good Food boxes are well packaged, their recipes easy to understand and follow, and aren't as messy as you'd expect subscription box deliveries to be. In addition to your dinner recipes, you can order breakfast items, such as smoothies, oat bowls, granola, pancakes, pastries, and coffee.
Price per serving
n/a
$9.93
$10.33
$9.88
$9.42
$9.34
n/a
$9.42
$9.30
$8.85
n/a
n/a
n/a
$11.48
$12.04
$11.43
$10.96
$10.82
n/a
$12.76
$13.58
$12.45
$12.76
$12.24
n/a
$9.42
n/a
$9.45
n/a
$8.70
Shipping
n/a
$0.00
$0.00
$0.00
$0.00
$0.00
n/a
$0.00
$0.00
$0.00
n/a
n/a
n/a
$0.00
$0.00
$0.00
$0.00
$0.00
n/a
$0.00
$0.00
$0.00
$0.00
$0.00
n/a
$0.00
n/a
$0.00
n/a
$0.00
Weekly Total
n/a
$79.46
$61.95
$118.60
$75.34
$149.50
n/a
$75.34
$55.77
$106.24
n/a
n/a
n/a
$91.82
$72.25
$137.14
$87.70
$173.19
n/a
$102.04
$81.46
$149.38
$102.04
$195.85
n/a
$75.34
n/a
$113.45
n/a
$139.20
GoodFood Easy Prep Basket
GoodFood thinks about people who are completely new to cooking and offers them an Easy Prep Basket subscription. These meal kits are meant to be box-to-table in 15-20 minutes. You can select a low-carb or regular option and order two or four servings of two, three, or four meals per week.
GoodFood Clean15 (Low-Carb)
As you can see by the name, this Good Food box contains all low-carb meals that can be ready in 15 minutes or less. These include pork chops, grilled chicken, and shrimp scampi, to name a few. You can order two or four servings of two, three, or four recipes per week.
Good Food Vegetarian Basket
GoodFood is one of the first meal kit delivery companies that started offering vegetarian plans to their customers. The price per serving is less than $10, and you can order up to three recipes for two or four people per week.
Good Food Classic Basket
In case you decide to order this Good Food box, you will have to choose between vegetarian and non-vegetarian options. The menu includes a variety of meals. Some of them are easy to prepare, and some will require more time to cook, especially in case you are yet to master the skills. This box may include up to four recipes for two or four people per week.
Goodfood Family Basket
The Ultimate Value Pack has everything a family will need for dinners up to four times a week. This option only comes with four servings of however many meals you choose. Goodfood promises that this menu will include recipes that the whole family will love.
| | |
| --- | --- |
| Cooking skills needed | Basic |
| Ingredients sourced from | Canadian farms |
| Vegetarian restrictions | Select with plan |
| Exlude an ingredient (e.g. pork) | Restrict in settings |
| Calorie range | Choose by meal |
| Low carb options | Choose by meal |
| Allergy restrictions | Choose by meal |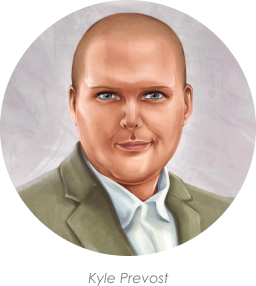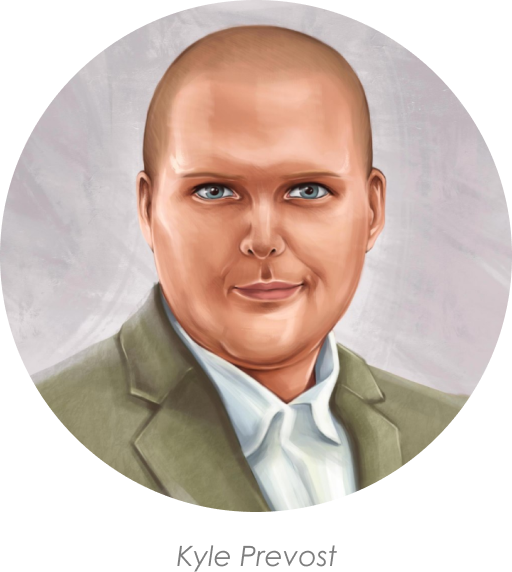 The Site Founder's Personal Experience with GoodFood
We had one of my favorite Goodfood meals last week: Chicken thighs with Parmesan Fries and salad! These were relatively easy to cook and were delicious! All the ingredients were fresh, carefully measured, and well-packed. They perfectly survived a few days in my fridge before I started cooking this meal.
Here are a few of the other GoodFood recipes that we've tried and a few that I just pulled off of their online menu to give you an idea about what GoodFood will bring to your table.
GoodFood Terms and Fine Print
Delivery
| | |
| --- | --- |
| Delivery area | AB, BC, QC, MB, NB, NS, ON, PE, SK |
| Home delivery | Yes |
| Work delivery | Yes |
| Must be present for delivery | No |
| Delivery window | Unknown |
| Box stays cold for | 24 hours |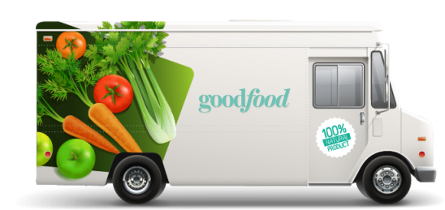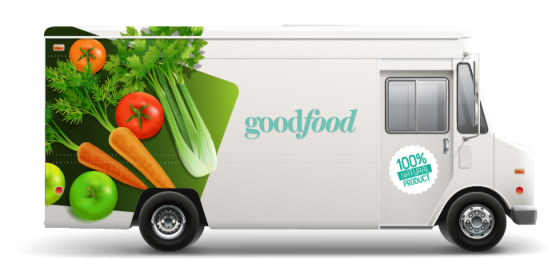 GoodFood delivery in Canada is available almost in every province, except for Newfoundland and Labrador. Whether you live in Vancouver, Edmonton, Ottawa, Toronto, or Montreal, GoodFood box will be waiting for you on your porch soon after you order it. In case you don't want the GoodFood box to be delivered to your home address, they will tell you where you can pick it up.
Every Good Food box is insulated to keep the items fresh for 24 hours after your delivery arrives. It is recommended to unpack it as soon as you get it and store all the items in the refrigerator until you are ready to cook. A new box will be delivered weekly.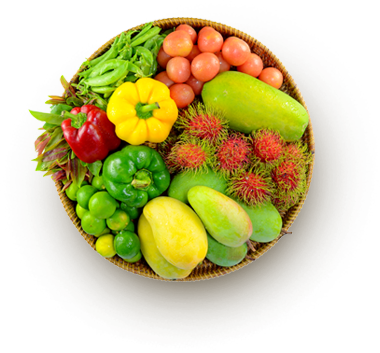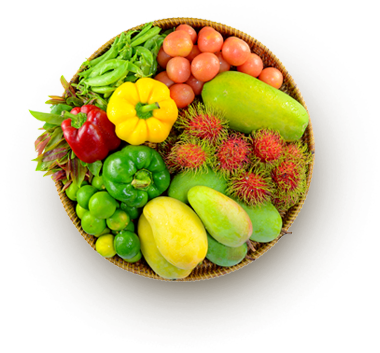 Flexibility
| | |
| --- | --- |
| Switch between plans | Unknown |
| Minimum subscription length | 1 week |
| How to cancel subscription | Email or phone |
| Extra charge for skipping week | No |
| Weekly deadline to cancel/skip | 3-7 days before delivery date |
| Auto-renewal | Yes |
| Personalization options | Number of people, Recipes per week |
GoodFood is pretty flexible in terms of plans and menu. You have five plans to choose from, and each plan has a wide variety of meals. You can switch between plans whenever you need and modify your menu weekly. You will receive GoodFood delivery weekly, but if you need to skip a week, you can always do so with a couple of clicks on their website. In case you need to cancel your subscription, you can either call or email customer support.
Support and Usability
The GoodFood website is very user friendly. Once you sign up, you can log in and start customizing your menu. There are plenty of healthy and delicious meals to choose from every week. In case something goes wrong or you would like to thank GoodFood for great service, you can get in touch with GoodFood customer service via phone at 1(855) 515-5191 or send them an email at chef@makegoodfood.ca. They have Facebook and Instagram accounts, so you can contact them via Messenger or Direct. Online chat is also available.
Address
4600 rue Hickmore, Montréal, Québec H4T 1K2 Canada
Frequently Asked Questions:
What happens if I'm not home when Goodfood delivers?
It's basically the same scenario as any other package. Goodfood can leave it on your doorstep (they even offer full credit toward a future order if it's stolen). Other options include having a neighbor accept the package on your behalf, having your food subscription box mailed to your workplace (it will stay cold for over 24 hours at room temperature), or making friends with a local business that could accept your package for you and happens to be on your route home.
How quickly do I have to get my food in the fridge?
Goodfood boxes are designed to keep food cool for 24-48 hours. I have yet to meet someone that has had meat spoil due to lack of cooling upon delivery. I've never even seen the cooler packs fully thawed. Food is guaranteed fresh for the week following delivery. Fish and seafood are meant to be cooked in the first three days. Food can be frozen (or deliveries skipped) if your schedule is full on a given week.
Can I skip a week?
Yes! Just go to your Goodfood app or your account via the website, and use the "skip a week" option.
Where does Goodfood deliver?
Right now, Goodfood delivers to Nova Scotia, New Brunswick, PEI, British Columbia, Alberta, Manitoba, Quebec, and Ontario.
Is Goodfood produce pre-washed?
No. We recommend washing all vegetables before you begin cooking for the evening.
Does Goodfood Support Local Produce and Farms?
Goodfood is committed to keeping their food kits as local as possible, given the realities of Canadian winters. In the summer months, Goodfood reports that 80-90% of what comes in their food subscription box is raised or farmed in Canada (with most of the produce being stem-to-box in under a week). They go so far as to state:
"We work as much as possible with local purveyors, so we'll go directly to farms to get most of our ingredients. We try and encourage more local artisanal merchants as well. For example, we'll do fresh pasta from a local Montreal family-run pasta maker. So it's a mix of all that."
The Bottom Line
GoodFood, AKA makegoodfood.ca, is the only Canada-wide meal prep delivery company owned by Canadians. It has an excellent menu of diverse options that are available at an extremely competitive price. Perhaps the one nitpick I have with Goodfood is that portions weren't as big (especially the meat) as some of the other leading meal kits. That reality is, of course, balanced by the fact that Goodfood is an extremely healthy addition to your kitchen routine.
We hope that our GoodFood review helped you make the right choice. Give Good Food box a try, it's worth it!
Select up to four meat and vegetables recipes out of 12 meals each week
You have three vegetarian meals per week to choose from
Select up to four quick and easy recipes out of 12 meals each week
Select up to four low – carb meat and vegetables recipes out of 12 meals each week
Select up to four family-friendly recipes out of 8 meals each week