---
Goodfood Canada Review 2023 (One of the Most Popular Meal Kits)
Goodfood is one of the most popular meal kit companies. But why has it earned this reputation? And is it the right company to suit your needs? For our Goodfood Canada review, we collected and analyzed extensive data on this company, looking at both information from the company itself as well as reviews from its customers. Our team members have also personally sampled a month's worth of Goodfood meal kits to ensure that this review is as accurate as possible.
Goodfood's products can be directly compared to those from HelloFresh, which is their primary competitor. While both companies are fairly similar to each other, customers that have tried both meal kits report that Goodfood portions are slightly smaller while their average prices are marginally higher. Goodfood has a vegetarian and low-carb meal plan though, which not many brands offer at this stage. Although, there are only a handful of meals available each week on these plans. 

To help understand how Goodfood stacks up against other Canadian meal kits, we conducted a detailed side-by-side analysis of Chefs Plate vs Goodfood, Cook It vs Goodfood, and Goodfood vs HelloFresh. In this review, we're going to take you through all the pros and cons, sum up the service offerings, and answer common questions like "how to cancel Goodfood" and "what is Goodfood Wow" in this review. 
GoodFood Ratings by Our Readers
Cast your vote by selecting either button
Official website:
www.makegoodfood.ca
Plans for
Price ranges
$70.44 - $203.84 / week
$9.24 - $15.74 / serving
No exclusive promotions available via MKC
Our Top-Rated Alternatives 
Goodfood Review Summary
Goodfood meal kits are pretty reasonably priced, with a serving costing approximately $10.74 - $16.99, depending on how many people you order for and how many recipes per week. One of the main benefits of Goodfood is their dedicated low-carb plan. The company advertises that all meals are carefully planned by a nutritionist. Like most other meal kit companies, Goodfood calibrates portion sizes to be the right amount of food for one filling meal without leftovers. This makes them great meal kits for singles, couples, or families. 
Goodfood commands the second largest portion of the Canadian meal kit market share, and their delivery zones encompass over 95% of Canadian residents. Goodfood Canada's price points and healthy recipe options have helped them build and expand their customer base. Goodfood offers several plans that cater to various consumer needs. For instance, their Easy Prep Basket is directed at customers who may not have the time and energy to prepare a more elaborate and tedious meal.
The company has seen a steady increase in active subscribers. At the same time, Goodfood has seen a fall in consumer confidence after many customers reported delivery issues and billing errors. Customers have expressed disappointment with unreliable deliveries and a lack of meaningful response or compensation from support. This mixed record reflects a company with many pros and cons, which this Goodfood review will discuss in detail below.
Credibility and Reputation
| | |
| --- | --- |
| Established in | 2016 |
| Registered in | Montreal, QC |
| CEO | Jonathan Ferrari |
| Clients in Canada | 280,000 |
| Independent rating | (Google) |
Goodfood (sometimes referred to as "Make Good Food" because of their commercial on TV and their website - makegoodfood.ca) is headquartered in Montreal, Quebec, and recently opened up an additional hub in Calgary, Alberta. They now employ over 500 people from coast to coast and deliver over one million meal kits every month.
Goodfood was established in November 2014 when Jonathan Ferrari and Neil Cuggy started the business from the former's Montreal home. Ferrari said in an interview with Montreal In Technology: "I loved to make my own meals. I loved to cook, but I never had enough time to think about how to plan my meals, how to get everything together, and how to have a grocery delivery option that made sense for me. So the inception moment was even before starting the business, it came out of my own personal needs and trying to think of a product that could be tailored to those needs."
Goodfood has developed a unique way to give back to the community. For every box of food purchased by a customer, the company donates a meal to a child in need. The company has benefited from using this marketing tactic to drive sales.
Goodfood delivery is available in Alberta, British Columbia, Manitoba, New Brunswick, Nova Scotia, Ontario, Prince Edward Island, Quebec, and Saskatchewan. The company claims that they can deliver to every major city on both coasts and in the middle of the country.
However, customers have complained that this is not always the case and that they had been let down by Goodfood's service. Maureen O, a MealKitsCanada reader in North Vancouver, said that her Goodfood delivery was severely delayed and then cancelled with no explanation. She reported that despite giving clear delivery instructions in her easily accessible neighbourhood and reaching out to customer support several times, Goodfood still failed to deliver the meal kit. This is a common complaint so is something to consider if you are going to rely on a weekly food box delivery as your main source of dinners. 
Plans and Meals
Good Food Canada offers five main subscription dinner plans to choose from. In addition to their traditional plan, Goodfood offers meals for kitchen beginners who are just starting to learn how to cook, family-friendly options, meals for those people who prefer a low-carb diet, and meals for vegetarians.
Customers report that Goodfood boxes are well-packaged with clear recipes and easy-to-follow directions. Many customers praise the variety of meal options available from Goodfood, although, in reality, the weekly menu is not as extensive as most Canadian meal kit companies. There are just five vegetarian options each week and the largest variety is found in the Classic plan with around 13 recipes each week (these include meals from other categories too, hence the high number). The total number of recipes across the different plans is 18, which is fairly decent. If you're not a fussy eater or have dietary requirements, then you'll have much more variety to choose from. 
Price per serving
$11.74
$12.74
$10.74
$11.74
$9.74
n/a
$10.74
$11.74
$9.74
n/a
n/a
n/a
$12.74
$13.74
$11.74
$12.74
$10.74
n/a
$14.74
$15.74
$13.74
$14.74
$12.74
n/a
$11.24
$10.24
$9.24
n/a
n/a
n/a
Shipping
$0.00
$0.00
$0.00
$0.00
$0.00
n/a
$0.00
$0.00
$0.00
n/a
n/a
n/a
$0.00
$0.00
$0.00
$0.00
$0.00
n/a
$0.00
$0.00
$0.00
$0.00
$0.00
n/a
$0.00
$0.00
$0.00
n/a
n/a
n/a
Weekly Total
$93.92
$76.44
$128.88
$93.92
$155.84
n/a
$85.92
$70.44
$116.88
n/a
n/a
n/a
$101.92
$82.44
$140.88
$101.92
$171.84
n/a
$117.92
$94.44
$164.88
$117.92
$203.84
n/a
$89.92
$122.88
$147.84
n/a
n/a
n/a
Classic Basket
This traditional meal kit option comes in vegetarian and non-vegetarian options, and the menu includes several different types of meals. Some of them are easy to prepare, while some will require more time to cook, especially for more inexperienced chefs. These food boxes can be for two people with the option of ordering three or four recipes per week, or for four people with the option of ordering two, three, or four recipes per week. The price per serving is from $11.24 to $14.49.

Here are some sample meals: Peanutty dan dan noodles with mushrooms and baby bok choy, cheesy chicken breasts and creamy roasted pepper sauce with string beans over spiced orzo, and pork sausage traybake with veggies, apple, thyme and whole-grain mustard mayo. 
Vegetarian Basket
Goodfood is one of the first meal kit delivery companies that started offering vegetarian plans to their customers and not just vegetarian meal options. These dishes include creative ways to avoid animal-based products in one's diet. The price per serving is from $11.49 to $13.49, and customers can order up to three recipes for two or four people per week.

Here are some sample meals: Fresh cheese tortellini and caramelized onion with crisp radish and chive salad, golden halloumi over minty bulgar with honey-lemon roasted vegetables, and vegan maple carrot and pearl couscous plates with spicy cucumber salsa and herbed hummus. 
Family Basket
This plan has everything a family will need for dinners up to four times a week. Every meal automatically comes with four servings, but customers can select how many meals they want each week (from 2-4). Recipes are designed to be kid-friendly. The price per serving is from $10.74 to $12.99. 

Here are some sample meals: creamy pork chops with ajvar and grana padano, chicken and veggie traybake with maple pepitas and ranch-spiced sour cream, and BBQ chicken naan pizzas with baby greens and apple salad. 
Easy Prep Basket
This plan is oriented toward people who are completely new to cooking or short on time. The Easy Prep meals come with pre-cut ingredients so you just have to assemble or cook! These meal kits are meant to be box-to-table in 15-20 minutes. Customers can order 3 or 4 meals for two people or 2, 3, or 4 meals for 4 people per week. The price per serving is from $12.24 to $15.49. 

Here are some sample meals: Quick BBQ ground beef tacos with creamy carrot and sweet pepper slaw, steak au poivre with potato mash and brussels sprouts, and tangy chicken and braised cabbage with roasted carrots and potatoes with spiced sour cream. 
Clean15 (Low-Carb)
This Goodfood box contains all low-carb, high-protein meals that can be ready in 15 minutes or less. Customers can order 3 or 4 meals for two people or 2, 3, or 4 meals for 4 people per week. The price per serving is from $14.24 to $16.99.

Here are some sample meals: Seared chicken breasts with mushroom sauce and garlic-sauteed zucchini, chicken, balsamic and burst cherry tomato skillet with crisp string pea salad, and Scandinavian-style pork tenderloin with fresh dill, roasted carrots and string beans. 
Kyle Prevost
The Site Founder's Goodfood Review
Goodfood has extensive lists of recipes for a variety of palates. One of my favorite Goodfood meals is the chicken thighs with parmesan fries and salad! These were not too difficult to cook and all the ingredients were fresh, carefully measured, and well-packed. The raw ingredients successfully survived a few days in my fridge before I started cooking this meal.
Here are some of the other Goodfood recipes that we've tried and thoroughly enjoyed:
Goodfood Canada Terms and Fine Print
Delivery
| | |
| --- | --- |
| Delivery area | AB, BC, MB, NB, NS, ON, PE, QC, SK |
| Home delivery | Yes |
| Work delivery | Yes |
| Must be present for delivery | No |
| Delivery window | Unknown |
| Box stays cold for | 24 hours |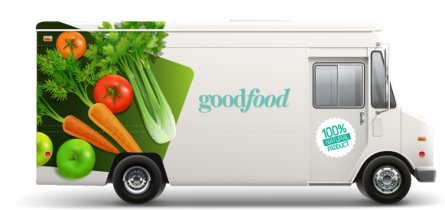 To help clarify Good Food Canada's confusing fine print, our team has laid out the most essential information that customers could want to know before spending their money.

Regarding delivery procedures, every Goodfood box is insulated to keep the items fresh for 24 hours after your delivery arrives. It is recommended to unpack it as soon as you get it and store all the items in the refrigerator until you are ready to cook. A new box will be delivered weekly unless the subscription plan is paused or cancelled.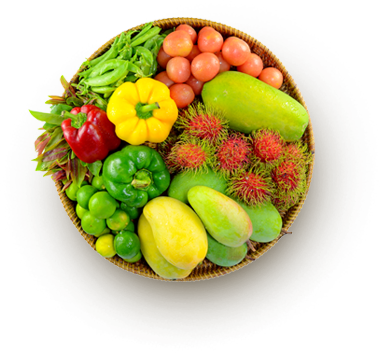 Flexibility
| | |
| --- | --- |
| Switch between plans | No |
| Minimum subscription length | 1 week |
| How to cancel subscription | Email or phone |
| Extra charge for skipping week | No |
| Weekly deadline to cancel/skip | 3-7 days before delivery date |
| Auto-renewal | Yes |
| Personalization options | Number of people, Recipes per week |
Good Food Canada is fairly flexible in terms of plans and menu. Customers have five plans to choose from, and each plan has a wide variety of meals. It is also easy to switch between plans whenever needed. Customers will receive their delivery weekly, but if they need to skip a week, they can always do so through the Goodfood website. However, if you're wondering how to cancel Goodfood, you will need to either call or email customer support. This can be inconvenient and time-consuming.



Customer Service and Usability
The Goodfood website is decently user-friendly. After signing up, customers can log in and start customizing their menu. In the event that something goes wrong, clients can get in touch with Goodfood customer service via phone at 1(855) 515-5191 or send them an email at [email protected]. Goodfood has Facebook and Instagram accounts to communicate with customers via Messenger or Direct. Online chat is also available.
Unfortunately, Goodfood customers have widely reported experiencing problems with the company's support platforms. Goodfood Canada has significantly more negative reviews than average, and the company receives twice as many complaints regarding non-responsive support and billing errors compared to similar meal kit companies. Many customers who wonder how to cancel Goodfood find out that they need to call or email the company to stop their subscription, which is very inconvenient. This suggests that even though Goodfood has set up different interfaces for customer support, the company is not paying enough attention to the concerns of the actual people buying meal kits.

If you want to cancel a Goodfood subscription, you should contact the Member Happiness team via email or live chat (available on weekdays between 8:00 am and 10:00 pm or on weekends between 9:00 am and 5:00 pm). 
Address
4600 rue Hickmore, Montréal, Québec H4T 1K2 Canada
Goodfood Reviews from Customers
In order to learn what customers are saying about Goodfood Canada, we analyzed the reviews that people have posted online on various ratings websites. We looked at positive, negative, and mixed reviews of the company and studied the specific reasons that customers cited for why they felt the need to write a review. Finally, we wanted to find out which Goodood dishes are the most popular, so we counted how many times each recipe was mentioned by reviewers.
Distribution of reviews compared to industry-wide averages
To better see how Goodfood Canada compares to their main competitors, we read their online reviews and marked each one as positive, negative, or mixed. For our definitions, positive reviews were mostly complimentary, and negative Goodfood reviews were critical, while mixed reviews were somewhere in between. Notably, only a third of Goodfood reviews were positive, which was surprising given that the average meal kit company has nearly 70% positive reviews. Correspondingly, nearly half of Goodfood reviews were negative, compared to just one-fifth negative for the average meal kit company.
Data was compiled from 2150 reviews about 13 different companies across 9 review sites. GoodFood had 286 reviews
Most frequently given reasons for liking or disliking the company
Beyond looking at the overall opinion of a reviewer, we wanted to investigate the specific reasons why somebody gave a positive or negative Goodfood review. Unresponsive support, billing errors, and an inconvenient website were some of the most frequent complaints given, and all of those were mentioned more than twice as often as the average meal kit company. Unfortunately, customers have widely reported experiencing problems with the company's support platforms. The company receives twice as many complaints regarding non-responsive support and billing errors compared to similar meal kit companies. This suggests that even though Goodfood has set up different interfaces for customer support, the company is not paying enough attention to the concerns of the actual people buying meal kits. Goodfood customers are noticeably more likely to be dissatisfied with the customer support and the user-friendliness of the website of the meal kit company.

Regarding positive reviews, Goodfood customers appeared to be most satisfied with the tasty food and clear recipes. In conclusion, while Goodfood Canada received worse reviews than most of its competitors, the company's customers appear to be happier with the food than with the organization and logistics of the company.
Data was compiled from 7123 apparent reasons from 2150 reviews. GoodFood data had 915 reasons in 286 reviews
The three most popular recipes mentioned in Goodfood reviews
Finally, we wanted to find out which Goodfood recipes are most customers' favourites. After reading all of the company's reviews, we found that customers especially enjoyed the pan-seared trout, roasted sweet potato quinoa bowl, and Brazilian chicken stew. Chicken dishes seem to enjoy particular popularity, since many of the praise-receiving Goodfood recipes were chicken-based.
roast sweet potato quinoa
Frequently Asked Questions:
What happens if I'm not at home when Goodfood delivers?
Like with almost any other package, Goodfood can simply leave the food on the customer's doorstep. Other options include having a neighbor accept the package on your behalf, having the food subscription box mailed to a workplace instead of a residence (it will stay cold for over 24 hours at room temperature), or asking a local business to accept the package and then hold it for pickup.
How quickly do I have to get my food in the fridge?
Where does Goodfood deliver?
Is Goodfood produce pre-washed?
Does Goodfood Support Local Produce and Farms?
Who is Goodfood owned by?
How much does Goodfood cost per week?
Is Goodfood only in Canada?
Is Goodfood suitable for people with allergies?
Is the packaging recyclable?
Goodfood Canada: The Bottom Line
Goodfood is the only Canada-wide meal prep delivery company owned by Canadians. The company has a small menu but diverse options. Goodfood portions, particularly the proteins, also tend to be a little smaller than those of other leading meal kits. Nevertheless, Goodfood customers benefit from the flexibility of the company's meal kit plans and the wide variety of dishes.
We hope that our Goodfood review helped you make the right choice. If you're interested in learning more about this company, you can visit their website and see their meal options for yourself. If not, you can read our other overviews of Canada's best food subscription boxes. 
No exclusive promotions available via MKC
---
Select up to four meat and vegetables recipes out of 12 meals each week
You have three vegetarian meals per week to choose from
Select up to four quick and easy recipes out of 12 meals each week
Select up to four low – carb meat and vegetables recipes out of 12 meals each week
Select up to four family-friendly recipes out of 8 meals each week