Meal Kits in Winnipeg, Regina, and Saskatoon
Meal kits in Regina, Saskatoon, Winnipeg and the rest of the prairies, are changing the way rural folks and small-city residents get their groceries.
Residents of larger cities in Canada are fortunate in that all of the Canadian meal kit delivery companies are now likely to deliver in their area.  There are at least four major meal kit delivery companies with service to Winnipeg, Regina, and Saskatoon, and then a number of smaller local options as well.
That said, of all the places in Canada, the rural parts of Saskatchewan and Manitoba actually have the most to gain from this unique way of approaching dinner.
As someone who has lived in small Manitoba towns the majority of their life, I predict that more and more people in the small cities, towns, and hamlets that dot our sparsely-populated provinces will sign up for meal kit subscriptions.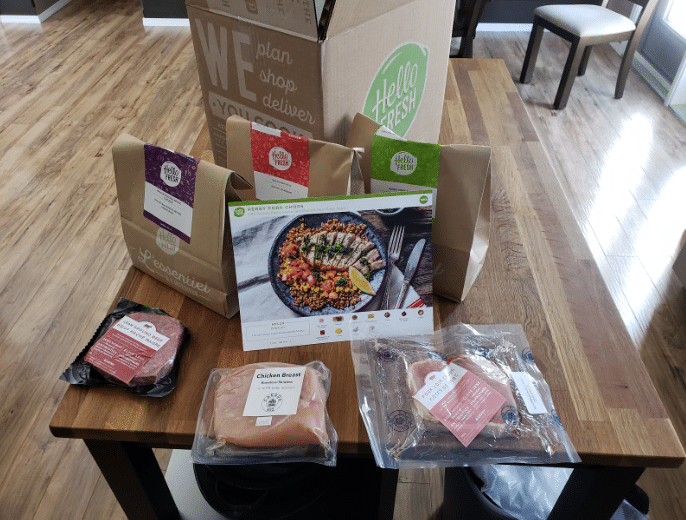 The Reason: Basic Math
The tradeoff with meal kits, is that you pay a bit more than you would groceries, in order to get all of the super tasty, convenient benefits.  But when you're discussing meal kits in Manitoba and Saskatchewan (outside the bigger cities) this tradeoff is not nearly as large due to the fact that groceries are more expensive AND less fresh because of their distance from major grocery warehouses.
This rural reality makes meal kits an excellent value.  By chopping out all of the middle men and supply chain logistics that major grocers and supermarkets have to deal with, companies like Hello Fresh, Chefs Plate, and Goodfood can get produce from farm-to-table much faster.  This means that rural people get access to the same super-fresh food that their urban counterparts enjoy!
See our Hello Fresh Review, Chefs Plate Review, and Goodfood Review for a more in-depth look at those companies.
Regardless of where you live.  Here's what you can expect from your meal kit:
1) More time and energy to focus on fun & family as opposed to meal planning and grocery shopping!
2) Less guilt about the calories and money spent on restaurant food.
3) Healthy recipes (created with the help of nutritionists) that don't sacrifice taste.
4) Hundreds of new ideas to add to your "supper rotation" going forward.
5) Way less rotting food to clean out of your fridge on garbage day.
What Does a Meal Kit Look Like?
With several different national and local meal kit companies available from Winnipeg to Saskatoon and Regina, the choices involved can be a bit overwhelming.  Many people opt to try all of their major options in order to take advantage of all of the first-week meal kit promo offer codes and compare the services directly in their area.
That said, the "Big 3" food subscription box companies tend to deliver a very consistent product across Canada.  As you can see below from my personal meal kit order, your meals for the week will arrive in an insulated box that keeps your meats cool with frozen ice packs, and the rest of your meal comes in self-contained bags.  Simply store in your fridge, and when supper time arrives, pluck out the bag and get cooking!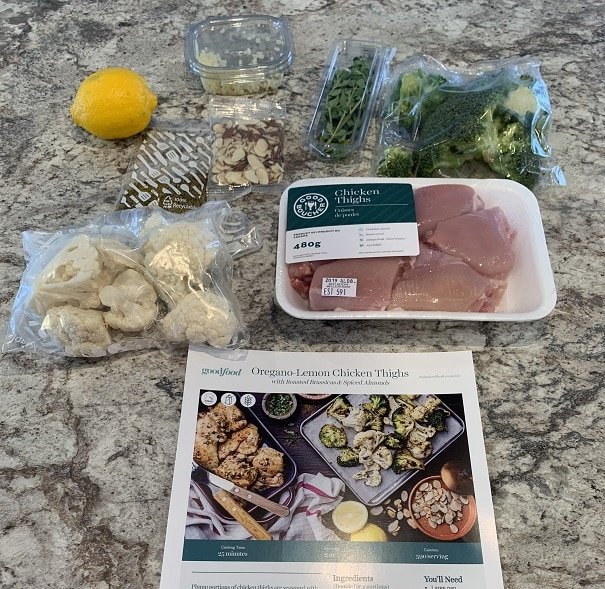 The engineering behind these boxes is excellent.  Everything (including the ice packs for Hello Fresh) is 100% recyclable, and I guarantee that it will keep your meat and produce cool no matter how hot and humid the Saskatchewan and Manitoba summers get!  When I first started ordering Hello Fresh over a year ago, I wanted to be positive that having a box sit on my doorstep for several hours wasn't going to have negative affects on my stomach.  So, as a test, I left a box outside from 11AM (when it arrived from Purlator) until 7PM. The high for the dat was 32 degrees, and it was humid! Upon opening the box, I was happy to find the icepacks were still more than 50% frozen and all of my produce and meat were quite chilled.  The double layers of insulation that the large meal companies make use of leave me feeling quite safe. When you think about it, Hello Fresh (which owns Chefs Plate as well) has delivered food subscription boxes all over the world, so I think it's pretty safe to assume that they've "climate-proofed" the meal kit delivery model!
Your meal kit delivery box will arrive on your step, parcel delivery room, place of work, or friendly neighbor's house (however you choose to receive your packages) in a single box.  Within your box, the meat will be separately packed for maximum chill factor, and can go right into the "meat" section of your refrigerator. The rest of the meal will be in colour-coded handy bags, ready to be individually placed in your fridge – and completely forgotten about until 30 minutes before supper needs to be on the table!
The meal kit box will also come complete with super-simple, picture + step-by-step recipe cards that have been tremendously helpful to me.  As a guy who hasn't exactly embraced the cooking aspects of food, so much as the eating aspect of food, I was pleasantly surprised at just how easy to follow the instructions were.
The only step left after taking 1-3 minutes to pick your meals for the week from your menu (there is a ton of choice available for the large meal kit delivery companies in Winnipeg, Saskatoon, and Regina), and one minute to unpack your box, is to actually cook the food.  Some meals are created specifically for a shortened 15-20 minute window, but most meal kit recipes take 30 minutes to go "from fridge to table".
I personally love the fact that I don't have to worry about having particular ingredients on hand, I simply rip open the bag, dump it on my counter, and get to cooking.  Thirty minutes later I'm my family's hero for conquering the dinner mountain that night! The only items that won't come in your meal kit box are kitchen essentials like various oils, salt, pepper, sugar, and milk.  
Why Meal Kits Are Perfect for Manitoba and Saskatchewan Residents
In addition to the freshness advantage that meal kits have (they locally source a lot of their produce and meat – then get it delivered to your house ASAP) the price difference between groceries and meal kits is much smaller for people that live in rural areas.
In researching an article that looked at a specific breakdown of the price of meal kits vs groceries and restaurant food, I came to the realization that the more expensive groceries are in your area – the better deal a meal kit becomes!
Therefore, in regards to rural meal kit delivery Manitoba and Saskatchewan, it's key to understand that the price of the meal kit is the same as it is for residents in Toronto or Vancouver.  Whereas your groceries can cost 20% to 100% more than what urban Canadians pay – and that's for less selection! Paying the same cost and getting the same freshness + selection that urban Canadians get, is simply a massive value for rural residents.  Not to mention rural grocery stores can be a pretty time-consuming drive vs the convenience urban residents enjoy.
Hello Fresh Delivers Across Manitoba and Saskatchewan
The most popular meal kit provider in Winnipeg, Regina, and Saskatoon (as well as the rest of Canada) is Hello Fresh.  The company has recently purchased the second largest meal kit company in Canada (Chefs Plate) and dominates the Canadian food subscription box market.  
Hello Fresh is not the absolutely cheapest option for meal kit delivery, but they are competitive on price, have the widest delivery map, and really try to outdo their competitors when it comes to overall quality and portion size.
My family can personally vouch for Hello Fresh, as we've enjoyed having the premium meal kit delivered right to our small-town Maintoba doorstep for over a year now.  There are many reasons to love meal kits, but for me personally, by far the biggest value is the mental space that has been freed up by not having to constantly think about the infamous, "What's for dinner?" question every day.
In the 14 months that we've been ordering 3-4 meals per week from Hello Fresh, we can honestly say that we have not received a meal that we didn't like.  Some have obviously been better than others, but I can decisively say that I would not have ranked any single meal below a 6 out of 10. Even that meal (a vegetarian dish) might be more my personal taste buds at work than anything else, since my wife claims it was a 7 out of 10 minimum.  The only negative thing I have to say is that occasionally our parsley or cilantro would be damaged by January's extreme cold. Even that is kind of petty nitpicking because in order to prevent freezing from occurring I could have my meal kit delivered to my workplace, I just chose the convenience of my doorstep over the minimal taste improvement of perfect herbs.  
The Hello Fresh App makes choosing next week's meals, a fun meal planning experience, as opposed to a never-ending chore.  All of our recipes are saved on the app for future reference if we wanted to create them from scratch. It's also two-click easy to skip a week or two if we're on vacation or just need to save a buck.
While the ease of planning and reduced stress has been the biggest contributor to our love of meal kits, the tasty food comes in a close second.  Hello Fresh consistently sends the largest portions of any of the national meal kit delivery services, and in my opinion, consistently exceeds any grocery store standards for freshness of produce.
GoodFood, Miss Fresh, and Chefs Plate in Winnipeg, Regina, and Saskatoon
The other Canada-wide food subscription box delivery options are Goodfood, Miss Fresh, and Chefs Plate.  
All three of these companies deliver to major cities right across the country and provide meal kits to Winnipeg, Saskatoon, and Regina amongst others.  Each has a delivery map that differs slightly when it comes to smaller towns and rural areas – and if you live in one of those places (like I do) then you're probably better off looking at Hello Fresh (at least until these other companies expand their delivery capability).
Chefs Plate:  The low cost little brother of Hello Fresh.  The company was started back in 2014 by Canadian entrepreneurs Patrick Meyer and Jaime Shea, before being purchased in 2018 by Hello Fresh.
All signs point to Chefs Plate being ran as a completely separate brand and company, that targets "value customers" looking to try the meal kit world for as low a price as possible or for whom cost is the top priority.  Chefs Plate is generally the low price leader amongst the large national meal kit companies. They also specialize in 15-minute supper creations to try to appeal to the extra time-crunched Canadian cook.
Goodfood: The largest Canadian-owned meal kit company and based out of Quebec, Goodfood's commercials refer to the company as "Canada's #1 Meal Kit".  Known for their Canadian-centric marketing strategy, Goodfood has teamed up with Canuck celebrities such as media personality Anne-Marie Withenshaw and professional snowboarder Mark McMorris to bring their meal kit across the Great White North.
Goodfood would be more of a direct competitor to Chefs Plate when it comes to price point, specialization in quick meals, and serving size.  They also pay particular attention to low-carb options on their menu.
Miss Fresh: The fourth most popular meal kit provider in Canada is Miss Fresh.  Miss Fresh in unique in that after selling the company to the Metro grocery empire, they are now able to leverage all of those brick-and-mortar locations into pickup points for their meal kits going forward.  Additionally, the company is obviously experimenting with adding other types of groceries to the new meal kit model, as you can see by their healthy breakfast and premium snack add-on options.
**Given that there are no Metro Grocery stores in the prairies, this probably isn't my first choice for Saskatchewan and Manitoba residents.  Miss Fresh might still deliver to you if you live in Winnipeg, Saskatoon, or Regina however.
Zesty Kits & More: Local Meal Kits in Winnipeg, Regina and Saskatoon
While there are a few ready-made meal delivery services in Manitoba and Saskatchewan (which we'll get to shortly) the only real direct comparison meal kit provider is Zesty Kits.  (Great Name!)
Zesty Kits was created by sisters Caterine and Annie Beaudoin, who wanted to share their passion for healthy eating with others.  They currently bring locally-made meal kits to Regina, White City, Pilot Butte, and Emerald Park, with plans to expand to Saskatoon in the near future.
Their three main plans are the:
Clean Food Plan

Plant-Based Plan

Vegan Plan
Clearly the Beaudoin sisters are devotees of whole food and ultra-clean living.
In a recent interview they revealed some background of Zesty Kits practices and food philosophy saying:
"We believe that food should be an experience rather than a chore. We want people to slow down and enjoy the cooking process. Wine pairing contribute to this so that everyone can enjoy the activity."
and
"ZestyKits is more than food. Once you teach someone to cook a healthy meal, they always have that skill.  ZestyKits is a teaching subscription."
In addition to Zesty Kits, there are a few local places that will make you meals to go including Bestfoodforward and Gainz Locker in Saskatchewan, as well as Prairie Box and 204 Meal Prep in Winnipeg.
While these companies offer a similar convenience model to meal kits like Hello Fresh or Zesty Kits, they are more expensive, and are simply not the same taste-wise as cooking a fresh meal that goes right from the pan or oven to your table.  Most of these types of businesses are also available for catering and those kind of culinary needs.
Overview of the Winnipeg, Saskatoon, Regina, Meal Kit Scene
If you live outside of the main cities on the prairies, Hello Fresh might be your only option if you want a meal kit delivered to your door.  I can 100% support this company as we've been eagerly opening their food subscription boxes for over a year now and have only good things to report.
If you live in Winnipeg, Saskatoon, or Regina (as well as a few of the other larger hub cities on the prairies) and find that cost is the foremost factor in your meal kit search, then I'd recommend giving Chefs Plate and/or Goodfood a try.
Finally, if you're all about the 100% commitment to whole food and clean eating, plus enjoy supporting local entrepreneurs, it would be worth your time to see if Zesty Kits' offerings tickle your taste buds!
With our exclusive promo offer codes, you can try a week of many of these meal kit options for a price that is cheaper than groceries – so why not check out a couple and see for yourself which meal kit company in Manitoba or Saskatchewan is the best fit for you?