Meal Kits in Winnipeg, Regina, and Saskatoon 2023
Meal kits in Regina, Saskatoon, Winnipeg, and the rest of the prairies are changing the way rural folks and small-city residents get their groceries. Now groceries are coming to their homes!
Residents of larger cities in Canada are fortunate in that many of the Canadian meal kit delivery companies are now likely to deliver in their area. There are at least four major meal kit delivery companies with service to Winnipeg, Regina, and Saskatoon, and a number of smaller local options as well.
That said, of all the places in Canada, the rural parts of Saskatchewan and Manitoba actually have the most to gain from this unique way of approaching dinner, or dinner approaching them. Let's find out why.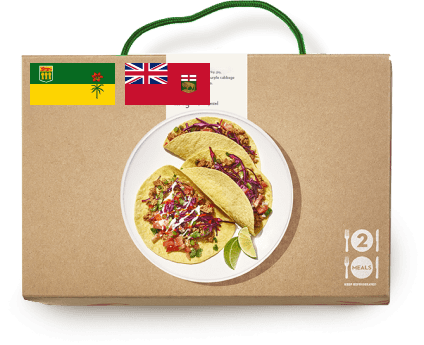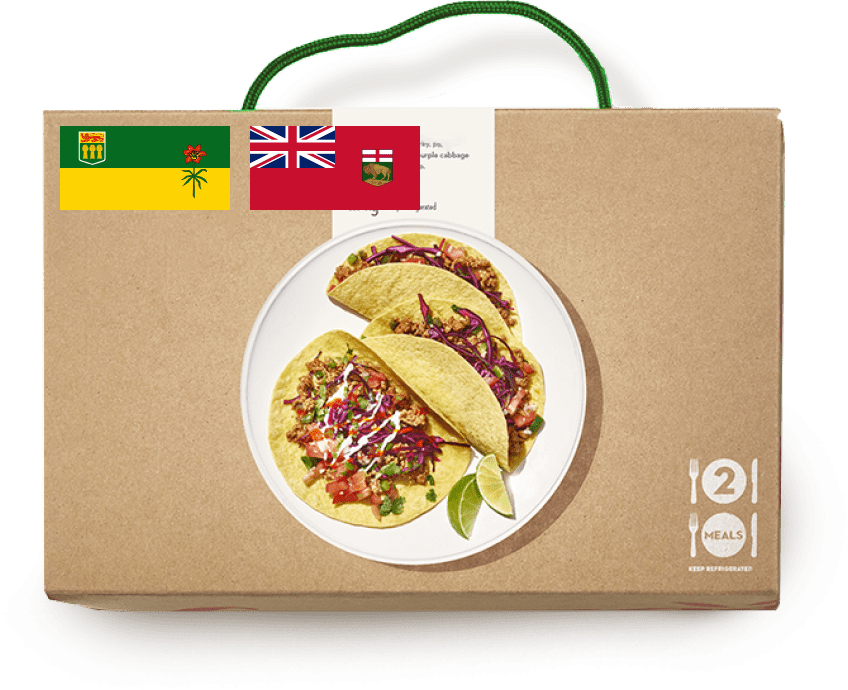 Background on Manitoba and Saskatchewan Area and Meal Kits Industry
| | Value |
| --- | --- |
| Population | 2,548,300 |
| Food stores per 100,000 ppl | 64 |
| Farms per 100,000 ppl | 1950 |
| Average family size | 2.75 |
| Experience difficulties with food budget | 40% |
| Eating fruits/vegies 5+ times a day | 25% |
| Time spent eating per day | 85 |
| Vegans and vegetarians | 6.9% |
Berry Pie – traditional Saskatchewan dish
Two central Canadian provinces, Manitoba and Saskatchewan, have over 2.5 million people living there. There are a lot of farms in the area, 1950 per 100,000 people, the highest number in Canada. However, there are only 64 stores per 100,000 residents, one of the lowest numbers in the nation. To fill in the gap, meal kit companies in Winnipeg, Regina, and Saskatoon are doing a great job delivering food to customers' homes and offices.
The average family size in Manitoba and Saskatchewan is three people, the same as in Alberta. Forty percent of families experience difficulties with the food budget. Having that in mind, meal kit companies like Chefs Plate design their meal recipes with prices as low as $8.99 per serving.
Almost seven percent of Manitoba and Saskatchewan residents are vegetarians or vegans. For them, most of the meal kit companies design plant-based meals in regular plans, and some offer vegetarian-only plans with an option to add proteins.
What Does a Meal Kit Look Like?
With several different national and local meal kit companies available from Winnipeg to Saskatoon and Regina, the choices involved can be a bit overwhelming. Many people want to try all of the major options to take advantage of the first-time customer meal kit promo offers and compare the services directly to their area. And there's no reason why shouldn't do this, especially when there are some great deals to be had. That way, you know which you prefer and what suits you and your family best. 
That said, the "Big 3" food subscription box companies tend to deliver a very consistent product across Canada. Your meals for the week will arrive in an insulated box that keeps your meats cool with frozen ice packs, and the rest of your meal comes in self-contained bags. Simply store in your fridge, and when supper time arrives, pluck out a bag, and get cooking!
The engineering behind these boxes is excellent. Everything (including the ice packs for Hello Fresh) is 100% recyclable. It will keep your meat and produce cool no matter how hot and humid the Saskatchewan and Manitoba summers get!
Your meal kit delivery box will arrive on your step, parcel delivery room, place of work, or friendly neighbour's house (however you choose to receive your packages) in a single box. Within your box, the meat will be separately packed for maximum chill factor and can go right into the "meat" section of your refrigerator. The rest of the meal will usually be in handy colour-coded bags, ready to be individually placed in your fridge—and completely forgotten about until 10-50 minutes before supper needs to be on the table!
The meal-kit box will also come complete with super-simple, pictures and step-by-step recipe cards that have been tremendously helpful not only to the novices in the kitchen but also to some of us who have already had experience in cooking. Still, there is so much more to learn, especially when you choose a recipe you haven't cooked before or have been too nervous to try.
Global Canadian Meal Kit Companies Servicing Winnipeg, Regina, and Saskatoon
The most popular meal kit provider in Winnipeg, Regina, and Saskatoon (as well as the rest of Canada) is HelloFresh. The company also purchased the second-largest meal kit company in Canada (Chefs Plate) and dominates the Canadian food subscription box market.  
HelloFresh is not the absolute cheapest option for meal kit delivery, but they are competitive on price, have the widest delivery area, and really try to outdo their competitors when it comes to overall quality and portion size.
Our team can vouch for HelloFresh, as we've enjoyed having the premium meal kits delivered right to our small-town Manitoba doorstep for over a year now. There are many reasons to love meal kits, but for us personally, by far the biggest value is the mental space that has been freed up by not having to constantly think about the infamous, "What's for dinner?" question every day.
The HelloFresh app or website makes choosing next week's meals a fun meal-planning experience, as opposed to a never-ending chore. All of our recipes are saved on the app for future reference if we wanted to create them from scratch, and you could do the same. It's also two-click easy to skip a week or two if we're on vacation or just need to save a buck.
Chefs Plate is the low-cost little brother of Hello Fresh. The company was started back in 2014 by Canadian entrepreneurs Patrick Meyer and Jaime Shea, before being purchased in 2018 by Hello Fresh.
All signs point to Chefs Plate being run long term as a completely separate brand and a company that targets "value customers" looking to try the meal kit world for as low a price as possible, or for whom cost is the top priority. Chefs Plate is generally the low-price leader among the largest national meal kit companies. They also specialize in 15-minute supper creations to try to appeal to the extra time-crunched Canadian cook. This doesn't mean the meals aren't tasty or fresh because they are — you'll still benefit from a fabulous homemade dinner, just without a higher price tag.
The largest Canadian-owned meal kit company is based out of Quebec, and Goodfood's commercials refer to the company as "Canada's #1 Meal Kit." Known for their Canadian-centric marketing strategy, Goodfood has teamed up with Canuck celebrities such as media personality Anne-Marie Withenshaw and professional snowboarder Mark McMorris to bring their meal kit across the Great White North.
Goodfood is the most expensive option of the "Big 3, but their food is high-quality and there are often more sophisticated recipes if you prefer that. They also pay particular attention to low-carb options on their menu.
Local Meal Kit Companies in Manitoba and Saskatchewan
Zesty Kits
While there are a few ready-made meal delivery services in Manitoba and Saskatchewan (which we'll get to shortly) the only real direct comparison as a meal kit provider is Zesty Kits (great name!).
Zesty Kits was created by sisters Catherine and Annie Beaudoin, who wanted to share their passion for healthy eating with others. They currently bring locally-made meal kits to Regina, Saskatoon, White City, Pilot Butte, and Emerald Park, with plans to expand to Winnipeg in the near future.
Their four meal plans are the:
Carnivore Plan

Clean Food Plan

Plant-Based Plan

Vegan Plan
Clearly, the Beaudoin sisters are devotees of whole food and ultra-clean living. In an interview they revealed some background of Zesty Kits practices and food philosophy saying: 
"We believe that food should be an experience rather than a chore. We want people to slow down and enjoy the cooking process. Wine pairing contributes to this so that everyone can enjoy the activity." And, "ZestyKits is more than food. Once you teach someone to cook a healthy meal, they always have that skill. ZestyKits is a teaching subscription." You can try Zesty Kits today and save $20 with coupon code MKC.  
In addition to Zesty Kits, there are a few local places that will make you meals to go including Bestfoodforward and Gainz Locker in Saskatchewan, as well as Prairie Box and 204 Meal Prep in Winnipeg.
Overview of the Winnipeg, Regina, and Saskatoon Meal Kit Scene
If you live outside of the main cities on the prairies, Hello Fresh might be your only option if you want a meal kit delivered to your door. We can 100% support this company as we've been eagerly opening their food subscription boxes for over a year now and have only good things to report.
If you live in Winnipeg, Saskatoon, or Regina (as well as a few of the other larger hub cities on the prairies) and find that cost is the foremost factor in your meal kit search, then we'd recommend giving Chefs Plate a try.
Finally, if you're all about the 100% commitment to whole food and clean eating, plus enjoy supporting local entrepreneurs, it would be worth your time to see if Zesty Kits' offerings tickle your taste buds!
With our exclusive promo offer codes, you can try your first week or more with many of these meal kit options for a price that is cheaper than groceries—so why not check out a couple and see for yourself which meal kit company in Manitoba or Saskatchewan is the best fit for you? We hope that more meal kit companies will come to Manitoba and Saskatchewan soon and add even more variety to the meal kit market. 
Frequently Asked Questions:
What meal kits are available in Regina?
Does Goodfood deliver in Winnipeg?
What meal kits are available in Winnipeg?
Does Goodfood deliver in Saskatoon? ?
Does Goodfood deliver in Regina?

Chefs Plate: Get 67% OFF the 1st Box + 22% 2nd & 3rd!
Apply discount
HelloFresh: Get up to 20 Free Meals
Apply discount