Chefs Plate vs. Good Food
As two of the three biggest meal kit delivery companies in Canada, our readers asked that we do a direct Chefs Plate vs Good Food comparison. It can be a tough decision to prefer one over the other. Actually, you can try them both! Chefs Plate and Good Food are battling to be the low-price leaders when it comes to meal kits in Canada. To be honest, both are offering overall very comparable products. That said, some unique attributes may be key in your decision to go with one over the other. Take a look at our tables for quick comparison and read the more detailed information below.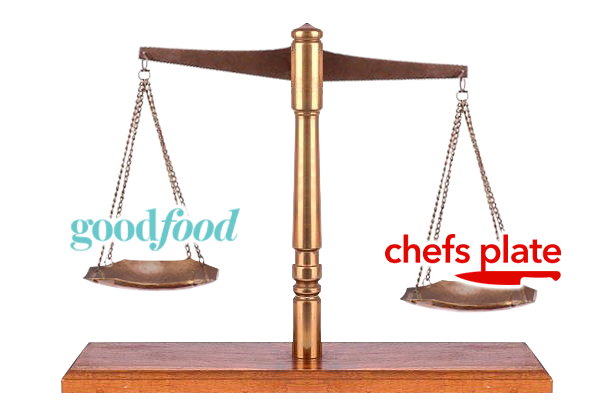 Easy Chefs Plate vs. Goodfood Comparison
| | | |
| --- | --- | --- |
| Detailed review | Chefs Plate Review | Good Food Review |
| Established | 2013 | 2016 |
| Delivery area | AB, BC, MB, NB, NS, ON, PE, SK | AB, BC, MB, NB, NS, ON, PE, QC, SK |
| Number of meals to choose from each week | 15 | 3-12 |
| Сooking time (min) | 15 min | 20 min |
| BBB Rating | B+ | No rating |
| Groupon Rating | | |
| Downloadable App | | |
| Price per serving | $8.33 | $10.43 |
| Weekly Total (3 Recipes, 2 people) | $59.97 | $62.58 |
| | | |
Chefs Plate is considered to be the most budget-friendly meal kit in Canada. Besides, Chefs Plate offers Canada's best meal kit promo code. You can get a 50% discount or up to eight plates free if you order the family size kit. These great promotions and affordable prices made Chefs Plate the second most popular kit in the country, next to Hello Fresh, and Good Food is the third.
Chefs Plate was established earlier than Good Food, but Good Food offers wider coverage. Both companies offer a comparable number of meals to choose from and comparable cooking times. Chefs plate has a purely-vegetarian subscription, while Good Food has more low-carb options.

Chefs Plate is registered with the Better Business Bureau and has a rating of B+, while Good Food is not rated with the BBB. Groupon ratings are comparable for both companies.
Quick Conclusions
If you are in Quebec or Atlantic Canada and want to support a locally-based company— then Goodfood will likely be the way to go. In all other cases, we believe that Chefs Plate has a substantial advantage. They have an excellent promo code offer that you can use to try them out (just click the link below), and they consistently offer 15+ recipes to choose from each week. In case you prefer a lot of variability in your food, this is the meal kit for you. Additionally, it has to be factored in that with Hello Fresh now partnering with Chefs Plate, the combined logistical power of that company should ensure that Chefs Plate gets the freshest produce to your door as quickly as possible going forward. The deciding factor for you might be as simple as the convenience advantage that the Chefs Plate app and website brings to the table. Both are really easy to use. Before making your final decision, you can also check out our full, in-depth Chefs Plate review and/or our Good Food review.
Click this promotional link and insert one of the Chefs Plate promo codes below to become eligible for the discount offer.
Chefs Plate vs. Good Food Meal Choices
Overall, Chefs Plate and Good Food offer comparable meal options in terms of a variety of meat, poultry, seafood, and vegetables. The recipes are also comparable in terms of caloric intake. Good Food offers 350 calories per serving, while Chefs Plate meals are 400 calories per serving. Chefs Plate takes good care of those customers who have food allergies by offering a list of allergens to them. With Good Food, this list is not available at the moment.
What You Get With Either Chefs Plate or Goodfood
It is worth noting here that these two leading Canadian food subscription boxes have much more in common than not. The main question you should ask yourself is not what the best Canadian meal kit is, but whether your meal kits are a perfect fit for you.
While we preferred the taste of Chef's Plate vs the taste of Goodfood, it's key to understand that taste is subjective. In addition to trying these meal kits personally, we've talked many of our friends and family into trying these meal kits and giving us their opinions. Finally, to make this Chefs Plate vs Good Food review as comprehensive as possible, we scanned review sites, YouTube unboxings, and various social media platforms to get as many first-hand looks as possible. While Chef's Plate seemed to win out roughly 75% of the time based on taste, there were several Canadians that preferred Goodfood. Many reviewers had only tried three meals of each, which isn't a big enough sample size to be relevant.
Regardless of if you decided to go with Goodfood or Chef's Plate, you will be signing up for getting the following awesome life changes in your weekly meal kit box:
Our team has been eating meal kits for over 15 months now, and they've changed our whole relationship with supper. It's well worth the extra buck or two per meal that meal kits cost relative to groceries to only worry about supper 30 minutes before it has to be on the table—and to know it's going to be healthy and fresh!

Check out our Hello Fresh Review for the other major Canadian meal kit company and Hello Fresh vs. Good Food, Fresh Prep vs. Hello Fresh, and Chefs Plate vs. Hello Fresh comparison.