Chefs Plate vs Goodfood 2023 (Which is Right For You?)
As two of the three biggest meal kit delivery companies in Canada, our readers asked that we do a direct Chefs Plate vs Goodfood comparison. It can be a tough decision to prefer one over the other. Especially since a lot of the time it boils down to personal preference. Chefs Plate and Goodfood are battling to be the low-price leaders when it comes to cheap meal kits in Canada. To be honest, both are offering overall comparable products. That said, some unique attributes may be key in your decision to go with one over the other.
In fact, these two leading Canadian food subscription boxes have many similarities and many differences. The aim of this article is to help you identify what factors are most important to you when choosing between Goodfood vs Chefs Plate based on your needs so you can find the meal kit that's the best fit for you.
While taste is subjective, gathering many people's subjective opinions can help construct a more objective rating. To make this Chefs Plate vs Goodfood review as comprehensive as possible, we scanned review sites to record as many first-hand opinions as possible, plus we looked at the companies' websites too and other information available online. We've even tried both meal kits ourselves. Take a look at our tables and lists for quick comparisons and read the more detailed information below.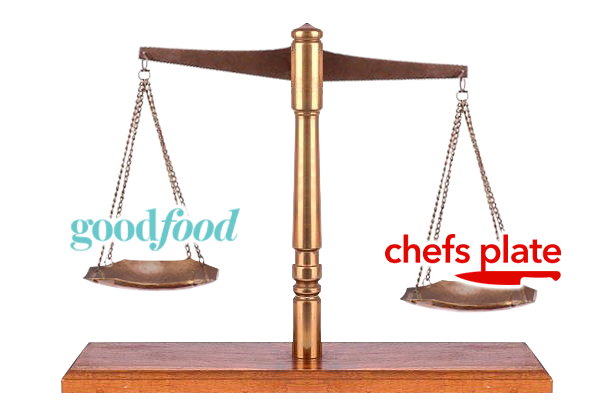 Quick Chefs Plate vs. Goodfood Comparison
| | | |
| --- | --- | --- |
| Detailed review | Chefs Plate Review | Goodfood Review |
| Established | 2013 | 2014 |
| Delivery area | AB, BC, MB, NB, NS, ON, PE, QC, SK | AB, BC, MB, NB, NS, ON, PE, QC, SK |
| Number of meals to choose from each week | 24 | 5-13 |
| Cooking time (min) | From 15 min | From 10 min |
| Groupon Rating | | |
| Downloadable App | | |
| Price per serving | $8.99 – $9.99 | $10.74 – $16.99 |
| Weekly Total (3 Recipes, 2 people) | $59.94 | $86.94 – $101.94 |
| | | |
Chefs Plate is considered to be the most budget-friendly meal kit in Canada. On top of this, Chefs Plate offers Canada's best meal kit promo code for new clients. You can get a $100 discount or up to eight plates free if you order the family size kit. These great promotions and affordable prices made Chefs Plate the second most popular kit in the country, next to HelloFresh, and Goodfood is the third.
Chefs Plate was established earlier than Goodfood, but Goodfood offers wider coverage. Both companies offer a comparable number of meals to choose from and comparable cooking times. Goodfood has a purely vegetarian meal subscription, although there are just five meals available each week. Chefs Plate lets you choose from any of its 24 recipes on the weekly menu and has seven vegetarian meals on offer each week. 

Pros & Cons
Let's look at the pros and cons of each brand to see what their biggest advantages and disadvantages are:
Chefs Plate Pros
Goodfood Pros

✔️ Has the cheapest prices available

✔️

Fresh, high-quality ingredients

✔️ Choose from add-ons like extra proteins or salad

✔️ Low-carb meal plan available

✔️

A wide variety of meals on offer

✔️

Reusable and recyclable packaging

✔️

Fresh, high-quality ingredients

✔️

Some recipes are customizable

✔️

Recyclable packaging

✔️

Canadian owned

✔️

Discounts for students and seniors
| | |
| --- | --- |
| Chefs Plate Cons | Goodfood Cons |
| ✖️ Limited dietary options | ✖️ Less variety in the weekly menu |
| | ✖️ Can't customize meals |
Quick Conclusions
If you are in Quebec or Atlantic Canada and want to support a locally-based company— then Goodfood will likely be the way to go. In all other cases, we believe that Chefs Plate has a substantial advantage. They have an excellent promo code offer that you can use to try them out (just click the link below), and they consistently offer 24 delicious recipes to choose from each week. In case you prefer a lot of variety in your food, this is the meal kit for you. Additionally, it has to be factored in that HelloFresh owns Chefs Plate, the combined logistical power of that company should ensure that Chefs Plate gets the freshest produce to your door as quickly as possible. The deciding factor for you might be as simple as cost. After all, both offer websites and apps that are really easy to use. Before making your final decision, you can also check out our full, in-depth Chefs Plate review and/or our Goodfood review.
Click this promotional link and insert one of the Chefs Plate promo codes below to become eligible for the discount offer.
Goodfood vs Chefs Plate Meal Choices
Overall, Chefs Plate and Goodfood offer comparable meal options in terms of a variety of meat, poultry, seafood, and vegetables. The standard recipes are also comparable in terms of caloric intake. Both take good care of those customers who have food allergies by offering a list of allergens with recipes. Although, neither can guarantee there isn't any cross-contamination where the meal kits are assembled, so they aren't suitable if you or a loved one has serious allergies. 

Here are some sample recipes for each of the companies, which could help you decide on Goodfood vs Chefs Plate:


Goodfood
Chefs Plate
Vegan

•

Caramelized onion, peanut and sweet soy
ramen noodles with Asian greens

•

Creamy black bean curry with steamed Basmati
rice
Vegetarian

•

Cozy creamy veggie Orzotto with broccoli,
mushrooms and grana padano

•

Chimichurri nourish bowls with roasted
chickpeas and broccoli
Seafood

•

Spicy shrimp a La Marseillaise with crisp
salad with honey-dijon vinaigrette

•

One-pot Italian fish and farro with braised
veggies
Chicken

•

Teriyaki-glazed chicken and veggie traybake
with peanuts and Wafu dipping sauce

•

Bacon-wrapped chicken and apple-mustard
sauce with mashed potatoes and roasted veggies
Meat

•

Top sirloin steaks over pearl couscous salad
with roasted red pepper vinaigrette

•

Creamy beef penne with sauteed mushrooms
Pricing
Goodfood
has five possible plans to choose from: Classic, Vegetarian, Easy Prep, Low Carb, or Family. The prices vary depending on the plan, and vegetarian is the cheapest (on the plans it's available on), and low carb is always the most expensive option. Here are the prices per serving on the different weekly plans:
•

2 people / 3 recipes

(no family plan available) = $13.49 – $16.99

•

2 people / 4 recipes

(no vegetarian or family plan available) = $13.49 – $16.49

•

4 people / 2 recipes

(all plans available) = $12.49 – $16.49

•

4 people / 3 recipes

(all plans available) = $11.49 – $15.49

•

4 people / 4 recipes

(no vegetarian plan available) = $10.74 – $14.24
Chefs Plate pricing and meal plans are different from Goodfood's because you will pay the same for any meal you choose, regardless of the ingredients. Chefs Plate does let you pick from three preferences: Meat and Vegetables, Vegetarian, or Family Friendly — which means these types of recipes will show up first each week, but you're still able to choose from any of the available meals. Here are the prices per serving on the different weekly plans with Chefs Plate:
| | | | | |
| --- | --- | --- | --- | --- |
| | 2 Recipes | 3 Recipes | 4 Recipes | 5 Recipes |
| 2 People | $9.99 | $9.99 | $9.99 | $9.99 |
| 4 People | $8.99 | $8.99 | $8.99 | $8.99 |
Packaging: Environmentally Friendly or Not?
Most customers worry about the effect that packaging has on the environment. In fact, meal kits create less waste and emissions than driving to the supermarket and buying ingredients for dinner there. Also, meal kit companies tend to make an effort to minimize their negative impact on the environment so you'll find lots of reusable or recyclable packaging options. Let's look at packaging when it comes to Chefs Plate vs Goodfood. 

You'll be pleased to know that both of these brands value the environment and take great care when it comes to their packaging. When it comes to Chefs Plate, the boxes are 100% recyclable so you can add them to your regular household recycling. The kit bags and cool pouches are both made from compostable materials, you just need to remove the sticker from the bag and the zipper from the pouch before composting them or adding them to your green bin.

When it comes to Goodfood, they also do a great job when it comes to packaging and even have an added extra: reusable boxes. The standard cardboard boxes, insulation liners, bags, and bottles are all made of recycled materials and are also entirely recyclable (depending on your location). Goodfood also has a Reusable Box Program, which lets you have your meal kits delivered inside reusable boxes that you hand back to the driver each time or leave out wherever your order gets dropped off. There is just a $50 deposit and this is returned if you opt out of the scheme and return to cardboard boxes. 
Customer Reviews
Customer reviews are a great way to get to know a company better before trying them out. They may help you determine which is right for you based on you and your family's needs. For example, one company might score better on food quality, while another might have more favourable reviews about the delivery service. You probably already have an idea of what's important to you. Let's take a look at what customers say about Chefs Plate vs Goodfood. 
Trustpilot Reviews
Chefs Plate Canada gets an average star rating of 3.8 out of 5. On the whole, customers like the portion sizes, the variety, how easy the recipe cards are to follow, and how fresh the ingredients are. Some customers have mentioned that more kid-friendly meals would help and that they'd like to be able to swap vegetables and not just the protein portion of a meal. 
Goodfood gets an average star rating of 3.7 out of 5. On the whole, customers like how well-balanced the meals are, the sustainable packaging, and that dinners are easy to throw together. Some customers complained about late deliveries or missing deliveries some weeks and that recipes are complicated to follow at times.
Google Reviews
Chefs Plate gets 3.8 out of 5 stars on Google. Here, many customers rave about how tasty the meals are and easy to cook (plus, they include photos of meals they've cooked). Most say the freshness and quality of the food is one of their favourite aspects, whereas some customers said they'd had the opposite experience and received vegetables that were wilted or had gone rotten.
Goodfood gets 2.7 out of 5 stars on Google. Here, some customers complained that one item or more were missing from deliveries. Many customers said they like the Goodfood smoothies. 
As with all customer reviews, it's important to remember that people are most likely to write a review when they're unhappy or extremely happy. It seems that with these companies (and most meal kits), delivery often comes down to the region where people live. For this reason, we'd suggest you try a couple of meal kit companies out to see what works best for your area and so you can try the meals out yourself. 
Our Verdict: Chefs Plate vs Goodfood
Although Chef's Plate seems to win out roughly three-quarters of the time based on taste, there are also many Canadians who prefer Goodfood. Beyond the taste of the meals, it's also critical to weigh up the pricing and organization of each company. Chefs Plate has received high reviews for their user-friendly platform and the high level of flexibility for delivery with this meal kit. Chefs Plate also offers lower prices for similar meals when compared to Goodfood. Meanwhile, Goodfood has more meal plan options, but it's important to note that many of these plans don't have as much variety within them—sometimes as few as five recipe options to choose from.

If you're still unsure which is right for you, why not try them both out to compare them? That way, you'll be able to taste the meals, see how easy they are to cook, find out how well the delivery works to your postal code, and make a solid choice. You can always start with Chefs Plate and claim your discount on your first three boxes. 
Check out our HelloFresh Review to learn about the last Canadian meal kit company that makes up "the big three." To get more side-by-side comparisons of major Canadian food subscription boxes, visit our pages on HelloFresh vs. Goodfood, Fresh Prep vs. HelloFresh, and Chefs Plate vs. HelloFresh.
Significantly lower prices

Convenient ordering system and delivery flexibility
Higher prices

More plans available, but fewer meals in each plan
Fuss-free dishes at wallet-friendly prices. Order now for meals starting at $2.99/serving + Free Shipping on 1st box
Claim Now
Read about other meal kits comparison articles
Frequently Asked Questions:
How much is Chefs Plate a month?
How much is Goodfood a month?
Does Chefs Plate let you choose your meals?
Does Goodfood let you choose your meals?
Is Chefs Plate the same as Goodfood?