GoodFood vs HelloFresh Comparison Review (2023)
As two of Canada's top meal kit companies (the only other competitor on their level being Chefs Plate), the GoodFood vs HelloFresh comparison is an important one for Canadians trying to decide which meal kit fits their family's taste buds best! While Goodfood and HelloFresh deliver fresh produce and excellent recipes to your door each week, we discuss some key differences in our comparison tables below, and also go into more detail on the most important factors. Feel free to take some time to check them out. Compare them, contrast them, and decide which company works best for you.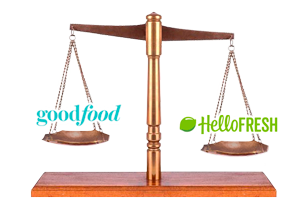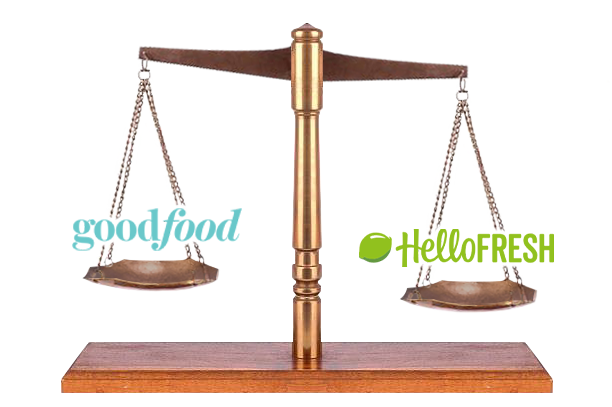 Quick GoodFood vs HelloFresh Comparison
Detailed review
HelloFresh Review
GoodFood Review
Established
2016
2016
Delivery area
AB, BC, MB, NB, NL, NS, ON, PE, QC, SK
AB, BC, MB, NB, NS, ON, PE, QC, SK
Number of meals to choose from each week
35+
18
Сooking time (min)
From 20 min
From 10 min
Google Rating
Downloadable App
Price per serving
From $9.25
From $10.74
Weekly Total (3 Recipes, 2 people)
$82.99
$86.94

Get a total of 20 free meals off for
your first HelloFresh recipe boxes

Claim Promo Now
While comparing GoodFood vs HelloFresh, we noticed that both companies started offering meal kit delivery in the same year. However, by 2023, HelloFresh covered more provinces delivering meals to nearly every Canadian household, although Goodfood is constantly expanding its delivery zones. To find out if they deliver to your door, use our meal kit company search tool. Other advantages of HelloFresh include the largest portion size of all Canadian meal kits, an easy-to-use app, and an excellent sign-up offer that saves you $200 just by clicking on the promo button on this page. HelloFresh is available online and on any mobile device. Their app is very convenient to use. In just a few clicks, you can order your meals for the next several weeks or even postpone your subscription. Unfortunately, GoodFood does not have a downloadable app yet.
Also, GoodFood Company used to have some of the lowest-priced meal kits in Canada (after Chefs Plate) but this has changed and they're now somewhere in the middle. It is still the third most popular meal kit in Canada so you know that their offering is good.
Pros & Cons
Let's look at the pros and cons of each brand to see what their biggest advantages and disadvantages are:
 HelloFresh Pros
Goodfood Pros

✔️ Is the cheaper option

✔️

Fresh, high-quality ingredients

✔️ Choose from add-ons like desserts and sides

✔️ Has Keto-specific meals

✔️

A very wide variety of meals on offer

✔️

Reusable or recyclable packaging

✔️

Fresh, high-quality ingredients

✔️

Free delivery with all plans

✔️

Carbon neutral company

✔️

Canadian owned

✔️

Has a downloadable app
| | |
| --- | --- |
| HelloFresh Cons | Goodfood Cons |
| ✖️ Limited dietary options | ✖️ Less variety in the weekly menu |
| ✖️ No free delivery option | ✖️ More expensive |
Quick Conclusions
After not only trying out both meal kits (we ordered two weeks with Goodfood) and have been a HelloFresh customer for well over a year now — plus we canvassed our friends and family, several of whom are subscribed to each meal kit delivery service — we feel confident in saying that our firsthand Canadian meal kit knowledge is unmatched. Plus, we delved deep into customer reviews to get a thorough representation of people across Canada and their satisfaction levels. 
If price is the main consideration in your family's meal kit journey, or a big factor, then HelloFresh is considerably cheaper. HelloFresh also offers a much larger variety of meals on their weekly menu. This is an important factor if you're cooking for kids, because they often have pickier tastes. Both companies use recyclable packaging, although Goodfood wins out here slightly if you sign up for the Reusable Box Program, where you won't need to recycle boxes as you'll have two reusable boxes assigned to you and on rotation. We think both of these companies offer a solid service and fresh ingredients, so you won't be disappointed with either. 

Check out our HelloFresh and GoodFood reviews for an in-depth look at each company. To see how all of the Big Three meal kit companies compare to each other, сheck out Chefs Plate vs. HelloFresh, HelloFresh vs Goodfood vs Chefs Plate, and Chefs Plate vs. GoodFood comparisons.
HelloFresh vs Goodfood Meal Choices
It was interesting to compare HelloFresh vs GoodFood regarding meal options. Both companies have an excellent selection of meals to choose from, but Hello Fresh offered more variety. While HelloFresh offered more than 35 meals to choose from, GoodFood offered significantly fewer, with 18.
When we compared recipes in both companies for a given week, it turned out that GoodFood had more meat variety, while HelloFresh offered more vegetarian recipes. Both companies have low-carb options on their menu, Goodfood with five meals and HelloFresh has at least two each week. They both also have family-friendly meals but only HelloFresh offers low-calorie meals. And if you have a special occasion to celebrate, both have premium meals that include luxury ingredients. Something that's new to HelloFresh is the option to add delicious extras (desserts and sides). At this time, Goodfood doesn't offer these extras. 

Here are some sample meals that have been available: 
| | |
| --- | --- |
| HelloFresh | Goodfood |
| • Minestrone-inspired tortellini soup with cheesy croutons | • Quick basil pesto & mascarpone flatbreads with cherry tomatoes, red onions & crisp salad |
| • Fajita-style beef bowls with basmati rice and lime crema | • Vegan lemon & cashew butter bucatini with kale, zucchini, & marinated artichokes |
| • Seasoned shrimp and roasted potatoes with feta salad | • Spicy salsa verde chicken & cheese skillet with orzo, peas, & butternut squash |
| • Mixed mushroom and pea cottage pie with mashed potatoes | • Tandoori tilapia with honey-lime yogurt sauce & garlic-ginger string beans |
| • Panko-crusted chicken with spiced fries and gravy | • Creamy leek cheese tortellini with sesame-dressed beet & apple salad |
Plans and Pricing: Goodfood vs HelloFresh
Goodfood has five possible plans to choose from: Classic, Vegetarian, Easy Prep, Low Carb, or Family. The prices vary depending on the plan, and vegetarian is the cheapest (on the plans it's available on), and low carb is always the most expensive option. Here are the prices per serving on the different weekly plans:
•

2 people / 3 recipes

(no family plan available) = $13.49 – $16.99

•

2 people / 4 recipes

(no vegetarian or family plan available) = $13.49 – $16.49

•

4 people / 2 recipes

(all plans available) = $12.49 – $16.49

•

4 people / 3 recipes

(all plans available) = $11.49 – $15.49

•

4 people / 4 recipes

(no vegetarian plan available) = $10.74 – $14.24
HelloFresh has more than 35 recipes to choose from and bases its plans solely on the number of people you're ordering for and the number of recipes you want. You can choose from any of the meals available each week. That means that vegetarian vs meat meals don't differ in price. Here are the prices per serving on the different weekly plans.

| | | | |
| --- | --- | --- | --- |
| | 3 Recipes | 4 Recipes | 5 Recipes |
| 2 People | $12.16 | $11.87 | $11.50 |
| 4 People | $10.83 | $10.31 | $9.25 |
Dietary Requirements
Goodfood prepares all food safely and indicates the allergens on each recipe, so you can look at this before you order. Ingredients are pre-portioned in individual packages so you can leave out ingredients. However, the boxes are all assembled in the same processing facility so they can't guarantee there isn't cross-contamination. Goodfood doesn't recommend ordering if you have severe allergies. 
HelloFresh also lists the ingredients and allergens on each recipe so you can check them out before ordering. You can also swap ingredients in some of their recipes, so this is an advantage if there's something you or your loved ones don't like or can't eat. However, they can't rule out the risk of cross-contamination completely so it may not be suitable if you have severe allergies. 
In terms of diets, Goodfood has keto and paleo meals on the menu each week, although there are usually five to choose from in total. This might be fine if you're just ordering a couple of recipes a week and like their recipes (most of the low-carb options are really tasty). It can be difficult sticking to a diet on your own, so this can be a great way to learn what to cook on a low-carb diet and stay motivated. They also have five vegetarian meals each week (and one of these is usually vegan). 
HelloFresh doesn't have diet-specific recipes, although they do have Calorie Smart meals (650KCal or less) and Carb Smart meals (less than 50g of carbs). These are quite broad and are suitable for a range of diets. You'll also find around five vegetarian meals on the menu each week, although there are no guarantees of a vegan meal each week.
Sustainability, Packaging, and Delivery
When it comes to whether or not these meal kit companies are green, the good news is they both are. Let's compare Hello Fresh vs Goodfood to see if we can arrive at a clear winner. 

Hello Fresh is the first global carbon-neutral meal kit company, which is a really great achievement. When it comes to packaging, everything is fully recyclable or compostable. When it comes to Goodfood, depending on where you live, the cardboard box, bags, insulation liner, and bottles may all be recyclable, and they're made of recycled materials. There is also a Reusable Box Program, which is available in some regions. If it is in your location, you can pay a $50 deposit and you will have two reusable boxes delivered on a rotating cycle. Both of these companies are conscientious about the environment, which is great to see. They both go about it in slightly different ways too and have their advantages in different areas. 

When it comes to delivery, Goodfood delivers to Quebec, Ontario, Manitoba, Saskatchewan, Alberta, British Columbia, and the Maritimes. They offer free delivery with meal subscription orders, and in some locations offer same-day or next-day delivery. HelloFresh delivers to Ontario, Manitoba, Saskatchewan, Alberta, British Columbia, Québec, Newfoundland, and the Maritimes, covering 95% of the Canadian population. There is a $9.99 shipping fee added to every order, except if you live in Newfoundland, where it's $19.98. 
Customer Reviews: Fresh Prep vs HelloFresh
At the time of writing, HelloFresh Canada got an average of 3.9 stars out of five on Trustpilot. To give you an idea of the most positive and negative ratings, 45% of reviewers gave five stars and 6% gave one star. Most are really happy with HelloFresh and some of the most common positive themes were around the variety of recipes to choose from, the convenience and ease of ordering, and how simple the recipes are to follow. Some of the negative experiences were around ingredients going off before the use-by date, and the plastic packaging some items come wrapped in. Here is a well-balanced review left by one customer:

"Overall, I am so happy with Hello Fresh and the time it saves me having to figure out what to make for dinner every night. Ordering HelloFresh has also saved me money from having to buy many of the groceries I usually buy the weeks that I order my meal kits. The meal varieties are great and my family has loved every meal so far. I changed my last order before delivery and ended up receiving the original choices and not my changes. HelloFresh made it right without question by offering me credit towards my next order. These meals are definitely worth it!"

At the time of writing, Goodfood got an average star rating of 3.7 out of 5. To give you an idea of the most positive and negative ratings, 58% of reviewers gave five stars and 5% gave one star. On the whole, customers like how well-balanced the meals are, the sustainable packaging, and that dinners are easy to throw together. Some customers complained about late deliveries or missing deliveries some weeks and that recipes are complicated to follow at times. Here is a well-balanced review left by one customer:

"I love the recipes most often and enjoy having variety and new ideas I get from them and the ease of just ordering and having it all delivered. Recipes are elaborated and interesting as opposed to other companies. Portions are starting to decrease with price increasing though. I'd rather get my full portions like before and pay a little more. Some effort could be put to reduce waste and plastic."
What You Get With Either Company
At first glance, HelloFresh and Goodfood are two very similar meal kit services. However, digging deeper, their food subscription boxes are actually pretty different. As you've seen, many big factors from the pricing to the number of meals on offer are distinct from one another. 
Both HelloFresh and GoodFood aim to make their meal kits environmentally friendly by delivering the ingredients in high-quality recyclable boxes that are fully insulated and will keep your food cool for 24 hours after delivery. They each make a real effort to source food locally whenever possible, although the Canadian climate is an obvious limiting factor here. Nevertheless, both companies vow to cut down on time spent between the farmer's field and your refrigerator. This helps them to offer fresh food which is better for you than canned or frozen. 
The key takeaway is that while both HelloFresh and Goodfood have plenty of strengths, consumer reviewers consistently give higher marks to HelloFresh. This discrepancy is why HelloFresh ranks above GoodFood's review of Canada's best meal kits.
Lower prices

Significantly better reviews
Menu choices comparable to HelloFresh

Fewer positive reviews
Read our other meal kits comparison articles
Frequently Asked Questions:
Is HelloFresh the same as good food?
HelloFresh is a different company from Goodfood. Both deliver meal kits in Canada but the pricing, meal types, delivery area, and customer service are different.
Goodfood vs Hello Fresh for keto meals?
Is Goodfood or HelloFresh cheaper?
Can HelloFresh or Goodfood help with weight loss?
Which company has the fastest recipes to cook?
What are the benefits of Goodfood vs HelloFresh?