GoodFood vs. HelloFresh
As two of Canada's top meal kit companies (the only other competitor on their level being Chefs Plate), the GoodFood vs. HelloFresh comparison is an important one for Canadians trying to decide which meal kit fits their family's taste buds best! While GoodFood and HelloFresh deliver fresh produce and excellent recipes to your door each week, we discuss some key differences in our comparison tables below. Please take a minute to check them out. Compare them, contrast them, and decide which company works best for you.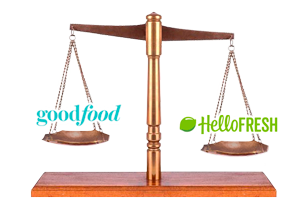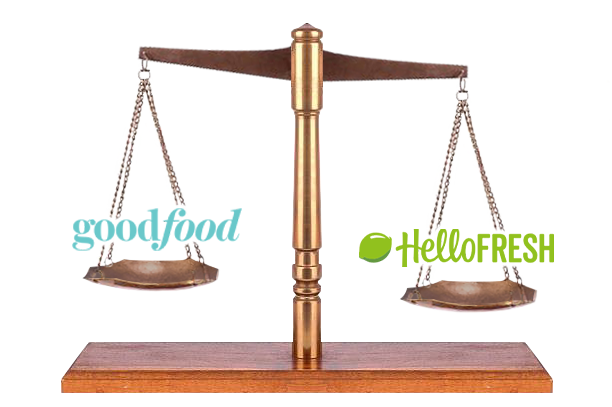 Easy GoodFood vs. HelloFresh Comparison
Detailed review
HelloFresh Review
GoodFood Review
Established
2016
2016
Delivery area
AB, BC, MB, NB, NL, NS, ON, PE, QC, SK
AB, BC, MB, NB, NS, ON, PE, QC, SK
Number of meals to choose from each week
22
3-12
Сooking time (min)
30 min
20 min
Google Rating
Downloadable App
Price per serving
$11.49
$10.43
Weekly Total (3 Recipes, 2 people)
$78.93
$62.58

Get a total of 20 free meals off for
your first HelloFresh recipe boxes

Claim Promo Now
While comparing GoodFood vs. HelloFresh, we noticed that both companies started offering meal kit delivery in the same year, 2016. However, by 2022, HelloFresh covered more provinces delivering meals to nearly every Canadian household, while GoodFood only served large- and medium-sized cities. Other advantages of HelloFresh include the largest portion size of all Canadian meal kits, recyclable packaging, the easiest-to-use app, and an excellent sign-up offer that saves you $80 with the MKC80  coupon code.
GoodFood Company, on the other hand, offers the second-lowest-priced meal kits in Canada  (after Chefs Plate) and has more low-carb options than HelloFresh. It is the third most popular meal kit in Canada.

HelloFresh is available online and on any mobile device. Their app is very convenient to use. Just in a few clicks, you can order your meals for the next several weeks or, on the contrary, postpone your subscription. Unfortunately, GoodFood does not have a downloadable app yet.
Quick Conclusions
If the price is the main consideration in your family's meal kit journey, then it's important to note that GoodFood is roughly a buck-per-plate (or per portion—however you want to phrase it) cheaper than HelloFresh. HelloFresh comes out on top among our other key categories. HelloFresh consistently gets higher ratings for overall taste (which makes sense given how many more Canadians have decided to subscribe to HelloFresh vs. GoodFood), especially regarding dishes that include meat. HelloFresh's more sustainable packaging and the ability to recycle/return the freezer bags is another key differentiator. The final key factor for us is that HelloFresh has an offer below that allows you to save $100 off your first couple of weeks instantly. In contrast, GoodFood has no similar offer available at the moment.

After not only trying out both meal kits (we ordered two weeks of GoodFood, and have been a Hello Fresh customer for well over a year now—plus we canvassed our friends and family, several of whom are subscribed to each meal kit delivery service) but also reading hundreds of online reviews from across Canada, we feel confident in saying that our Canadian meal knowledge is unmatched! Check out our HelloFresh and GoodFood reviews for an in-depth look at each company. To see how all of the Big Three meal kit companies compare to each other, сheck out Chefs Plate vs. HelloFresh, Fresh Prep vs. HelloFresh, and Chefs Plate vs. GoodFood comparisons.
GoodFood vs. HelloFresh Meal Choices
| | | |
| --- | --- | --- |
| Detailed review | Hello Fresh Review | GoodFood Review |
| Mutton, Lamb | 0 | |
| Pork | | |
| Beef | | |
| Chicken | | |
| Vegetables | | |
| Mushrooms | | |
| Seafood | | |
| Turkey | | |
| Cheese | | |
| Low Carb Plan | | |
| List Of Allergens | | |
| Calories Per Serving | Visit Website | Not Available via MKC |
It was interesting to compare HelloFresh vs. GoodFood regarding meal options. Both companies had a good selection of meals to choose from, but Hello Fresh offered more variety. While HelloFresh offered 22 meals to choose from, GoodFood only offered up to 12 meals.
When we compared recipes in both companies for a given week, it turned out that Good Food had more meat variety, while HelloFresh offered more vegetarian recipes. HelloFresh did not offer low-carb or keto meals; their meals were 420 calories per serving, while GoodFood meals were 350 calories per serving.
What You Get With Either HelloFresh or GoodFood
At first glance, HelloFresh and Goodfood are two very similar meal kit services. However, digging deeper, these meal subscription boxes are actually pretty different. We aim to help you understand the differences between the two companies in this HelloFresh vs. GoodFood review.
Both HelloFresh and GoodFood deliver their meals in high-quality recyclable boxes that are fully-insulated and will keep your food cool for 24 hours after delivery. They each make a real effort to source food locally whenever possible, although the Canadian climate is an obvious limiting factor here. Nevertheless, both companies vow to cut down on time spent between the farmer's field and your refrigerator.
Furthermore, the menu options offered by these two companies are quite comparable: both have a wide variety of proteins and vegetables weekly. Finally, when comparing HelloFresh to Goodfood, it's worth pointing out that both companies have made it easy to skip a weekly delivery via their respective apps or online websites.
The primary differences between these two companies lie in the ratings and the prices. HelloFresh's price points are somewhat better than those of Goodfood. Regarding consumer ratings and reviews, HelloFresh boasts a much higher rating on Google (averaging four-and-a-half stars, while Goodfood averages two-and-a-half stars). After digging into the reviews, HelloFresh has a much larger proportion of positive reviews than Goodfood, which would help explain the discrepancy in their overall ratings out of five stars. In fact, only about 3 in 10 Goodfood reviews are positive, but the typical meal kit company has an average of 6 in 10 positive reviews.
The key takeaway is that while both HelloFresh and Goodfood have plenty of strengths, consumer reviewers consistently give higher marks to HelloFresh. This discrepancy is why HelloFresh ranks above GoodFood's review of Canada's best meal kits.
Lower prices

Significantly better reviews
Menu choices comparable to HelloFresh

Fewer positive reviews
Read about other meal kits comparison articles