WeCook Review
In recent years the industry of online meal kit delivery services has grown a lot as people prefer ready made healthy meals to save time. Speaking of online meal kits, WeCook is one of the best companies, particularly in Quebec and Ontario. Delivering freshly prepared meal kits right to your door and paving the way for you to spend more time doing what you love and less time trying to perfect your meals. Within this company, meals are crafted by an in-house chef, in a zero-waste facility, using only fresh ingredients bought from local suppliers. Ensuring that the customer is provided with the best quality carefully portioned food.
WeCook Ratings by Our Readers
Cast your vote by selecting either button
Plans for
Price ranges
$81.30 - $352.50 / week
$10.75 - $14.55 / serving
WeCook Review Summary:
Since WeCook never compromises in quality and quantity of the food, it is no surprise to see it swiftly propel to the top of this market, making them Quebec's leader in prepared food delivery services. They also offer a vast variety of food items alongside changing their menu every week. This serves as a crowd-pleaser since no one wants to eat the same thing every single day and get bored of their meals. A rotating menu eliminates this issue and ensures that you are always on your toes by trying new dishes and culinary treats every week.
Ready-to-eat Meals Plans and Menus:
WeCook provides customers with 14 different meals every week. In these meals, they not only provide meat and chicken options but also a couple of vegetarian recipes every week. The company acknowledges that just healthy and fresh meals are not enough and hence also offers their customers to buy sealed foods as well as snacks and groceries. With the user-friendly services of this ready-to-eat meal delivery service users can devise their plan for weeks in advance and choose what type of main courses they would like along with various sides and snacks options available to make the meals all the more appetizing. The diverse meal plans that WeCook offer allows customers to not only order for themselves but people around them as well.
At first, when you sign up for the service and subscribe your account to their website, it lets you choose the portion of the meat you would prefer and then gives you the option to sign for one of their plans, according to the number of meals you want per week that starts from 6 per week and go up to 30 per week. Additionally, it also provides you with a 20 percent discount on your first order from the account. Once you have chosen your plan it lets you decide what you want to eat daily along with allowing you to order your choice of side to go with it. There are five choices of side dishes available which include rice, sweet potatoes, and vegetables to name a few. It also allows you to add up some optional cookies for everyone as a snack.
Flexibility, Credibility and Reputation
| | |
| --- | --- |
| Established in | 2013 |
| Registered in | Dorval, Québec |
| CEO | Etienne Plourde |
| Clients in Canada | 31,000 |
| Independent rating | (Google) |
They deliver your food on your doorstep for free but only in Ontario and Quebec. It is also assured that the food will remain fresh, healthy, and clean throughout the delivery process. You can order from anywhere in these two cities, it can be your home or office. 

They deliver between 9 am to 9 pm; if an individual does not receive its order then they leave it on their door. However, you are recommended to receive your parcel and put it in the refrigerator.


Switch between plans n/a Minimum subscription length No How to cancel subscription Online account, email or phone Extra charge for skipping week No Weekly deadline to cancel/skip 09:00 am the day before your delivery Auto-renewal No Personalization options Selection of different dishes
In case you need to change your preferences, skip a single delivery, or put your deliveries on hold for a block of time, you need to notify the company earlier than 9 am the day before your delivery. In case you need to cancel your subscription, you can do it via your online account, by phone or email.
Meal plans and menus
WeCook offers you four meal plans. The 6 meal plan, the 9 meal plan, the 14 meal plan, and the 22-30 meal plan.
The 6 meal plan is recommended for those individuals who want to replace one meal of the day with a meal from WeCook.

The 9 meal plan is ideal for singles and a couple of people who might not have enough time on their hands to leave out time for cooking.

The 14 meal plan is great for those individuals who are incredibly busy and have no time on their hands to cook at all.

The 22-30 meal plan is perfect for a group of people or even for a small family since meals can be shared between these people. This meal plan also reduces the per-meal cost for any dish, however slightly.
Price per serving
$14.55
$13.55
$12.75
$11.75
$11.75
$11.75
$11.75
$11.75
$11.75
$11.75
$11.75
$11.75
$13.55
$12.55
$11.75
$10.75
$10.75
$10.75
$10.75
$10.75
$10.75
$10.75
$10.75
$10.75
Shipping
$0.00
$0.00
$0.00
$0.00
$0.00
$0.00
$0.00
$0.00
$0.00
$0.00
$0.00
$0.00
$0.00
$0.00
$0.00
$0.00
$0.00
$0.00
$0.00
$0.00
$0.00
$0.00
$0.00
$0.00
Weekly Total
$87.30
$121.95
$178.50
$258.50
$270.25
$282.00
$293.75
$305.50
$317.25
$329.00
$340.75
$352.50
$81.30
$112.95
$164.50
$236.50
$247.25
$258.00
$268.75
$279.50
$290.25
$301.00
$311.75
$322.50
Promotion
$50 discount available
Get $50 OFF! on your first 3 orders + FREE shipping!
Claim Now
Support and Usability
WeCook is a well-established meal delivery company that not only delivers pre-made meals to its customers but also sells vacuum-sealed meals and locally-sourced meat in bulk to its customers. It has an incredibly user-friendly interface that makes ordering and subscribing to the service very easy and convenient for its customers. They have around 500 dishes on their rotating menu to ensure that you do not get bored of meals at any given time. In addition to this, users can view the menu several weeks ahead and can also view what they had in the previous week in case they are trying to keep track of their meals for a specific diet. Speaking of diets, with the nutritional value of each meal posted with it, users can easily pick out meals that may be suitable for their diets simply by looking at the ingredients and nutritional value posted with each meal.
WeCook has a strong social media presence and advertising and measurement services, due to which it has popular Facebook products and is constantly seen updating its online advertising controlling cookies to improve Facebook products.
In case any issues arise with your order, you can easily get in touch with the customer representatives of we cook via email or call. The customer representative staff is incredibly friendly and helpful and agents are available to help you every day between 9 am – 9 pm.
Address
1895 - St François Rd, Dorval, Quebec H9P 1K3, Canada
Frequently Asked Questions:
How long does the prepared meal last?
The meals are sealed using ''Modified Atmosphere Packaging', and will therefore last for 5 days if it is salad, fish, or seafood. In other cases, it will stay fresh for as long as 7 days in the refrigerator.
Is the product delivered just as it is shown on the website?
Do you have healthy meals and where can I find nutritional facts? Do you have keto meals?
The Bottom Line
WeCook is one of the most popular meal kit delivery services in Canada. Since it mainly offers ready made food, it might not be the best option for those who are looking to curate their food and instead is ideal for those individuals who are hustling in their everyday lives and do not have enough time to spend on cooking. As seen by its customer reviews, the food is not only nutritious but incredibly delicious too. In addition to this, the company understands the importance of environmentally friendly containers and thus packages their food in recyclable material only. While WeCook may not be easy-going on the pocket, they are fairly priced and ideal for those who are busy with everyday lives but still want to have a decent and healthy meal at least once every day.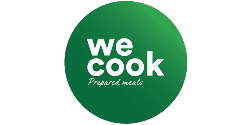 ---
A 200g portion of meat is included in this meal plan
A 100g portion of meat is included in this meal plan