Keto Cycle Review 2023 (Is This The Diet App For You?)
The Keto Cycle diet app helps make adhering to the keto diet a lot easier since everything you need to know and track can now be available via the smartphone app. With over 500 keto recipes and meal plans created by nutritionists, Keto Cycle might be the best Keto Diet app if you want fully customized meal plans, shopping lists, workout guides, motivational tips, access to nutritionists, and the ability to track your weight loss.
The company promotes it as a safe and effective way to help the body transition into ketosis. It claims to relieve keto flu symptoms, reduce appetite, boost energy, and improve weight loss results. The sugar-free, gluten-free power diet is simple to incorporate into one's daily routine.
Keto Cycle Ratings by Our Readers
Cast your vote by selecting either button
Official website:
https://ca.ketocycle.diet/
Plans for
Price ranges
$0.00 - $0.00 / week
$0.00 - $0.00 / serving
The Keto Cycle diet app: the quiz
Before you begin your journey on the app, you may complete a brief quiz to help the program better understand your background and personal needs. The following are some sample quiz questions:


•

How well do you know the Keto diet?

•

How much time do you have each day for meal preparation?

•

How active are you physically? Do you have any health issues?

•

What are your body measurements?
Credibility and reputation
| | |
| --- | --- |
| Established in | 2022 |
| Registered in | Europe |
| CEO | n/a |
| Independent rating | (Google) |
Keto Cycle has a consumer rating of 4.04 stars out of 233 reviews, indicating that the majority of customers are pleased with their purchases. Customers who are pleased with Keto Cycle frequently mention several app features, their weight loss, and the shopping list provided by Keto Cycle. Keto Cycle is ranked second among Diet websites.
Keto Cycle has an excellent reputation. On several thousand real testimonials, the average is more than 7 out of 10. Only a few negative testimonials taint this ketogenic diet platform's reputation.
Keto Cycle: plans
While using the app, you can access hundreds of customized recipes based on your dietary preferences. You can change your meals ahead of time before creating your shopping list. If you want to save time in the future, you can create a shopping list for the next few weeks.
The weekly meal plans will be personalized based on your quiz. However, if you make a mistake, you can revise your answers by going to "settings." Keep in mind that the macronutrients and calories, activity level, and medical history may all affect the outcome of your meal plan, so be careful when filling out your information.
By subscribing to Keto Cycle, you may enjoy the following plans and benefits: Customized keto meal plans with details about what you can eat for breakfast, lunch, and dinner every day of the week. Desserts and keto snacks cheat sheet teaches you how to lose weight while eating chocolate, peanut butter, and other foods.
Keto Cycle provides simple recipes for making your favourite meals in 15 minutes or less. You can get a printable grocery list with simple ingredients that can be obtained at any store, saving you time and money.
Nutritionist support and science-based advice (available 24 hours a day, seven days a week) along with a comprehensive guide to the keto diet for beginners are provided by the Keto Cycle app. The app includes a progress tracker, a calendar, and a personalized workout regimen.
How much does Keto Cycle cost?
Before using Keto Cycle, select a pricing plan and order your nutrition program.

The Keto Cycle pricing is as follows: the 3-month plan costs $2.75 per week, the 6-month plan costs $1.92 per week, and the 12-month plan costs $1.25 per week.

All of the above appear to be more than reasonable. When you order your plan, it may only take a couple of hours to deliver, which is pretty quick considering all the data they have to consider.
Promotion
75% discount available
Enjoy a 75% discount on personalized meal plans!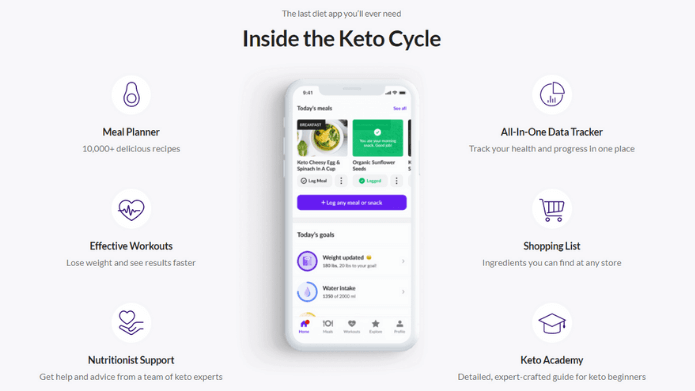 Keto Cycle Customer Reviews
People generally enjoy what Keto Cycle offers, often mentioning tasty meals, the easy-to-use platform, and feeling held accountable. The Google Play Store provided our final piece of feedback. It received 4.1/5 stars from 11,458 users, who reported that it is user-friendly.


What is the cyclical keto diet?
The cyclical keto diet (CKD) is a form of carb or keto cycling. This means you follow the keto diet 5-6 days a week, then the other 1-2 days you eat high-carb foods. You do this on a weekly basis, which means your body is going in and out of ketosis. The state of ketosis is the main aim of the keto diet as it gets your body to burn fat instead of carbs or sugar. 
How does the Keto Cycle diet app work?
Signing up for the Keto Cycle app is simple and quick. Everything begins with a quiz, where you may be asked basic questions about yourself, as well as your protein and food preferences.
Keto Cycle's mission is to provide personalized meal plans you can follow, so during the quiz, you can mention what foods you like and don't like. You can also personalize your journey by mentioning whether you are looking for extreme weight loss, some weight loss, or no weight loss at all. After you've finished the quiz, it's time to sign up.
So, what exactly will you get out of the app? The majority of it is a customized meal plan. You'll stick to a daily schedule of breakfast, lunch, dinner, and snacks, for a total of five recipes per day, as part of your personalized plan. All of your meals are already pre-calculated, so there is no need to count macros as long as you stick to the program.
The app can work because it encourages you to track your progress and stick to the plan. Most people who do not track their progress cannot see the effect of their diet weekly, so they never re-adjust their diets or follow through. The app also provides a personalized weekly workout regimen that mimics your trainer based on your quiz answers, allowing you to get the most out of your diet. It is important to note that a workout program is not required and that the diet may work on its own even if you do not exercise.
Address
Didžioji g. 18, Vilnius, Lithuania, Europe
Frequently Asked Questions:
Is the Keto Cycle legal?
Yes, many satisfied Keto Cycle customers achieved their weight loss goals.
I'm a vegetarian. Can I use Keto Cycle?
Can I use Keto Cycle if I have a medical condition?
Keto Cycle: our final thoughts
Whether you are a beginner or an advanced keto dieter, you may find the Keto Cycle diet app to be a useful tool on your smartphone to manage your health or weight loss. The meal plans and shopping list alone make the small investment worthwhile. 
If you're someone who's busy but would like to follow the keto diet, why not try a meal kit delivery service? These will save you valuable time by doing the shopping for you and sending you pre-portioned ingredients and a recipe card for each dinner. We're fortunate enough now in Canada that many of the big brands are including recipes that adhere to the keto diet.

One of the best options is HelloFresh, which gives you plenty of choices each week when it comes to low-carb meals. Chefs Plate is another good option. We'd like to wish you good luck, whichever route you follow. We hope you enjoy the experience of trying new and exciting meals using the Keto Cycle diet app or a meal kit company.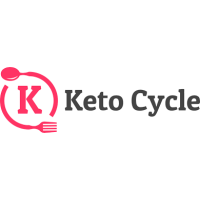 ---