---
Eatporta Review Canada
Who doesn't love Italian food? Porta delivers frozen Italian food to your doorstep—so you can enjoy pizza, pasta, and desserts made with high-quality ingredients from Italy. The Porta delivery service is a relative newcomer in Canada and specializes in Italian cuisine only. Whereas most meal kit services, like the big three (HelloFresh, Goodfood, or Chefs Plate), offer meals from a range of cuisines.   
If you don't want to go to a restaurant but instead enjoy Italian food at home, Porta can be the solution. Our team has analyzed the ready-to-eat meal service, its plans, prices, and reputation. In our Eatporta review, you will learn all about these and how to get Porta Italian food delivered to your doorstep. Is the Italian food delivery service worth it? Let's find out. 
Visit website
Porta Ratings by Our Readers
Cast your vote by selecting either button
Plans for
Price ranges
$84.00 - $914.25 / week
$9.00 - $14.19 / serving
Porta Credibility and Reputation
| | |
| --- | --- |
| Established in | 2021 |
| Registered in | Toronto, ON |
| CEO | Jason Cassidy |
| Independent rating | (Google) |
Porta was founded by Cosimo Mammoliti, who was raised by Italian immigrants in Canada. The Italian family owns 12 restaurants, bakeries and shops across North America. But the millions of satisfied customers were not enough—Mammoliti wanted to share the food he loves with a broader audience—that is why he founded Porta delivery service (Porta means door or carry).
Porta started offering its Italian food delivery service in the US and Canada. In our Eatporta review, we found that the company has big plans to expand its business. At the moment, Porta is available in selected areas of Canada and the US. You can find a detailed list of the Porta delivery area on the website or simply put in your postcode to check if your area is covered. Regarding buyer experiences, there are over 300 reviews featured on the website, all of them very favourable.
Porta Menu Plans and Meals
Porta pays a lot of importance to its ingredients and values its connection to Italian providers, that is why the Porta chefs use San Marzano tomatoes from Campania, 100% Coratina Extra-Virgin Olive Oil made in Puglia and flour from a 3rd generation family-run mill in Le Marche. Porta sources organic ingredients when possible, but focuses more on high-quality ingredients from Italian suppliers. Besides the all-year-around menu, Porta offers seasonal specials. 
If you want to order Porta Italian food on Eatporta.com, follow these steps:
1. Choose your plan, enter your postal code and choose your delivery frequency

2. Arm your box—you can select the items you want from the menu

3. Review your order, edit your plan and add delivery instructions

4. Select your first Italian food delivery day and enter your e-mail address 

5. Enter your contact information and shipping address

6. Complete your payment information

7. Wait for your Porta delivery to arrive
All dishes are freshly prepared and flash-frozen. The flash-freeze vacuum seals the Porta food, meaning no preservatives and additives are used, only fresh ingredients. Each item on the website provides a full list of ingredients, detailed nutritional information and step-by-step cooking instructions. Additionally, you can find detailed video instructions on how to prepare each item on the Porta website. Specific dietary requirements are marked with icons for spicy, vegetarian and child-friendly Porta food. At the moment, Porta doesn't offer any vegan options. If you're looking for gluten-friendly meals, the risottos all fit this bill. Meals are ready in 15 minutes or less!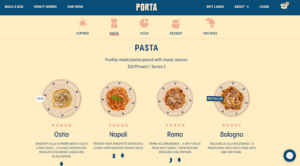 Pizza
Who doesn't love handmade pizza? At Porta, the Stirata pizza is prepared Roman-style—light, airy and crispy. You can find 10 different pizzas, including all-time classics like Margherita and Peppino, as well as new creations like the Gennaro with Gorgonzola. All of the pizzas are 10 inches and serve 1 person. The pizzas can easily last up to a year in the freezer. They will cost from $10.66 to $11.99, depending on which box size you choose.     
Pasta
Porta offers freshly-made pasta in all shapes and forms—from Tagliatelle to Ravioli, Trecce Pasta to Rigatoni, and Spaghetti to Penne. You will find classic Italian dishes from all corners of Italy, in fact, the names of the meals are Italian cities like Bologna, Roma, Ostia and Torino. There are 10 different pasta dishes to choose from so you won't get bored. Porta's pasta can be kept in the freezer for up to 6 months. They will cost from $8.83 to $9.50 per serving, depending on which box size you choose.

Risotto
Porta creates three delicious risottos: 1) Bassano - Risotto al funghi with rich porcini mushrooms, 2) Mantova - Risotto alla zucca with seasonal butternut squash, and 3) Milano - Risotto alla milanese with real saffron threads. All of these options are vegetarian. They will cost from $6.83 to $7.50 per serving, depending on which box size you choose.
Desserts
The ready-to-eat desserts are served in a neat glass. Porta offers Tiramisu, Panna Cotta, Chocolate Mousse and Butterscotch Budino. The desserts always come in a set of 4, and you can get the Dolci Assortiti combo of all 4 desserts. All frozen treats last up to 3 months in the freezer. They will cost from $3.66 to $4.00 per serving, depending on which box size you choose. 
Pastries
At the moment, Eatporta has 4 different pastries you can choose from—one salty and three sweet. The rolls and croissants are made of layered dough and selected ingredients like chocolate, butter, cinnamon or ham & cheese. The pastries come in a pack of four. They will cost from $2.91 to $3.25 per serving, depending on which box size you choose. 

Specifications
• Cooking skills needed: Basic to none

• Ingredients sourced from: Italy and Canada

• Vegetarian options: Clearly labelled in each product description

• Avoid an ingredient: Not possible

• Calories: Detailed in the nutritional information

• Low carb options: None

• Allergy restrictions: In the product description
Box Sizes Available
To order, you'll need to choose from three box sizes: 1) Small - 6 items, 2) Medium - 9 items, 3) Large - 15 items. As is typical with nearly all food subscription boxes prices come down the more items you choose, and in this case, the larger box sizes you choose. For example, a pizza will cost $11.99 with the small box, $10.99 with the medium box, and $10.66 with the large box. You also get free shipping with the medium and large boxes — the small box has a $4.99 delivery fee. 

Not sure where to start? Try Porta's curated boxes for super fast ordering. Here are the items you would get in each bundle if you ordered the medium (9 item) box:
• Chef Picks - Peppino pizza, Gennaro pizza, Cermela pizza, Margherita pizza, Amatrice rigatoni, Bologna tagliatelle, Ostia spaghetti, assortment of desserts, Chocolate Saccottino pastries

• Family Favourites - Peppino pizza (x2), Margherita pizza (x2), Bologna tagliatelle, Napoli spaghetti, Armatrice rigatoni, chocolate mousses, Cornetto pastries

• Vegetarian: Pasqualina pizza, Margherita pizza (x2), Carmela pizza, Roma penne, Ostia spaghetti
You can choose to receive an order every 1, 2, or 4 weeks.

Price per serving

$14.00

$12.00

$9.00

n/a

n/a

n/a

n/a

n/a

n/a

n/a

n/a

n/a

n/a

n/a

n/a

n/a

$13.65

$11.85

$10.00

n/a

n/a

n/a

n/a

n/a

n/a

n/a

n/a

n/a

n/a

n/a

n/a

$14.19

$13.12

$12.19

n/a

n/a

n/a

n/a

n/a

n/a

n/a

n/a

n/a

n/a

n/a

Shipping

$0.00

$0.00

$0.00

n/a

n/a

n/a

n/a

n/a

n/a

n/a

n/a

n/a

n/a

n/a

n/a

n/a

$0.00

$0.00

$0.00

n/a

n/a

n/a

n/a

n/a

n/a

n/a

n/a

n/a

n/a

n/a

n/a

$0.00

$0.00

$0.00

n/a

n/a

n/a

n/a

n/a

n/a

n/a

n/a

n/a

n/a

n/a

Weekly Total

$84.00

$144.00

$162.00

n/a

n/a

n/a

n/a

n/a

n/a

n/a

n/a

n/a

n/a

n/a

n/a

n/a

$245.70

$319.95

$360.00

n/a

n/a

n/a

n/a

n/a

n/a

n/a

n/a

n/a

n/a

n/a

n/a

$638.55

$787.20

$914.25

n/a

n/a

n/a

n/a

n/a

n/a

n/a

n/a

n/a

n/a

n/a
Promotion
20% discount available
Get 20% OFF on your first Porta Box, delivery always FREE!
Delivery, Support, and Usability
Porta delivers to certain areas in Ontario, but has said it plans to extend this to all of Ontario soon, and even across Canada and the US. Many customers worry whether or not meal kit delivery is environmentally friendly. All of Porta's packaging is 100% recyclable, except the stickers on pizzas and pasta sauce packaging. 
The Porta website is very well-designed and easy to use. You can order your meals, change your plan or cancel a subscription with just a few clicks. You can contact the company directly with the messenger on the website, fill in the contact form or contact Porta's social media accounts. If you forget to choose items ahead of a delivery, you'll receive the same meals as your last order.
Address
510 Front Street West, Suite 300 Toronto, Ontario Canada M5V 3H3
Frequently Asked Questions:
Is Porta worth it?
Our Eatporta review showed that Porta is a legitimate Italian food delivery service at an affordable price. They use high-quality ingredients, and sustainable packaging, and offer a flexible subscription. The customer reviews are all very favourable.
Can I unsubscribe from Porta?
Why is the whole menu frozen?
Is the packaging environmentally friendly?
The Bottom Line
It is easy to understand why Eatporta is so popular amongst its customers—the top-quality ingredients sourced directly from Italy are a big benefit. Porta is not a normal meal kit provider, but a good option if you want to change up your meal plan and bring some traditional Italian food to the table. In case you are looking for a more traditional meal kit provider, we recommend HelloFresh. 
Eatporta's prices are affordable and the flexible subscription allows you to adjust your order when you need. Porta meal boxes will save you time on meal planning, cooking, and grocery shopping. They are easy to prepare and can be kept in the freezer for many months. Porta offers some vegetarian options, but if you want a meal kit provider with low-cost vegetarian food, try
Chef's Plate
. We hope our Eatporta review has helped you to decide whether it's the right choice for you and your family. We've also reviewed other great meal kit delivery services in Toronto. 

---
Choose your favorite 6 items (Pasta comes in two-serve packs, pizza in 1 serve pack, desserts and pastries in four-serve packs)
Choose your favorite 9 items (Pasta comes in two-serve packs, pizza in 1 serve pack, desserts and pastries in four-serve packs)
Choose your favorite 15 items (Pasta comes in two-serve packs, pizza in 1 serve pack, desserts and pastries in four-serve packs)